San Francisco French Restaurants: Discover Five Top Options in SF

by Jill Loeffler  •

Updated: March 2, 2023
Do you love French cuisine? If so, you will be impressed with the selection of San Francisco French restaurants.

The list below includes my five favorites. The options vary from high-end to cafe-style restaurants. You will also find both traditional cuisine as well as those with a combination of French and Californian cuisines.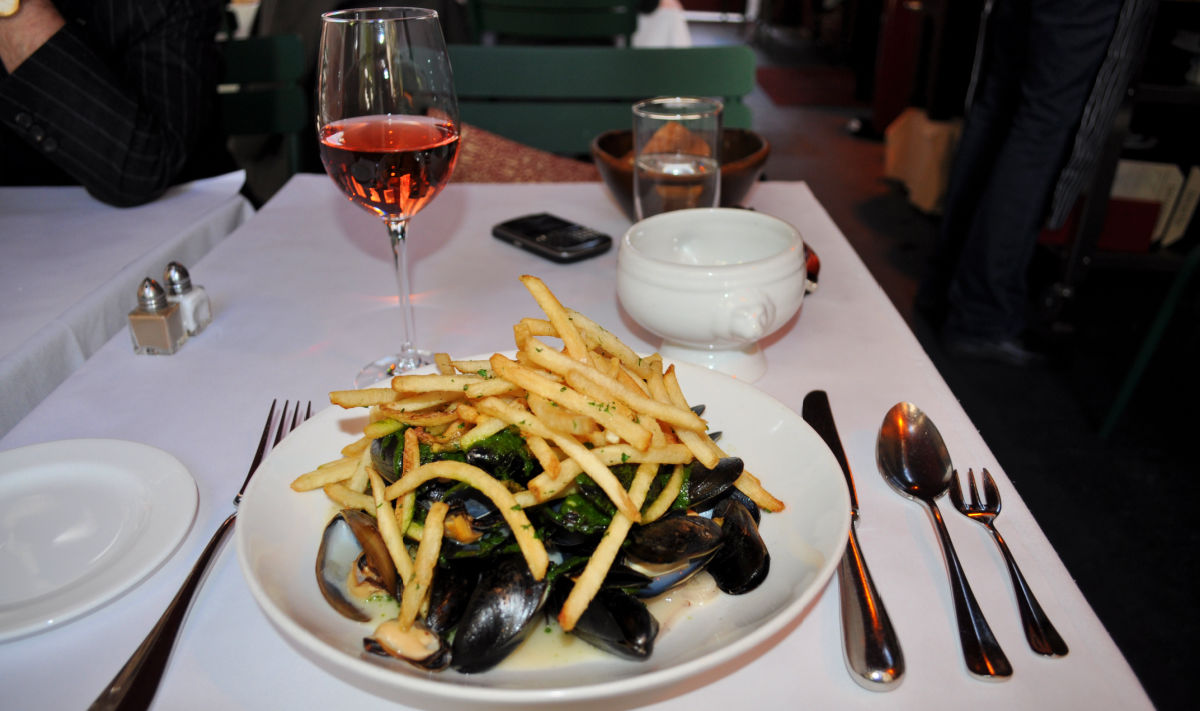 Disclaimer: I receive a small commission from some of the links on this page.

Côte Ouest

Côte Ouest is a cute place to eat delicious food in the Marina district. With a history of more than 20 years in the city, this has been a successful product of a partnership between two native French chefs who were eager to bring a true neighborhood bistro to San Francisco.
As the name suggests, the menu is inspired by the coasts of France and California, so count on having some delicious seafood options, including fresh oysters and muscles. If you're interested in a brunch treat, you've got to try their croissant French toast.
The dishes are beautiful and invoke the sense of dining in a real bistro in France. The food is elegant, but the atmosphere is casual and friendly. They've also got a great brunch menu for weekend visitors.
Address: 2953 Baker Street, between the Marina and Cow Hollow
Hours: Tuesday through Friday from 11:30 am - 2:30 pm for lunch and 5:30 pm - 9:30 pm for dinner, Saturdays and Sundays from 9:30 am - 2:30 pm for brunch (dinner is also offered on Saturdays from 5:30 - 9:30 pm); closed Mondays
Other: There is plenty of great outdoor dining space that is dog-friendly. 
Aquitaine

Located in the lovely Castro District, you'll find another lovely French restaurant and wine bar called Aquitaine. At night it offers a warm, romantic atmosphere, but it's also a nice spot for folks to dine on their lunch break.
Some of their popular dishes are the deviled eggs, the duck confit, and the mussels. Another favorite is the pommes frites served in a big wooden shoe, a great side for the table to share.
Most of their wines are French. If you aren't sure what to order, don't hesitate to ask. They love helping you find the perfect wine to pair with your meal.
You can also order a delicious meat and cheese plate if you're looking for something lighter to accompany your wine outing.
Address: 216 Church in the Castro
Hours: Tuesday through Thursday from 4 pm to 9 pm; Friday from 4 pm to 9:30 pm, Saturday from 11:30 am to 9:30 pm; and Sunday from 11:30 am to 9 pm
Other: Check out their happy hour from 4 pm - 6 pm on Tuesday - Friday and snack on some tasty French fries and sandwiches
>> Find more great happy hour specials around SF
Chapeau! Bistro

If you are looking for a fantastic French style restaurant in the Inner Richmond District, then Chapeau! is for you. It is always ranked as one of the top restaurants in San Francisco and is definitely not be missed while on your vacation here.
Some of their most beloved dishes include filet mignon, escargot, the trio of salmon, seared scallop with bacon foam and an avocado puree! And, since this is French, you must have their incredible Creme Brulee to finish it off.
As you would expect, most of the wine list is from France. They do have some local wines from Napa and Sonoma if you'd prefer to try them. If you want something stronger than wine, they have a full bar or you to choose from during your dinner.
They are well-known for the incredibly friendly staff. If you are lucky, Philippe Gardelle, the executive chef will come out and visit you during your meal.
Address: 126 Clement Street in the Inner Richmond District
Hours: Wednesday and Sunday from 5 pm - 9:30 pm, Thursday - Saturday from 5 pm - 10:00 pm
Other: If you want to save a little money, there is an early bird menu on Wednesday, Thursday and Sunday from 5 pm - 6 pm
Top Food Tours Around SF

Want to sample some of SF's top treats? Check out one of our top food tours below.

Zazie
Zazie is another one of my favorites. The food and wine are great, and because it's in Cole Valley, which is not frequented by many tourists, you get a very authentic San Francisco experience. If you want to get away from the crowds, head here for dinner.
Some of my favorites at this French bistro include their cassoulet (with duck, white beans, and sausages), the hanger steak, and the lamb tagine. You will also find a great selection of fresh salads, fish, and even a slowly braised rabbit dish.
You will find a good selection of French and Californian wines by the glass. Their full bottles are also reasonably priced, so make sure you check these out if you plan on having more than one glass of wine with dinner.
Hours:
Brunch: Monday - Friday from 8 am - 2 pm; Saturday and Sunday from 9 am - 3 pm
Dinner: Sunday - Thursday from 5 pm - 9:30 pm; Friday and Saturday from 5 pm - 10 pm
Other: Take the N Judah to the Cole Street stop. Head up Cole Street about a half a block and you will find it on your right.
Rue Lepic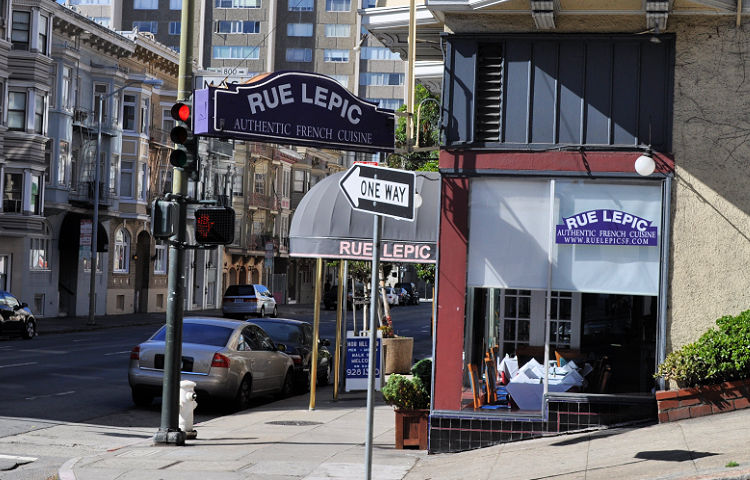 Another one of the centrally located San Francisco French restaurants is Rue Lepic. You will find it just up the hill from Union Square in the Nob Hill District.
This small, local SF restaurant is cozy and reminds me of some of the cute cafes in Paris. The food is consistently good with traditional French flare.
My favorites here include the prawns salad, the grilled chicken in rosemary sauce, and the filet mignon in peppercorn sauce. Don't forget to save room for their amazing creme brulee for dessert.
You might even see a celebrity enjoying dinner here from one of the nearby high-end Nob Hill hotels.
Address: 900 Pine Street
Hours: Monday through Saturday from 5 pm to 8:30 pm
Other: Come hungry and order off the chef's prix fix menu. The portions are large, and you will not be disappointed.
Other Pages and Places You Might Enjoy

Top SF Wine Bars: Before you hit up one of my favorite San Francisco French restaurants, head over to one of these fun wine bars. They offer a great selection of both locally produced and international wines. As a wine lover, I often stop here either before or after dinner.
Best Italian Restaurants: SF also has a number of fabulous Italian restaurants. While you will find a large number in North Beach, some of my favorites are a few neighborhoods away. They range from the high-end North Beach Restaurant to the small, local Jackson Fillmore Restaurant in Pacific Heights.
Dim Sum Restaurants: If you are looking for something completely different for lunch or dinner one day, then head over to one of these cheap and yummy dim sum restaurants. This small plate Chinese cuisine is a local favorite as you get to sample a variety of options from steamed pork buns to fried rice.
Comments? Questions? Suggestions?
I would love for you to join me in my private Facebook group! 
It's a great place to interact with me and others who know the area well.
You can ask questions, get advice for your upcoming stay, and then share your photos and advice with others when you return home. It's a great community and the fastest way to get answers to those nagging questions about your visit!