Chinese Restaurants in San Francisco: My 10 Favorites

by Jill Loeffler  •

Updated: January 3, 2023
You will find a large number of wonderful Chinese restaurants in San Francisco. My 10 favorites serve dishes from all over China, including dim sum (small plates of different types of dumplings), Cantonese, and Szechuan (or Sichuan) cuisines.
You will find top spots near Union Square, Chinatown, the Financial District, and North Beach.

One great trait of most Chinese restaurants in San Francisco is that they are inexpensive. Continue reading to uncover a list of my 10 favorites.

Disclaimer: I receive a small commission from some of the links on this page.

1. Delicious Dim Sum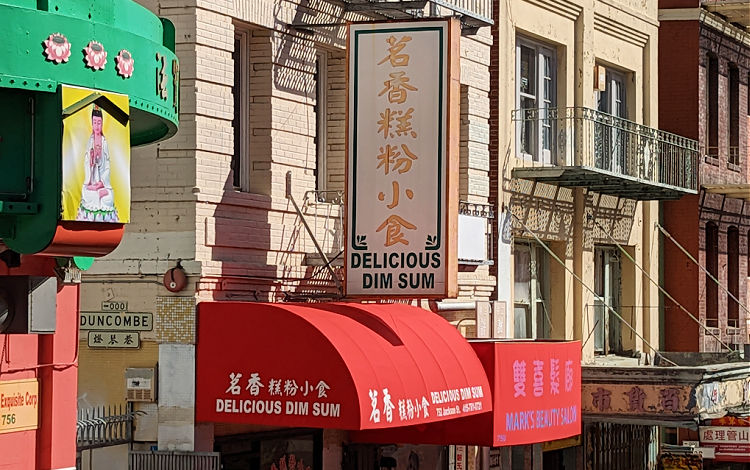 If you love dim sum, then head over to Delicious Dim Sum in SF's Chinatown District. It's the perfect place for those interested in sampling a few dim sum dishes and not making a big fuss over lunch.
The food is very yummy, and they have a large selection. Some of my favorites are the har gao (shrimp dumplings), siu mai (pork dumplings), and the sesame balls.
If you don't speak Chinese and are not sure what a menu item includes, just ask. The wait staff is friendly and helpful, and the food is both tasty and inexpensive.
Average Price: $2 to $3 for each dish, total per person is usually under $10
Address: 752 Jackson Street
District: Chinatown
2. R & G Restaurant

R & G Restaurant is a quaint Chinese restaurant on the border of Chinatown and the Financial District. They are open seven days a week and offer many popular Cantonese dishes.
They are known for their crab, but some of my favorites include the R & G Special Beef, prawns with honey walnuts, and the fried chicken with lemon sauce.
Vegetarians will also be thrilled with the large selection of vegetarian options.
Average Price: Full meals range from $10 to $35 per person
Address: 631 Kearny Street
District: Chinatown/Financial District
3. House of Nanking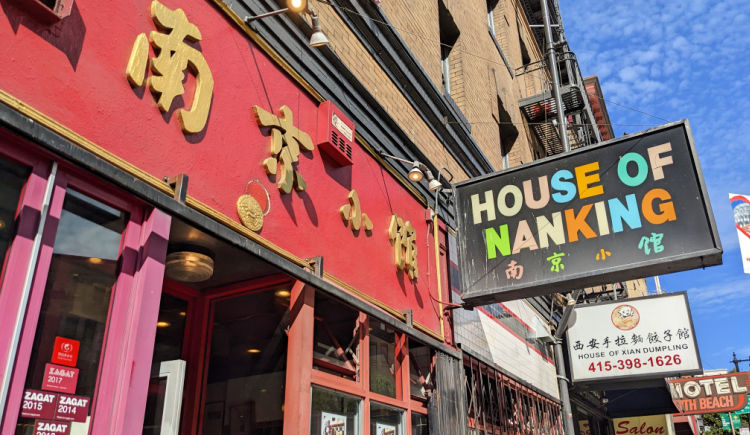 One of the best Chinese restaurants in San Francisco is the House of Nanking. The food is great and very reasonably priced.
Don't be surprised to find a line outside waiting to get in. It's a small establishment and they also frequently sit more than one party at a table to fit in as many people as possible.
You'll see the brightly colored sign at 919 Kearny Street, between Columbus Avenue and Jackson Street. They are open every day for lunch and dinner.
Average Price: $15 to $25 per dish
Address: 919 Kearny Street
District: Chinatown
4. Mama Ji's

Mama Ji's is run by Lily, who came to SF's Castro district from Sichuan Province in China. She serves up traditional home-style Sichuan cuisine, which is known for having a bit more spice than Cantonese cuisine. 
They open daily for lunch and for dinner, and offer a great dim sum menu full of fresh, scrumptious, homemade dumplings.
At this friendly Chinese restaurant in San Francisco, you'll also find a nice selection of beer and wine to accompany your meal.
Average Price: $8 - $10 for dim sum small plates; $15 - $18 for main plates
Address: 4416 18th Street
District: The Castro
5. New Lun Ting Cafe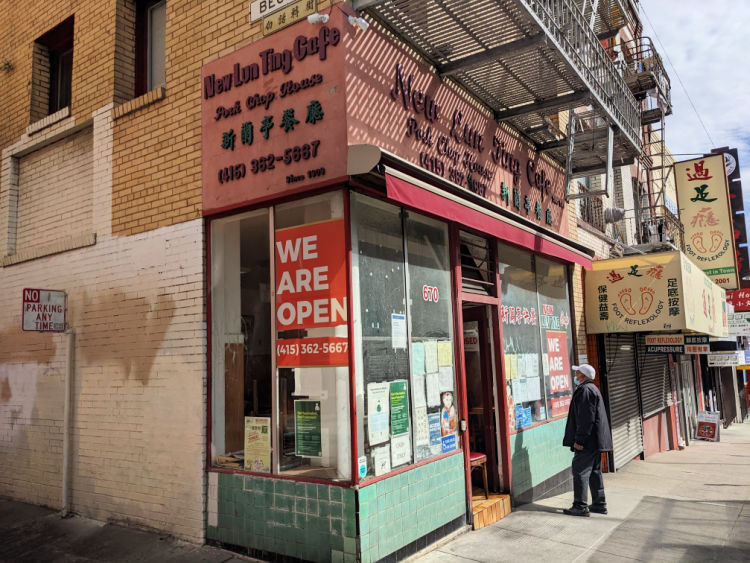 Another no-frills, inexpensive Chinese restaurant in Chinatown is New Lun Ting Cafe. This delightful place offers standard Cantonese food with incredibly large portions.
By far, my favorite item on the menu is the roast pork with gravy over rice. Other great options are the prime rib and the BBQ pork with scrambled eggs.
Average Price: $7 to $8 for most of their main dishes
Address: 670 Jackson Street
District: Chinatown
Save on Chinese Restaurants in SF: The best way to save on your meal bill is to check out the great deals on Groupon.com. They offer discounts on restaurants all around San Francisco. You can find special offers for the meal itself or find deals that include add-ons such as drinks, appetizers, or dessert. Click here to visit Groupon.com today!

6. Sam Wo Chinese Restaurant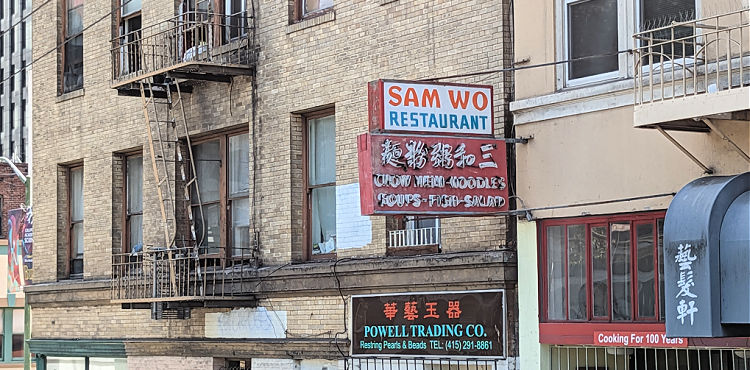 Another favorite Chinatown spot for lunch, dinner, or a late-night meal is Sam Wo Restaurant, a long-running family establishment serving classic Cantonese dishes since San Francisco rebuilt itself after the earthquake and fire of 1906.
There are two levels of seating and the service is quick. They are known for their BBQ pork rice noodle roll.
Sam Wo is located in the heart of Chinatown, right across from Portsmouth Square Plaza. Clay Street runs along the southern edge of the park, and you'll find the restaurant here between Kearny and Walter U Lum Place.
Average Price: Under $13 per plate
Address: 713 Clay Street
District: Chinatown
7. Mamahuhu

Nestled between Golden Gate Park and the Presidio, the Richmond District is known as San Francisco's "other Chinatown." You'll find several gems in the area, but one you'll love is Mamahuhu.
They offer classic Chinese-American fare that is organic and locally sourced, including sweet and sour chicken, broccoli and beef, and mapo tofu with pork. They also do a great job of offering vegetarian options.
This well-lit, modern joint is a breath of fresh air if you're looking for something quick, tasty, reasonably priced, and sustainable!
Average Price: $14 for a rice plate and $17 for most main dishes 
Address: 517 Clement Street
District: Richmond District
8. Chong Qing Xiao Mian

This restaurant's name might be a little harder to pronounce because it comes from the Sichuan Province of China, which is Mandarin-speaking and where the food tends to be much spicier.
The food here is really tasty and totally distinct. This place is known for its traditional noodle soups and spicy dishes made from a special peppercorn that produces a numbing sensation.
You'll find this little gem at Kearny and Jackson Streets, in Chinatown near North Beach.
Average Price: $10 - $14 for their signature dishes
Address: 915 Kearny Street
District: Chinatown
9. Yank Sing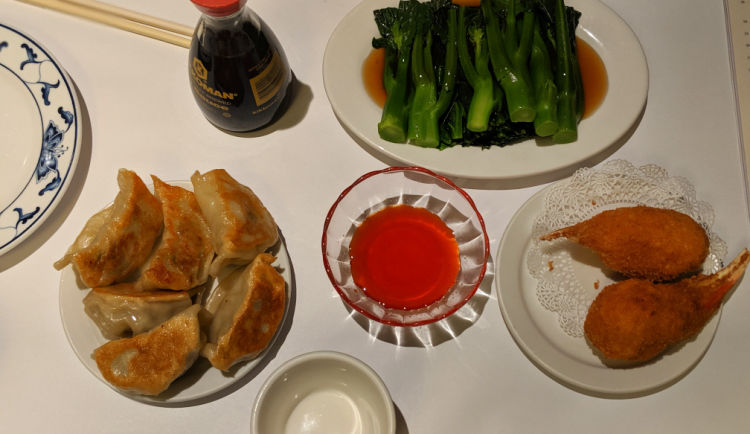 Established in 1958 and run by the same family to this day, Yank Sing is one of oldest dim sum restaurants and now has two locations.
They offer all the usual small plates of dumplings you find on other dim sum menus, but they are also famous for their original creations, such as Grandma Alice's chicken and mushroom dumpling dotted with garlic, water chestnut, and cilantro.
This place caters to the business crowd and is a bit more upscale, so be prepared to pay a little more than other Chinese restaurants in San Francisco. 
Average Price: $7 to $16 per small order
Locations:
Rincon Center at 101 Spear Street (Financial District/SOMA)
49 Stevenson Street (SOMA)
10. YH-Beijing
A great local place in the Lower Haight, YH-Beijing boasts a wide selection of Chinese dishes from Southern to Northern China, including lots of vegetarian options.
For a nice contrast of flavors, try out their seafood version of the classic hot and sour soup, followed by the wide-noodled chow fun and a saucy order of the orange chicken or Mongolian beef.
This is one of the pricier Chinese restaurants in San Francisco, but still relatively inexpensive and worth it for the quality of the food.
Average Price: $11 - $22 a plate
Address: 500 Haight Street
District: Lower Haight
Other Places You Will Enjoy

Comments? Questions? Suggestions?
I would love for you to join me in my private Facebook group! 
It's a great place to interact with me and others who know the area well.
You can ask questions, get advice for your upcoming stay, and then share your photos and advice with others when you return home. It's a great community and the fastest way to get answers to those nagging questions about your visit!