Uncorked Wine Festival
Sample Wines & Gourmet Goodies at Ghirardelli Square
NOTE: On December 6, San Francisco (and a few surrounding counties) will once again be on a stay-at-home order. This will last indefinitely. Click here for more information.
The 13th Annual Uncorked Wine Festival at Ghirardelli Square is on Saturday, May 13, 2017. This one-day event lasts from 12pm to 5pm.
Note: This event will not be happening in 2018. Stay tuned for information on the 2019 event.
This public event gives you the chance to sample and learn about the amazing wines from Northern California. Every year, this event draws in more than 7,500 wine lovers from all over the world.
All events take place in the courtyards throughout Ghirardelli Square in Fisherman's Wharf. Some of the events are also on Beach Street to the north of the square.
A fun wine display on one of the tables, this was just as the event was starting.
In addition to sampling wines, this SF festival also includes live music, cooking demonstrations, and two tasting workshops.
A portion of all ticket sales will go to the non-profit organization Bay Area Green Tours, which offers educational tours and events that focus on sustainable economy in action, inspire the support of local green businesses, and teach individuals and businesses how to be environmentally responsible in their everyday lives.
This wine festival is quite unique, as it is one of the few hosted outdoors. It is also one that you must attend if you love sampling new wines!
Wines & Wineries
You can sample more than 50 amazing San Francisco and Northern California wines at this year's Uncorked Wine Festival.
This is just a sample of the wineries that typically attend this event.
Alexander Valley Vineyards, Sonoma County, CA
Aridus Wine Company, Wilcox, AZ
Bluxome Street Winery, San Francisco, CA
Buena Vista Winery, Sonoma County, CA
Cannonball Winery, Sonoma County, CA
Chateau St. Jean Winery, Sonoma County, CA
Concannon Vineyards, Livermore, CA
Cupcake Vineyards, Livermore, CA
D & L Carinalli Vineyards, Sonoma County, CA
Dogwood Cellars, Mendocino County, CA
Gloria Ferrer, Sonoma County, CA
Jaxon Keys Winery & Distillery, Hopland, CA
Longboard Vineyards, Sonoma County, CA
Pezzi King, Sonoma County, CA
Picayune Cellars, Napa Valley, CA
Pushback Wines, San Francisco, CA
Quady Winery, Madera, CA
R&B Cellars, Alameda, CA
Robert Mondavi Winery, Napa Valley, CA
Rosa D'oro Vineyards, Lake County, CA
Rosenblum Cellars, Alameda, CA
Rockwall Wine Company, Alameda, CA
Somerston Wine (Highflyer Wines), Napa Valley, CA
St. Anne's Crossing, Sonoma County, CA
Terra Savia Winery, Mendocino County, CA
Wattle Creek, San Francisco, CA
Winery SF, San Francisco, CA
Tickets
It's free to enter the event to enjoy the live music, craft fair, and other entertainment. There is a cost for those interested in tasting during the Uncorked Wine Festival.
The event is just getting started on Beach Street in front of Ghirardelli Square.
General Admission (2017 Prices)
General Admission tickets give you access to wine tastings from 1pm to 6pm. They start at $60 per person (+ a $4.29 service fee). These tickets include a souvenir wine class and unlimited tastings throughout the day.
SF Magazine VIP Tickets (2017 Prices)
The VIP tickets include access to all tastings and early admission (12pm instead of 1pm for the general admission tickets). This ticket also offers VIP perks including access to exclusive wine and food all day long. These tickets start at $90.00 per person (+ a $5.94 service fee).
These tickets also include a wine glass and unlimited tastings.
Free Admission
Admission to this event is free as well as most of the activities (outside of the wine tasting), so feel free to stop by and check it out. You can listen to the live music, see cooking demonstrations, and even attend the Wine 101 seminar at no cost.
What to Expect from the Weather in May
You will find the weather cool and pleasant this time of year. In Fisherman's Wharf, there is often a breeze, which makes it feel a bit cooler. The temperature will change throughout the day, so I always recommend wearing layers.
>> Visit my weather page for May to learn more about how to prepare for this event
More Fun Things to Do This Weekend
Transit Options to Get to the Festival
The best way to get to the Uncorked Wine Festival is by taking public transportation. This allows you to sample as much as you want during the wine tasting.
From San Francisco
Buses: Several buses drop off just a few blocks from Ghirardelli. Your best bets are the #19, #30, #47, #49 & #91.


Cable Car: If you are coming from Union Square, a fun option is the Hyde/Powell Cable Car. It picks up right on Union Square and will drop you off two blocks from the festival. The only downfall for this option is the line to get on (or click here to find my tips about how to skip those pesky cable car waiting lines).


F Streetcar: This is a great option for those in the Castro, Union Square or downtown SF. Hop on the F Streetcar (either along Market Street or the Embarcadero) and take it to the final stop at Beach and Jones Streets. From this stop, walk four blocks west to Ghirardelli Square.
From the North Bay
Ferry: Your best bet is to take the ferry either to Pier 39 or the Ferry Building. You can walk from Pier 39. If you stop at the Ferry Building, simply walk outside and grab the F Streetcar which will take you to the corner of Jones and Beach. From there, walk four blocks west to Ghirardelli Square.


Bus: It's also really easy to take the bus. Pick up the 70, 80 or 101 and take it to the corner of Lombard Street and Fillmore Street. Walk one block south to Chestnut and Fillmore Street to pick up the 30 Fillmore bus. Take this to North Point and Polk Streets. From this stop, walk down the hill to Ghirardelli Square.
From the South Bay
BART: This is your best bet from the South Bay. From BART, you have two options:

Embarcadero + F Streetcar: You can hop out at the Embarcadero Station and jump on the F Streetcar. These historic beauties (click here for pics) drive you along the waterfront to Fisherman's Wharf. Get off at the final stop (Jones and Beach) and walk west down Beach Street four blocks to Ghirardelli Square.



Powell Street + Cable Car: You can also take BART to the Powell Street Station and jump on the Powell/Hyde line. The only issue with this option is that you may have to wait in line for a little while. This drops you off one block from the festival.



Caltrain: Caltrain is also an option from the south bay. Once you arrive at the Caltrain station, pick up the #47 Fisherman's Wharf bus and take it to the corner of Polk and North Point Streets. From here, walk down the hill to the Uncorked Wine Festival.
From the East Bay
BART: The best option from the East Bay is to take BART into the city. From here you have the same two options mentioned above for those coming from the South Bay. I recommend the Embarcadero Station option as it will take less time (and be less of a hassle).
Driving & Parking in Fisherman's Wharf
I don't recommend driving and trying to park in Fisherman's Wharf. However, if you need to take this route you have a few options.
The first is the parking garage within Ghirardelli Square. The rates are $6 for the first hour and $2.50 for each additional 20 minutes. This lot will fill up quickly on the day of the Uncorked Wine Festival so get here early if you plan on parking in this garage.
There is a second large parking lot near Pier 39. It also fills up quickly on the weekends, but is a better bet on the day of this festival. It's on the eastern side of Fisherman's Wharf about 7 blocks away from Ghirardelli Square. It's an easy walk, but something to consider if you don't want to walk too far.
The Pier 39 garage is open 24 hours a day and is $8 per hour.
Best Places to Stay Nearby
If you are spending most of your time in Fisherman's Wharf, then I recommend getting a hotel close by. You will find several options in near the Uncorked Wine Festival that range from the five star Fairmont (within Ghirardelli Square) to the budget friendly Travelodge just down the street.
Click this link for an overview of some of the top places I recommend you stay while in Fisherman's Wharf.
Are you looking for the best deal on your hotel room? Check out TripAdvisor.com's list of current deals. Most deals offer a percent off your room each night. Other deals include free parking and WiFi. Click here for a current list of deals throughout SF.
Other Things to Do in Fisherman's Wharf
If you plan on spending time in Fisherman's Wharf either before or after the Uncorked Wine Festival, here are just a few recommendations.
SF Bay Cruise: Before you head over to the festival, hop aboard a San Francisco Bay Cruise. These one-hour cruises take you along the SF waterfront, under the Golden Gate Bridge, and past Alcatraz Island. Find tickets for up to half-off SF Cruises on Goldstar.com.
Hyde Street Pier: You will find the Hyde Street Pier just two blocks down the hill from Ghirardelli Square. During your visit, you can step aboard historic ships and learn more about them. You will also get some amazing views of the bay, for free, from the pier. Click here to learn more.
Pier 39: Another great place to hang out either before or after the Uncorked Wine Festival is Pier 39. This remodeled pier offers shopping, restaurants and a few fun attractions for kids of all ages. Click here for a full list of activities on Pier 39.
All Fisherman's Wharf Attractions: In addition to those mentioned above, you will find a number of other fun things to do in Fisherman's Wharf. Click here for a list of my favorites.
More Fun Events This Month
Bay to Breakers: One of the largest foot races in the US is Bay to Breakers. This unique event features a combination of runners and walkers in costumes. The fun starts at 7am and lasts throughout the day. Click here for pictures from the last few years and to find out more about this classic SF race.
Union Square Live: This annual event offers free music and entertainment in Union Square all summer long. The event starts in May and lasts until early October. You can learn how to dance, enjoy local musicians, or listen to the sounds of the Taiko Dojo drummers. Click here for this year's line-up.

Follow SFTourismTips on Facebook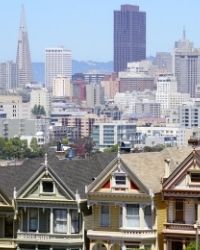 On my Facebook page, you will find more great information about planning your San Francisco vacation.
It includes tips, must see attractions, and other fun details.
Click the link below to check it out. If you enjoy the page, give us a like.

Other Pages You Might Enjoy