Outer Richmond in San Francisco: What to See & Do in this Hidden Gem District

The Outer Richmond in San Francisco is a family-friendly district with several fun things to do. It runs from the Park Presidio all the way west to the Pacific Ocean. You will find the Golden Gate Park to its south and Land's End to the north.

My top picks include exploring the Lincoln Park Steps, admiring the gorgeous Holy Virgin Cathedral, and having brunch at the Beach Chalet. You will also find some great restaurants and nightlife options.
Read on for more information about this neighborhood including how to get here and what the weather is like throughout the year.
Disclaimer: I receive a small commission from some of the links on this page.

8 Fun Things to See & Do

1. Golden Gate Park

The western end of Golden Gate Park is the southern border of the Outer Richmond in San Francisco. This section of the park is where you will find the Bison Paddock, two historic windmills, and the Golden Gate Park Golf Course.
This section of the park is also where you will find some of SF's top festivals including Outside Lands and Hardly Strictly Bluegrass. Read on for more details about visiting Golden Gate Park.
More fun things to do around Golden Gate Park.
2. Lincoln Park Steps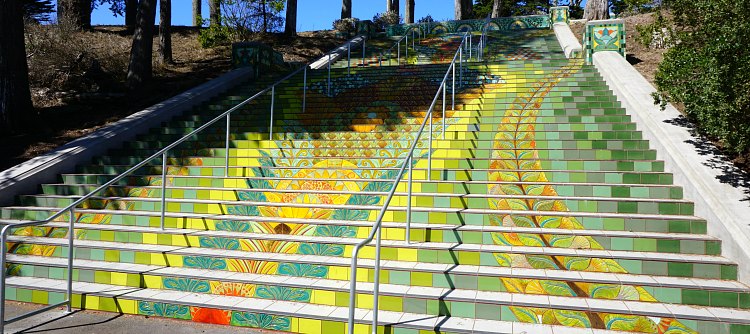 These mosaic steps feature colors of orange, yellow, blue and red. They are one of the newest sets of mosaic stairs in San Francisco. This attraction features 52 brightly colored steps.
It's the perfect stop for a wonderful Instagram photo. This attraction is open 24/7, 365 days a year and is free. Learn more about visiting these steps.

3. Lands End

On the northern side of the Outer Richmond in San Francisco, you will find Lands End. This gorgeous hiking path is set high on the cliff's above the water.
You will have lovely views for your hike including the Golden Gate Bridge, the Marin Headlands, and the Pacific Ocean. There are also several cool stops along the way including a few war memorials, a labyrinth made of stone, and Mile Rock Beach.
>> More about visiting Lands End
4. Ocean Beach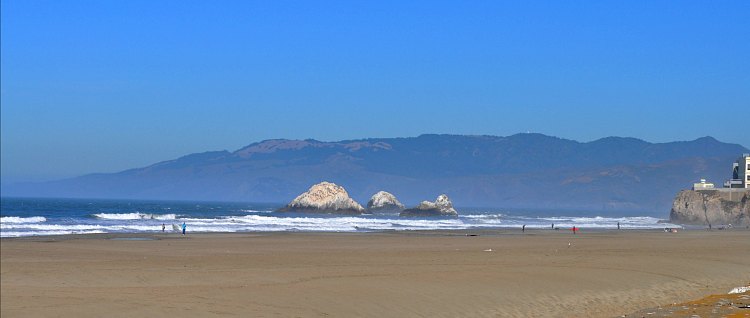 All the way on the western edge, you will find Ocean Beach. Even though the water here is cold, you can still dip your toe into the ocean, go for a run on the sand, or just enjoy the peace and quiet in this area of town.
Learn more about what there is to see and do at Ocean Beach.

5. Holy Virgin Cathedral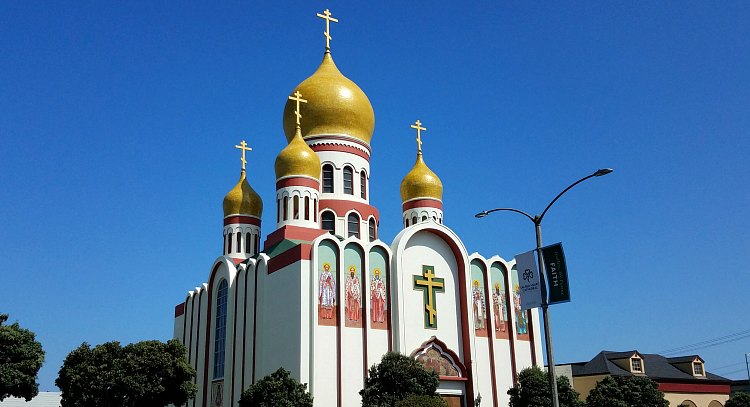 Don't miss your chance to step inside the Holy Virgin Cathedral. This colorful gem is a Russian Orthodox Church.
On the outside, you will find several domes covered in gold and a brightly painted façade. Inside, you will find gorgeous frescos, intricately detailed stained-glass windows, and lovely chandeliers.
They invite outsiders to visit when they are not having mass.
Make sure to check the boards for mass times before you enter.

6. Legion of Honor

This fine arts museum houses important art from around the world. Inside, you will find European paintings and sculptures. You will also find ancient art, photography, and works on paper.
Some of the most famous artists with works here include Monet, Picasso, and Rodin.
Learn more about what you will see during your visit.
7. Sutro Baths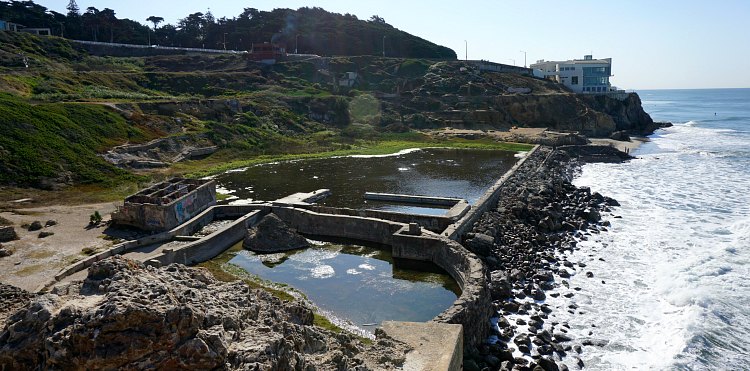 The ruins of the Sutro Baths draws thousands of visitors every year. It used to be home to one of the largest and most famous bathhouses with views over the cool Pacific Ocean waters.
In 1966, a fire broke out in the baths and, what remained of them, was destroyed. Today, the ruins are another favorite for those looking for some unique photograph or those wanting to image a time when it attracted thousands for a day of fun near the beach.
>> More about visiting Sutro Baths
8. Beach Chalet

Once you've had a chance to check out the Outer Richmond in San Francisco, head over to the Beach Chalet for a bowl of clam chowder and one of their tasty craft brews.

The Beach Chalet sits just across the street from Ocean Beach and the Pacific Ocean. They've done a lot in the last decade to create a menu with tasty dishes. In addition, they also brew their own beer. There is nothing like sitting here with a nice glass of beer watching the sun go down or the fog rolling into the city. Learn more about the Beach Chalet.
>> Find things to do in the larger Richmond District
Most Popular Picks Around SF

Top Restaurants in the Outer Richmond in San Francisco

Two of the most famous restaurants in the Outer Richmond in San Francisco are mentioned above. However, you will find several other great spots around this district.
These are just a few of my favorites.
Hard Knox Cafe: If you are looking for a tasty Southern meal, then head to Hard Knox Cafe. This welcoming restaurant offers some of the best fried chicken in town. Their beef short ribs and blackened catfish are two of my other favorites here. You cannot go wrong with almost anything on their menu. They are open at 11 a.m. daily and close at 9 p.m. (close late at 10 p.m. on both Friday and Saturday). 2448 Clement Street
Red Tavern: This Eastern European restaurant is full of tasty dishes. Some of my go-to items here include the Beef Stroganoff, Viennese Schnitzel, and the Potato Zrazy. It's the perfect cold day treat. 2229 Clement Street.
Cassava: This New American restaurant offers both a la carte menu items as well as a four-course tasting menu. The items change with the seasons and what's freshly available. Menu items include dishes such as pork chops, flat iron steak and at least one salad. It's a small space and perfect for a nice night out on the town. They are also open for lunch daily. Closed Tuesday. 3519 Balboa St.

Lou's Cafe: If you want something more casual, then head over to Lou's Cafe. They have a huge selection of sandwiches including everything from hot pastrami to tuna melts to veggies. They also have some wonderful gourmet salads. They are open Monday - Friday from 8 a.m. to 7 p.m., Saturday from 8 a.m. to 4 p.m. and close on Sunday. 5017 Geary Blvd.

Jijime: This popular Asian Fusion restaurant offers small plates, salads, soups and ramen. Their large selection includes dishes such as Grilled Pork Belly, Salmon Sashimi, Curry Croquette, and Salmon Steak. They also have a good selection of beers on tap. 5524 Geary Blvd.

Bai Som Thai Kitchen: Another great noodle spot is Bai Som. This Thai restaurant features traditional items such as Pad Thai, Satay Chicken, and several curry dishes. You will also find other favorites including Roasted Duck Fried Rice, Spicy Catfish, and Praram. They are open for lunch and dinner daily. Closed Mondays. 2121 Clement St.

Lokma: This Mediterranean and Turkish restaurant offers a great selection of items. Some of my favorites here include the Turlu & Cous Cous, Braised Short Rib, and Menemen (traditional Turkish breakfast). They are open Tuesday - Sunday for brunch, lunch and dinner. 1801 Clement Street.

Pizzetta 211: The best pizza spot in the Outer Richmond in San Francisco is Pizzetta 221. They have a rotating menu of pizzas with a few staples. Some of my favorites include the San Marzano Tomato Sauce, Mascarpone, Wild Arugula, Olio Verde and the Farm Egg, Ham, Broccolini, Gruyere, Mornay. There are only 4 tables and they don't accept reservations. It's often busy, but it's worth the wait! 211 23rd Ave.

Top Bars in the Outer Richmond in San Francisco

In addition to grabbing a beer or two at the Beach Chalet, here are a few other fun bars in the Outer Richmond in San Francisco.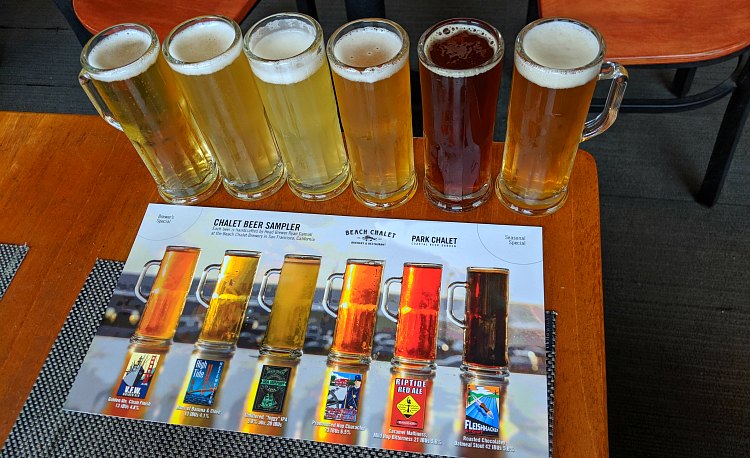 Hockey Haven: Local bar with pool tables, TVs, and a jukebox, 3625 Balboa St
The Nags Head: Another local bar with great beers and cocktails, open daily from 4 p.m. to 2 a.m., 5346 Geary Blvd
The Blarney Stone Bar: A great Irish bar in the Outer Sunset in San Francisco, they also serve some great comfort food, 5625 Geary Blvd.
Trad'r Sam: A variety of rum-based blender drinks at this Tiki bar, 6150 Geary Blvd.
>> Find additional great nightlife options around SF
Weather in the Outer Richmond in San Francisco

You will always find cooler temperatures in the Outer Richmond in San Francisco than on the eastern side of the city. The cool fog rolls into this part of SF often, which keeps it cool and mild.
It's often at least 5 to 10 degrees cooler here than on the eastern side. It's usually in the 60s in the summer during the day and will dip into the 50s in the winter. It's usually cools down about 10 to 15 degrees after the sun goes down.
Click the links below for more details on what to expect from the weather each month in SF.
How to Get Here

There are a few great transit options to get to the Outer Richmond in San Francisco.
1-California: The 1-California runs along California which is on the northern end of this district. This is the best option if you want to visit the Lincoln Park Steps or head to Land's End. It runs often. Some of the 1-California buses stop before this district, so make sure to only hop on those that say "32nd Avenue." You can also confirm with the driver if they will take you to your destination.
38-Geary: The 38-Geary runs from downtown SF and Union Square all the way to the Land's End Lookout near 48th Avenue. The stops on this route will drop you off in the heart of the district. You will find two routes. One is the 38-Geary which means it stops at all stops. The 38R-Geary has limited stops but will get you to the district faster.
5-Fulton: The 5-Fulton runs along the southern end of the district near Golden Gate Park. If you plan to go to Golden Gate Park, Ocean Beach, or the Beach Chalet, this is the best bus for you.
Things to See & Do Nearby

Inner Richmond: On the eastern side of the Outer Sunset in San Francisco is the Inner Sunset. This district has some great restaurants, nightlife and is well known for its dim sum. You will also find a few hidden gems as well as the University of San Francisco. Learn more about visiting here.
Outer Sunset: On the southern end of Golden Gate Park, you will find the Outer Sunset. You will find some fun things to do here including a few great breweries and plenty of places to grab a bite to eat. Learn more about what there is to see and do in the Outer Sunset.
Inner Sunset: The Inner Sunset is also just south of Golden Gate Park and east of the Outer Sunset. The area is popular for its mosaic stairs, hilltop park views, and great places to eat. Learn more about what you will see during your visit.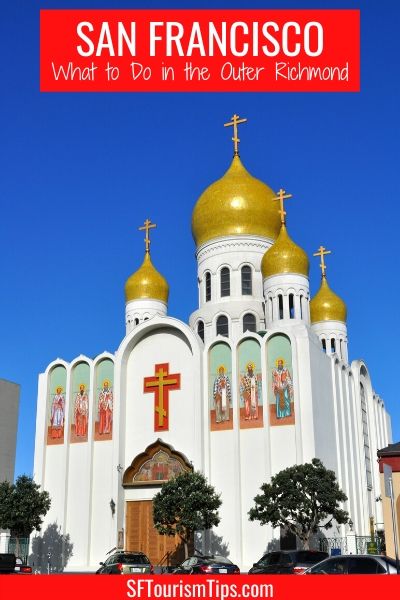 Comments? Questions? Suggestions?
I would love for you join me in my private Facebook group! 
It's a great place to interact with me and others that know the area well.
You can ask questions, get advice for your upcoming stay, and then share your photos and advice with others when you return home. It's a great community and the fastest way to get answers to those nagging questions about your visit!