The Fillmore in San Francisco: Calendar of Shows and Tips to Attend a Concert
The Fillmore in San Francisco is one of the most well-known concert halls in the city. It originally opened as the Fillmore Auditorium in 1954.

This live music venue hosts more than a dozen performances each month. On its stage, you will find bands such as The String Cheese Incident, Stereolab, and Patty Griffin.
You will find it in the Fillmore District near Japantown and Lower Pacific Heights.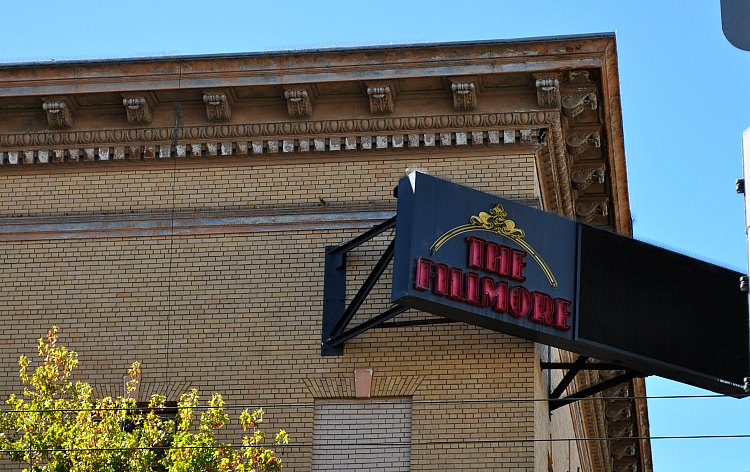 Disclaimer: I receive a small commission from some of the links on this page.

Upcoming Concerts at The Fillmore in San Francisco

Where to Find Tickets to Shows

There are a few places to find tickets to shows at The Fillmore in San Francisco.
Ticketmaster: You will find tickets directly from the venue at Ticketmaster. They offer a great selection of tickets for this venue. Visit Ticketmaster for ticketing information for The Fillmore.
TicketLiquidator: You will also find a great selection of tickets on TicketLiquidator. They offer third party tickets from those that won't be using their tickets. It's a great place to look for better seats or for tickets to sold out performances. Visit TicketLiquidator for all upcoming shows.
Other Top Live Music Concerts in San Francisco Each Month

Tips to Attend a Show

The Fillmore in San Francisco is located in the Fillmore District of the Western Addition neighborhood. Its address is at 1805 Geary Boulevard.

Public Transit

You will find several bus routes nearby. Here are some of the best options.
22 Fillmore: This one drops off right outside the venue. It runs along Fillmore through the Marina, Pacific Heights, and then on to the Mission and Dogpatch District.
38 Geary: This one runs from downtown and the Union Square area down Geary. There is a stop about a block away from the venue, so it's a great pick if you are coming from downtown.
BART: If you are coming in from BART, you have two options. You can stop at the 16th Street Mission Station and pick up the 22. You can also stop at the Powell Street Station and walk two blocks to the 38.

Where to Park

Japan Center Garage (1656, 1670 Fillmore St): Just across Geary Street you will find the Japan Center Garage. This is a great option for concerts at The Fillmore in San Francisco. This is a popular parking garage though and often fills up early. Head over early and grab some dinner before the show if you plan to park here.
1515 Scott St & 2233 Post St: These two flat lots are just a couple of blocks away. They are on the smaller side, but an easy walk away.
Fillmore Heritage Garage (1310 Fillmore St): Just two blocks away on Fillmore is the Fillmore Heritage Garage. This lot closes at 2am and they do allow overnight parking (with access starting at 6am), so you can always leave your car here overnight if you have a couple too many drinks during the show.
>> Find additional parking options around town
Hotels Nearby

Just north of The Fillmore in San Francisco is Japantown. You will find several hotel options here.
Hotel Kabuki - JDV by Hyatt: 4-star hotel with Japanese décor, just four blocks from the venue, 1625 Post Street, read recent reviews and check prices
Kimpton Hotel Enso: 3.5-star hotel with modern amenities, about four and a half blocks away, 1800 Sutter Street, highly rated by guests, read recent reviews and find availability
Hotel Majestic: 3-star hotel that is more budget-friendly that the top two options, European-inspired hotel with a restaurant and bar onsite, 1500 Sutter Street, more about the hotel and booking rates
Dinner Options Before the Show

Fillmore Street North of Bush Street: You will find several options from pizza to burgers to seafood along Fillmore Street just north of Bush.

Japan Center: There are also several great Japanese restaurants inside and around the Japan Center. You will find sushi, noodles and more. The Japan Center Mall is at 1737 Post St.
The Fillmore in San Francisco History

The Fillmore in San Francisco has a long and interesting history. This building originally opened in 1912 as the Majestic Hall. It took on the name the Fillmore Auditorium in 1954. In between the two, it was a dance hall and a skating rink.
In the 60s, the Fillmore in San Francisco played a huge role in the countercultural movement. Many soon to be famous bands called SF home and most of them played at this venue including The Grateful Dead, Jefferson Airplane, and the Jimi Hendrix Experiment.
Some of the others that have played here include The Steve Miller Band, The Doors, Pink Floyd and The Who.
During this time, several non-rock acts also performed here as well. They include Lenny Bruce, Miles Davis, Aretha Franklin, and many others.
This venue became so famous during this time that Hunter S. Thompson even mentioned it in his book Fear and Loathing in Las Vegas.
In the 80s, the new owners turned it into a punk rock club with acts such as Bad Religion, the Dead Kennedys, and The Red Rockers on stage.
Bill Graham took over the bookings for the venue in the mid-1980s. Graham was a famed local producer that expanded the venue's presence and opened two more "Fillmore" locations.
The venue was badly damaged during the 1989 earthquake and closed down. Bill Graham died at a young age in an airplane accident, and his friends decided to spend the time and money to fix and retrofit the venue. It reopened in 1994 and has been running strong since that time.
It's an amazing place to see a show and you can just feel the history in this place when you are there.
Additional Places to See a Concert in San Francisco

In addition to The Fillmore in San Francisco, you will also find several other great venues all around the city. Here are more of my favorites.
Bill Graham Civic Auditorium: You will find Top 40 artists as well as hot up-and-comers on stage at the Bill Graham Civic Auditorium. Once or twice a month, they also usually feature some of the best DJs from around the world. Find a schedule of upcoming shows.
The Masonic: High on the hill in Nob Hill, you will find The Masonic. They feature about a half dozen shows each month including a variety of musical artists and comedians. Review their current schedule and tips to attend a show.
The Warfield: This venue is another famous one located along SF's Market Street. They feature mostly rock bands on stage with both general admission and assigned seating. Check out their current calendar and more tips to see a show here.
More Fun Things to Do in San Francisco

Comments? Questions? Suggestions?
I would love for you to join me in my private Facebook group! 
It's a great place to interact with me and others who know the area well.
You can ask questions, get advice for your upcoming stay, and then share your photos and advice with others when you return home. It's a great community and the fastest way to get answers to those nagging questions about your visit!