Sport Fishing in San Francisco: Head out with the Experts at Executive Fishing Charters
Are you interested in going sport fishing in San Francisco? If so, then head out on the SF Bay for an adventure of a lifetime with Executive Fishing Charters.

They offer full boat charters so you get to enjoy your time with only your friends and family on board. You can head out for an afternoon or enjoy an entire day of fishing. Their boat holds up to 6 people, so it's perfect for family outings or an afternoon of fun with your friends.
Executive Fishing Charters also brings along almost everything you need for your day on the water. They bring along the finest fishing supplies, offer up professional fishing guidance, and they clean and pack your fish for you.
All you need to bring along is a few friends, your fishing license, a lunch, and something to drink. You are also welcome to bring along your own rods and/or tackle.
In addition, if you purchase their video services, you will be able to remember your trip for years to come!

Species of Fish in the Area
The SF Bay offers you the chance to fish for a variety of species including Sturgeon, King Salmon, Stripped Bass, and California Halibut. Here is a quick overview of the best season for each:
Sturgeon: All year long; March is the best month for sturgeon

Salmon: April through October; August, September & October are the best months

Stripped Bass: All year long; July - October is the prime time of the year to catch them

Halibut: April through October; August & September are the best months
These are just a few pictures from recent charter trips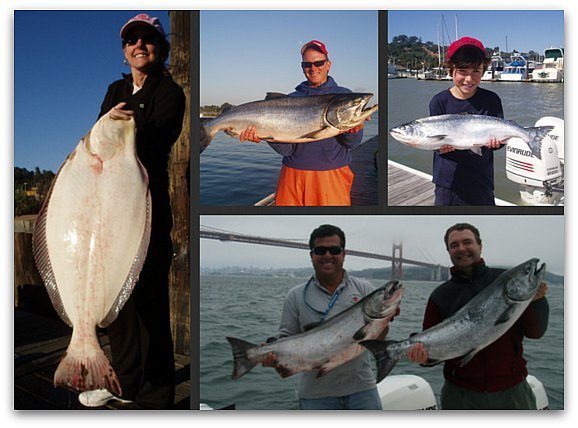 About Their Boat
Executive Fishing Charters uses a 31ft. Hydrasport Sportfisher called The Imagine (see picture below). It's a state-of-the-art boat that is designed for fishing.
It's a Twin 2007 with 225 Horse Power and Evinrude ETECH Outboards. Combined it has a total of 450 Horse Power.
Fishing Charters & Rates
Executive Fishing Charters offers charters all year long. Please add a $50 gas surcharge to all package pricing.

Summer Charters & Rates: April 16 to November 14

Package


Description


Pricing Details


1/2 Day Safari


4 hours of fishing on the SF Bay


$600 for up to 4 people
Add up to two additional people for $75 each
$100 for each additional hour

Full Day Safari


7 to 8 hours of fishing on SF Bay


Fly Fishing Charter on San Francisco Bay


4 hour fly fishing hunt for tackle busting striped bass


2 Anglers
$450 for 4 hours
$600 for 6 hours

Businessperson's
Charter / Special


4 hours of fishing on the SF Bay either before or after work


The Grand
Slam Charter


All day safari/charter on the search for the mythical "Grand Slam" of catching halibut, salmon, striped bass and sturgeon all in one day


The Custom
Package Charter


A fishing package designed by you


Price based on request


San Francisco Giants
and Fishing Special


Fish for 5 hours either before or after the game, dock at the ball park to enjoy the game


I.G.F.A. World Record
Fishing Charter


Let them know your target and they will bring along the right equipment for the challenge


Sightseeing/Picnic Combo


Go where you want to go with this sightseeing and/or picnic combo. This option does not include fishing, but allows you to rent the boat by the hour (minimum of 4 hours).


$100 an hour
Minimum of 4 hours
Full customizable
Book Your Charter Today
The best way to contact Executive Fishing Charters is to call them directly at 415.460.9773.
They are also open to help you with your special requests including weddings, burials at sea, etc. Call them today for more information!

More Fun San Francisco Activities