Self Guided Walking Tours of San Francisco
The Top Resources for You to Venture Out on Your Own
Do you love venturing out on your own? Are you interested in exploring the city of San Francisco without a large group around you? If so, then these self-guided walking tours of San Francisco are just for you!
All of these tours take you on a specific walking route through the city. They offer either audio or a map to get you from point to point. You can start and end anywhere along the way. It's all up to you!
It is the perfect way to learn more about the history of San Francisco at a time and pace that works for you!
City Walks: San Francisco: 50 Adventures on Foot
The best way to go on self guided walking tour of San Francisco is with City Walks. The thing I love about these walks is that all 50 are printed on their own cards. This means you only have to bring along the ones you plan on using that day.
I've used these many times. On the front, you will see the full walking route. The back of each card offers the address and a little information about each point of interest on the route.
If you decide to add a few stops along the way, these cards will help you easily get back to your original route.
I've used these in other cities too and they are great. They are much easier to use than an audio tour if there is more than one person in your group.
These are also available on Amazon.
Barbary Coast Trail: Self Guided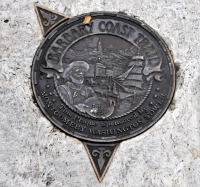 The San Francisco Museum and Historical Society offers two self guided walks of the Barbary Coast Trail in San Francisco. This trail connects important historical sites throughout the streets of SF.
The trail is marked with gold medallions embedded within the sidewalks. I found the one in the picture on the left in the North Beach neighborhood.
The self guided treks are 3.8 miles long and take you through several SF neighborhoods including Union Square, Chinatown, North Beach and Fishermans Wharf.
You'll hear historical facts about SF events such as the California Gold Rush and the 1906 Earthquake and Fire. You'll also stop by many places that were frequented by famous locals from San Francisco's past.
You can choose from either a self guided audio download or a printed map. Learn more about both options on the museum's dedicated Barbary Coast Website.
Frommer's Best of SF Audio Tour

This is one of the self guided audio walking tours of San Francisco. During your walking tour, you will learn more about 20 of San Francisco's top attractions.
This one hour and sixteen minute tour can be done at your own pace. You can stop along the way to learn even more about each attraction - or even skip ahead if it's an attraction you already visited.
You will also receive a full color map of the route. This way, you always know what SF attraction you are visiting next.
You can listen to the audio on your iPhone, iPad, Kindle or any other MP3 player.
Frommer's also has a second audio tour that covers the San Francisco Waterfront. You can buy these together or separately through Amazon.
Stroll San Francisco Audio Walks

Stroll also makes some great self guided audio walking tours of San Francisco. There are two volumes available. Volume One includes 16 different chapters. Volume Two includes 17 chapters.
The best thing about these is that you can either buy an entire volume or just a chapter within each volume. Each chapter lasts anywhere from 3 to 15 minutes.
Here are just a few of the chapters included in Volume One:
The North Beach Stroll
Washington Square Park
Coit Tower and Lillie Hitchcock Coit
The Golden Dragon Massacre
The Barbary Coast Stroll
San Francisco's Cable Cars
The Union Square & 1906 Earthquake Stroll
Here are a few of the topics covered in Volume Two:
The Nob Hill Stroll
The Haight-Ashbury Stroll
Janis Joplin's House
Castro Stroll
The Conservatory of Flowers
Japanese Tea Garden
The Golden Gate Bridge Stroll
---
Night Adventures: Do you love seeing a city at night? Here you will find some of the best at night from scary ghost walks to night cruises around the bay.
Chinatown: This is one of the most visited neighborhoods in SF, since there is so much to see and do. Simplify your planning process to this neighborhood by taking a guided tour. Each one covers many of the top attractions and points out the hidden gems you would have missed by walking the neighborhood on your own.
North Beach: There is a lot of history in the North Beach district. Take one of these to learn more about its famous residents, controversial stories and Italian roots.
Wine Tasting in Napa or Sonoma: If you love trying different wines, then a trip to either Napa or Sonoma is only an hour away. Here you will find some of the best wine tasting trips to both of these regions. All of these leave from San Francisco and ease the burden of trying to get to and from wine country on your own.