San Francisco Wine Bar Recommendations: Ten of the Best Places to Grab a Glass of Red or White in SF

by Jill Loeffler  •

Updated: January 7, 2023
Sipping a glass of wine while hanging out with friends is one of my favorite pastimes in San Francisco. There are dozens of places to grab a glass of wine in the city, but which are the best?

This list of San Francisco wine bar recommendations features the places I go to most often. You will find them throughout the city, so you can explore different districts as you sample some amazing wines from around the world.

Disclaimer: I receive a small commission from some of the links on this page.

1. Wine Merchant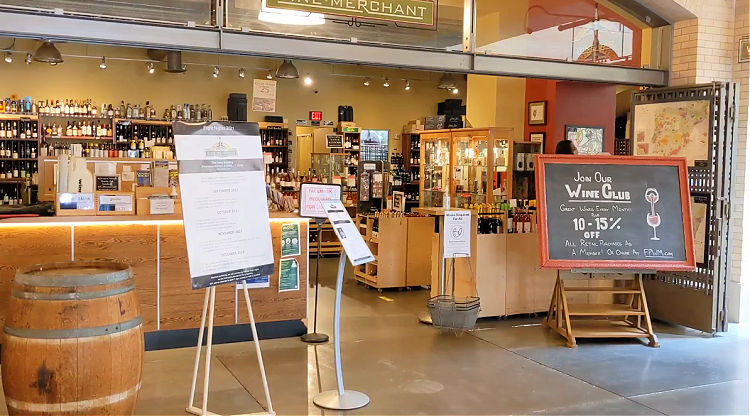 Wine Merchant is a cute wine bar and store in the historic Ferry Building along the waterfront. They offer a large selection of wines by the glass.
You can also purchase a bottle from their shop and drink it in their bar. It's a fun way to spend a few hours before, after, or during some shopping in the Ferry Building.
The Wine Merchant's selection changes frequently. They also offer different serving sizes so you can taste (2-oz.), have a glass (5-oz.), or split a carafe (375-ml) with friends.
They also offer one to two flights where you can sample three to four wines at the same time.
Do you want to sample some cheese or bread with your wine too? You can order from their menu or pick up some delicious treats from the other stores within the Ferry Building and enjoy them right in the bar.
Address: One Ferry Building, Shop 23
District: Financial District/Embarcadero
Best For: Casual afternoons, drinks with friends, & those picking up the ferry to head across the bay
2. San Francisco Wine Society

This relatively new wine bar in San Francisco has taken the place of my old favorite spot, Hidden Vine, at the same cozy red-brick location in the Financial District. 
They've got a great variety of wines and the ambiance is just perfect for a casual evening out. Among their creative tasting flights, you'll find "Unusual Suspects," "Dual Monarchy," and "Italian the Stallion," all with their own little story.
They're also open in the afternoon, if you feel like popping by for a little outdoor fun at their bocce court in the patio.
Among the yummy bites they offer, their charcuterie and cheese plate is delicious. If you have a bit of a sweet tooth, you may also try their famous nutella-stuffed chocolate chip cookies.
Address: 408 Merchant Street
District: Financial District
Best For: After work, or a night out with friends
3. The Pawn Shop

This hidden little wine bar really takes the speakeasy concept seriously. It gets its name from the the pawn shop entrance, where you have to interact with the pawn master to be let in.
If you think you've come to the wrong place at first, that's the idea! Once you get through the secret entrance, you're in for a very relaxing and entertaining evening.
The food here is tapas style, Spanish-inspired small plates that are classy, tasty, and also vegetarian friendly.
The drink selection follows the same vein, including a variety of sangria, fun cocktails, and a fantastic selection of wines—mainly from Spain, France, and Italy, but also some local varietals.
Address: 993 Mission Street
District: SOMA/Theater District
Best For: Date night, or before or after attending a play
4. Cafe Meuse

Cafe Meuse wine bar is a local favorite that tends to be busy and always has a warm, lively vibe. Right at the corner of Pacific and Hyde, you can watch the cable cars go by while sipping your wine in this cozy place.
The wine menu offers a great selection from around the world. You can taste wines from New Zealand, South Africa, Chile, Austria, and many other countries, as well as local wines from Sonoma County, the Russian River Valley, and more.
In addition, Cafe Meuse serves wonderful small plates and desserts, such as Vic's white truffle mac n' cheese and warm cable car apple crisp.
Address: 1440 Pacific Avenue
District: Russian Hill
Best For: Dates or a relaxed evening with an intimate group of friends
5. InoVino

This wine bar and Italian restaurant will transport you to Italy. From the warm chatter of the family-style dining room to the friendly service of the staff, you'll feel right at home here.
Not only is their food delicious and authentic Tuscan cuisine, they are also very knowledgeable about their wine selection! 
Choose from more than 30 Italian varieties of wine to taste by the glass or half-glass, and more than 100 wines by the bottle from smaller producers. They pride themselves in specializing in biodynamic wines and indigenous varietals. 
Address: 108B Carl Street
District: Cole Valley
Best For: Wine and dine for a special occasion
6. Vic's Winehouse on Fillmore

One of the best new wine bars in San Francisco is Vic's Winehouse on Fillmore. This cute spot features unique wines, empanadas, and live music. 
Wines here are from lesser know wineries from around the world. They feature top picks from Sonoma, Paso Robles, Argentina, Portugal and more. You can buy by the glass or the bottle. I love to order their flights, so I can try several different wines all at once! 
I love that they also have a few beers and sake available too for those that don't love wine. 
They offer Happy Hour all day on Tuesday and from 5:30 pm to 6:30 pm every Wednesday - Friday. They are closed on Sunday and Monday.
Address: 1870 Fillmore Street
District: Lower Nob Hill
Best For: Casual night out on the town, more local feel
7. Amelie

Amelie is a local San Francisco wine bar in the Nob Hill district. I used to go here all the time when I lived just a block or two away.
It's decent sized but has only a little bit of seating. If you arrive early, you will have no problems grabbing a small table or a seat at the bar. However, this place is now so popular that it is tough to grab a seat after 8 pm most nights.
Their wine menu includes selections from around the world and it changes as they find better options.
I also love their cheese plate. You can select from a variety of cheeses. If you aren't sure which matches best with the wines you are enjoying, then just ask the wait staff. They will help you find some great options.
Address: 1754 Polk Street
District: Nob Hill
Best For: Nights out on the town with friends
8. Fig & Thistle

Another one of the great San Francisco wine bars is the Fig & Thistle. When you step inside, you will feel like you stepped into someone's living room. It's cozy and the perfect place to sample amazing wines.
In addition to a great wine selection, they also have some great beers and small bites. Their meat and cheese trays will give you just enough to tide you over until dinner.
Address: 313 Ivy Street
District: Hayes Valley
Best For: Early evening wine tasting
9. Hotel Biron

This is a cozy wine bar in SF's hot Hayes Valley District. I love heading here on date nights or when I have friends in town. It's cute and not overly crowded until the late-night crowd starts to roll in.
They offer a small selection of wines by the glass. We typically order a bottle to share, as they have an amazing selection. Most are from the US, Spain, France, and Italy. I never have a problem finding something amazing to drink.
Address: 45 Rose Street
District: Hayes Valley
Best For: Early evening wine tasting, date nights
10. The Barrel Room

The final San Francisco wine bar on my list is the Barrel Room in the Financial District. This intimate wine bar offers a decent happy hour from 4 to 5:30 pm. You can order some small bites or a glass of house wine for just $7.
Although I like coming here for a glass of wine, the real reason they are on my list is their classes and education seminars. They typically have a tasting each week that features a new and interesting selection of wines.
Address: 415 Sansome Street
District: Financial District
Best For: Serious wine lovers and those who want to learn more
>> Find additional happy hour specials around San Francisco
Comments? Questions? Suggestions?
I would love for you to join me in my private Facebook group! 
It's a great place to interact with me and others who know the area well.
You can ask questions, get advice for your upcoming stay, and then share your photos and advice with others when you return home. It's a great community and the fastest way to get answers to those nagging questions about your visit!