San Francisco Segway Tours: The Top Five Segway Tours of SF
Proof of vaccination is now required for certain indoor activities. Learn more here. 
San Francisco Segway tours are extremely popular. They're a new, fun way to see the city without having to worry about parking. On these SF tours, you will cover more ground than on the traditional walking tour.

Here you will find five of the best, including the Golden Gate Park Segway Tour and a night tour of the most interesting neighborhoods in the city.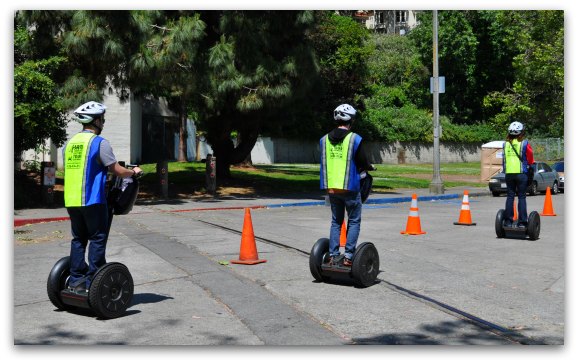 1. San Francisco Waterfront Segway Tour

10:30am & 2pm Daily
This is one of the most popular San Francisco Segway tours, as it cruises along the famous landmarks and neighborhoods of the city's waterfront. 
Highlights of this 2.5-hour tour include:

Are you unsure about riding around on a Segway? No problem, this tour includes a 30-45 minute training session before you begin. Your guide will ensure everyone is comfortable before you get started on your adventure!

Learn More & Book Your Tickets Today: SF Waterfront Segway
Read about my experience on this tour to learn more about what you can expect during your adventure.
2. San Francisco at Night: Segway Tour of North Beach, Chinatown, and the Embarcadero
5pm or 6pm based on the season, several days a week
One of my personal favorites is the SF Night Segway Tour. San Francisco is beautiful at night and this tour offers you the chance to see it sparkle.
It also offers a 35-45 minute training session before you begin.

This 2.5-hour trip takes you through three of the most popular neighborhoods. You'll roll along the SF waterfront, see the North Beach neighborhood, and discover San Francisco Chinatown.

Other highlights include:

Uncovering Little Italy's bars, cafes, and restaurants frequented by the Beat Generation in the 1950s and 60s
Cruising the lantern-lit streets of Chinatown, one of the oldest neighborhoods in the city
Admiring the sparkling night views of the Bay Bridge, Transamerica Pyramid, Fisherman's Wharf and Alcatraz
From November to May and runs Friday - Sunday, the tour begins at 5pm. From June to August, it begins at 6pm and runs most days of the week.

Learn More & Book Your Tickets: SF Night Segway

3. Golden Gate Park Segway Tour

Daily at 10am and 2:30pm
On the western side of the city, you will find Golden Gate Park. This large park offers more than 1,000 acres of colorful gardens and some of the top SF attractions.
This tour also starts with a 35-45 minute Segway demonstration, so you can learn how to ride this innovative vehicle before you begin.

After your training session, you will spend about 2 hours cruising around and learning about this beloved park from your knowledgeable guide. Along the way, you will see:

Lawn Bowling Courts
Shakespeare Garden
You will also find out more about the history of Golden Gate Park, like how this barren sand dune turned into the popular sightseeing location it is today.

Book Your Eco-Friendly Segway Tour: Golden Gate Park

Find More Details on What You Can Expect: A Recap of My Golden Gate Park Segway Cruise

4. Lombard Street Segway Tour

Daily at 11am
If you are a Segway pro and want to test its abilities a little more, then this is the one for you. On this cruise, you'll take several steep hills in the Russian Hill neighborhood including a trip down Lombard Street.
This is a small group tour, limited to 8 people, which does not include a training session. Only those who have previously ridden a Segway for at least an hour are allowed to join.

Your trek starts in the Fisherman's Wharf neighborhood. From here, you'll cruise up the steep hill to the top of Lombard Street. You will then test your nerves as you make your way down the famously most crooked street in town.

From there, you will cruise through North Beach and spend some time enjoying the SF waterfront. In addition to Lombard Street, this 2.5-hour tour includes:

Aquatic Park and the Municipal Pier
Fishing Harbors along the Bay
Gorgeous views of Alcatraz, the Golden Gate Bridge, Coit Tower, the Bay Bridge and the SF Bay
Climbing the slopes of Russian Hill and Telegraph Hill
Hundreds of SF's hidden stairways and pedestrian-only lanes
St. Peter and Paul's Church and Washington Square Park in North Beach, also known as Little Italy
This one runs at 11am daily.

Learn More & Book Tickets: Advanced Crooked Street Segway

5. North Beach & Ghirardelli Square Segway Tour

2 to 3 times a day based on the season
Visit two of the most popular sections of San Francisco on one fun-filled Segway tour. Throughout the 2-hour tour, your guide will point out several famous attractions as well as explain the local history and culture. 
In North Beach, this covers the settlement of early Italian immigrants to Joe DiMaggio, and in Ghirardelli Square, the birth of one of the world's great chocolate companies. Get ready for a fun adventure exploring these vibrant areas near the waterfront!

Highlights of this 2-hour tour include:

Amazing views of the Golden Gate Bridge, Alcatraz, and Coit Tower
An up-close look at the North Beach neighborhood, San Francisco's Little Italy
Photo ops in scenic Washington Square Park
A visit to San Francisco's famous chocolate maker in Ghirardelli Square
No experience is necessary to participate; orientation and all safety equipment will be provided. 

Choose from a number of departure times, offered at 10:30am and 2:30pm daily with an additional 6pm tour during the high travel season.

Learn More & Book Your Tickets: North Beach & Ghirardelli Segway

Other Pages You Might Enjoy