San Francisco Segway Tours: The Top Four Segway Tours of SF

by Jill Loeffler  •

Updated: September 6, 2022
San Francisco Segway tours are extremely popular. They're a fun way to see the city without having to worry about parking. On these SF tours, you will cover more ground than on the traditional walking tour.

Here you will find five of the best, including the Golden Gate Park Segway Tour and a night tour of the most interesting neighborhoods in the city.

Disclaimer: I receive a small commission from some of the links on this page.

Segway Training
Since taking a Segway Tour is quite a bit different than taking other tours, I wanted to start by explaining a little about their training and ease any fears for those of you that haven't been on a Segway before. 
Each of these tours will start with a required training session. It's the perfect way to get familiar with your Segway before you head out on the road. They require this training even for those that have ridden a Segway before and for those on the more advanced tours. 

This gives both you and the guide an idea on your skill level. They will also help you with any issues you may face before you go.
What to Expect from the Segway Tour Training
The training sessions are 30-minutes long. During this session, you will learn everything you need to know to safely travel the streets of San Francisco on your Segway.
You will learn how to get on and off your Segway. You will also learn how to speed up, slow down and make an emergency stop. You will also get helpful tips on how to control it while heading up or down hills.
Each Segway is equipped with speed limiter technology. During training, you will only be able to go 5 miles an hour. Once you are done with training, they will increase this to only 10 miles an hour. This is a safety feature to keep everyone at a slow, steady pace.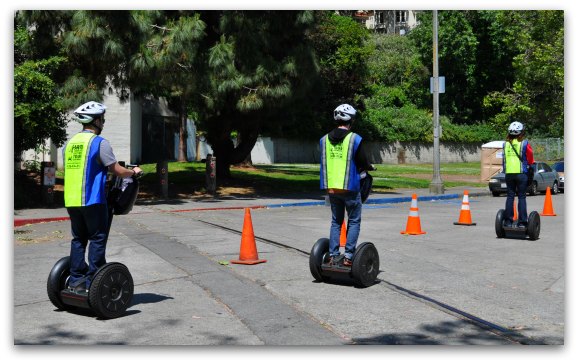 While Segways are easy to ride, it does take some time to get used to them. Once it's powered up, the machine is constantly in motion. It also responds to very slight movements, so it's important to practice for a while before you hit the road.
This was my second time on a Segway, but I was nervous before I started my first training session. This is natural as you aren't sure what to expect. 
I can assure you that it's easy to learn and so much fun to ride once you hop on. Also, the trainers at the Electric Tour Company are exceptional and take great care in ensuring everyone is ready to go and comfortable before it starts.
Once the training is complete, you will hit the road which is the official start to your tour! 
1. San Francisco Waterfront Segway Tour

This one starts on the western side of Fisherman's Wharf. From here, you will head east down Beach Street - on your way to North Beach.
The first hour of it covers the most interesting attractions in this SF neighborhood. You will stop by the fields where Joe DiMaggio learned to play baseball, cruise past some world-famous restaurants and discover the history of this neighborhood.
You also get the chance to learn quite a bit about Coit Tower and the woman that donated the money to build it - Lillie Hitchcock Coit. She was quite the character and called the streets of North Beach her home.
After about 45 minutes, you will stop at Washington Square for a short break. Here you can grab a quick slice of pizza, walk around the park or talk to the guide more about this amazing neighborhood. You will spend about 15 minutes here.
This is one of the most popular San Francisco Segway tours, as it cruises along the famous landmarks and neighborhoods of the city's waterfront. 
You will then hop back on your Segway and make your way to Fisherman's Wharf. During this part, you will learn more about the history of this colorful neighborhood. 
You will pass by Pier 39, ride through Fish Alley (where you can get inexpensive, but amazing fresh fish), and past the Cannery. You will also head down along the waterfront and learn more about the fisherman that gave this neighborhood its name.
During the San Francisco Waterfront Segway Tour, you will also ride all the way down to the end of Municipal Pier. At the end of the pier, you can get some great shots of both the Golden Gate Bridge and Alcatraz. 

Here are two of my photos from this stop.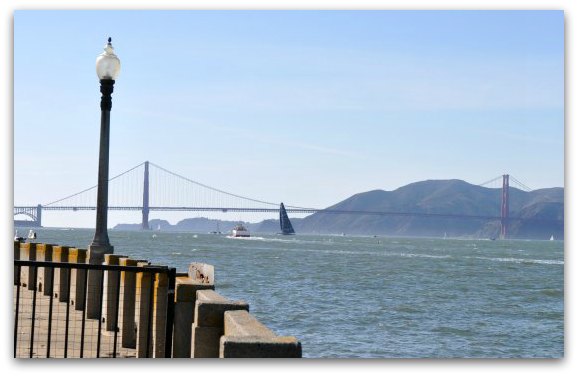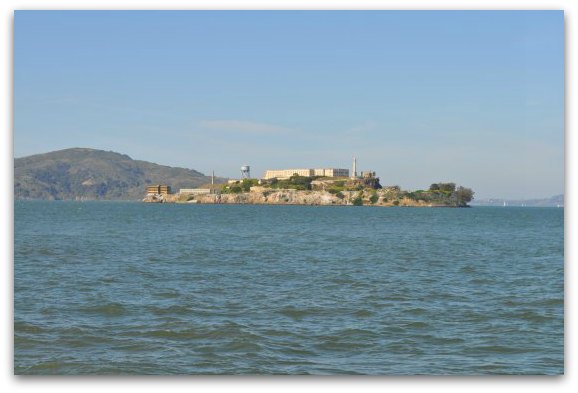 After another 15-minute break here, you will finish your San Francisco Waterfront Segway Tour back at your starting point.
Highlights of this 2.5-hour tour include:
Learn More & Book Your Tickets Today: SF Waterfront Segway
2. San Francisco at Night: Segway Tour of North Beach, Chinatown, and the Embarcadero (Seasonal)
One of my personal favorites is the SF Night Segway Tour. San Francisco is beautiful at night and this tour offers you the chance to see it sparkle.

It also offers a 35-45 minute training session before you begin.

This 2.5-hour trip takes you through three of the most popular neighborhoods. You'll roll along the SF waterfront, see the North Beach neighborhood, and discover San Francisco Chinatown.

Other highlights include:

Uncovering Little Italy's bars, cafes, and restaurants frequented by the Beat Generation in the 1950s and 60s
Cruising the lantern-lit streets of Chinatown, one of the oldest neighborhoods in the city
Admiring the sparkling night views of the Bay Bridge, Transamerica Pyramid, Fisherman's Wharf and Alcatraz
From November to May and runs Friday - Sunday, the tour begins at 5pm. From June to August, it begins at 6pm and runs most days of the week.

Learn More & Book Your Tickets: SF Night Segway

3. Golden Gate Park Segway Tour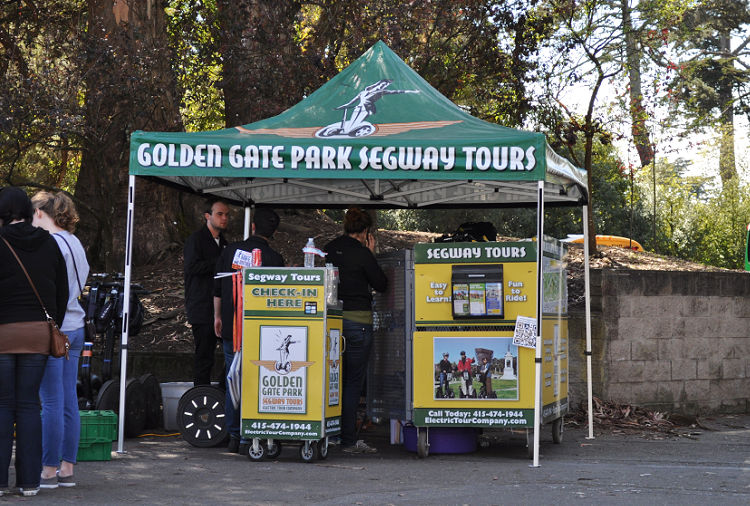 Your tour starts the minute you are done with training. After riding out of the training area, you head past the California Academy of Sciences. Here you learn more about this museum's history and how it became one of the greenest museums in the world.
From here, you will head behind the museum to the Rhododendron Gardens. You will cruise around the gardens as you learn more about the history of the park and the statues in these gardens.
You then head through the Fuchsia Gardens over to the Conservatory of Flowers. You will get an up-close look at the outside of the Conservatory and learn a little about the Dahlia Garden located to the east of it.
You then continue east, past McLaren Lodge and through Sharon Meadow (this is where most of the 1967 Summer of Love festivities took place). You will then pass the first children's playground in the US, the beautiful carousel and Sharon Art Studio.
The first part of your trip takes about an hour. This is when you will get the chance to hop off your Segway and take a few minutes to explore the AIDS National Memorial Grove.
Since you aren't moving your feet for almost an hour, they will get a little tingly by this time. A quick walk around the gardens and/or a few minutes off your feet gets the blood pumping again so you are ready for the second half of the tour.
After this stop, you will head behind the California Academy of Sciences for a good look at its living roof. From here, you will pass Shakespeare's Gardens (all of the plants and flowers in this garden are referenced somewhere in Shakespeare's works).
You then continue on to see Stow Lake. This is your second stopping point. Here you will have a little time to grab a snack and enjoy the beauty of this man-made lake.
This is also where we stopped to take a photo of each of us and our group. This is me getting in a good pose for my part of the photo shoot.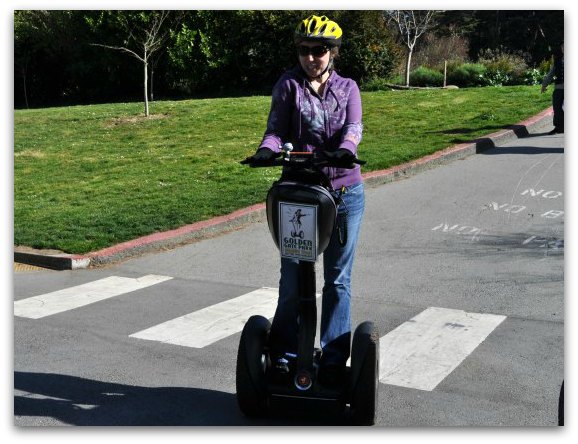 The last 20 minutes of this Segway Tour of Golden Gate Park takes you on the southern side of Stow Lake, past the de Young Museum and the entrance to the Japanese Tea Garden. You then head back to the starting point.
I had a blast on this tour. Once you get the hang of these Segways, they are so much fun to ride.
The tour guides are also very entertaining. They give you quite a bit of history but are funny as well as informative. We were laughing the entire two hours and none of us wanted the tour to end.
All of these tours are small group tours, so the guides can keep an eye on the group. Both tours the day I was there included only seven people plus the guide.
Each Segway is equipped with a personal radio and ear-piece. This way you can set your own volume to hear the guide's live narration during the tour.
Because you need to keep both hands on your Segway, you are not allowed to take photos during the journey. However, there are a few places that you stop, and you can take some photos at that point. Also, our guide took dozens of photos of us during the trip and they posted them online for us to grab at no additional cost.
If you are interested in booking this tour, I recommend reserving your spot online in advance. Since it's a small group tour, it does fill up quickly - especially during those busy summer months. 
Book online today to reserve your spot in advance!
4. Lombard Street Segway Tour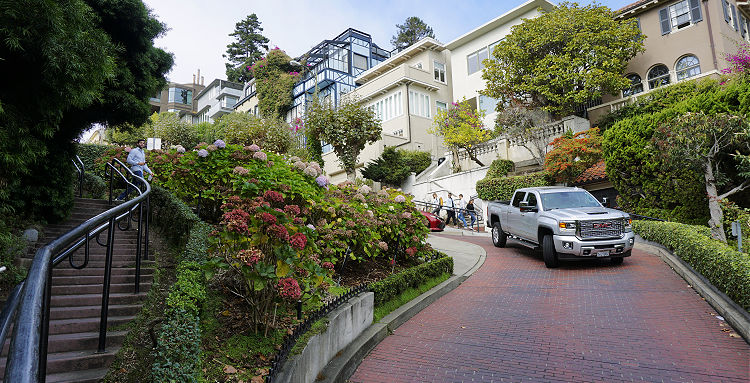 If you are a Segway pro and want to test its abilities a little more, then this is the one for you. On this cruise, you'll take several steep hills in the Russian Hill neighborhood including a trip down Lombard Street.

This is a small group tour, limited to 8 people, which does not include a training session. Only those who have previously ridden a Segway for at least an hour are allowed to join.

Your trek starts in the Fisherman's Wharf neighborhood. From here, you'll cruise up the steep hill to the top of Lombard Street. You will then test your nerves as you make your way down the famously most crooked street in town.

From there, you will cruise through North Beach and spend some time enjoying the SF waterfront. In addition to Lombard Street, this 2.5-hour tour includes:

Aquatic Park and the Municipal Pier
Fishing Harbors along the Bay
Gorgeous views of Alcatraz, the Golden Gate Bridge, Coit Tower, the Bay Bridge and the SF Bay
Climbing the slopes of Russian Hill and Telegraph Hill
Hundreds of SF's hidden stairways and pedestrian-only lanes
St. Peter and Paul's Church and Washington Square Park in North Beach, also known as Little Italy
This one runs at 11am daily.

Learn More & Book Tickets: Advanced Crooked Street Segway

Other Pages You Might Enjoy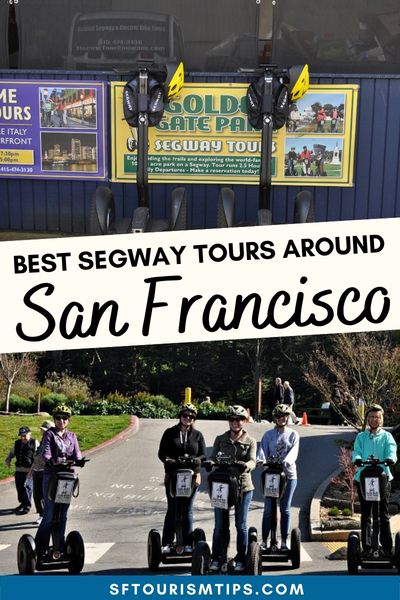 Comments? Questions? Suggestions?
I would love for you to join me in my private Facebook group! 
It's a great place to interact with me and others who know the area well.
You can ask questions, get advice for your upcoming stay, and then share your photos and advice with others when you return home. It's a great community and the fastest way to get answers to those nagging questions about your visit!