San Francisco Helicopter Tours: What to Expect During Your Adventure Above the City
Are you looking to add a little adventure to your visit? If so, then one of these San Francisco helicopter tours might be right for you!

The journey over the SF Bay
Disclaimer: I receive a small commission from some of the links on this page.

San Francisco Vista Tour

Your trip starts with a shuttle pick-up from one of three central locations in the city. You can choose from the Zephyr Hotel in Fisherman's Wharf or the Hilton Hotel near Union Square.
Once you arrive, you will board the helicopter immediately. Your 37-mile (60-km) trip starts just to the south of the Ferry Building. You will head north past the Ferry Building along the waterfront, then make your way near Alcatraz Island and head west to the Golden Gate Bridge.
The most dramatic part of the trip is when you fly by the Golden Gate Bridge! This unbelievable view will showcase not only its beauty, but also its massive size.
Finally, you will head back along the coast for amazing SF skyline views and land again just to the south of the Bay Bridge.
The entire flight is choreographed to music, along with spontaneous narrative from your experienced pilot. The trip lasts 15 to 20 minutes but is an adventure you will never forget.
This tour option runs every day (weather permitting). You can select from one of these three time slots:
10am shuttle pick-up, 10:30am flight
12:30pm shuttle pick-up, 1pm flight
3pm shuttle pick-up, 3:30pm flight
>> Find tickets for this helicopter tour
Vista Grande Helicopter Tour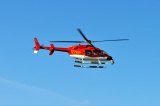 Are you interested in a slightly longer journey? The Vista Grande Helicopter Tour gives you 10 more minutes (30 in total) and several more miles of great views.
In addition to the adventure outlined above, you will also make your way out to the Pacific Ocean coastline, over the Marin Headlands and past both Sausalito and Tiburon, adding almost 20 more miles to the full Vista route.
This tour also runs three times a day:
10am shuttle pick-up, 10:30am flight
12:30pm shuttle pick-up, 1pm flight
3pm shuttle pick-up, 3:30pm flight
Add-on Options

You can also add on some additional fun to these trips. Here are the two additional options available.

Helicopter Flight with Sunset Dinner Cruise

This combination journey includes the same adventure as the San Francisco Vista Tour mentioned above but also an evening cruise on the SF bay.
After your flight, your shuttle will take you directly to the yacht for your evening cruise. This 2.5-hour cruise includes dinner, live music, and amazing views of the landscape around the bay.
This one is only offered once a day, and only from Wednesday to Sunday:
April - September: Tuesday - Sunday, 3pm shuttle pick-up, 3:30pm flight; Friday & Saturday, additional flight time at 5:30pm (5pm pick up time) based on bookings
October to March: Friday, Saturday and Sunday, 3pm pick up time
Helicopter Flight with Lunch and Afternoon in Sausalito

Another option adds on lunch and an afternoon stroll in Sausalito. Your adventure starts at 10am, and your flight will take the 20-minute Vista Tour route outlined above.
After your flight, your shuttle driver will take you over to Sausalito for a pre-arranged meal (included in the price). You can then spend a few hours or the entire day in Sausalito.
You will take the Sausalito Ferry back to SF at your leisure that afternoon (the ferry ticket is also included in the price).
This is another fun way to spend the day in the San Francisco Bay Area.