Free Things to Do in San Francisco in June: 25 Festivals, Events, & Attractions

by Jill Loeffler  •

Updated: March 7, 2023
There are dozens of fun free things to do in San Francisco in June. They include street fairs, annual events, and festivals. You will also find some great attractions and museums to visit this month.
Highlights each year include the Union Street Festival, the North Beach Festival, and the Pride Parade & Festival. Other top picks on my list of 25 include checking out our colorful street art, visiting the Wells Fargo Museum, and climbing to the top of Twin Peaks.

1. Free Museum Admission Days

One of my favorite free things to do in San Francisco in June is to take advantage of the free admission days offered by several museums. Because this city has so many great museums to offer for science lovers, art aficionados, green thumbs, and culture enthusiasts alike, it would be a shame to limit yourself to just a couple due to budget reasons.
Check out the calendar below to find out which dates you can get in free to the California Academy of Sciences, de Young, Conservatory of Flowers, Asian Art Museum, and more.
2. Free Walking Tours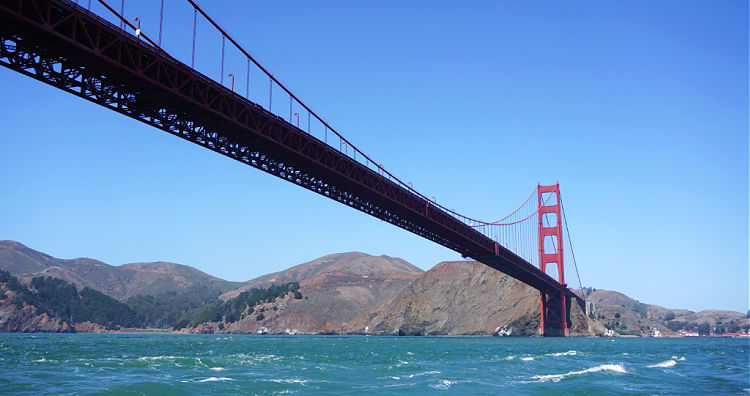 A view of the Golden Gate Bridge from the water. There is a free walking tour along the bridge a few times in June.
Another free activity I always recommend to visitors is taking a free walking tour by SF City Guides. Even for San Francisco residents these tours are a blast because the volunteer guides are so incredibly knowledgeable that there is always something new to learn.
The organization offers many tours each day that will either concentrate on a particular neighborhood, like Chinatown or North Beach, an architectural theme, like Landmark Victorians or Downtown Deco, or a historical topic, like Gold Rush City or the 1906 Earthquake and Fire.
On each of these two-hour walks, you'll get an intimate look at a unique part of San Francisco.
Check out the schedule below to pick the ones that interest you the most.
>> Details on finding these interesting walks
3. Juneteenth

Every year in June, San Francisco commemorates the signing of the Emancipation Proclamation with the Juneteenth Festival along Fillmore Street. The annual event features a street fair that offers live music, great food, carnival rides for the kids, and more.
There is a little something for everyone including everything from entertainment to community resources. Come check out this great event and groove to the sounds of Motown, soul, jazz, R&B, gospel, and reggae.
>> Additional festivals this June
4. Glen Park Canyon

Even when San Francisco's waterfront attractions are shrouded in typical June fog, it's likely you'll find some milder weather in Glen Park Canyon, a beautiful, little-known hiking spot in the middle of the city.
Its 77 acres offer more than four miles of trails full of wildlife. Head up to Billy Goat Hill for incredible unobstructed views of the city from the south all the way to downtown SF.  
This is a great spot to bring a picnic, or to explore the local bars and restaurants of the off-the-beaten-path neighborhoods surrounding the hill. 
>> Learn more about visiting Glen Park
5. North Beach Festival

One of the most popular free things to do in San Francisco in June is to visit the annual North Beach Festival. This is one of the city's largest summer street fairs, and takes place over two days on Grant Avenue, Columbus Avenue, and Vallejo and Green Streets.

The fair covers so much of the neighborhood, there is room for four stages of live music and entertainment and more than 100 artisan vendors. The festival pays homage to the cultural heritage of North Beach, offering a Blessing of the Animals ceremony and Italian street paintings. This is a fantastic way to get to know SF's Little Italy.
6. Coastal Trail Hike

Get outdoors this June and do a little hiking. The Coastal Trail is one of my favorite free things to do in San Francisco in June.
On this city trail, you will hike along a cliff that drops down to the water. You will get spectacular views of the SF Bay and the Pacific Ocean. You will also get some of the best views of the Golden Gate Bridge.
This hike starts in the Presidio and runs all the way to Ocean Beach. You can start and end at either location.
7. Pride Parade & Festival

San Francisco has long been proud and loud about its prominent gay community, and as one of the world's leaders in gay rights activism, it is also the home of one of the world's largest LBGT celebrations—the annual Pride Festival. The weekend-long event features over 300 exhibitors, including live music, gourmet food, and community outreach information.

You'll find the street fair taking up many blocks in the Civic Center. The colorful, vivacious Sunday morning parade has over 200 entries. It starts at Market and Beale Streets and makes its way down to the celebration at the Civic Center Plaza.
This event does get crowded, but it's worth attending.
>> More about this year's Pride Parade and Festival
Disclaimer: I receive a small commission from some of the links on this page.

8. Union Street Fair

There are lots of summer street fairs happening in different neighborhoods all over SF this month, and the Marina District kicks them off with the family-friendly Union Street Fair.
For two days in June, you can stroll up and down Union Street between Gough and Fillmore enjoying live music, goodies from local restaurants, and kids activities.
More than 100 boutique vendors will be showcasing their artwork and photography.. The fair is free to attend.
9. Stern Grove Festival

One of my favorite free things to do in San Francisco in June every year is to spend a Sunday afternoon at a free concert in Stern Grove. This year the ongoing summer music festival runs from mid-June to mid-August.
In past years, popular performers Janelle Monae and the Midtown Social, the New Pornographers, and the O'Jays all gave free concerts at Stern Grove.
There's something for everyone each season, as the shows run the gamut from rock to alternative to soul to classical, and the SF Ballet and SF Symphony usually make an appearance sometime during the festival.
>> Stern Grove dates and details for this year
10. Golden Gate Bridge

What would San Francisco be without its prized, bright orange Golden Gate Bridge? This is one SF attraction that's on everybody's must-see list, and you can not only see it, but cross it, for free!
Of course, many like to sail underneath or take a tour bus to the lookout points on either side, but if you know how to get here, exploring this attraction is easy and cheap.
Just click the link below for tips on how to visit, strap on your walking shoes, and enjoy the 1.7-mile journey towering over the SF Bay and looking out at the ocean. And don't forget to take photos! There is no shot of the bridge like the one from the bridge itself.
>> More tips to visit this golden beauty
11. Lombard Street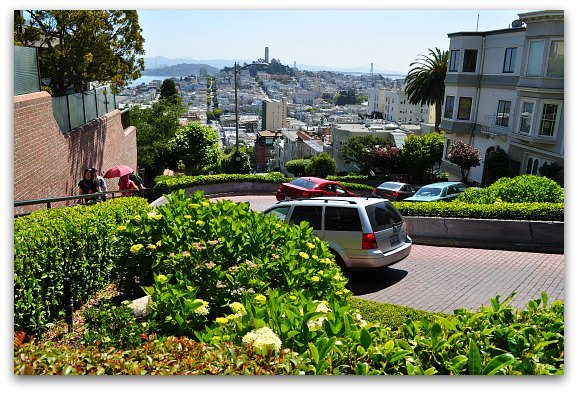 Lombard Street is another iconic SF spot to visit for free. The crookest street in town was made so on purpose, as the hill was so steep that cars could not drive safely straight down.
The block between Hyde and Leavenworth Streets narrows to one red-bricked lane that curves eight times back and forth, where gardens have been planted in between, painting a postcard-perfect image that tourists love to admire.
Only cars can drive down the crooked part; pedestrians use the stairs on either side of the street and stop at the Leavenworth end to take photos.
>> What to expect during your visit
12. Street Murals in the Mission

Whatever attracts you to the Mission District in the first place—maybe the incredible selection of taquerias, or the trendy new shops and restaurants on Valencia, or the historic Mission Dolores church and park—make sure to set aside some extra time to wander around the neighborhood.
You'll notice that it is full of amazing, colorful murals that represent the district's bohemian culture.
There are some buildings whose entire facades are covered in bright images, often depicting indigenous and Latino history, and there are also entire alleyways that display galleries of mural after mural after mural.
>> Where to find the best pieces
13. Octagon House

If you drive around the Marina District around Gough and Union, you may notice an unusual colonial style building with an American flag out front. At first, the architecture will catch your eye because the light blue and white house has eight sides with a perfect little turret sticking out on top.
This is the Octagon House, built in 1861 when this design was actually popular, and now a historic landmark.
But beyond its walls, this Museum of the Decorative Arts hosts even more fascinating pieces inside, including 18th century china, a Revolutionary War painting of George Washington, and many more historic artifacts.
14. Wells Fargo Museum

The Wells Fargo Bank, distinguished by its horse-drawn stagecoach logo and primarily serving the West Coast of the US since the mid-1800s, got its start during the Gold Rush in San Francisco.
The company was actually founded by Henry Wells and William Fargo in New York, when the booming economy in the west created a need to connect with the already industrialized Northeast.
The free SF museum is full of fascinating exhibits and interactive displays, including a stagecoach ride and rare documents and artifacts from the Gold Rush period. It is located in the Financial District.
>> Top exhibits and other visiting details
15. Twin Peaks

One of the most popular outdoor free things to do in San Francisco in June is to visit Twin Peaks. With an elevation of 922 feet, these peaks are the tallest points in the city, second only to Mt. Davidson, and people usually come to admire the 360-degree views of the whole Bay Area.
Perhaps you'll recognize this site from photographs, as the famous Twin Peaks Boulevard runs a figure eight around the two hills.
In addition to the great vistas, people also come here to hike the trails of this 64-acre park that is home to the endangered Mission Blue Butterfly, as well as a large variety of birds, rabbits, coyotes, and plants.
>> More about getting the best views from Twin Peaks
16. Mosaic Stairs

You've probably noticed the more than 1,000 murals spread out around the city, but if you know where to look, you'll also find several elaborately decorated stairways hidden in the Inner Sunset and Inner Richmond Districts.
One of them is a narrow walkway that stretches 163 steps up a long hill, each one of those steps covered in shiny little tiles that come together to form a swirling design of a moon, a sun, fish, flowers, and shells.
Over 300 community members pitched in for this impressive beautification project. Not far away, you'll also find the Hidden Garden Stairs, decorated with beautifully vibrant flowers and butterflies. Click the link below to find out how to get here and where to find more.
17. Diego Rivera Murals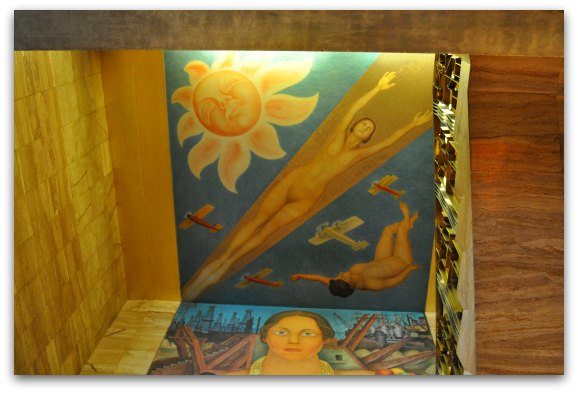 Diego Rivera was a famous Mexican artist who left a legacy in the US, France, and the world with his beautiful and controversial murals. His larger-than-life artwork actually consists of frescos, a particular style of mural that requires a special skillset to complete, but whose technique ensures that the painting won't fade or weather.

A known member of the Communist Party, his work was not well received by everyone, but luckily three important works have been preserved and are open to the public in San Francisco. You can visit them at the City Club downtown, the SF Art Institute, and the SF MoMa.
>> What to expect when you visit and where to find all three
18. City Hall

SF's prominent City Hall sits at the heart of the Civic Center District, just steps away from the opera house, symphony, other historic theaters, and museums. This is a building you can't miss, as it is completely surrounded in columns with its golden dome rising high above.
The dome is the tallest in the US, counting the Capitol Building in DC. Inside, the impressive ornate rotunda opens up above a shining marble staircase that is the scene of countless weddings.
On the second floor, you'll find a tribute to Harvey Milk and George Moscone, former SF Supervisor and Mayor who were assassinated here in 1978. In addition, City Hall contains art exhibits and small history museum.
>> Pictures and tips for your visit
19. Stow Lake

If you're looking for free things to do in San Francisco in June that get you out of the city without having to go very far, look no further than Golden Gate Park.
Inside the 1,000-acre nature area on the city's west side sit Stow Lake and Strawberry Hill. This peaceful place is the perfect setting for a short hike, a picnic, a pedal boat ride, or even just a moment of relaxation and reflection.
Strawberry Hill is an island in the middle of the lake, which you can easily access by bridge. There, you will find the Chinese Pavilion and Huntington Falls.
>> What else there is to see and do here
20. Japanese Tea Garden

The oldest Japanese Tea Garden in the US also lies within Golden Gate Park. It dates back to 1894 and has been meticulously cared for ever since. You'll first enter through an impressive and ornate wooden gate to discover the five acres of tranquil gardens.
Among the trails and streams, you'll find beautiful highlights, like the five-story pagoda, high-arching drum bridge, zen rock garden, dwarf tree collection, and Jack Hirose Teahouse. If you want to explore the gardens for free, visit between 9 and 10am on a Monday, Wednesday, or Friday morning.
>> What else you'll see inside
21. Chinese Temples

The oldest and largest Chinatown in the US is not just restaurants and discount shops, it is truly rich with Chinese culture and tradition. If you want to delve a little deeper into the culture, check out my three favorite temples in Chinatown, all of which are free and open to the public.
They may not look like much from the outside, but inside, they are adorned with glowing altars, red and gold for good luck, statues of Buddha and Daoist gods, lanterns, fruit, and more. Feel free to look around, just remember not to touch anything and keep your voices low in these important places of worship.
22. Palace of Fine Arts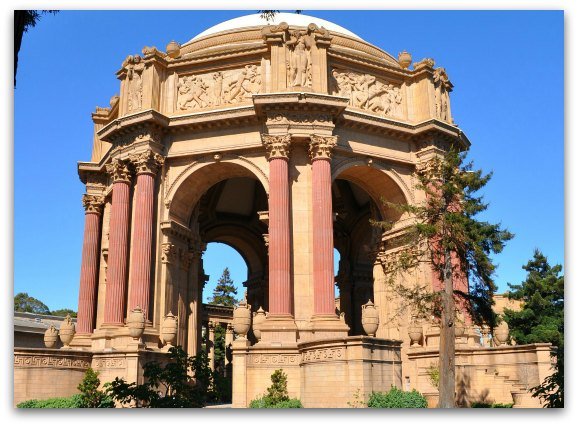 The elegant Palace of Fine Arts is the only remaining relic of the 1915 Panama Pacific Exposition, a world fair meant to show off San Francisco's talents and put it back on the global map after suffering such a devastating earthquake a few years prior.
It was one of many palaces made for the fair, but the only one deemed too beautiful to be torn down after the event.

The structure consists of a walkway of red-hued columns and an impressive rotunda, surrounded by a relaxing man-made lake. It is not unusual to see couples taking wedding photos, or even a movie being shot at this picturesque spot in the Marina.
>> More details on why I like to visit
23. Alamo Square Painted Ladies

One of San Francisco's most distinctive architectural styles is the Victorian home, or Painted Lady, a wooden house painted in pastel colors, ornately decorated, with a pitched rooftop and stairs leading up to the main entryway.
Though many did not survive the earthquake and fire of 1906, the Alamo Square District was not as hard hit, and has preserved several of these historic buildings.
You'll find lots of these gems spread throughout the neighborhood, but the most famous Painted Ladies are the Seven Sisters, which sit in a neat row across from Alamo Square Park.
Relax on the grass and take in this very San Francisco scene featured in postcards and on the TV series "Full House."
24. Folk Festival

Another one of the annual free things to do in San Francisco in June is the SF Folk Festival, a large event featuring musicians, dancers, and workshops.
Performances will last throughout the day from noon until 10pm, and they will include folk traditions like guitar-playing, ukulele jams, contra band dance, waltz, Irish step, and Argentine Tango.
The event will close with a huge dance party getting everyone involved and bringing the community closer.
25. Japan Day

Japantown invites the public to celebrate Japanese cultural heritage at this one-day festival full of authentic entertainment and food. Artists will be arriving from as far as Japan itself to share the beautiful customs of taiko drumming, classical and folk dance, Okiya style shamisen music, and more.
There will even be an Obon Odori ceremony, an ancient tradition honoring those who have passed. Spend the day in lovely Japantown and immerse yourself in another culture.
Hotel Savings

You will find several great ways to save on your hotels during your stay. Here are a few great options.
Booking.com: I use this site a lot as they have some great deals on hotel rooms. They mostly offer discounts on room rates, which will allow you to save quite a bit on your trip. Visit their site to check out their great deals on San Francisco hotels.
TripAdvisor: You will also find some deals on TripAdvisor. These are usually room rate discounts or free amenities such as breakfast or wifi. You can also read current guest reviews to make sure the hotel you select is perfect for your stay. Click here to visit their site and learn more.
Groupon: Recently, I've also found some good hotel deals on Groupon. I used them for a few recent trips, and I saved quite a bit on my room. Visit Groupon to check out their current deals on hotel rooms all around SF.
More Tips for Your June Visit

Additional Free Things to Do in San Francisco in June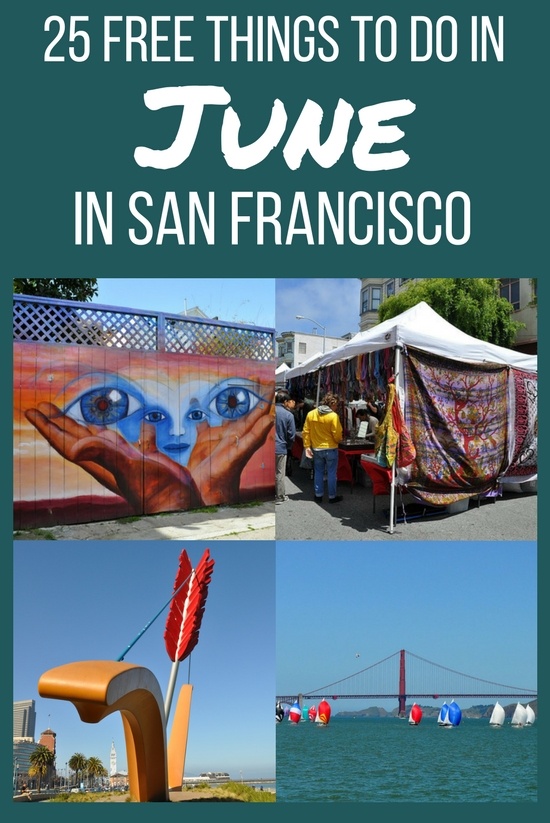 Comments? Questions? Suggestions?
I would love for you to join me in my private Facebook group! 
It's a great place to interact with me and others who know the area well.
You can ask questions, get advice for your upcoming stay, and then share your photos and advice with others when you return home. It's a great community and the fastest way to get answers to those nagging questions about your visit!