San Francisco Festivals in 2014 & 2015
Your One Stop Resource for All Festivals & Street Fairs in SF
The streets are alive again in 2014 and 2015 with the San Francisco festivals and street fairs. Many of these SF events draw hundreds of people and are a tradition in many of these neighborhoods.
Entrance is free to many of them. At most festivals, you can walk the streets and enjoy live music, food and drinks. You can also visit booths with original art work, crafts, jewelry and more.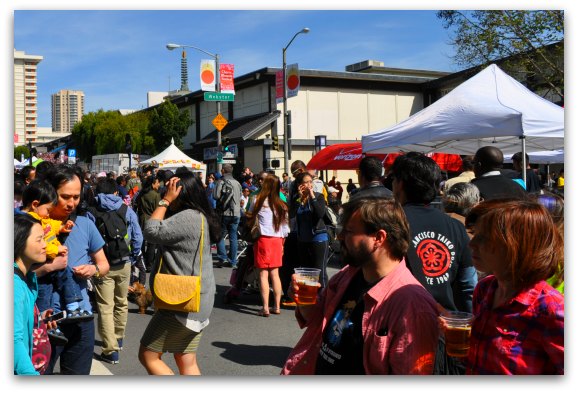 In addition to the festivals listed here, SF is home to almost 50 film festivals every year. Click here for a full list of the film festivals in SF this year.
Click here to download the list of all major annual San Francisco festivals and street fairs.
October 2014
Hardly Strictly Bluegrass
Free Bluegrass Festival held in Golden Gate Park
October 3, 4, and 5 2014
Music is free, dozens of food and beverage vendors on hand selling a variety of items
2014 details will be announced soon
Castro Street Fair
Sunday, October 5 from 11am to 6pm
Intersection of Market Street & Castro Street in the Castro
Live music, almost a hundred booths
Small entrance fee that is donated to local non-profit organizations
Fleet Week San Francisco
October 9 - 12, 2014
Along the waterfront in both Fishermans Wharf and the Marina Districts
Thousands of people attend every year
Litquake
Longest running literary festival in SF
October 10 - 18
Literary events from panel discussions to author readings
All around San Francisco
International Festival of Short Films
October 16 - 18
All films play at the Roxie Theater in the Mission
Shorts about important moments in people's lives including gains and losses, aspiration, and giving everything for your dream
Noe Valley Harvest Festival
One day festival in Noe Valley on 24th Street
All activities on October 18
Live music, kids activities, and a costume contest
Potrero Hill Festival
Saturday, October 18
In Potrero Hill on 20th between Wisconsin and Missouri
Local musicians, food, historians, and other activities for the entire family
The Wharf Fest
Saturday, October 25 in Fisherman's Wharf
One day of activities ranging from live music to a Segway obstacle course
Other events include a chowder competition, fireworks, and booths from local artists
Fiesta on the Hill
Sunday, October 26
In the Bernal Heights district
Live music, dancing in the streets, petting zoo, pumpkin carving, street artists and more
Click here for the full October 2014 event calendar.
---
Savings Tip: One tip I love to give all of my visitors is to make sure you check out the great ticket deals on Goldstar. They offer tickets to popular events and activities throughout San Francisco and the Bay Area such as theater performances, cruises, walking tours, and other annual events. Click here to check out their selection of tickets today
!
---
November 2014
Tree Lighting Ceremonies
Dozens of tree lighting ceremonies all around San Francisco
Watch them in Union Square, Pier 39, and Ghirardelli Square
Enjoy parades, live music, and other family fun as well
Dance Film Festival
November 6 - 9
All films focus on the art of dance
Most films show at the Bravo Theater in San Francisco
Hip Hop International Dance Fest
One of the largest Hip Hop Dance Festivals in the world
Three days of performances
All shows at the Palace of Fine Arts Theater
November 14 - 16
Craft Festivals at Fort Mason
Both offer unique pieces from popular local and national artists
Buy gifts for the holidays or yourself
Offer everything from jewelry to art work
Renegade Craft Fair on November 8 & 9
Celebration of Craftswomen on November 28 - 30
Great Dickens Christmas Fair
Stroll through history at the Great Dickens Christmas Fair
Enjoy food, crafts, and entertainment
Five weekends between November 22 and December 21 (also the Friday after Thanksgiving)
All activities are at the Cow Palace
Discover other top events in November 2014 in San Francisco.
---
Do you have a festival you would like to add to our calendar? Click here for more details.
---
December 2014
Great Dickens Christmas Fair
Stroll through history at the Great Dickens Christmas Fair
Enjoy food, crafts, and entertainment
Five weekends between November 22 and December 21 (also the Friday after Thanksgiving)
All activities are at the Cow Palace
Tree Lighting Ceremonies & Holiday events
Dozens of tree lighting ceremonies all around San Francisco
Watch them in Union Square, Pier 39, and Ghirardelli Square
Enjoy parades, live music, and other family fun as well
Craft Fairs at the Fort Mason Center
Two fairs in December
West Coast Craft Fair on December 6 & 7
SF Bazaar Holiday Show on December 13 & 14
Both offer hundreds of items on sale
Feature handmade goods from dozens of artists
---
January 2015
Bay Area Brews Festival
Sample wines from dozens of national and international brewers
Enjoy gourmet food from SF's famous food trucks (food sold separately)
General admission $40 from 2pm to 5pm (2014 prices)
VIP admission $50 from 1pm to 5pm (2014 prices)
2015 dates are TBD
---
ZAP Wine Festival
Wine festival focused on Zinfandel wines
Offers the best Zins from California producers and beyond
At the Presidio and the Four Seasons Hotel
Grand tasting on Saturday, January 31, 2015
---
SF Sketchfest
San Francisco comedy festival
Performances at venues throughout the city
2015 dates January 22 - February 8
The 2015 schedule is still in process
Click here for the full January 2015 calendar.
---
February 2015
SF Indie Fest
Independent Film Festival heading into its 16th year
Show include the best in independent, alternative and subversive movies from around the world
One of SF's largest film festivals
2015 dates are TBD
---
SF Beer Week
Large craft brew festival
Most beers are from Northern California breweries although there are also brews from around the world
2015 dates are February 6 - 15
Daily events including tap takeovers, meet the brewers and more
---
March 2015
Saint Patrick's Day Festival
At Civic Center Plaza in the heart of the city
Live music, cold beer and dancing
Outside the main festival is a fun, family friendly area with activities for the kids
Estimated date is the Saturday before St. Patrick's Day
Festival is from 11am to 5pm
Parade starts at 11:30am
---
Ocean Film Festival
Date: TBD
More than 50 works that explore our amazing oceans
Pieces about the ocean's ecosystem, interesting plants and animals and more
---
Chinese New Year's Street Festival
Date: March 7 and 8
Fair includes traditional dancing, art, and Chinese food
Discover lion dancing, calligraphy, and other activities
Big parade is Saturday night, March 7
---
April 2015
Cherry Blossom Festival
Two weekend long celebration every spring
In SF's Japantown neighborhood
Dates TBD
Listen to traditional Japanese music, sample gourmet treats and visit dozens of other vendors
---
Union Street Spring Celebration
24th Annual Spring Celebration & Easter Parade
Sunday, April 5, 2015
Event is from 10am to 5pm
Parade starts at 2pm
Union Street, Gough to Fillmore in the Marina District
---
Rhone Rangers Wine Festival
17th annual festival with more than 500 wines to choose from
Sample Rhone varietal wines such as Grenache, Syrah & Carignan
Grand Tasting is on April 6 at the Craneway Pavilion in Richmond (across the bay from SF)
Tickets range from $55 to $150+ depending on the events you want to attend
---
Cesar Chavez Holiday Parade and Festival 2014
Celebrates the life and work of this labor and civil rights leader
Saturday, April 12, 2014
Parade starts at 11am at Dolores Park
Festival is on 24th Street between Treat and Bryant from 12pm to 5pm
Festival includes entertainment, music and arts & crafts booths
---
Glen Park Festival
Family friendly event in the Glen Park neighborhood
Food, entertainment and crafts from local artists
Two children's areas with live entertainment, games and two jumpy houses
Event runs from 10am to 4:30pm on Sunday, April 27
---
May 2015
International Film Festival
56th Annual International Film Festival
Features over 150 films and live events over a two week time period
Showcases narrative feature films, live action, animated shorts, television and theatrical dramas
Date is TBD
---
Oysterfest
Live music and oysters
Date is TBD
Golden Gate Park's Sharon Meadows
Festival starts at 11am
---
Hill Physicians Asian Heritage Street Festival
Date is TBD
Little Saigon near Civic Center on Larkin Street from Grove to Ellis
Free admission
Faces of Asia cultural procession kicks off at 11am
Music, dancing, food, crafts and more
---
Uncorked Wine Festival
Date is TBD
Ghirardelli Square in Fisherman's Wharf
Sample up to 50 wines from local wineries
Music, food and wine tasting seminars.
---
International Beer Festival
Date is TBD
31st Annual Beer Festival from 7 to 10pm
Sample beers from more than 100 brewers from around the world
---
Mission Carnaval Celebration
Date is TBD
Street fair celebrating diversity in the neighborhood and throughout the world
Focused on the Latin American and Caribbean cultures
Food, music and dancing in the streets
Festival is free
---
Green Film Festival
Films showcasing people and the environment around us
More than 60 films this year from 21 countries
Focus on our impact on the earth and ways we are trying to save it
Date is TBD
---
June 2015
Union Street Festival
Date is TBD
In the Marina District, on Union Street between Gough and Stein
250 craft booths, 25 gourmet food booths
2 stages of live entertainment
Bistro style cafes by local restaurants
Admission is free
---
Ethnic Dance Festival
Four weekends of dance performances, workshops, panel discussions and more
Dates are TBD
---
Cultivate Festival
Free festival in Golden Gate Park
Date is TBD
Enjoy music, cooking demonstrations by celebrity chefs, local foods, craft beers and more
Music performers: Neon Trees, Charli XCX & Andrew MacMahon
Celebrity Chefs: Graham Elliot and Amanda Freitag
---
Haight Street Fair
Date is TBD
In the Haight Ashbury District
Three stages of live music
From 11am to 6pm
Six blocks of vendors from crafts to gourmet treats
Admission is free
---
North Beach Festival
Date is TBD
From 10am to 6pm in the North Beach neighborhood
125 arts and crafts booths
20 gourmet food booths
Three stages with live entertainment
Italian street painting and beverage gardens
Children's activity area
Admission is free
---
Juneteenth Festival
Date is TBD
It's the 64th year for this festival, celebrating the 151st anniversary of the Emancipation Proclamation
On Fillmore Street between Post & Turk Streets
Parade begins at 11am
Two stages of entertainment
A Kiddy Corner
Free and open to the public
---
SF Free Folk Festival
Dates are TBD
Two days of music, dance workshops, concerts, crafts and more
Free festival, but you can support the festival with a donation
At Presidio Middle School at 450 30th Avenue (at Geary)
---
Gay Pride Parade & Festival
This year's theme is Embrace, Encourage, Empower
Festival is on June 28 and 29
Parade starts at 10:30am on Sunday, June 29
Festival includes more than 300 exhibitors
You will also find live music and dancing in the streets all day long!
---
July 2015
Fillmore Jazz Festival
First Saturday and Sunday in the Pacific Heights neighborhood
One of the largest free jazz festivals on the west coast
From 10am to 6pm both days
Hundreds of booths showcasing unique art, crafts and other goodies
Dozens of food and beverage booths
On Fillmore Street between Jackson and Eddy Streets
---
Salsa Festival on the Fillmore
Dates TBD
Fillmore Street between Eddy and Geary Streets
Salsa dancing, live music and DJs all night long
---
Breastfest Beer Festival
Beer festival and fundraiser for low-income women diagnosed with breast cancer
Features more than 60 breweries from around the world with many local favorites
Dates TBD
---
J-Pop Summit Festival
Celebrating Japantown and the Japanese culture
Live music, food, and entertainment
New films and special guest appearances
Dates TBD
---
August 2015
Outside Lands Festival
One of the largest outdoor live music festivals in SF
TBD for 2015
In Golden Gate Park on the western side of San Francisco
Features gourmet food, internationally recognized wines and work of hundreds of arts on display.
---
Nihonmachi Street Fair
Asian-Pacific American festival that features traditional and non-traditional performances, art, music and more
Sample yummy foods from Asian Pacific Countries as well as San Francisco favorites
Two stages with live music all weekend long including everything from jazz to rock
Bring along the kids for Asian inspired crafts and other fun games
Dates TBD for 2015 in Japantown
---
Stern Grove Festival Free Concerts in the Park
Every Sunday afternoon from mid-June to mid-August
Specific dates TBD for 2015
Weekly outdoor musical festival
Starts at 2pm
Admission is free
---
September 2015
Fringe Festival
Grassroots theater festivals
2015 Date TBD
All performances at the Exit Theaterplex at 156 Eddy Street
35 groups performing 150 shows
Chinatown Autumn Moon Festival
2015 Date TBD
Starts with a parade on Saturday morning
Features live entertainment, arts & crafts, and traditional food all weekend long
11am to 6pm both days
Summersalt Music Festival
On Pier 70 in the Dogpatch District
Full day of live music, games, food, and fun
2015 Date TBD
Starts at 1pm and lasts until around 11pm
Ghirardelli Chocolate Festival
2015 Date TBD
Sample chocolates, wine and learn new creations from SF's top chefs
Ice cream eating contest and a silent auction to raise money for Project Open Hand
A Taste of Greece
SF's only Greek Food Festival
In the Mission at the Annunciation Cathedral
2015 Date TBD
Enjoy traditional food, music, and wine
Oktoberfest by the bay
2015 Date TBD
At SF's Pier 48
Enjoy German food, beer, and entertainment
Head over during one of four sessions during the weekend
Folsom Street Fair
Worlds largest leather & fetish event
2015 Date TBD
On Folsom Street between 7th and 12th Streets
Admission is free
Excelsior Arts & Music Festival
2015 Date TBD
Family-friendly event with lots of activities for the kids
Live music, food, and arts & crafts booths
Excelsior district on Ocean Avenue and San Juan Avenue
Bay Area Blues Festival
2015 Date TBD
Two main stages
Merchant marketplace with arts and crafts booths
Several gourmet food and beverage vendors
From 10am to 6pm each day
In downtown Martinez
Admission is free
---
Other Popular SF Events
Did you enjoy this page?
If so, share it with your friends!

Like me on Facebook for the latest
on events, attractions and
other tips to help plan your visit.
Search the Site or Ask a Question
Are you still looking for additional information? If you can't find what you are looking for, you can use the Google search box below to search the site or click here to ask me directly. Thanks for visiting my site!