Wharf Fest 2019: Enjoy the Annual Street Festival in San Francisco's Fisherman's Wharf
Discover the best of San Francisco's Fisherman's Wharf at the 2019 Wharf Fest. The annual event is on Saturday, October 19 this year. The street fair lasts from 11am to 5pm with additional local events continuing until 9pm.

This year, most of the activities will take place near Jefferson and Taylor Streets, next to the famous Fisherman's Wharf hub sign. There are additional events on the Pier 41 promenade, which is the area between Pier 39 and Pier 43 with seating and great views of the SF Bay and Alcatraz Island.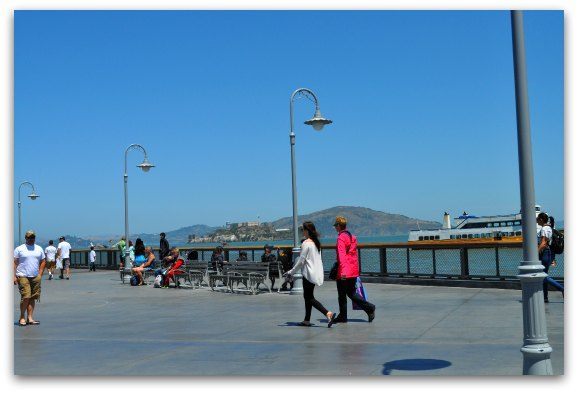 Pier 41 promenade with Alcatraz and a Blue and Gold Fleet ferry in the background
You will be able to sample a variety of chowders and cheer on your favorite one during the Chowder Tasting Competition. In addition, you will find live music all day long.

More Festival Details

Chowder Tasting Competition

This year you will find 11 local restaurants battling it out to see whose chowder is the tastiest.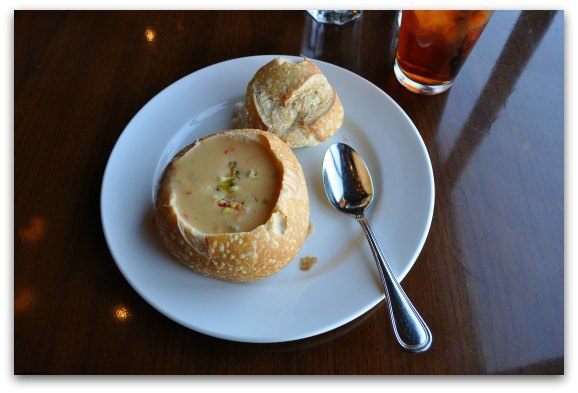 Chowder from Boudin's Bakery in Fisherman's Wharf....Yummy!!!
The best part about the competition is that YOU get to decide! For $15, you get the chance to sample and vote on your favorites. Tickets are $15 in advance or $20 in person at the festival.Sample between 12pm and 3pm. The winners will be announced at 3:30pm.
Live Music
Every year, the Wharf Fest offers free live music to the public. You can catch live performances from 11am to 5pm during the festival.

Tips to Get to the Wharf Fest

This event draws thousands of people every year, so I highly recommend looking at public transportation options. Here are your best bets.
Bus: Several buses will take you within a few blocks of the festival. I recommend taking the 8, 30, 39, 47, or 90.
Cable Cars: You can also take either the Powell/Hyde or Powell/Mason cable car. Both stop about four blocks away. This option offers you a fun ride through the city to Fisherman's Wharf.
F Street Car: The F street car will also drop you off right near the heart of the festival. Take it to the stop at Jefferson and Powell Streets. You can also take it all the way to the end.
Best Places to Stay

If you want to stay near the festival, grab a hotel right in Fisherman's Wharf. This popular district offers lodging that ranges from the five-star Fairmont at Ghirardelli Square to the more modest two-star San Remo Hotel.
Click here to read more about my recommendations.
If your budget is tight or you want to find a great deal, then you can also start by checking out the discounts available through TripAdvisor. They often have deals on up to 80 hotels throughout the city. Click here to review their special offers before you book your room.
Other Things to Do in Fisherman's Wharf

Pier 39: If you need to do a little souvenir shopping, then stop by Pier 39. This remodeled pier is home to dozens of shops and restaurants. You will also find other fun activities such as the 7-D Experience, the Mirror Maze, and the Piano Steps. Click here for details.
Aquarium of the Bay: The Aquarium of the Bay offers an amazing look at the plants and animals that live in the San Francisco Bay. Here you will see jellyfish, a giant Pacific Octopus, sharks, stingrays, and more. It's fun for the entire family. Click here for pictures and what else to expect when you visit.
Hyde Street Pier: The Hyde Street Pier is home to several historic ships, all of which have an interesting story. You can pay a few dollars to hop aboard three of this beauties or you can walk along the pier for free to view them all from the outside. Click here for pictures and more details.
Other Fun Fall Events

Halloween: Celebrate Halloween this year in San Francisco. You will find all kinds of events including 21+ costume parties, cruises, trick-or-treating, ghost tours, and more. Click here for details.
Ghost Tours: If you love getting into the Halloween spirit, then check out these fun ghost tours. You will find some that run all year long and a few special tours just on Halloween or in the month of October. Click here for more details on this year's tours.
Fiesta on the Hill: Head over to Bernal Heights for the annual Fiesta on the Hill in October. This event features live entertainment, plenty of activities for the kids, and lots of yummy food from local restaurants. 
More Things to Do in October: Are you looking for additional fun things to do in SF in October? In addition to the Wharf Fest, you will find many other events, cruises, tours, and other fun activities. Click here for details.
Other Fun SF Events