Warfield in San Francisco: Concert Calendar & Tips to Attend a Show

by Jill Loeffler  •

Updated: May 17, 2022
The Warfield in San Francisco is a great place to see a concert. It opened in 1922 as a vaudeville theater and is now one of SF's top live music venues. 

You will find a variety of local and internationally recognized music acts on stage several nights a week. Recent performers include Snow Patrol, Judas Priest, and the Australian Pink Floyd Show.
The venue holds 2,300 people and offers both general admission and assigned seating for those that want the best seats. It's situated along Market Street just a few minutes away from Union Square.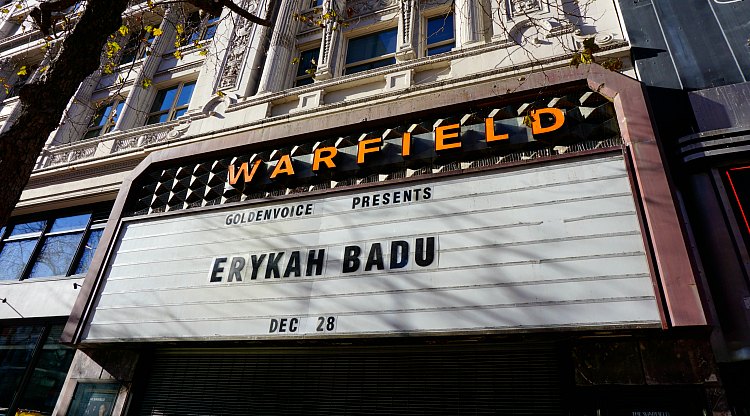 Disclaimer: I receive a small commission from some of the links on this page.

Upcoming Concerts & Shows at the Warfield in San Francisco

Where to Find Tickets

You will find tickets for the Warfield in a couple of places. They sell them directly through the online website, Ticketmaster. This is where you will find tickets for all shows until they sell out. Click here for tickets to upcoming shows.
If a show is sold out, or you want better tickets, then you will want to head to Ticketliquidator. This is where you will find third party tickets for those that can't attend the show or have extra tickets on hand. You will find a large selection here and some sell for more or less than face value. Go to Ticketliquidator for ticketing information.
Monthly Concert Calendars for San Francisco

Tips to Attend a Show at the Warfield in San Francisco

The Warfield in San Francisco is located on Market Street near the Civic Center District. It's also just a few blocks away from Union Square.

Public Transit Options

There are many transit options that will drop you within a block of the venue. Here are some of your best options.
F Streetcars: This is a great option as there is a stop right in front of the Warfield in San Francisco. This is a perfect way to get there from Fisherman's Wharf as you will get to see some of the city on the ride over. Your stop is 6th and Market.
Buses: 7 and 9 buses have a stop right in front of the Warfield. These will also get you from Union Station or other areas of San Francisco.

BART: The Warfield in San Francisco is about halfway in between the Powell Street and Civic Center stops. If you are coming from the east bay, you can get out at the Powell Street Station. Walk down Market about two blocks and you will find it on your right. If you are coming from the Peninsula or South Bay on BART. Stop at the Civic Center Station and walk three blocks to the venue. All SF BART trains stop at both of these stations.

>> More tips for getting around SF

Parking Nearby

5th and Mission Garage (833 Mission Street): Just a couple of blocks away is the 5th and Mission Garage. It has more than 2,500 spots and is an easy walk to the venue. Entrances are south off Mission St and north off Minna St. The garage is open 24 hours a day.
Mason O'Farrell (325 Mason Street): This is about 4 blocks away and is a great place to park during shows. They offer more than 1,100 spaces at this indoor garage. Walk down Mason to Market and then over to the venue. This garage is open 24 hours a day.
Intercontinental Hotel (888 Howard Street): If the first two are full, then you can also head to the Intercontinental Hotel for parking. It's pricey here but is just a couple of blocks away.

>> Find additional parking options around SF

Hotels Nearby

Hampton Inn Downtown (942 Mission St): A budget-friendly and highly rated find near the Warfield in San Francisco is the Hampton Inn Downtown. It's a 3-star hotel with easy access to the heart of SF. Read recent reviews and check for availability here.
Hilton Parc 55 San Francisco (55 Cyril Magnin St): 4-star hotel with plenty to offer. With more than 1,000 rooms, this hotel has a bar and restaurant on site as well as a fitness center. It's about 3 blocks from the Warfield in San Francisco. Find some of the latest reviews and more about availability.
Union Square Hotels: You will also find several hotels around Union Square that are just a few blocks away. Here are my top recommendations.

Dinner Options Before the Show

Taqueria Cancun (1003 Market Street): Just across the street is a small, cash only, taqueria restaurant with amazing food. If you like Mexican food, it's the perfect spot for some cheap eats before the show.
Mikkeller Bar (34 Mason Street): A great spot for some craft beers and pub food.
Burma Love (8 Mint Plaza): Burmese food and drinks
DIYA Indian and Nepali Cuisine (25 Mason Street): About a block away and a great place for authentic Nepali and Indian cuisine, try their momos, which are one of my favorites on the menu
54 Mint Ristorante Italiano (16 Mint Plaza): Modern Italian restaurant down a small alley about three blocks away from The Warfield, offers mostly Roman dishes and a variety of wines
>> Additional restaurant ideas for around SF

History of the Warfield in San Francisco

The Warfield was built as a vaudeville theater in 1922, and originally hosted famous performers Al Jolson, Charlie Chaplin, Louis Armstrong, and stars of stage and screen. 
Not only will you love seeing the performers, but you will also love the innate interior of the Warfield. When you enter, you'll be greeted by marble, amazing chandeliers, and a massive staircase. There is also a huge mural that you'll want to check out before you find your seats to see the show.
The Warfield has become a go-to place for top of the line acts since it holds more than 2,000 people but feels much smaller because of the design. Artists, and concert goers love it because of the intimacy but also the incredible acoustics and feeling that you are close to the stage no matter where you sit. Some of the more contemporary artists include the SF Bay Area's own Grateful Dead, U2, David Bowie and many more. 

Safety in the Tenderloin and Around the Warfield in San Francisco

This area of San Francisco is where you will find a large number of homeless people. You will find some on the streets near the entrance, but most are just behind the venue in the Tenderloin area. 
They mostly stay to themselves but be aware of your surroundings both before and after the shows at the Warfield in San Francisco just to be extra safe.
>> Read more about safety in San Francisco
More Live Music, Concert & Performance Venues in SF

Bill Graham Civic Auditorium: The Bill Graham Civic Auditorium is one of the biggest concert venues in San Francisco. Here you will find mostly pop and rock concerts as well as famous DJs on stage. Find out more about seeing a show here.
The Masonic: The Masonic is another large venue in San Francisco. It's in the Nob Hill area and offers a variety of performers. You will also find several well-known comedians on stage here. See a schedule of upcoming performances.
Orpheum Theater: The Orpheum Theater is home to some of the biggest Broadway shows. Some of the recent shows on stage here include Wicked, Hamilton, and The Lion King. Find a schedule of upcoming Broadway shows.

Comments? Questions? Suggestions?
I would love for you to join me in my private Facebook group! 
It's a great place to interact with me and others who know the area well.
You can ask questions, get advice for your upcoming stay, and then share your photos and advice with others when you return home. It's a great community and the fastest way to get answers to those nagging questions about your visit!