San Francisco Weather
What to Expect from the Weather During Your Visit
Many people are caught off-guard by the San Francisco weather. We have a unique climate here - one that is much cooler than the rest of California.
The city is surrounded on three sides by cool water. When warm air mixes with this cool water, it creates fog.
This is what we like to refer to as our 'natural air-conditioning'.
Although you will find fog all along the western coast of the US, SF is the most affected due to the water that surrounds the city. This keeps the city a comfortable, even temperature throughout the year.
In the picture below, you can see the clear day - with the fog starting to roll in under the Golden Gate Bridge. The hazy look of the bridge is also due to the fog.
Although many people associate San Francisco weather with fog, it isn't foggy here all of the time. Most days, it's sunny and beautiful - with a little fog rolling in at night. You will also find that it is more foggy (both during the day and at night) during certain times of the year.
We also get quite a bit of wind. The wind blows in from the Pacific Ocean.
Since there is a large opening (where the Golden Gate Bridge now sits) between the ocean and the SF Bay, there is nothing to stop or slow down the wind from reaching the city. It also isn't windy every day, but one more San Francisco weather factor that keeps the city cool most of the year.
Averages by Month
Here is a monthly breakdown of the San Francisco weather. As you can see from the table below, the temperature doesn't change much throughout the year - which makes it one of the most desirable places to live!
| F | Jan | Feb | Mar | Apr | May | Jun | Jul | Aug | Sep | Oct | Nov | Dec |
| --- | --- | --- | --- | --- | --- | --- | --- | --- | --- | --- | --- | --- |
| Highs | 57 | 61 | 62 | 64 | 65 | 67 | 67 | 69 | 71 | 69 | 64 | 57 |
| Lows | 46 | 48 | 49 | 50 | 51 | 53 | 54 | 56 | 56 | 54 | 51 | 46 |
| C | Jan | Feb | Mar | Apr | May | Jun | Jul | Aug | Sep | Oct | Nov | Dec |
| --- | --- | --- | --- | --- | --- | --- | --- | --- | --- | --- | --- | --- |
| Highs | 14 | 16 | 17 | 18 | 18 | 19 | 19 | 20 | 22 | 21 | 18 | 14 |
| Lows | 8 | 9 | 9 | 10 | 11 | 12 | 12 | 13 | 13 | 12 | 11 | 8 |
Click the links below for more details on what to expect with the San Francisco weather each month.
January | February | March | April | May | June
Here are some additional San Francisco weather comments by month. This is based on my experience of living here for more than a decade.
September and October
September and October are the best times to visit. During these months, the San Francisco weather is warm and sunny almost every day. The wind is also at a minimum and it's a very enjoyable time to be here.
November – March
This time of year is considered our rainy season. Our rain is typically a nice light rain with some light wind. It's still a great time to come as the rain is usually not very heavy. It also only rains a few days each month, so you may not even encounter rain at all during your visit. Late December, January and February are the rainiest months.
April
April is usually a beautiful month in San Francisco. It's the change of seasons in the surrounding areas, so San Francisco is fairly warm and sunny. There is also little wind during this time and it's a great time to visit.

May
May is the start of our summer, which is usually cool and foggy. You can still catch a lot of great days in May, but the wind starts to pick up a little. It also starts to become a little foggy.

June - August
June, July and August are the foggiest months in San Francisco. It's usually foggy in the morning with some sun in the afternoon. The fog then rolls in again around 5 or 6pm.
Even though its foggy during these months, the weather is cooler than the rest of the US - which makes it a great time to visit. It also doesn't rain at all during this time, so you can leave your rain gear at home.
This is a picture I took during a foggy summer day. It looks like it's going to rain - but it's just a heavy layer of fog over the Golden Gate Bridge.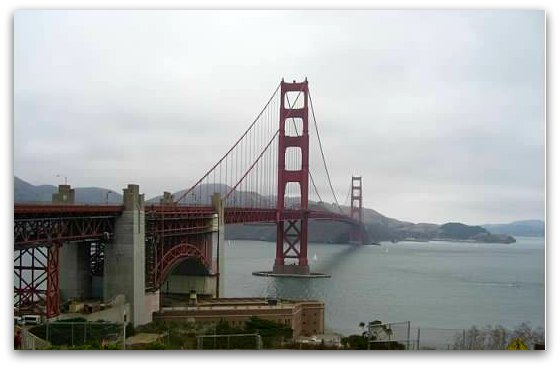 This is another picture I took around the same time of year. As you can see, even if its foggy one day - the next might be clear and sunny!
Finding an Accurate San Francisco Weather Forecast
Looking at the weather for San Francisco online is a little deceiving. You need to make sure you select a location that is directly in San Francisco for the most accurate forecast.
If you are looking at the weather at SFO (which is the default location for most weather sites), it's going to show up warmer or cooler than the city itself. SFO is warmer in the summer and slightly cooler in the winter.

To get the most accurate San Francisco weather forecast, type in a specific zip code such as 94109 (Nob Hill) or 94115 (Pacific Heights). This will pinpoint the temperature in the area of the city you are visiting.
If you are watching the weather forecast on TV, you will notice that there are three different temperature ranges. On the San Francisco weather forecast page, you will find out a little more about each one, so you can easily interpret what the weather is going to be in the city that day.
Top Hotels for Your Stay
Save $$ on SF Events and Tours
If you plan on attending events or taking tours during your stay, I recommend checking out the selection of tickets on Goldstar. This online retailers offers almost 200 tickets for up to half off the full retail value.
They work directly with the local event planners and tour companies to help them fill up their tours. This allows you to then save quite a bit of money.
I love using them when I go to the theater or take a bay cruise. In the past, I also used them for walking tours, Segway tours (these are soooo fun!) and annual events.
It's a great way to see more of the city while sticking to your budget.
Click here to check out their current selection of tickets at up to half off. Also, check back often before your visit as they frequently update their site.
Other Popular Pages
The Perfect Day in Fisherman's Wharf: Are you looking for a way to spend the perfect day in Fisherman's Wharf? Walk along with me as I take you to the best places to see in just one day. Along the way, we will sample local crab dishes, visit the historic Hyde Street Pier and learn about the creatures that live in the SF Bay at the Aquarium by the Bay on Pier 39. This self-guided tour allows you to see this district at your own pace.
Shopping in Union Square: One of the most popular places to shop is in SF's Union Square. This centrally located district offers both high end options such as Sak's Fifth Avenue and Louis Vuitton as well as budget friendly retails such as H&M and Loehmans. If you enjoy shopping, you will love the selection of places to shop in Union Square!
Night Tours of SF: Taking a night tour allows you to see the amazing colors of the city at night. You can take a ghost tour, visit Alcatraz at night or you can glide through the streets on a Segway. I love taking night tours and seeing the city in a different light.