San Francisco Fishermans Wharf
Save Money on Tours & Attractions with the Fishermans Wharf Pass
The details of the San Francisco Fishermans Wharf pass recently changed. In the past, you were able to select from a list of tours and attractions. To simplify the process, they decided to only offer the most popular tours and attractions.
As of 2014, the Fisherman's Wharf Pass is no longer available. Please check go here to check out the other great discount passes offered in SF.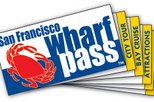 The newly updated pass includes a total of five activities. It's also now a one day pass vs a two day pass.
In addition to the activities above, the pass still includes the additional money saving coupon book. In this book, you will find discounts for restaurants, shops and other activities in the neighborhood.
Here is the updated list of activities available with this San Francisco discount pass.
Open Top Hop On Hop Off Double Decker Tour - Downtown Loop Pass: Includes twelve stops in and around the downtown San Francisco area.


Blue & Gold Fleet Bay Cruise: A one-hour narrated cruise around the SF Bay where you go near the Golden Gate Bridge and Alcatraz Island.
One Ride on a Cable Car: Enjoy a one way ride on one of the popular cable cars from San Francisco Fishermans Wharf to Union Square.


Aquarium of the Bay: Discover all the plants and animals that live under the water of the SF Bay.
Choose One of the Following:
Wax Museum: Spend some time seeing the amazing artistry of more than 250 wax sculptures.


Ripley's Believe It or Not: Visit hundreds of jaw dropping exhibits and determine if you believe them - or not.
The discount book I mentioned above includes SF coupons to more than 40 different Fishermans Wharf in San Francisco retailers.
Savings with the Wharf Pass
Here is an update of the savings you get with the San Francisco Fishermans Wharf pass.
Activity Groups
Selected Activity
Adult Retail Price
Activity 1
Hop On Hop Off Open Top Tour
$27.99
Activity 2
Blue & Gold Fleet One Hour Bay Cruise Adventure
$25.00
Activity 3
One-Way San Francisco Cable Car Ride
$6.00
Activity 4
Aquarium of the Bay
$18.00
Activity 5
Wax Museum or Ripleys Believe It or Not
$16.00 or $19.99
Retail Cost
~$95.00*
You Pay
$69.00
Your Total Savings!
~$27.00 or 37%*
*This is an estimate and will depend on whether you select the Wax Museum or Ripley's Believe It or Not. I created the estimate in between these two - just to give you an idea of your savings.
Prices and discounts for these San Francisco Fishermans Wharf attractions and tours are subject to change without notification.
Tips to Make the Most Out of Your Day
Here are some ideas on how I would structure my day with the San Francisco Fishermans Wharf Pass.
Morning
Hop on/Hop Off: Since this starts before the other activities on this list, I'd hop on the bus tour first.
Bay Cruise: You'll have to wait in line here, so it will take you more than 60 minutes. The lines go pretty quickly, but it might take you an additional 30 minutes here as you wait in line.
Afternoon
Aquarium of the Bay: Closes around 7pm or 8pm most nights, it closes a little earlier in the winter months and on holidays
Wax Museum: Usually open until 9pm during the week and 11pm on weekends, it closes a little earlier on some holidays
Evening
Cable Car Ride: The cable cars run until late in the evening. It's only a one way ride, so keep this in mind. I'd do this last as the crowds sometimes thin out a little in the evenings.
Have an amazing time on your San Francisco Fishermans Wharf adventure!