Stinking Rose Restaurant: The Famous Garlic Restaurant in SF's North Beach Neighborhood
Proof of vaccination is now required for certain indoor activities. Learn more here. 
The Stinking Rose Restaurant is a famous California-Italian restaurant in the North Beach district in San Francisco. If you love your food with a LOT of garlic, then this is the stop for you!

Their official tag line is "We Season Our Garlic With Food!®" They are not kidding. They claim to serve more than 3,000 pounds of garlic every month!

The menu at the Stinking Rose ranges from garlic seasoned pasta dishes to their popular Dungeness Crab. They get all of their crab locally from the waters of the Pacific Ocean.
Other popular dishes include their Garlic Steamed Mussels, the Forty Clove Garlic Chicken and the Garlic Roasted Prime Rib.
They also have a good wine list and some fun cocktails that pair well with all of their dishes and well, of course, all that garlic!
My Last Visit

During my last visit, I got the chance to sample several delicious items.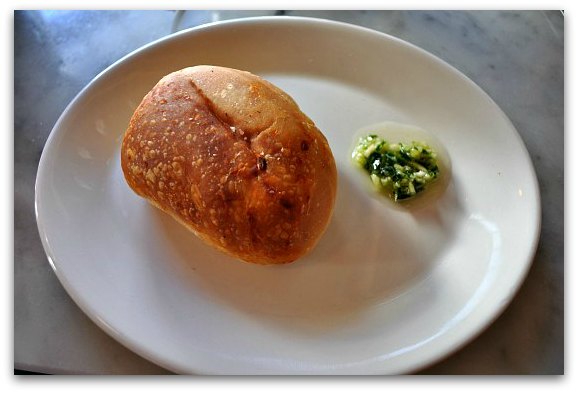 They start every meal with some of their garlic bread and pesto. The bread is delicious and the pesto is filled with large chunks of garlic - just the way I like it.
It's also the perfect way to start your garlic filled meal.
During this stop, I also sampled some of their garlic hummus. It was served with crispy garlic bread. For additional flavor, they also topped it with roasted red peppers.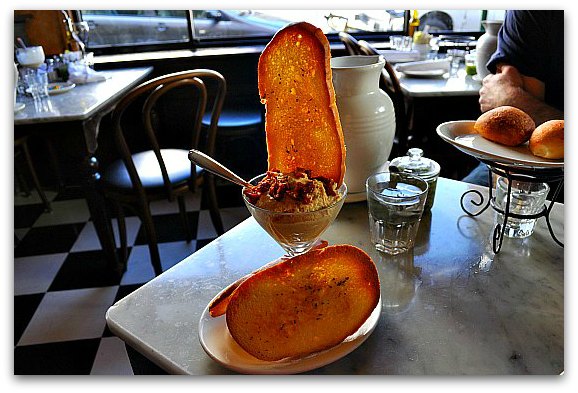 For my meal, I ordered one of their pizzas. Their BBQ Garlic Chicken Pizza is one of my favorites.

Of all the items I tried, this had the least amount of garlic. It's also possible that my taste buds were warmed up and at this point, they no longer tasted the garlic.
I was stuffed after my meal, so had to opt out of their garlic ice cream for dessert. However, I've had it before and highly recommend it.
Take a Look Around

Before or after your meal, make sure you spend a little time checking out the artwork throughout the restaurant. You will find several eclectic pieces of art in all of their dining rooms.
You will also get the chance to see some of the famous people that have stopped in for a bite to eat.Here is a sneak peek at just one of the walls in the restaurant.
This is a billboard promoting their second location in Southern California. You will find it hanging on the wall in one of the dining rooms in San Francisco.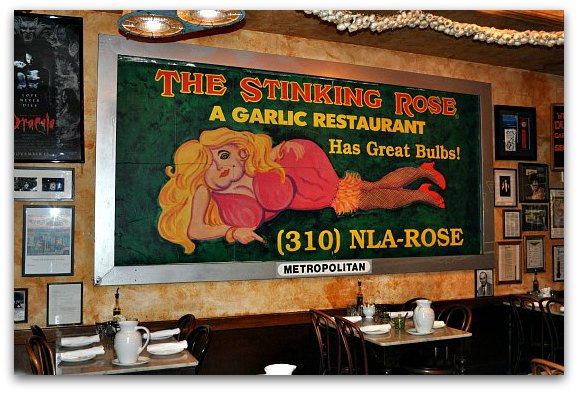 Make sure you take a look at the ceiling too. This is where you will find one of the longest strings of garlic in the world.
You can see some of it hanging down from the ceiling at the top of the photo above.
Location & Hours

The Stinking Rose Restaurant is in the heart of North Beach. It's on Columbus Avenue near Broadway Street. You can't miss it.

They are open every day from 11:30am to 10pm. Reservations are not required.

Other Things to Do in North Beach

More Pages You Might Enjoy

Top Italian Restaurants in SF: If you enjoy Italian cuisine, then you will be excited to learn that SF has dozens of amazing Italian restaurants. On this page, you will find some great places to try in addition to the Stinking Rose Restaurant. They are all over the city, which allows you to check out some other fun places too!
A Perfect Day in North Beach: Do you want to hit all the hot spots in North Beach in just one day? If so, take a look at this helpful self-guided tour of this district. It includes visits to one of the best delis in the city, tips for getting to Coit Tower and more.
Vesuvio Cafe: This historic cafe offers you a chance to walk in the steps of the Beat Generation that used to live here. Jack Kerouac, Allen Ginsberg and other frequented this bar in the late 50s and early 60s. Today, you can enjoy one of their signature cocktails and take a look at the history on its walls.
Beat Museum: Do you want to learn more about the Beat Generation before you visit Vesuvio Cafe? If so, then stop by the Beat Museum on the corner of Broadway and Columbus Avenue. This small, yet focused museum offers a look inside this eclectic group of arts and lets you take a look at some of their most prized possessions.