Vesuvio Cafe in San Francisco: The Historic Cafe & Bar Frequented by the Beat Generation

The Vesuvio Cafe in San Francisco is an institution. This North Beach cafe and bar was a popular hangout spot for the writers, poets and other artists of the Beat Generation in the 1950s.

Some of its most famous customers included Jack Kerouac, Neal Cassady and Lawrence Ferlinghetti. They often spent hours here talking, writing and drinking.

Disclaimer: I receive a small commission from some of the links on this page.

This historic bar opened in 1958. Shortly after it opened, many famous writers and artists in the Beat Generation moved to the North Beach neighborhood of San Francisco. This became a hot spot for them after Lawrence Ferlinghetti opened the City Lights Bookstore right next door.

Today, the Vesuvio Cafe is a popular stop for tourists and local North Beach residents. Its laid-back atmosphere and historic roots keep an interesting crowd of people rolling through all day long.

This is a look down at the main bar area in the Vesuvio Cafe from its second floor seating area.
The Vesuvio Cafe in San Francisco offers a full bar including several specialty cocktails. They do not serve food, but offer up this advice "Lunch at Vesuvio? Sure, bring your own!"
The small bar offers seating on the main level and upstairs. Grab a drink at the bar and then take a seat in one of these locations. Make sure you also spend some time admiring the photos, articles and other pieces of art posted throughout both levels.
This is just some of the artwork you will see at the Vesuvio Cafe in San Francisco
One of my favorite drinks here is, of course, the Jack Kerouac.

Don't let its size fool you. This drink includes run, tequila and some orange and cranberry juices. It's very flavorful, but also quite strong. They serve it just the way Jack liked his drinks.
Another popular option is the Bohemian Coffee.
It's another drink that is small in size, but quite powerful. This one includes coffee, brandy, amaretto and a twist of lemon. You'll want to drink it when it's hot for the best experience.
They also have a number of standard drinks and a large selection of beers on tap.
More Fun Things to Do in North Beach
Art in the Alley

While you are here, make sure you also step into Jack Kerouac Alley. The alley has several colorful murals from local artists.

This is just one of the works of art in the alley. It's on the walls of the Vesuvio Cafe in San Francisco.

Location & Hours

The Vesuvio Cafe is at 255 Columbus Avenue. It's right next to Jack Kerouac Alley and about a half of a block south of Broadway Street. The pink star on the map below shows its location in North Beach.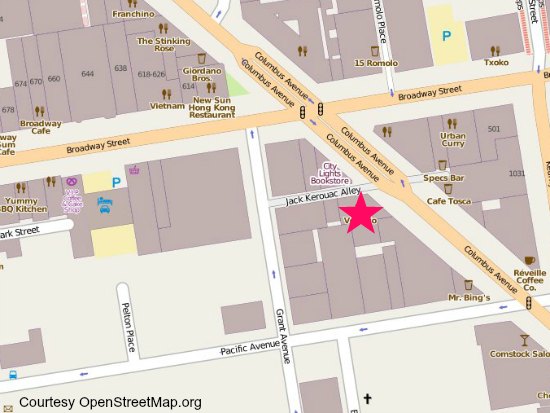 You can grab a drink or a cup of coffee at the Vesuvio Cafe in San Francisco any day of the week. They are open Sunday - Thursday from 11 am to 12 am. On Friday and Saturday, they are open 11 am to 2 am.

More Fun Things to See and Do

Segway Tour of Fisherman's Wharf and North Beach: A fun way to cruise around this district is by taking the Waterfront Segway Tour. This tour takes you through both the Fisherman's Wharf and North Beach districts and it is SO much fun. Click the link above to learn more about my experience and what you can expect on this tour. Find tickets.
A Perfect Day in North Beach: Are you trying to see it all in just one day? If so, use my handy "Perfect Day" itinerary. It takes you on the best route around North Beach so you can see as much as possible in a single day!
A Perfect Day in Pacific Heights: One of my personal favorites in the city is Pacific Heights. This classic SF district features gorgeous Victorian Houses, mansions like you've never seen before and some of the most beautiful views of the bay. If you only have one day to visit this district, this perfect day itinerary is how I would go about it. I think you will enjoy this district that is a little more off the beaten path!
Comedy Clubs in SF: North Beach and the area new Vesuvio Cafe offer a few fun comedy clubs. On this page, you will find a list of all the upcoming shows in the district and a few other long running shows throughout the city. It's one of my favorite ways to spend the night out on the town in SF.
Comments? Questions? Suggestions?
I would love for you to join me in my private Facebook group! 
It's a great place to interact with me and others who know the area well.
You can ask questions, get advice for your upcoming stay, and then share your photos and advice with others when you return home. It's a great community and the fastest way to get answers to those nagging questions about your visit!