SF Bay Area Events in May 2018
Theater, Festivals, Concerts & More
SF Bay Area events in May 2018 include sporting events, festivals, and theater performances. Top options include The Color Purple at the Orpheum in SF, Bay to Breakers, and BottleRock in Napa Valley.
You will also find some fun things to do for Mother's Day and Memorial Day Weekend.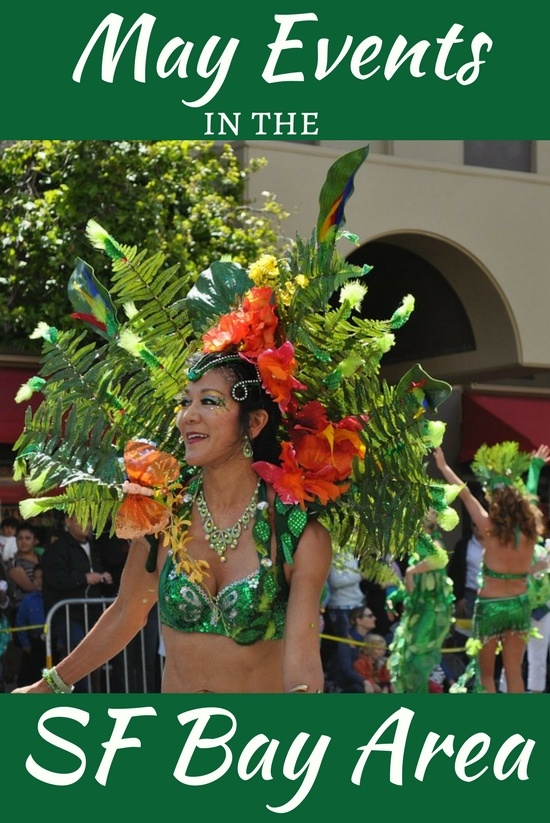 Disclaimer: I recieve a small commission from some of the links on this page.
Golden State Warriors
Dates: Several depending on wins and losses
The Golden State Warriors are running strong in post-season play this May in the SF Bay Area. They will take on top teams in the NBA West. See Draymond Gree, Kevin Durant, Steph Curry, Klay Thompson and the rest of the team in action in Oracle Arena in Oakland as they fight to win their second NBA title in a row.
The Color Purple at the Orpheum Theater
Dates: 5/1 - 5/27
This month, the hit Broadway show The Color Purple is coming to the SF Bay Area. This award winning musical is based on the book by Alice Walker. Follow the struggles of a young African American woman as she grows into adulthood in the American South in the early 1900s.
Other highlights this month on stage include Head Over Heals at the Curran and An Entomologist's Love Story at the SF Playhouse.
Tickets: Find tickets to all shows on Ticketmaster
More SF Theater: Full calendar of shows in May
Bay Area Theater: All Bay Area theater performances in May
Jack London Square Art & Wine Festival
Date: 5/19
One of the tastiest SF Bay Area events in May will take place in the East Bay at Jack London Square in Oakland. The Jack London Square Art & Wine Festival will set up all along the waterfront at this popular outdoor shopping center.
In addition to the live music and more than 40 Northern California wineries that will be exhibiting their best wines, you'll also find booths offering small eats, craft beer, ciders, and arts and crafts. The event runs from 12pm to 5pm and is free to attend. For $45 (or $55 day of), you will get unlimited tastings and a souvenir wine glass.
More: Visit the Jack London Square site for details
SF Giants Baseball
Dates: Several in May
One of the best ways to spend a beautiful spring day in May is to watch the SF Giants take on other National League teams at the AT&T ballpark by the water. This top team won the World Championship title in 2010, 2012, and 2014, and their games are always exciting.
This month, you'll have the chance to see them play the Cincinnati Reds, San Diego Padres, and the Colorado Rockies.
More: Tips to attend a game
Half Priced Bay Area Events & Tours
In addition to these top SF Bay Area events in May, you will also find some other fun things to do all around the bay. Below you will find discounts on some of the most popular options from tours to attraction tickets.
60-Minute Bay Cruise: Cruises around the bay, leaves from Fisherman's Wharf, several cruises a day, Full price $31, Goldstar price $15.50*


Jazz at the Blue Note in Napa: Spend an evening at the Blue Note and enjoy some live jazz, one to two shows at night at 7:30pm and/or 9:30pm, Full price $10-$25, Goldstar $5-$12.50


California Bears College Football Games: Find select games at a discount for this season at Memorial Stadium, Full price $34-$79, Goldstar $7-$55*
*Small service fee at checkout.
Mother's Day in SF
Date: 5/13
Celebrate Mom with a day full of fun outings, family friendly activities, and great eats in San Francisco. Treat her to a brunch or sunset dinner on a bay cruise with spectacular views of the city. Take her shopping for unique gifts at Pier 39 or Ghirardelli Square, or head to the brand name department stores at Union Square.
If she's more of a low-key, outdoorsy type, take her on a stroll around the Japanese Tea Garden or admire the Painted Ladies in Alamo Square. These are a just a few of many, many ideas for making her Mother's Day in San Francisco extra special.
More: Things to do in SF with your mom
Oakland A's Baseball
Dates: Several this month
Across the bay from San Francisco is another Major League Baseball team, the Oakland Athletics. They play in American League at the Oakland Coliseum in the East Bay. This month, put on your green and gold and watch them take on the Baltimore Orioles, Houston Astros, and the Seattle Mariners.
More: Tips to attend an Oakland A's game
Himalayan Fair in Berkeley
Dates: 5/19 & 5/20
The Himalayan Fair was founded in 1983 when record-breaking mountain climber Arlene Blum organized a picnic gathering of Tibetan and Nepali friends in Berkeley. Each year since then, the fair has grown larger and more elaborate, welcoming vendors and performers from as far as Kathmandu.
Here, you'll find delicious food, artisan crafts, music, and dance from the Himalayas at one of the most unique SF Bay Area events in May. Head over to Live Oak Park in Berkeley (East Bay) on Saturday from 10am to 7pm, and on Sunday from 10am to 5:30pm.
More: Visit their site for more details
Bay Area Concerts
Dates: Several in May
May is another big month for concerts in San Francisco and the Bay Area. You have many genres, famous and local artists, and both large and small venues to choose from. Among the SF Bay Area Events in May,, you can catch shows at the Bill Graham Civic Auditorium, the SAP Center in San Jose, and the Greek Theater in Berkeley.
More: Additional concerts in the Bay Area in May
Alaska Airlines Bay to Breakers
Date: 5/20
The annual Bay to Breakers wacky footrace across San Francisco turns 106 this year! This is not at all your average 12K run, rather it's a truly one-of-a-kind event that attracts all kinds. You'll see some serious runners, sure, but you'll see a lot more creative costumes, some people in their birthday suit, centipedes of runners attached to each other, and "salmon" running against the current of thousands.
The spectators get just as into it as the participants, so whether you plan to run or not, it's worth heading out to join in on the fun.
Details: What to expect at this event
BottleRock Napa Valley
Dates: 5/25 - 5/27
One of the top SF Bay Area events in May is the highly anticipated three-day BottleRock music festival in Napa Valley. This North Bay event has an impressive lineup including the Bruno Mars, The Killers, Muse, The Chainsmokers, Snoop Dog, and so many more stellar bands.
In addition to the great music, there will be award-winning culinary treats and, of course, the world's best wine and brew. The festival runs from 11:30am to 10pm each day at the Napa Valley Expo.
California Roots Music & Arts Festival
Dates: 5/25 - 5/27
Another large music festival this Memorial Day Weekend takes place at the Monterey County Fair and Event Center, about two hours south of San Francisco. This one offers good vibes and a more down-to-earth atmosphere, embracing "California Roots" in the redwoods and partnering with a local campsite to provide alternative lodging for guests.
>> More Monterey events this month
Calistoga Food & Wine Festival
Date: 5/10-5/12
The Calistoga Food & Wine Festival is another one of the fun and delicious SF Bay Area events in May. The Friday event will feature a farm-to-table dinner paired with local wines at the cave at Fairwinds Estates. The Grand Tasting on Saturday will feature live music, samplings from 40 Calistoga wineries, and small bites and live cooking stations from top chefs of the area's best restaurants.
More: Visit their site for details
Memorial Day Weekend Activities
Date: 5/27 - 5/29
With summer quickly approaching and a long weekend to enjoy more SF events both indoors and out, you should check out this list of things to do on Memorial Day Weekend in San Francisco.
You'll discover ways to honor our fallen troops, tips for sightseeing on a bay cruise or free walking tour, and information about fun events like Oakland A's baseball at the Oakland Coliseum, the Carnaval parade in the Mission District, and performances of the hit musical The Color Purple at the Orpheum Theater.
More: Find things to do all around the bay for Memorial Day Weekend

Additional SF Bay Area Events in May