Napa Valley Chardonnay: History and Where to Sample this Lovely White Wine
Napa Valley Chardonnay is the most grown white wine grape in this Northern California wine region. What I love about this grape is that it produces a wide variety of wines.

You will find everything from full bodied oaked wines with hints of citrus and a buttery taste. You will find some that are fruit forward with a light and crisp feel, perfect for a hot summer day. You will also find ones that are a combination of the two.
Read on to learn more about what made this white so popular in the region, two distinct types, 10 of the best wineries to try it, and a brief history about this grape.
Disclaimer: I receive a small commission from some of the links on this page.

Napa Valley Chardonnay is the Winner

In the 1960s and 1970s, more and more wineries were planting Napa Valley Chardonnay. But it wasn't until 1976 that the worldwide wine industry started to take note.
This was the year of a small, little reported wine tasting in Paris. It included just a handful of wines from California and France. It's goal was to select the best red and best white in the world.
It was a blind tasting, so the judges didn't know the origins of each wine they were tasting. They sampled each one, gave it a rating, and moved onto the next one.
Since French wines were the best wines in the world at this time, only one single journalist arrived to cover the story. No one thought it was going to be a newsworthy event.
Four white Burgundies and six California Chardonnays competed for the best white wine.
In the end, the judges selected Chateau Montelena 1973 Napa Valley Chardonnay as the best white wine. With Napa's Stag's Leap Cellars Cabernet Sauvignon bringing home the prize for the best red wine.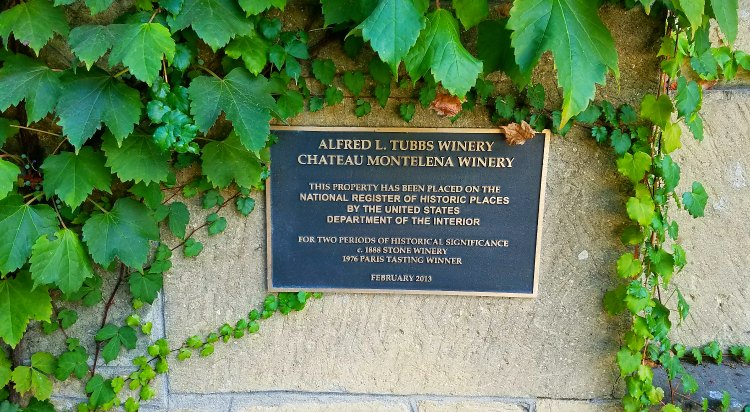 A plaque on the property that reads, "This property has been placed on the National Register of Historic Places by the United States Department of Interior. For two periods of historical significance: 1888 Stone Winery & 1976 Paris Tasting Winner."
The results shocked the judges as well as the wine tasting world. It is now known as the 1976 Judgement of Paris (you can read more about it in this book by the only journalist in attendance).
Chateau Montelena winemaker at the time was Croatian born Mike Grgich.
This event showed the rest of the world that the region was a definite player in the wine industry and people started to take their wines more seriously.
The Great Chicago Chardonnay Showdown

After creating the winning wine at the Judgement of Paris, Grgich moved on and opened his own winery. His winemaking skills received another award just a few years later.
In 1980, a wine columnist for the Chicago Tribune, Craig Goldwyn, held an event in Chicago called The Great Chardonnay Showdown. He invited 200 wineries from around the world to participate. A large portion of the entries were from France and California.
It was another blind tasting, so the judges did not know the wines origins or background.
In the end, Grgich's 1977 vintage won the competition. This second win showed the world that Napa Valley Chardonnay wines were worth a taste.
Two Types of Napa Valley Chardonnay

You will find a large variance of Napa Valley Chardonnay wines. This white is versatile and changes depending on where it's grown, how long it stays on the vine, and decisions made by the winemaker during the aging process.
However, I wanted to give you a quick overview of the two main types of Chardonnay, so you know what to look for to find what you want.
Oaked & Buttery
These wines are medium to full bodied wines. Those "aged in oak" go through a natural process called Malolactic Fermentation (ML). This gives the wines a buttery or creamy taste.
You will also taste hints of baked apples, vanilla, and coconut. You can drink them right away or allow them to age for a few years, which will add to their complexity.
Unoaked & Citrusy
These wines are light to medium bodied. They age in stainless steel tanks or neutral oak barrels, so offer a fresh, crisp taste with hints of citrus flavors. You'll want to look for words that refer to the stainless steel tanks, a small percentage of new oak or neutral barrels, or no ML fermentation.
This process also keeps the acidity in the wine so it is more fruit forward.

The description of these Chardonnay flavor profiles is an oversimplification as the wines vary quite a bit. Some wineries age some of wine in stainless steel tanks with only a small amount aged in oak. Others will age them for a few months in oak or in older/neutral barrels, so you have a wine that is more fruit forward with hints of that buttery flavor.
This makes it difficult to describe exact profiles of this wine in the region because it varies a lot.
However, knowing these two basic Napa Valley Chardonnay wine flavor profiles will give you a good foundation to find what you like to drink more easily.
In addition to the two above, Napa Valley Chardonnay there is also a third type of wine made by this grape, sparkling wine. You will also find these all around the region. Learn more about my favorites around Napa here.
More Facts About Napa Valley Chardonnay

The region has a dry, Mediterranean climate which makes it perfect for growing grapes. In addition to that, you will find several microclimates that change how the grapes ripen on the vines. In the summer, the southern end can be as much as 10 to 15 degrees cooler than the northern end of the valley which changes can change the flavor profile for this white wine.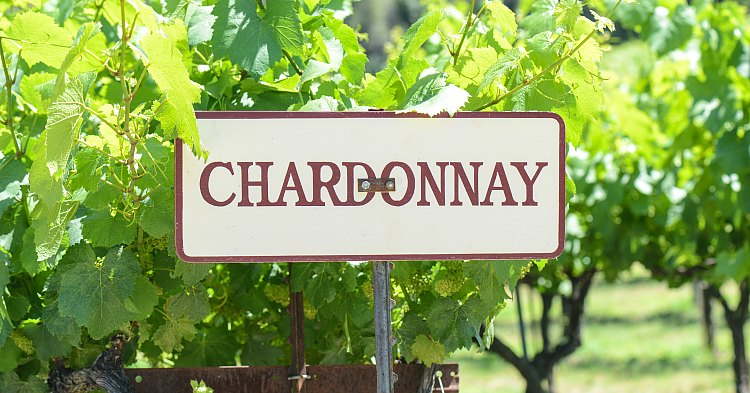 Climate and temperatures create a variety of Napa Valley Chardonnay wines. The cooler regions on the southern end will have wines with more apple and pear flavors. In the warmer regions, you will find more hints of pineapple and papaya.
You will also find wineries in all climates that either age them in oak or stainless steel tanks. I'm sure you are starting to see why there are so many different wines with unique flavor profiles.
10 Best Napa Valley Chardonnay Wineries

Here are 10 places that I enjoy visiting for Napa Valley Chardonnay.
1. Chateau Montelena
Address: 1429 Tubbs Ln, Calistoga, CA 94515
This famous winery helped put Napa Valley Chardonnay wines on the map with their win at the 1976 Judgement of Paris. They age in oak for around 10 months and they skip the malolactic fermentation, so they are more fruit forward.
They often have hints of lemon curd, green apple, orange zest, white pepper, and toast.
They are about $60 a bottle.

2. Beringer
Address: 2000 Main St, St Helena, CA 94574
This is another great place to stop. Their 1994 vintage won Wine of the Year by Wine Spectator in 1996. You will find four to five Napa Valley Chardonnay wines on their list that range from around $24 to $50 a bottle.
All of them go through some version of malolactic fermentation, which means they will have somewhat of a buttery taste.
3. Miner Family Winery
Address: 7850 Silverado Trail, Napa, CA 94558
This winery offers four to five different Chardonnays from vineyards all around the Napa Valley, which means each one has a slightly different taste profile. All of them age for a while in oak barrels, which adds that smooth buttery taste.
They are a popular pick as the White House served their 2004 Wild Yeast Chardonnay at a dinner party.
They are $35 to $60 a bottle.
4. Trefethen Family Vineyard
Address: 1160 Oak Knoll Ave, Napa, CA 94558
Another award winner is Trefethen Family Vineyard. They became known for their whites in 1979, when their 1976 vintage won "Best Chardonnay" in the world at the Gault-Millau World Wine Olympics in Paris.
A very small amount of their wine goes through malolactic fermentation (only around 4%), so will offer just hints of that buttery taste. You will also taste hints of citrus, apple, pear, and toasted oak.
Their wines go for around $40 a bottle.
5. Grgich Hills Estate
Address: 1829 St Helena Hwy, Rutherford, CA 94573
Mike Grgich is the owner and original winemaker for the winning Chateau Montelena wine at the 1976 Judgement of Paris. As mentioned above, he started his own award-winning winery after he left there.
All I can say is that if you love this white wine, you must make a stop at this winery during your visit to Napa Valley. They have four to five on their tasting menu. You'll taste hints of pineapple, peach and citrus.
They age their wines in oak, so they are more complex.
They are $20 to $50 a bottle.
6. Stony Hill Winery
Address: 3331 Saint Helena Highway North, St Helena, CA 94574
They planted their first Chardonnay vines on their property in 1948. When they bottled their first wines in 1952, friends and family members grabbed them up. Today, they have two wonderful options available.
They age them in neutral oak barrels, so you won't get much of a buttery taste. Their wines also have hints of green apple, grilled almonds, citrus and honeysuckle.
Their wines are $50 to $70 a bottle.
7. Lewis Cellars
Address: 4101 Big Ranch Rd, Napa, CA 94558
Over the years, Lewis Cellars has had some of the highest rated Napa Valley Chardonnay wines in the region. They offer 4 single varietal wines and all age between 11 and 15 months.
From their Napa Valley vineyards, you will find hints of pears, citrus, and white blossoms. Their Russian River wines offer tastes of lemon curd, apricots, toasty orange, and a little spice.
They run from $55 to $70 a bottle.
8. Newton Vineyards
Address: 2555 Madrona Ave, St Helena, CA 94574
I recommend Newton Vineyards because they offer up to 4 different types each vintage. In addition, at least one and often more than one receives a 90+ rating. All of them age in oak with malolactic fermentation.
You will taste hints with citrus flavors and a buttery flavor. They are unfiltered.
They are complex wines that go for around $100 a bottle.
9. Far Niente
Address: 1350 Acacia Dr, Oakville, CA 94562
This winery has been producing Napa Valley Chardonnay wines since 1979. Their wines do not go through malolactic fermentation, so they will be crisp and fruit forward.
You will often taste hints of tropical flavors, lemon, and honeydew.
They go for around $70 to $80 a bottle.
10. Sequoia Grove
Address: 8338 St Helena Hwy, Napa, CA 94558
In 1979, they planted 10 acres of Chardonnay, which was more than any other grape planted on their property at that time. They have been making these tasty whites for some time, and today they offer two options.
Both are fruit forward with hints of lemon, apricot, coconut, and nutmeg.
Their wines are well priced at between $30 and $45 a bottle.

A Brief History of the Chardonnay Grape

Chardonnay is the most planted white wine grapes in the world. The reason why is that its easy to grow in a wide variety of climates and soils. It's also an easy wine for the winemakers to work with after it's harvested.
Last but not least, they can add their unique touches and create a wine that is quite a bit different from other Chardonnays.
You will find they range from light and fruity to full bodied and buttery. They have hints of fruit flavors such as apple, lemon, and pineapple. In the oaked versions, you will also taste hints of vanilla, butter, and coconut.
In addition to Napa Valley Chardonnay, you will also find it grown in top regions around the world. It's the white you will see in France's Chablis region, the main grape in White Burgundy, and in Champagne.
You will also find it in several regions around the world in countries such as Australia, New Zealand, South Africa, Italy, Canada, and other regions in the US.
Comments? Questions? Suggestions?
I would love for you to join me in my private Facebook group! 
It's a great place to interact with me and others who know the area well.
You can ask questions, get advice for your upcoming stay, and then share your photos and advice with others when you return home. It's a great community and the fastest way to get answers to those nagging questions about your visit!