Napa Weather in May: How to Prepare for a Visit in the Late Spring
What should you expect from the Napa weather in May? Perfection!

This time of the year is warm and sunny almost every day of the month. The sun is shining, the vines are starting to fill out, and it is a lovely time to be here.
Read on for more about the weather, what you should bring along to wear, and a few of my favorite things to do this time of year.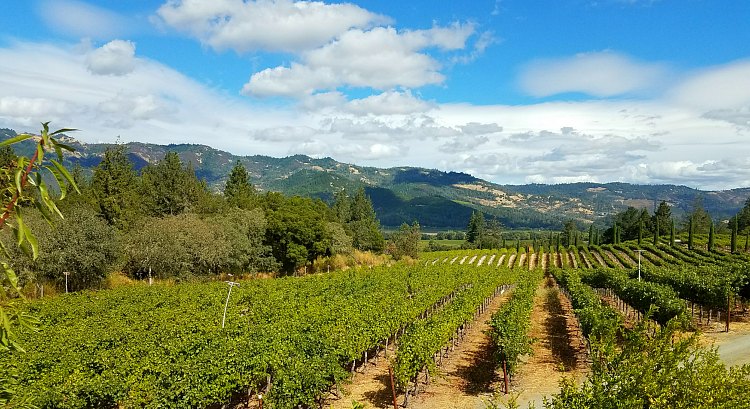 The photo above was from an unusually cloudy day in May. Typically, there is less cloud cover and the sun is often shining bright.
It is the end of spring and the temperatures are mild and comfortable. The days start off in the 50s and warm up to the 60s by mid-morning. They peak out in the lower to upper 70s during the day and then start to cool off again at night.
You will find overnight lows in the lower to mid-50s. It is slightly cooler during the first part of the month and a bit warmer toward the end of it.
The great thing about this time of year is that there is very little rain. You might see some clouds in the sky, but the monthly rainfall is usually just over one inch for the month.
Read on for more details about the Napa weather in May.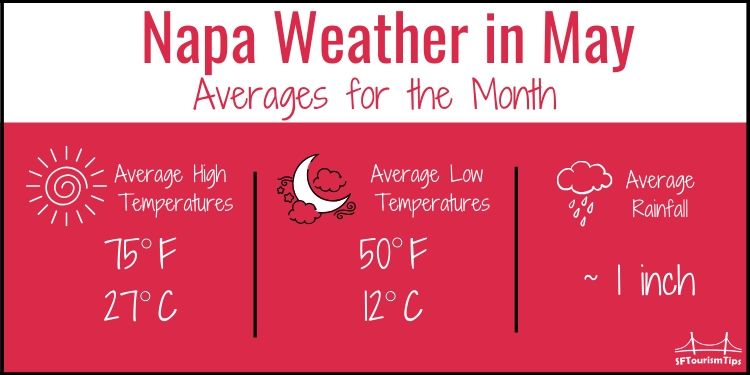 Average High in May: 75° F (27° C)
Average Low in May: 50° F (12° C)
Average Monthly Rainfall: Just over an inch
Record High: 104° F (45° C)
Record Low: 30° F (1° C)
Disclaimer: I receive a small commission from some of the links on this page.

What to Wear in Napa in May

What should you pack for the Napa weather in May? We usually get about 14 hours of daylight this time of year. The sun rises around 6 am and it is still quite cool. The sun sets around 8 pm, which is when it starts to really cool off again.
To stay comfortable, bring along several items that you can layer.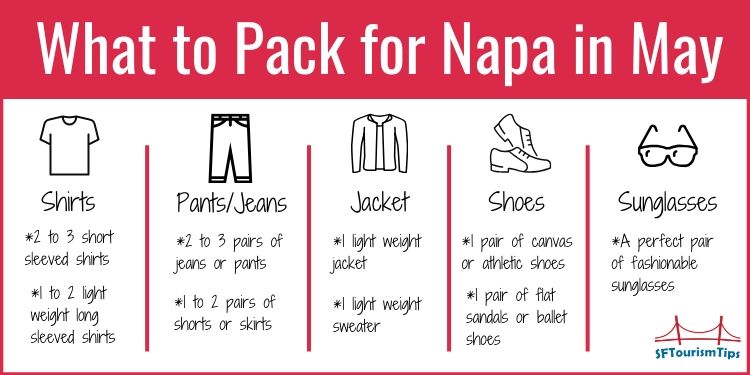 Women

Shirts: Bring along a couple of short sleeved and light weight long sleeved shirts. Also bring along a few light weight sweaters. This will allow you to mix and match based on what you have planned for the day.
Jackets: Make sure to bring along a light weight jacket. You will need this during the cool mornings and evenings.
Pants/Jeans: Pack at least a couple of pairs of pants. You can wear jeans or casual pants. You will find quite a few people wearing jeans throughout the valley. This is the time of year you start to see a few people in dresses too.
Shoes: Bring along at least two pairs of comfortable shoes. I will wear canvas shoes earlier in the month and will usually bring along some sandals for the days later in the month. Make sure you can wear them while standing for an hour or two at a time, since most tasting rooms have very little seating.
Men

Shirts: It is typically warm enough to wear short sleeved shirts. Most men wear casual, button down shirts. You will find some men in fitted or nicely tailored T-shirts too. All are acceptable in the tasting rooms.
Jackets: Make sure to bring along a light jacket. This will be something you will need for the evenings and early mornings.
Pants/Jeans: Jeans or pants are perfect for the early part of the month. You will find a few warmer days toward the end of the month where you might feel more comfortable in shorts. It is the perfect time to sit outside so bring along a combination of pants and jeans that keep you at the perfect temperature in with temperatures in the upper 60s or lower 70s.
Shoes: Bring along two pairs of comfortable shoes. Both athletic and canvas shoes are welcome in the tasting rooms. You will be standing a lot so make sure your shoes don't hurt your feet while standing for an hour or two at a time.
5 Things to Do in Napa in May

1. BottleRock: One of the biggest music festivals is over Memorial Day weekend in Napa. This three-day event features some of the biggest artists every year. There are five stages of music every day with a variety of artists performing. You will also find some of the top local wines, brews, and food for sale too.
2. Cave Tours: Head below ground for a cave tour. I love these tours as you get a great idea on what it takes to make and store wine until it is ready to be bottled. Make sure to go on a cave tour that includes a tasting inside the cave at the end. These are my favorite. They are often small group tours, so you will get to ask questions and learn quite a bit about the winery. Make sure to also bring along your jacket as it is cool underground.
3. Memorial Day Weekend: Celebrate the weekend at Napa Valley wineries. Many feature big food and wine tasting festivals. Others offer vineyard dinners or open houses. Visit my May events page for a list of what's happening on Memorial Day Weekend in Napa.
4. Mother's Day: Spoil your mom (or yourself!) this Mother's Day in Napa. You will find some wonderful brunches, family-focused lunches, and special tastings at wineries throughout the valley.
5. Hot Air Balloon Rides: With the cool morning temperatures and the gorgeous sunrises, May is the perfect time to head out on a Hot Air Balloon ride. Your ride begins shortly before sunset and runs for about 45 minutes to an hour. Most will pick you up and drop you off at your hotel. Others include an optional champagne toast or brunch after the ride above the vineyards. Visit Viator to see one of my favorites.
Hotel Recommendations

With the mild Napa weather in May, it is the perfect time to stay for a day or two. Don't waste your time trying to find the best places to stay on your own. Click the links below to find my top recommendations by budget, amenities, and location, so you can quickly find one that meets your needs.
Comments? Questions? Suggestions?
I would love for you join me in my private Facebook group! 
It's a great place to interact with me and others that know the area well.
You can ask questions, get advice for your upcoming stay, and then share your photos and advice with others when you return home. It's a great community and the fastest way to get answers to those nagging questions about your visit!