Napa Weather in February: Tips on What to Pack During Northern California's Rainy Season
Napa weather in February offers cool days and chilly nights. It is also in the heart of the rainy season, which means light rainfall several days this month.

What should you pack for your stay this time of year? I highly recommend bringing clothing you can layer. This will allow you to add or remove items as the temperatures heats up or cools down.
Read on for more information about the weather this month and some detailed tips on what to wear in February in Napa.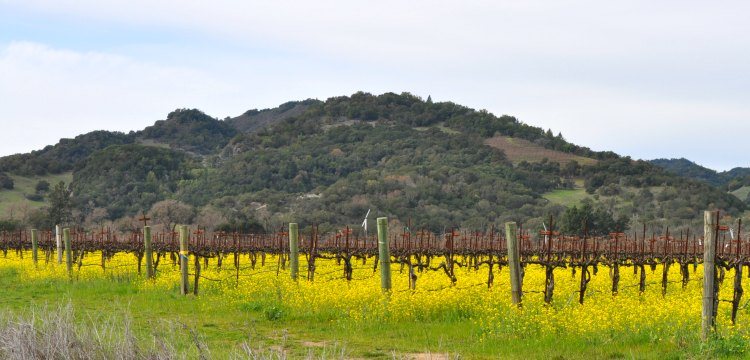 Even though February is in the rainy season, most days look like the one in the picture above. It is usually partly cloudy with the sun peeking out for a few hours each day.
The rain in Northern California and Napa is often a light rain that will last for hours. It is easy to walk in as you won't get too wet if you are walking to and from your car. It will often rain all day with only about an inch or so of accumulation.
Napa weather in February starts with cool mornings. As the sun rises, the temperatures are usually in the upper 40s to lower 50s. Mid-day, you can expect temperatures in the lower 60s. On rainy days, it is usually about 5 degrees cooler during the day.
In the early evening, the temperatures will once again start dipping into the mid- to lower 50s. As the evening progresses and heads into the overnight, temperatures continue to fall with lows in the mid- to lower 40s.
Does it snow in Napa in February? Even though it cools down here quite a bit, snow is not common. You might see a dusting of snow, but even that is not very common. More snow than that happens only once every decade or less.
Here are a few statistics about the Napa weather in February.
Average High in February: 62° F (17° C)
Average Low in February: 42° F (6° C)
Average Monthly Rainfall: More than 5 inches
Record High: 86° F (30° C)
Record Low: 19° F (-7° C)
Disclaimer: I receive a small commission from some of the links on this page.

What to Wear in Napa in February

So, what should you wear in Napa in February? I like to have a few layers with me so I can warm up or cool down when needed throughout the day. You will need something a little warmer for the mornings and the evenings, but you will be able to wear lighter clothing during the day.
Here are just a few additional items you should pack to make sure you are comfortable during the Napa weather in February.
Women

Pants/Jeans: With the chill in the air, I recommend wearing either nice jeans or a casual pair of pants. You will find most people dressed casually in Napa all year long, but even more so during the rainy season. Jeans are a common choice for both visitors and locals this time of year.
Shirts: You will want to wear a light weight long sleeved shirt. You will be going back and forth from the indoors and outdoors quite a bit, so a long-sleeved shirt or sweater is ideal. I do not often wear anything too bulky as I tend to heat up a bit with so much movement during the day.
Jackets: I also recommend that you bring along a light to medium weight jacket. This will allow you to add or remove it as needed throughout the day. I will often leave it in the car during the tastings, but it's nice to have it nearby if it is cool in the tasting room. It's also nice to have along if you plan to go on a cave tour or visit the outdoor production facilities.
Shoes: This is a big one. You will want to consider two things as you are packing your shoes. The first is how long and often you will be on your feet. If you plan to do a full day of tasting, you will most likely be on your feet for five to six hours. The second thing to consider is the rain forecast during the days you plan to visit. You will find a combination of both dirt and cement parking lots. Although the dirt ones don't get too muddy, they can get a little messy at times.
I recommend bringing a couple of pairs of shoes along. I often wear casual shoes, such as ballet slippers or some sort of canvas shoe or sneaker. I almost always wear flat soled shoes as they are a lot more comfortable. You will find many tasting rooms have cement floors, so standing on them for a few hours in uncomfortable shoes will make for an unpleasant experience.
Men

Pants/Jeans: I also recommend wearing a nice pair of jeans or casual pants. You want to make sure you are comfortable. and you will find most men in jeans at the tasting rooms.
Shirts: You will want to bring along a few lightweight long sleeved shirts. They are comfortable and should make it easier to reach around on the counters during your tastings. Heavy or bulky sweaters might drag on the counters and pick up some unwanted wine stains. You will also find that you will do a lot of walking and standing, so a light-weight shirt will keep you warm, but not too warm.
Jackets: Make sure to also bring along a light or medium weight jacket. Even though I sometimes leave my jacket in the car, it is nice to have it along in case you spend some time outdoors. Some tasting rooms offer tours of their facilities which are usually in a cool environment and/or are partially outdoors.
Shoes: Bring along shoes that you can stand in for hours. Canvas or athletic shoes are perfect and accepted throughout the valley. While tasting, you will be standing on cement floors, so be kind to your feet and you will have a more memorable tasting experience.
5 Things to Do in Napa in February

1. Classes at the CIA: The Culinary Institute of America (CIA) offers a variety of classes throughout the month. You can participate in one of their cooking classes or take a class about the local wines. It is a fantastic organization with a few locations around Napa.
2. Wine Tasting Events: Make sure to check the events calendar before your stay also. Many wineries offer special events on the weekends. For most, you will need a ticket to get in and they will sometimes sell out early. It's another great way to learn more about Napa Valley wines. Visit my February events page to learn more.
3. Visit a Spa: Relax and unwind at one of the popular Calistoga spas. There are a few options around town including the natural mineral hot springs, mud baths, and more.
4. Shopping: Head over to the Napa Premium Outlet or one of the cute downtown areas for some shopping. You will find both high-end brands at a discount as well as dozens of local shops.
5. Nightlife: The Blue Note is a great venue for live music in Napa. Set inside the Napa Valley Opera House, you will find shows here several nights a week. It is also easy to get to from any location in the city of Napa or around the valley.
Hotel Recommendations

The Napa weather in February makes it a perfect time to visit. If you plan to stay a day or two, you will find dozens of highly rated accommodations. Click the links below for just some of my recommendations.
Additional Tips for Packing in Napa by Month
Comments? Questions? Suggestions?
I would love for you to join me in my private Facebook group! 
It's a great place to interact with me and others who know the area well.
You can ask questions, get advice for your upcoming stay, and then share your photos and advice with others when you return home. It's a great community and the fastest way to get answers to those nagging questions about your visit!