Napa Weather in November: What You Should Pack for the Late Fall Weather
Napa weather in November is mild and comfortable. You will find days in the mid-60s. Temperatures in the evenings dip down into the mid-40s.

It is also the start of the rainy season in Northern California. We often get a light rain that might last all day. It is rare for us to have a downpour or thunderstorms here. This means even if it is raining, you can still travel around the valley with ease and enjoy all it has to offer.
Read on for more tips including what to pack, average temperatures, and a few of my favorite things to do this time of year.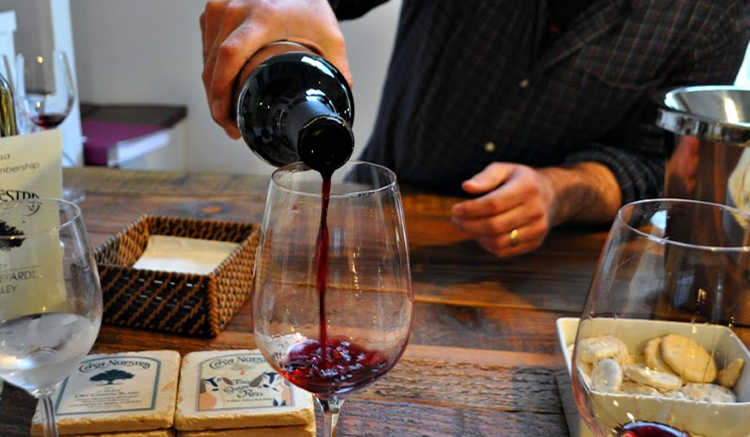 Napa weather in November offers averages in the mid-60s during the day.
The mornings will start out cool, usually with some cloud cover. As the sun rises, it will start to warm up. It is usually in the mid-50s by mid-morning and reaches into the 60s by noon. It then hits highs in the mid-60s in the afternoon and begins to cool off again in the evenings.
You will find temperatures again in the mid-50s after the sun goes down. Temps continue to fall with overnight lows in the mid-40s.
We get about three and a half inches of rain throughout the month. You will want to have some rain gear if you plan to be outdoors quite a bit. Otherwise, you are fine with a regular jacket as the rain is usually light and you won't get too wet walking between the parking lots and the wineries, stores, or restaurants.
Here are a few more details about the Napa weather in November.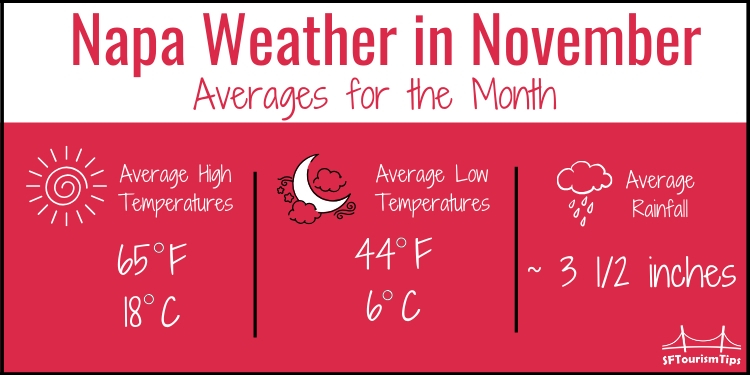 Average High in November: 65° F (18° C)
Average Low in November: 44° F (6° C)
Average Monthly Rainfall: About three and a half inches for the month
Record High: 90° F (32° C)
Record Low: 25° F (-4° C)
Disclaimer: I receive a small commission from some of the links on this page.

What to Wear in Napa in November

With the cool, wet Napa weather in November, you will want to bring along quite a few items that you can layer. This will keep you warm in the morning and at night. You can then peel off a layer or two during the day as it warms up.

Women

| | |
| --- | --- |
| | Shirts: November is a time to break out the long-sleeved shirts in Napa. I typically stay with light long sleeved shirts as it is often nice and sunny for most of the day. |
---
| | |
| --- | --- |
| | Jackets: Bring along a light jacket. You can also bring along a rain jacket, but the light rain often isn't too much of a problem, so a rain jacket is usually not necessary. |
---
| | |
| --- | --- |
| | Pants/Jeans: Bring along two to three pairs of jeans or pants. You will find both are acceptable in the tasting rooms and throughout Napa Valley this time of year. |
---
Shoes: This will be your most important decision. If you are wine tasting, you will be on your feet a lot as few wineries have indoor seating. Most of the floors are also cement or hard wood, so it can be tiring to stand on.

I recommend bringing a couple of pairs of canvas or athletic shoes for your visit. I typically bring along a pair of ballerina slippers or other flat soled shoes as well.

Remember that Napa gets some rain during this time so be prepared for that.

---
Men

Shirts: Bring along a couple of short sleeved shirts as well as a couple of light weight long sleeved shirts. You will find that some days it stays cool and you'll need to wear long sleeved shirts.

Other days, it will be a bit warmer and you might prefer a short-sleeved shirt.

---
| | |
| --- | --- |
| | Jackets: You will be fine with a light jacket, unless you plan to spend a lot of time outdoors either before or after sunset. Therefore, just having a light jacket will be enough to keep you warm this time of year. |
---
| | |
| --- | --- |
| | Pants/Jeans: I always bring along a couple of pairs of pants and a couple of pairs of jeans. It will be too cool for shorts, so having some long pants or jeans will keep you warm both day and night. |
---
Shoes: Make sure you bring along a couple of pairs of comfortable shoes. You will be standing quite a bit as you are wine tasting so you will want to bring along shoes that don't tire out your feet.

Canvas shoes or athletic shoes are both fine in the tasting rooms.

5 Things to Do in Napa in November

1. Thanksgiving Weekend: Even though most of the tasting rooms are closed on Thanksgiving Day, you will find some great open houses and smaller celebrations throughout the weekend. The tasting rooms are often not very busy either this time of year, which is the perfect time for a more personalized tasting experience.
2. Napa Valley Film Festival: The annual event showcases more than 120 independent films during this five-day festival. Films are at locations all around the valley including the city of Napa, Calistoga, St. Helena, and Yountville.
3. Tree Lighting Celebration in Napa: The day after Thanksgiving is usually when they light the Christmas tree at Veteran's Memorial Park in the city of Napa. Sip on some hot chocolate and enjoy live entertainment as you wait in anticipation for the lighting of their 20-foot tree. Visit my events page for more information.
4. Cave Tours: I love heading underground on a cave tour this time of year. You get the chance to see more about how the wineries store their wines and manage them as they wait for bottling. Sometimes they will even let you taste from one of their barrels. It is cool underground so bring along your jacket for these tours.
5. Guided Tours: You can also leave the driving to someone else. These guided tours take you to three to four wineries, where you will sample and spend time with winery owners, winemakers, and other wine professionals. Each tour often includes a walk around one winery's production area, so you can learn more about their entire wine making process. Visit this page to find a list of my favorite wine tours around Napa Valley.
Hotel Recommendations

Feel at home with one of my recommended Napa Valley accommodations. Whether it's a budget-friendly hotel or a luxurious bed and breakfast, you will sleep well at night knowing that you found the best option for your upcoming visit.
Weather Tips by Month for Napa
Comments? Questions? Suggestions?
I would love for you to join me in my private Facebook group! 
It's a great place to interact with me and others who know the area well.
You can ask questions, get advice for your upcoming stay, and then share your photos and advice with others when you return home. It's a great community and the fastest way to get answers to those nagging questions about your visit!