Napa Weather in April: What to Wear, What to Pack & Other Visiting Tips
Napa weather in April is moderate, sunny, and comfortable with consistent temperatures throughout the month. Napa benefits from a Mediterranean climate, which offers mild temps throughout the year.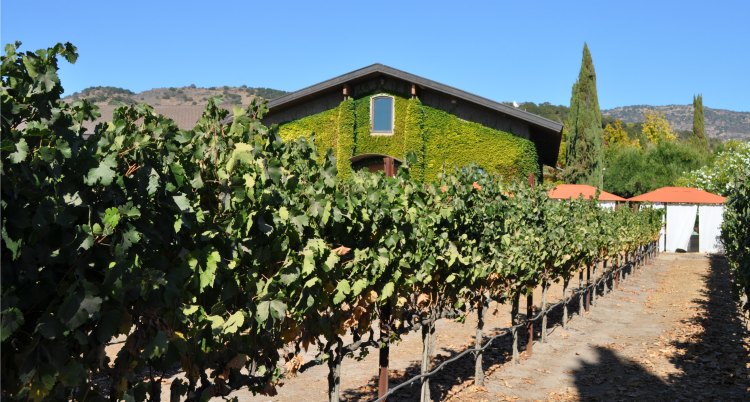 The average highs in the region in the month of April hover around 70 degrees. The days start cool and begin to warm up as the sun starts to rise. Temperatures in the early morning are usually very comfortable as they start in the 50s and then heat up to the upper 60s during the late morning. They usually reach the 70s around noon and stay that way for a couple of hours. It is warm, pleasant, and a great time to visit.
In the evenings and as the sun sets, it cools off. You will find evening temps usually in the 50s with overnight lows in the mid-40s.
The temperatures in early and late April are consistent, so you will enjoy these mild, lovely temps throughout the month.
Napa weather in April also offers very little rain with only around an inch and a half all month long.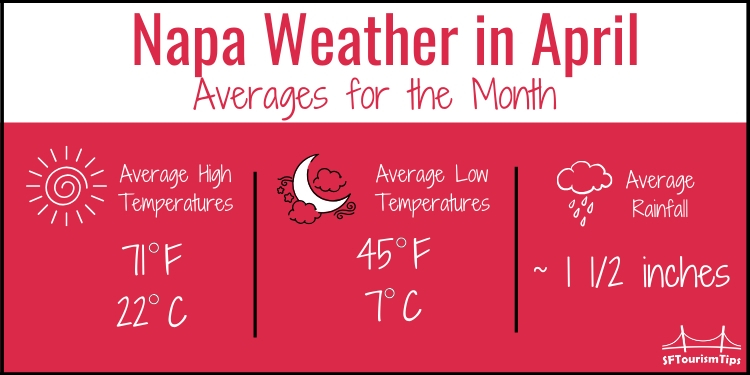 Average High in April: 71° F (22° C)
Average Low in April: 45° F (7° C)
Average Monthly Rainfall: 1.5 inches (40 mm)
Record High: 95° F (35° C)
Record Low: 27° F (-3° C)
Disclaimer: I receive a small commission from some of the links on this page.

What to Wear in Napa in April

What should you wear in Napa in April? You will want to bring some layers to keep you warm and/or cool during the day. Napa is a casual place, so you are welcome to wear jeans and comfortable clothing during your stay.Here are some of my recommendations for the Napa weather in April.
Women

Pants/Jeans: I typically wear either casual pants or a nice pair of jeans. Even though it is casual, I tend to stay away from ripped or torn jeans. I also tend to stay away from pants that are overly dressy. Lastly, I usually don't wear lighter colors, as red wine can be tricky to get out of clothing if you happen to spill a little, and you don't want ruin your trip doing that.
Skirts/Dresses: It is also warm enough that you could wear a nice skirt or casual dress. You will have the choice if you want to be inside or out. In the sun, you might get a little warm, so a nice skirt or dress might be a great option.
Shirt/Sweater/Jacket: I typically like to layer during this time. I will often wear a short sleeve shirt, but I also bring along a lightweight jacket or sweater. This allows me to add and remove as the temperature changes. I always find it more comfortable if I decide to sit outside or stand inside because it is easy to take on or off at any time.
Shoes: Since most tasting rooms do not have a lot of seating, you will want to wear comfortable shoes that allow you to stand for at least an hour at a time. I tend to wear low heels or flats. Tennis shoes are also acceptable as long as they are clean and in good condition.
Men
Pants/Jeans: For men, you will typically want to wear nice jeans or casual pants. I recommend keeping them light weight as the Napa weather in April is warm and sunny.
Shirt/Sweater/Jacket: I recommend wearing short sleeve shirts and bringing along a light jacket. You will be more than comfortable in short sleeves while tasting, but you might need to grab the jacket if you sit outside on cooler days or have plans for the evening.
Shoes: You will want to wear comfortable shoes that you can stand in for at least an hour at a time. Since the tasting rooms often do not have seating, you will want to be able to stand comfortably during your visit. Tennis shoes are fine, but I typically try to wear something a little nicer.
5 Things to Do in Napa in April

1. Do Some Wine Tasting: This is the biggest draw to Napa Valley. With the gorgeous Napa weather in April, you get the chance to go tasting both indoors or out. Find some of my favorite places to go tasting. This is also a great tour from SF.
2. Attend the Vineyard to Vintner Event: There are also some great events this time of year. The Vineyard to Vintner event, usually toward the end of April, is one of my favorites. Find a full events calendar for April here.
3. Shop at Napa Premium Outlets: If you want to pick up some gifts for yourself or others, head over to the Napa Premium Outlets. You will find brands such as Nike, Gap, and Ann Taylor. You will also find Calvin Klein, Levi's, and Sketchers.
4. Enjoy a Hot Air Balloon Ride: Journey high above the vineyards on a sunrise hot air balloon ride. These early morning tours allow you to see the valley at sunrise. You will be in the air for about 45 minutes. You can also choose to have a sparkling wine brunch when you return to the ground. Learn more about these tours.
5. Hike Near Lake Hennessey: April is the perfect time to do a little hiking. The trail near the lake offers you 5.5 miles of exercise in the beautiful nature of this area. The loop runs partially along the shoreline and partially up and over the nearby hills. You can go out and back or around the entire loop.
Hotel Recommendations

The Napa weather in April makes it the perfect time to spend a night or two in the valley. Click the links below for some of my top recommendations.
More Fun Tips for Your Stay

Comments? Questions? Suggestions?
I would love for you to join me in my private Facebook group! 
It's a great place to interact with me and others who know the area well.
You can ask questions, get advice for your upcoming stay, and then share your photos and advice with others when you return home. It's a great community and the fastest way to get answers to those nagging questions about your visit!