Napa Weather in March: Tips on What to Pack for Early Spring in Wine Country
Napa weather in March is cool and mild with a decent amount of rain. It is the end of the rainy season, so you will usually find more rain toward the beginning of the month.

You will find both clear and cloudy days. Most of the time, it is partly cloudy with a nice amount of sun poking through the clouds.
Read on for additional information on what to expect from the weather, tips on what to wear, and a few of the best things to do this time of year.
The picture above is a cool, slightly overcast day which will give you an idea on the Napa weather in March.
The days start out cool with temperatures only in the 40s. It will then warm up to the upper 50s and lower 60s in the morning with highs in the mid-to upper 60s by mid-afternoon.
You will find that it is usually a little cooler toward the beginning of the month than the end of the month as the amount of rain decreases.
The evenings are cool with temperature returning into the 50s in the evenings and down into the 40s overnight. There are about 12 hours of daylight in March with the sun rising around 6:30am and setting around 6:00pm. It starts to cool off quite a bit after the sun goes down.
With the rainy season coming to a close, you will also find about four inches of rain this time of year. The rain is usually light, so even if it is raining, it is still easy to get around the valley to explore.
Here are a few more details about the Napa weather in March.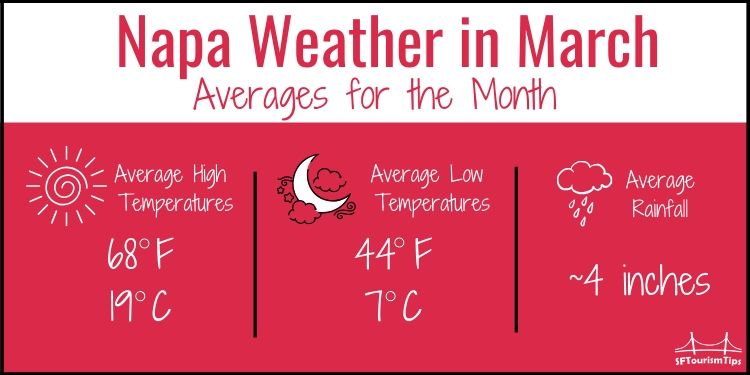 Average High in March: 68° F (19° C)
Average Low in March: 44° F (7° C)
Average Monthly Rainfall: Almost four inches
Record High: 104° F (33° C)
Record Low: 30° F (-5° C)
Disclaimer: I receive a small commission from some of the links on this page.

What to Wear in Napa in March

It is still cool this time of year, so you will want to bring along a jacket, some sweaters, and longer pants. This will help you stay warm when you are outside.

Women

Shirts: With the Napa weather in March being cool, I typically bring a couple of short-sleeved shirts along with some light sweaters. This allows me to add and remove items as the temperature changes throughout the day. I also usually bring at least one light weight long-sleeved shirt to wear at night when it is a bit cooler.
Jackets: Bring along one light to medium weight jacket. This is something you will want to have with you for the early morning and the evenings. If you plan to sit outside after sunset, steer toward a medium weight jacket.
Pants/Jeans: Both nicely tailored jeans and business casual pants are accepted at the wineries. You will find a few people in skirts, but I find it is still a bit too chilly this time of year for skirts. I try to bring along darker colors just in case I get some red wine on them while tasting.
Shoes: Ballet slippers or canvas shoes are typically what I bring this time of year. It is too cool for sandals, but you want to be comfortable. You will find a few of the parking lots still a little muddy this time of year, so make sure to wear something that you can easily clean. They aren't too bad (no big puddles or anything), but some are still dirt lots which have a little mud during the early spring.
Men

Shirts: Bring along a few light weight long sleeved shirts as well as a couple of short sleeved shirts. You will find both are comfortable during this time of the year. The long sleeved shirts will work best in the mornings and after sunset. You can wear the short sleeved shirts during the day.
Jackets: Make sure to also pack a light to medium weight jacket. It does cool off quickly at night, so if you plan to be outside in the evenings, this will keep you warm and comfortable.
Pants/Jeans: Both jeans and casual pants are perfect this time of year. It is usually still a little too cool for shorts.
Shoes: This will be the most important decision when packing. If you plan to do a lot of tastings, then bring along a couple of pairs of comfortable shoes. You will be standing a lot, so canvas or athletic shoes will make for a more enjoyable experience.
5 Things to Do in Napa in March

1. Yountville Live: The premier event this month is Yountville Live. This high-end experience includes award winning wines and food prepared by popular local chefs. It is a time to mingle with winemakers and listen to music from well-regarded recording artists.
2. Wine Tasting Parties: The Napa weather in March offers the wineries the chance to host a variety of wine parties. You will find everything from cooking classes to spring release dinners to festivals. Visit my March events page for details.
3. Guided Tours: Head out on a guided tour and leave the driving to someone else! These tours offer you a great overview of the valley as well as a chance to taste at up to three to four wineries. There are tours that leave from Napa and others that will drive you up (and back) from San Francisco. These are a few of my favorites.
4. Galleries: Step inside some of Napa's top galleries to check out everything from modern to antique art. You will find galleries all around the city of Napa as well as Yountville, St. Helena, and Calistoga. You will also find some great displays at wineries throughout the valley.
5. Uptown Theater Performances: What should you do at night? Check out the calendar of events for the Uptown Theater. They offer live music performances several times a month. You will also find comedians on stage a few times in March.
Hotel Recommendations

Don't waste time digging through tons of sites to find the best place to stay. Click the links below to find some of my favorites. They are sorted by location and amenities, so you can easily find a small list that is right for you.
More Weather Tips
Comments? Questions? Suggestions?
I would love for you to join me in my private Facebook group! 
It's a great place to interact with me and others who know the area well.
You can ask questions, get advice for your upcoming stay, and then share your photos and advice with others when you return home. It's a great community and the fastest way to get answers to those nagging questions about your visit!