Napa Weather in October: What You Should Pack for Harvest Season in Wine Country
Napa weather in October is gorgeous. It is warm, sunny, and there are usually just a few clouds in the sky.

The temperatures are mild, yet warm enough to be outside all day long. You will also find very little rain this time of year.
It is my favorite time to visit as it is harvest season. The valley is alive with activity and you can still usually see some plump, juicy grapes still on the vines.
Read on for a list of my 10 things that you must pack as well as some average highs and lows throughout the month.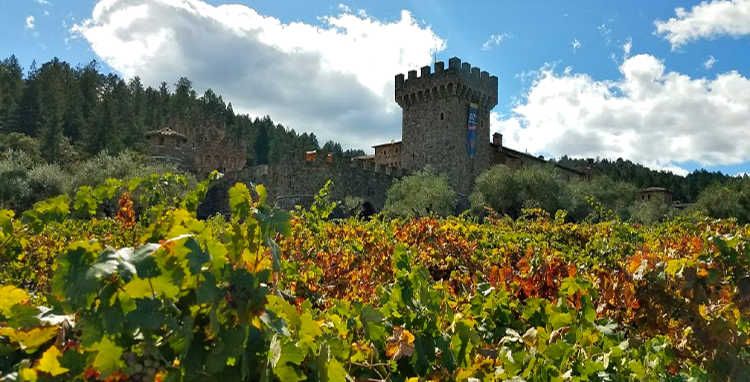 The Napa weather in October offers daily temperatures in the mid to upper 70s. You will find it is a bit warmer toward the beginning of the month with temperatures in the upper 70s. It is often a bit cooler toward the end of October with highs in the lower 70s.
The mornings are cool and crisp. They start off in the lower 50s and warm up to the 70s by mid-day. As the sun sets (usually around 6:45 pm), it starts to cool off. The evenings are usually in the mid to lower 60s around sunset and continue to drop overnight into the upper 40s.
There is a little rain this time of year, but not much. The average rainfall for the entire month is only about an inch and a half. If it rains one day, it is often clear the next.
Here are a few more details about the Napa weather in October.
Average High in October: 77° F (25° C)
Average Low in October: 49° F (9° C)
Average Monthly Rainfall: About an inch and a half
Record High: 106° F (41° C)
Record Low: 28° F (-2° C)
Disclaimer: I receive a small commission from some of the links on this page.

10 Things to Pack for the Napa Weather in October

1. Canvas Shoes: The most important thing you will want to pack is a pair of comfortable canvas shoes. The tasting rooms do not have much seating and the floors are usually cement. A pair of canvas shoes will save your feet so you can taste again on another day.
2. Sandals: Bring along a pair of comfortable sandals. If I am tasting for more than one day, I will bring along a couple of them including some flat sandals. It will be in the 70s most days, so sandals will keep your feet cool.
3. Casual Short Sleeved Shirts: With the nice fall weather in Napa Valley, bring along two to three casual short-sleeved shirts. They will keep you at the perfect temperature throughout your visit.
4. Jeans: Bring along at least one pair of jeans. It's casual here throughout the year and you will find a lot of people wearing jeans as they taste delicious Napa wines.
5. Light Jacket: In the fall, it is cool in the morning and evening. Bring along a light jacket to help you stay warm when you are outside either first thing in the morning or in the evenings.
6. Light Sweater: I always bring a light sweater with me. Sometimes it is fun to sit outside and on days that are a bit cooler, you might need a light sweater to stay warm.
7. Sunglasses: The sun will be out, so don't forget your sunglasses!
8. Casual Pants: Bring along one pair of comfortable casual pants. This will allow you to be a little dressier for dinner if you stop at higher-end wineries. This is optional as you will still see a lot of people in jeans and casual wear throughout the valley.
9. Skirt or Dress: Bring along a cute summer skirt or dress. The weather is absolutely gorgeous, so you will want one or two for your visit. You can pair the skirt with your short-sleeved shirts and/or your light sweater.
10. Shorts: Earlier in the month, you can still get away with wearing shorts. Bring along one pair in case there is a unusually warm day during your visit.
5 Things to Do in Napa in October

1. Harvest Festivities: Harvest is in full swing this time of year. You will find dozens of harvest festivals and wine tasting events all month long. Check out my calendar for more details.
2. Calistoga Spas: Head over to Calistoga and spend the day at the spa! This cute town is home to several hot springs and natural mineral spas. It's the perfect way to relax and unwind during your stay.
3. Hot Air Balloon Rides: Soar above the vineyards on a sunrise hot air balloon ride. Every morning, the hot air balloons head up above the valley for a view unlike any other. They leave just before sunrise, so you can see the sun coming up and over the surrounding mountains. The rides last around 45 minutes to an hour, with the entire experience lasting around 2 to 3 hours. Check out this great Hot Air Balloon Tour on Viator.
4. Hiking: Spend some time in nature during your stay in Napa Valley. You will find dozens of trails all around Napa Valley. Most are moderate, but you will also find some great longer hikes up into the mountains.
5. Halloween Parties: Pack your costume and celebrate Halloween in Napa Valley. You will find everything from family-friendly parades to adult costume parties. You will also find some fun wine tasting events that require your best costume.
Napa Weather by Month
Hotel Recommendations

Relax and unwind at one of my preferred hotels in Napa Valley. Click the links below to find out more about where to stay during your visit.
More Tips to Plan Your Stay

Comments? Questions? Suggestions?
I would love for you to join me in my private Facebook group! 
It's a great place to interact with me and others who know the area well.
You can ask questions, get advice for your upcoming stay, and then share your photos and advice with others when you return home. It's a great community and the fastest way to get answers to those nagging questions about your visit!