Napa Weather in July: What to Wear in the Summer in Wine Country
Napa weather in July is sunny and warm. There is little to no rain this time of year, so it is a popular time to visit.

It is also the perfect time to go on a hot air balloon ride, check out some of the local festivals, and enjoy a meal outdoors. Although it is warm during the day, it is usually still very pleasant to be outside.
Read on for more details on average temperatures, what to pack, and a few fun things to do this month.
July is the warmest month of the year in Napa. The daily average temperature is in the lower 80s. However, you will find a wide range of temperatures throughout the month. Some weeks, the temps will rise into the lower 90s, while others will be more pleasant in the mid-70s.
The days here start off cool and mild with temperatures in the upper 50s to lower 60s. It heats up quickly with highs in the lower 80s. It will stay warm throughout the day with temperatures dipping back into the 70s and then 60s as it nears sunset. Temperatures are usually in the mid-50s overnight.
Usually, you will not find any rainfall in Napa in July. It does happen on occasion, but it isn't very common. This means that most days will look like the one above, with barely a cloud in the sky.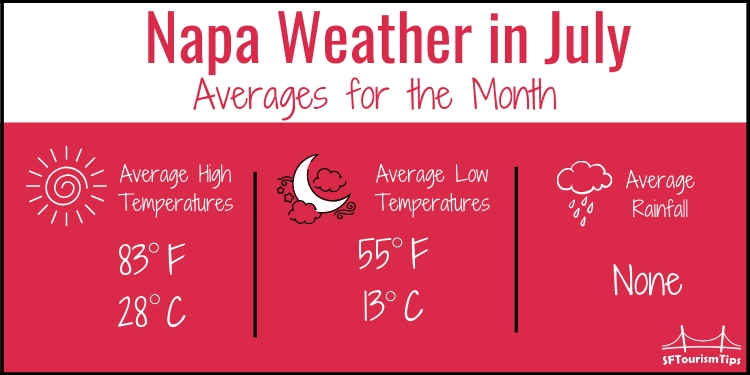 Average High in July: 83° F (28° F)
Average Low in July: 55° F (13° F)
Average Monthly Rainfall: None
Record High: 112° F (44° F)
Record Low: 38° F (3° F)
Disclaimer: I receive a small commission from some of the links on this page.

What to Wear in Napa in July

What should you wear for Napa in July? Bring along comfortable summer clothing for the day and a light sweater for the evenings (just in case!).

Women

Shirts: Bring along several short-sleeved shirts with you. Even though the temperatures are cool in the overnight, you will mostly be comfortable in short sleeved shirts. I also recommend bringing along one light sweater in case you are out after sunset when it starts to cool off or you want to sit outside at your hotel once the sun goes down.
Dresses: This is the perfect time of year to bring along one or two casual dresses or skirts. Even though Napa is casual, you will find quite a few people wearing casual dresses or skirts in the tasting rooms this time of year.
Pants/Jeans: You can also bring along a pair or two of jeans or casual pants. If you are wearing a short-sleeved shirt, you will most likely be comfortable in jeans or light pants. The tasting rooms usually have air conditioning, but many also have outside seating. Make sure to wear something that is cool, as you will most likely get some sun during the day.
Shoes: I typically bring along a couple pairs of sandals as well as some canvas shoes. Sandals will keep you cool, but you might want to mix them up with a pair of canvas shoes if you plan to go tasting for a couple of days in a row. Bring along anything that has enough cushion in it so you can stand for long periods of time without making your feet ache.
Men

Shirts: Bring along a variety of short sleeved shirts. You will find everything from nice T-shirts to casual button-down shirts around Napa. Leave your tank tops at home. While Napa is casual, you won't find many men wearing tank tops this time of year in the tasting rooms. They won't kick you out if you wear them, but you might feel too casual in the tasting rooms.
Pants/Jeans/Shorts: It does get warm this time of year. Jeans and casual pants are always welcome. However, you may want to bring along a few pairs of shorts. They are widely accepted and the perfect option if you plan to do some tasting outside on the patios.
Shoes: It is also common to see men in sandals or light canvas shoes. Just make sure they are comfortable! If I'm tasting for a couple of days in a row, I'll bring along a couple of pairs of flat shoes, so I can switch back and forth to give my feet a rest.
5 Things to Do in Napa in July

1. Outdoor Concerts: You will find several great outdoor concerts throughout the month of July. Some are casual events where local musicians will play during tasting room hours. Some concerts require a ticket and are held near the vineyards in the evening.
2. Wine Tasting Dinners: These are really popular in July. With the warm days and cool evenings, the wineries often have wine tasting dinners in their vineyards. It's the perfect mix of tasty wines with wonderfully paired dishes. You will also get great scenery throughout the dinner. Most wine tasting dinners only offer seats for 75 to 150 people, so make sure to pick up your tickets early. Also, these are usually dressier affairs, so make sure to bring along a nice set of clothing for these events. Visit my events page for a list of upcoming wine tasting dinners this month.
3. Cave Tours: July is also a wonderful time to head underground. Inside Napa's caves you will learn how they store and manage their wines before they are bottled. My favorite caves tours are those that include a tasting while you are inside one of them. It is cool down there, so bring along a light sweater if you get chilly easily.
4. Fourth of July Celebrations: You will also find several Fourth of July celebrations around Napa Valley. Napa's downtown parade is one of the biggest. Each year there is a new theme and the parade runs for about two hours. Visit the Napa July events calendar to learn more.

5. Hot Air Balloon Rides: From the picture at the top, you can see that July is the perfect time to head out on a hot air balloon ride over the valley. The entire experience lasts about 3 hours and you are usually in the air for around 45 minutes to an hour. You will watch the sun rise over the valley floor and get a bird's eye view of the vineyards and wineries below. It's an experience like no other. Visit Viator to find out more about my favorite Hot Air Balloon Ride Tour.

Hotel Recommendations

From sleeping next to a vineyard to catching some zzzs at a budget-friendly local hotel, you will find a wide variety of accommodations all throughout the valley. Click the links below for some of my favorites. I have them separated by price, location, and amenities to make it easier for you to find what fits your needs.
Learn More: Napa Hotels | Napa B&Bs
Comments? Questions? Suggestions?
I would love for you to join me in my private Facebook group! 
It's a great place to interact with me and others who know the area well.
You can ask questions, get advice for your upcoming stay, and then share your photos and advice with others when you return home. It's a great community and the fastest way to get answers to those nagging questions about your visit!