Napa Weather in August: What to Pack, Average Temperatures, & Other Visiting Tips
Napa weather in August during the day is warm, sunny, and beautiful. At night, the temperatures cool down into the 50s. This is also the start of the busy harvest season in the region.
What should you wear this time of year? You will want to bring along some layers to add or remove as the temperature changes throughout the day.
Read on for information about average highs and lows as well as a few tips on what to pack.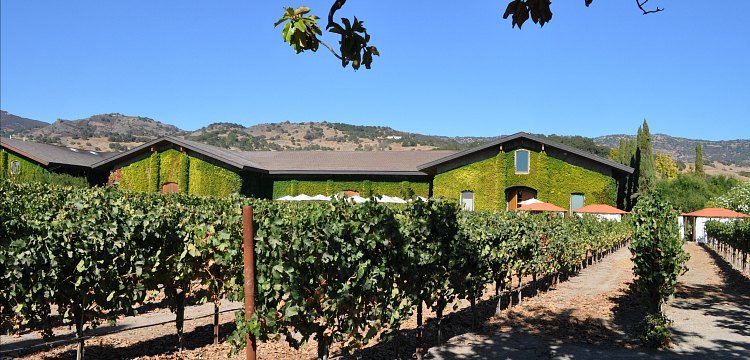 The picture above shows you what an average day in August looks like in Napa Valley. You will find highs in the low to mid-80s. It is also not uncommon to have a few days around 90 or above, followed by a few days in the upper 70s. You will also find very little rain this time of year.
At night, it cools down. Early in the evening, you will find temperatures in the 60s with it dipping down into the mid-50s overnight.
Here are a few more details around the Napa weather in August.
Disclaimer: I receive a small commission from some of the links on this page.

Average High in August: 83° F (28° C)
Average Low in August: 55° F (13° C)
Average Monthly Rainfall: Traces
Record High: 110° F (43° C)
Record Low: 32° F (2° C)
What to Wear in Napa in August
You will find that most places in Napa are laid back and casual. Most are fine with casual outfits including shorts, skirts, and sandals. If an event or winery requires more formal wear, they will often let you know before you arrive.
I often wear short sleeved shirts with shorts or jeans during the day. You will be standing most of the day, so make sure to wear something comfortable.
For shoes, I usually wear sandals or flat shoes. This makes it more comfortable during the tastings.
Usually in the mornings, when it is still a little cooler, I will bring along a light jacket. This way, I can taste wines outside if the option is available. I then remove the light jacket or sweater as the day heats up.
The dress code is the same for men. You can wear shorts or jeans along with sandals. You will see a variety of shirts from nicer business casual shirts to T-shirts. Both are fine as long as they are clean and are in good condition.
Although it is casual, make sure to stay away from torn or ripped clothing. Napa is an upscale destination and you might feel uncomfortable in clothing that is too casual.
Fun Items to Pack for Your Stay in August
5 Things to Do in Napa in August
1. Wine Tasting: The best thing to do this time of year is go wine tasting. There are more than 400 wineries in this small region each with a good selection of wines. Here are some of my favorite places to go tasting.
2. Nightlife: Head over to the Blue Note in downtown Napa for some great live music. The venue is in the Napa Valley Opera House and is a perfect place to catch a live show.
3. Hot Air Balloon Tour: Another fun way to experience Napa in August is on a sunrise Hot Air Balloon Tour. These tours start first thing in the morning with a 45-minute ride above the vineyards as the sun rises. Some also offer sparkling wine and brunch after the ride. Learn more about these tours.
4. Napa Town & Country Fair: This annual event is one of the largest each Summer. It runs for 5 days and includes locally created crafts, wines, and entertainment. There is also great food, carnival rides, and so much more. Find additional fun events in August.
5. Restaurants: Sample some of Napa's locally produced food at one of its highly ranked restaurants. You will find high quality dishes at both its budget friendly options as well as its more expensive restaurants.
More Fun Things to Do in August
Hotel Recommendations
The gorgeous Napa weather in August calls for a two to three day trip in this amazing region. If you plan to stay, you will find a wide variety of accommodations from B&Bs near a vineyard to large, well known hotels.
Here are just a few of my top recommendations.
Comments? Questions? Suggestions?
I would love for you to join me in my private Facebook group! 
It's a great place to interact with me and others who know the area well.
You can ask questions, get advice for your upcoming stay, and then share your photos and advice with others when you return home. It's a great community and the fastest way to get answers to those nagging questions about your visit!