Napa Weather in June: Tips on What to Pack this Summer for Wine Country
The Napa weather in June is gorgeous. The temperatures are mild most days with cool, comfortable evenings. This time of year, many wineries offer outdoor events, tastings, and festivals.
There is also little rain this time of year. This makes it a perfect time to explore this Northern California wine region.
Read on for more details on typical daily temperatures, what to wear during your visit, and a few fun things to do while you are here.
The picture above is at sunrise in Napa Valley. You will see a few low hanging clouds with a wonderful view of the sun rising over this colorful wine region.
The days start out cool with temperatures in the mid to upper 50s. The days warm up quickly. Even though the average temperatures are in the lower 80s, you will often find 90-degree days followed by 70 degree days.
The temperatures tend to cool off early in the evening with temperatures in the lower 70s to upper 60s. Overnight it continues to cool off with average temperatures dipping down in the mid to lower 50s.
The best part of the Napa weather in June is that there is very little rain. This time of year, you can expect no more than half an inch for the entire month. Most likely, you will not see any rain at all during your visit.
Here are a few more details about the Napa weather in June.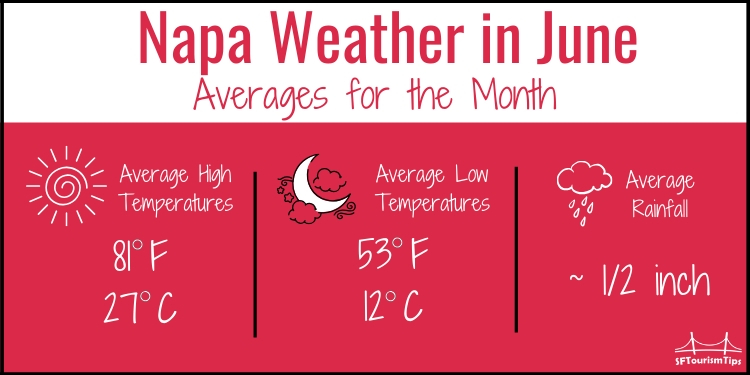 Average High in June: 81° F (27° C)
Average Low in June: 53° F (12° C)
Average Monthly Rainfall: Less than a half an inch for the month
Record High: 113° F (45° C)
Record Low: 34° F (1° C)
Disclaimer: I receive a small commission from some of the links on this page.

What to Wear in Napa in June

Now that you know you are visiting, what should you pack to be prepared for the Napa weather in June? I recommend a combination of summer clothing with at least one pair of long pants and a light sweater or two. This will allow you to warm up a little during the cool morning and evening hours.

Women

Shirts: You will be more than comfortable in nice short sleeved shirts. You will find people in everything from T-shirts to nice linen tank tops. Since it will be warm during the day, cotton, linen or rayon are your best bets this time of year.
Pants/Jeans: Napa is casual, so jeans are worn throughout the valley. You can also wear light weight pants or capris. You will see quite a few women in light, lose fitting linen pants also.
Dresses: This is the best time of year to bring along some light sundresses. Long flowing skirts are also popular. Make sure you wear something that is easy to sit in on outdoor patio furniture. This is often what you will find outside at most wineries. The other option is to stand inside or out.
Shoes: Bring along a pair of sandals and a pair of canvas shoes. You can switch back and forth during your visit. During your tastings, you will spend most of your time standing on hard floors such as concrete or hard wood. If you go back and forth between these types of shoes, your feet will not get as tired.
Men

Shirts: Most mean wear short sleeved, button down shirts. The most comfortable options this time of year are cotton and linen. You will also find quite a few men in fitted T-shirts. I recommend staying away from tank tops or T-shirts in disrepair.
Pants/Jeans/Shorts: Shorts are a common choice for men this time of year and are widely accepted. Cotton is your best bet and something that is comfortable to sit in outdoor furniture. Jeans and casual pants are also common this time of year.
Shoes: Bring along comfortable shoes. I can't stress this enough. You do not want to be standing for hours in uncomfortable shoes. Canvas or athletic shoes are fine as are sandals. I recommend brining a couple of pairs of shoes, so you can switch back and forth for comfort.
5 Things to Do in Napa in June

1. Father's Day Activities: You will find a number of wineries with special deals and events on Father's Day. Some offer BBQs, while others offer open houses with discounts on wine all weekend long. You can also attend a nice dinner out in a vineyard or enjoy a special selection of wines. Find out more about what the wineries have planned for Father's Day.
2. Hot Air Balloon Rides: With little rain and very few clouds, it is the perfect time of year to fly high above the vineyards on a Hot Air Balloon Ride. All tours start at sunrise. The tour usually lasts about 2 to 3 hours with the ride in the air lasting around 45 minutes to an hour. Click here to check out one of the best options on Viator.
3. Napa City Nights: Kick back and enjoy some local music at Napa City Nights. This summer festival runs every Friday night from June through August. The shows are free and are at Veterans Memorial Park Amphitheater in downtown Napa.
4. Wine & Cheese Pairing Tours: Spend a little more time getting to know a local winery by booking a wine and cheese pairing tour. These tours offer you the chance to sit down and sample a wineries selection of wines expertly paired with tasty cheeses. All require advanced registration.
5. Hiking: You can also head out for a hike: There are several places around the valley with wonderful trails. You can head over at sunrise to soak in the beauty during this time or any other time of the day. Some of my favorites include the Robert Louis Stevenson Memorial Trail, trails near Lake Hennessey, and the Buckeye Lake Marie Loop.
Hotel Recommendations

You will find dozens of hotel options all around Napa Valley. Which one is right for you? Check out my recommendations to help narrow down your options.
More Tips to Plan Your Stay

Comments? Questions? Suggestions?
I would love for you to join me in my private Facebook group! 
It's a great place to interact with me and others who know the area well.
You can ask questions, get advice for your upcoming stay, and then share your photos and advice with others when you return home. It's a great community and the fastest way to get answers to those nagging questions about your visit!