Napa Weather in January: Tips on What to Pack for Your Stay in this Northern California Wine Region
Napa weather in January is cool and comfortable. This month is the coolest of the year and one of the rainiest.

You will find partial cloud cover most days.
What should you wear in Napa in January? I recommend bringing along a few items that you can layer. This way, you can easily warm up or cool down as the day progresses.
Read on for more on what you can expect from the weather, more packing tips, and a few of the top activities this month.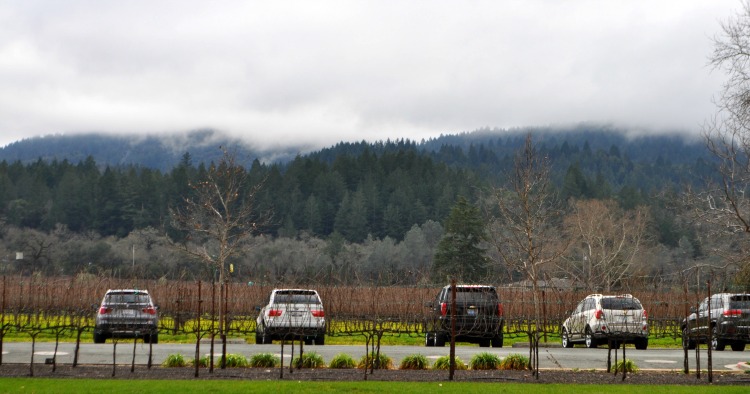 The picture above is from a cool day in January in Napa. I love the way the clouds billow over the mountains that surround Napa Valley. You can see that the vines are dormant, and also that the yellow from the mustard plants is starting to bloom.
The mornings in Napa are chilly with a little wind. Each day starts in the lower to mid-40s. It warms up during the day with highs in the mid to upper 50s.
As the sun sets, it will begin to cool off again with temperatures dipping into the low 50s to upper 40s. Overnight, temperatures dip down in the upper 30s.
You will also find quite a bit of rain this time of year with an average of more than 5 inches for the month. The rain is typically light and can last for hours or even the full day. It makes the valley feel peaceful.
January is also low season in Napa Valley. You will find quite a bit of space open in the tasting rooms and reservations at top restaurants are easier to secure.
Does it snow in Napa? Every three or four years, the temperature will dip below freezing and you will see a light dusting of snow. It always melts when the sun comes up. It's not common for Napa to receive more snow than that. About every 10 to 15 years, they will get an inch or two. Again, this always melts an hour or two after sunrise.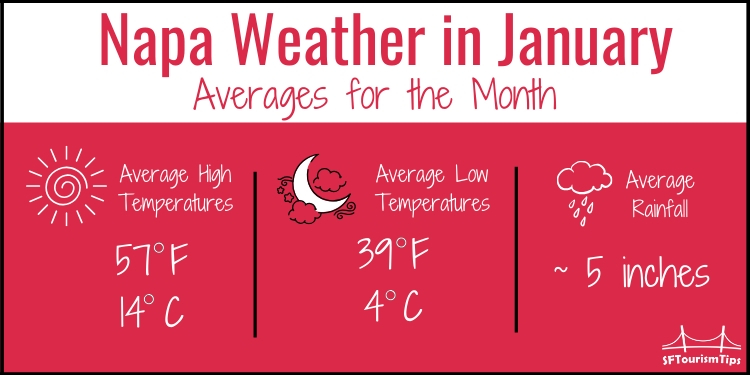 Average High in January: 57° F (14° C)
Average Low in January: 39° F (4° C)
Average Monthly Rainfall: More than 5 inches
Record High: 85° F (29° C)
Record Low: 20° F (-6° C)
Disclaimer: I receive a small commission from some of the links on this page.

What to Wear in Napa in January

How should you pack for the Napa weather in January? Below you will find several recommendations. Overall, bring along quite a few items that you can layer, since you will be going back and forth between the indoors and outdoors frequently.

Women

Jackets: Bring along a medium weight jacket for your stay. This will keep you warm during the cool morning hours and also as it cools down at night.
Shirts: I recommend bringing two to three medium to light weight long sleeved shirts. This will keep you warm, but not too warm in the tasting rooms and restaurants. Make sure the sleeves are too bulky, so you can easily grab for your wine glass on the tasting room tables without getting wine on them.
Pants/Jeans: Since it is chilly both day and night in January, I also recommend wearing pants or jeans during your visit. You will find a casual environment here, so jeans are accepted almost everywhere. I love them because they are comfortable and easy to pack. Make sure they are clean and look nice.
Shoes: This is one of the most important. You will be standing a lot during your visits to the tasting rooms. Most places have cement or hard floors. Make sure to pack a couple of pairs of shoes you don't mind standing in for at least an hour at a time or up to 4 to 5 hours for the day. Nice, clean athletic shoes are fine. I also like canvas shoes or ballet slippers.
Men

Jackets: Make sure to bring along at least one medium weight jacket for your visit. This is something that you will need first thing in the morning and in the evenings.
Shirts: Bring along a couple of light to medium weight long sleeved shirts. These are perfect for tastings. They will keep you warm enough as you walk from your car to the tasting rooms, but not too heavy to make you feel too warm while you are inside.
Pants/Jeans: Jeans are accepted all around Napa Valley, so feel free to wear them during your visit. If you want something a little nicer, you can also bring along some casual pants. Few people dress up a lot during tastings, so you will feel comfortable in both of these options.
Shoes: Bring along shoes that you know you can stand in for at least an hour at a time. I recommend bringing along a couple of pairs of casual shoes with low to no heels. Athletic shoes are also okay as long as they are clean and in good repair.
5 Things to Do in Napa in January

1. Food & Wine Pairing Tours: Since the Napa weather in January is cool, make sure to book a longer food and wine pairing tour during your stay. These tours include a variety of wines and cheese, chocolate, or other food that pairs nicely with it. You will find many wineries offer these tours by appointment.
2. Galleries: Step into Napa's art galleries to check out work by both local and international artists. You will find a large number in the city of Napa, St. Helena, Calistoga, and a few in the wineries themselves.
3. Napa Lighted Art Festival: This is one of my favorite local festivals. For nine days in January, you will find several light installations around downtown Napa and the Oxbow District. You will find light art, videos, 3D imagery, and so much more. Visit my January events page to learn more.
4. Restaurant Week: Check out some of Napa's top restaurants during Restaurant Week in January. All week long you will find prix-fix menus for both lunch and dinner at participating restaurants. It's a great way to check out the local foodie scene!
5. Guided Wine Tours: If you don't want to visit the wineries on your own, check out a guided wine tour. Most last all day long and visit three to four wineries. You will often get the chance to go on a behind the scenes tour and meet with local wine makers. Visit this page for details on the best guided wine tours around the valley.
Hotel Recommendations

Spend a night or stay the entire week! Click the links below for some of my top hotel and bed & breakfast recommendations.
Tips to Pack by Month
Comments? Questions? Suggestions?
I would love for you join me in my private Facebook group! 
It's a great place to interact with me and others that know the area well.
You can ask questions, get advice for your upcoming stay, and then share your photos and advice with others when you return home. It's a great community and the fastest way to get answers to those nagging questions about your visit!