Napa Weather in September: What to Pack for Early Fall in Wine Country
The Napa weather in September offers mild temperatures and lots of sunshine. It is also the heart of harvest, which means the valley is alive with activity.

I love this time of year as the grapes are fully ripe and it is the perfect time to take photos.
It is also the best time to see the wine production facilities in action.
Read more about what to pack and expected temperatures throughout the month.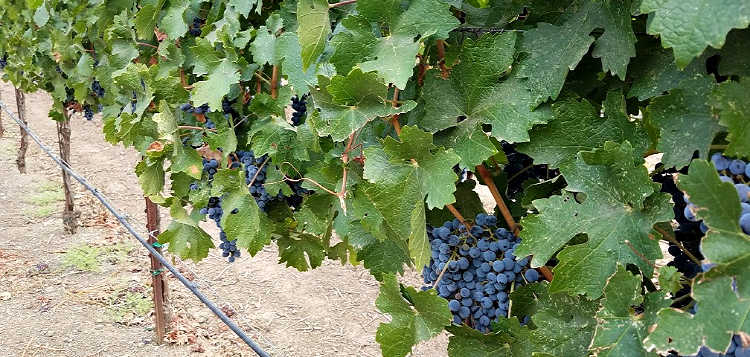 Napa Valley in September has the perfect weather. It's warm, yet mild during the day and it cools off at night. It doesn't get too warm or too cold most days this month.
The days start off cool with the sun rising usually between 6:45 am and 7 am. You will find temperatures in the mid-50s. It then warms up in the morning with temperatures usually in the 60s and 70s with the highs hitting sometime during the afternoon. The average high is in the lower 80s.
You will find slightly higher temperatures toward the beginning of September. The highs are usually about 5 degrees cooler toward the end of the month.
After the sunsets, the evenings are cool again and dip into the 60s and lower 50s. Overnight, the temperatures reach their lows in the low to mid 50s.
There is also very little rain this time of year. It makes it a great time for harvest and sunshine almost every day.
Read on for more details about the Napa weather in September.
Average High in September: 83° F (28° C)
Average Low in September: 53° F (12° C)
Average Monthly Rainfall: About half an inch
Record High: 109° F (43° C)
Record Low: 36° F (2° C)
Disclaimer: I receive a small commission from some of the links on this page.

7 Things to Pack for the Napa Weather in September

These are the 7 things I always pack to prepare for the Napa weather in September.
1. Short Sleeved Shirts: Bring along two to three short sleeved shirts. With the warm afternoon temperatures, you will want to stay cool and comfortable. Plus, they are perfect if you plan to spend time outdoors at the wineries.
2. Casual Pants or Jeans: Bring along a couple of pairs of jeans and casual pants. Even though it's warm in the afternoon, the mornings and evenings are cool. Due to Napa's mild climate, you will find people in pants and jeans all year long.
3. Light Jacket: Make sure to bring along a light jacket if you plan to spend time outdoors in the early mornings or in the evenings. Several restaurants have outdoor seating, so a light jacket will come in handy.
4. Light Sweater: I also bring along a light sweater or two that I can layer with my short-sleeved shirts. Even though the average highs are in the lower 80s, you will find a few days each month that are cooler. Plus, it is easier to bring along when you start tasting in the morning if the temperature hasn't warmed up quite yet.
5. Comfortable Shoes: Make sure to pack a couple of pairs of comfortable shoes. You can find fashionable flat soled shoes that will make your feet happy. Since there is little to no seating at most wine tasting rooms, you will be on your feet a lot. The wineries often have cement floors too, so comfortable shoes are key to a fun time.
6. Sunglasses: Don't forget your sunglasses! It's sunny most days in September and you will want to make sure you have some protection from the sun while outdoors.
7. Shorts or Skirt: You can also bring along shorts or skirts. I recommend bringing one or two, especially if you visit earlier in the month. This is when it's still quite warm during the day. It's cooler later in the month, so you could leave these at home unless there is an unusual hot spell during that time.
5 Things to Do in Napa in September

1. Labor Day Weekend: This holiday weekend features a variety of events and activities. Many wineries have special open houses or festivals to celebrate this long weekend. Check my calendar of events for more details.
2. Live Music at the Blue Note: If you love live music, head over to the Blue Note. This concert venue is inside the Napa Valley Opera House. This live jazz club offers performances several times a week.
3. Hot Air Balloon Ride: With the clear September skies, it is the perfect time to head above the valley on a Hot Air Balloon Ride. These early morning tours take you over the valley at sunrise. You will leave the ground just before sunrise, so you can see the sun as it makes it way above the mountain tops. Visit Viator to learn more about one of my favorites.
4. Wine Train Tour: Spend a couple of hours on the famous Napa Valley Wine Train. Enjoy lunch or dinner at you roll along the rails through the valley. You can also select a tour that includes stops at a couple of local wineries.
5. Cave Tours: You must go on a cave tour during your visit too. These take you underground and show you how they store their wines before and after bottling. Many also include a tasting in the caves, so you can learn even more about Napa Valley and its wines.
Hotel Recommendations

Whether you are searching for the best luxurious accommodations or something more budget-friendly, you will find everything you need on the pages below. Click the links to learn more.
Napa Weather by Month 
More Tips to Plan Your Stay

Comments? Questions? Suggestions?
I would love for you to join me in my private Facebook group! 
It's a great place to interact with me and others who know the area well.
You can ask questions, get advice for your upcoming stay, and then share your photos and advice with others when you return home. It's a great community and the fastest way to get answers to those nagging questions about your visit!