Napa Valley Cabernet Sauvignon


by Jill Loeffler  •

Updated: April 6, 2022
Napa Valley Cabernet Sauvignon is one of the most popular red wines in the world. More than 50% of the acres in this region grow this grape in their vineyards.

Even though Napa vintners grow more than 34 varieties of grapes, you will find that the largest percent of wines are single variety Cabs or are blends that include this popular grape.
This Northern California wine region creates a wide variety of this wine also. There is a difference based on which area it's grown in as well as decisions made by the winemaker. It varies so much that you will find a variety in bottles that range from $5 to more than $3,500 a bottle!
Read on to learn more about why this region is so famous for its Cabernet Sauvignon, what to expect from some of these reds, who are the top producers, a few fun places to go tasting, and a brief history of this grape.

Disclaimer: I receive a small commission from some of the links on this page.

Napa Valley Makes a Name for Itself

Napa Valley sits about an hour and a half north of San Francisco. This region began commercial winemaking in the mid-1800s. This is when several winemakers began to grow grapes for others' consumption.

The entrance to the Stag's Leap Wine Cellars.
Over the years, the region had many ups and downs including a battle with a sap-sucking insect, phylloxera, that in the 1890s destroyed a good portion of the vineyards in the area. It was next hit with Prohibition in the 1920s. 
Each time this area was knocked down, the winemakers would dust themselves off and try to start over again. 
In the late 1960s and early 1970s, dozens of serious winemakers entered the picture and began to transform Napa Valley's landscape. 

Judgement of Paris

In 1976, there was a small wine tasting event that would change Napa Valley forever.
The event was later dubbed The Judgement of Paris. During this famous event, Napa Valley Cabernet Sauvignon wines were tasted alongside some of France's most prestigious wines. They included wines from Chateau Mouton Rothschild, Chateau Montrose, Chateau Haut-Brion, and Chateau Leoville-Las Cases.
To prevent bias, the competition was a blind tasting. This means that all wines were tasted without the judges knowing where they came from. 

The tasting was such a small event that only one reporter showed up to cover it.

During the tasting, the judges were convinced it was a wonderful red made in France. In the end, the judges all agreed that the best red wine at the tasting was the one by Stag's Leap Wine Cellar. To their total surprise, it was from Napa Valley.

With a Napa Valley Cabernet Sauvignon winning this competition, wine professionals and serious connoisseurs started to take notice. 

As the region received more press, even more experienced winemakers began to buy up properties and build their wineries. Many of them planted a large amount of Napa Valley Cabernet Sauvignon.

Insider's Tip: If you want to learn more about the Judgement of Paris, check out this book. It gives you a great background that leads up to the tasting and then what happened after. It's written by the only journalist to attend this important historic wine event.

Why Napa Valley is Perfect for Cabernet Sauvignon

Now that you know how it became famous, let's dig into why Napa Valley is a perfect place to grow Cabernet Sauvignon.
There are several reasons this region stands out as the perfect place for wine, but two stand out as the most important: One is the variety of soils. The second is the climate.
The soil on the hillside vineyards drains quickly. This creates less nutritious soil but produces highly concentrated, smaller berries. These grapes produce powerful and flavorful wines. Some of the top areas for these wines include those in the Diamond Mountain District, Howell Mountain, Mt. Veeder, and Spring Mountain Districts.
On the other end of the spectrum is the soil down on the valley floor. It's rich in nutrients, which means the vines could grow with little intervention. However, to make great wines, the winemakers need to watch them closely and do quite a bit of maintenance to ensure they also produce highly concentrated grapes.
The second reason is the region's Dry Mediterranean climate. It offers warm, sunny days and cool nights. The winters are also cool with a decent amount of rain. Overall, most days it isn't too hot or too cool, which creates the perfect weather to grow great  grapes.

More about what you can expect from the weather by month.

10 of Napa's Best Wines and Wineries

Since Cabernet Sauvignon is the most grown grape in Napa Valley, you will find it at almost all of the wineries in the valley. However, here are a few wineries that are notable. I've also added a note as to which ones you can visit during your visit.

1. Screaming Eagle

This is where you will find the most expensive Napa Valley Cabernet Sauvignon. A bottle of their red will go for up to $3,500 a bottle! If you think that's pricey, one of their Sauvignon Blanc wines goes for an average price of $6,400! No tours or tastings on their property. 

2. Stag's Leap

This is where you can taste samples from the winery that won the best red wine in the 1976 Judgement of Paris. Their wines range from $60 to $300 a bottle. Tours and tastings on site are available.

3. Groth Vineyards

Robert Parker awarded their 1985 Groth Cabernet Sauvignon 100-points. It was the first 100-point wine in California. Today, their Cabs frequently make Wine Spectator's list of the 100 top wines. Tours and tastings are available. 

4. Opus One

This is one of the most popular wineries in the region. Robert Mondavi and Baron Phillipe Rothchild opened this winery in 1978. They feature small production, high-quality wines. For a long time, these were the most expensive in the valley. Today, they still rank as some of the highest priced Napa Valley Cabernet Sauvignon wines. Tours and tastings are available.

5. Charles Krug

This is the oldest winery still in business in Napa Valley, which opened in 1861. They have a good selection of wines including a tasty Cab that is usually around $35 a bottle. You can visit their property for tours and tastings.

6. Spring Mountain Vineyard

They were the first to plant Napa Valley Cabernet Sauvignon on Spring Mountain. This area is now famous for its bold, flavorful cabs. This is the place where I first fell in love with Napa cabs a few decades ago.
It's also a must-stop for Falcon Crest fans as Lorimax used the mansion on the property in this popular 1980s TV series. They are open for tours and tastings.

7. Caymus

This winery in Rutherford offers two highly rated Cabernet Sauvignon wines. One is their Caymus Napa Valley and the second is their Caymus Special Selection, which is made from the best grapes from each year.
Wine Spectator named Caymus Special Selection as "Wine of the Year" for their 1984 and 1990 vintages.
To date, they are the only winery to receive this award twice. Tours and tastings are available on their property.

8. Dominus Estate

Owned by Christian Moueix, Dominus Estate opened in 1983. It sits on the famous Napanook vineyard, which is where one of the pioneers of the Napa wine industry, George Yount, planted his first vines in the mid-1800s. Their wines have received 100-point ratings from the Wine Advocate and Decanter. It was also featured on several top-rated wines lists over the years. Not open to the public for tastings and tours.

9. Harlan Estate

They received a 100-point rating on eight vintages from Robert Parker. Their blends include 70% Cabernet Sauvignon and are some of the best in the region. They are in the Oakville AVA. It is often described as a cult winery with bottles of their wine going for up to $1,000 each. No tastings or tours are available on the property.

10. Abreu Vineyard

This is another highly rated Napa Valley Cabernet Sauvignon winemaker. They produce small-batch, highly popular Cabernet blends. They have received 11 100-point ratings from Robert Parker and have numerous awards throughout the years.
You can currently only buy their wines through their mailing list. However, the list has so many members they are only adding people to it. Their wines go for around $400 to $800 a bottle.
They do not open for on-site tours and tastings.

10 Best Places to Visit to Sample Napa Valley Cabernet Sauvignon

In addition to those listed above, here are just a few additional places I recommend visiting for some tasty Napa Valley Cabernet Sauvignon wine tastings and tours. Many of them offer something special in addition to their amazing wines.

1. Hess Collection
Address: 4411 Redwood Rd, Napa, CA 94558
Two reasons to visit include their amazing collection of Cabs and their unique artwork within the Hess Collection Art Museum. 

2. Hall Wines at St. Helena

Address: 401 St Helena Hwy St Helena, CA 94574
Another popular stop for Cab lovers is Hall Wines. They also have a lovely collection of art throughout the property. This is where you will find the famous silver rabbit piece by Lawrence Argent. They also have a second location in Rutherford that features their tasty wines and additional pieces of art. 

3. Castello di Amorosa

Address: 4045 St Helena Hwy, Calistoga, CA 94515
This Northern wine country gem features a 107-room castle on the hill. The experience at this winery draws in people from around the world. The owner, Dario Sattui, completed his traditional Italian castle in 2007.
They have a variety of tasting options, some include tours around the castle and the grounds. 

4. Sterling Vineyards

Address: 1111 W Dunaweal Ln, Calistoga, CA 94515
Your visit starts with an aerial tram ride to the top of the hill. This is where you will find their tasting room. You will get the chance to grab a seat outside and soak in the views from all around the valley.

A view of Castello di Amorosa from Sterling Vineyards
5. Robert Mondavi Winery

Address: 7801 St Helena Hwy, Oakville, CA 94562
Robert Mondavi was one of the most well-known winemakers in the region. He released his first Cabernet Sauvignon in 1968 (1966 vintage) and the quality set the tone for winemakers in the region. Step inside his history estate to sample some of their amazing Cabs as well as other popular picks.

6. Cade Estate Winery

Address: 360 Howell Mountain Rd S, Angwin, CA 94508
Set on the top of Howell Mountain, this winery offers spectacular views and some of the best Cabs in the region. 

7. Round Pond Estate

Address: 875 Rutherford Rd, Rutherford, CA 94573
You will fall in love with this place the minute you step onto their outdoor patio. It offers covered seating with views for miles. They have a couple of wonderful single varietal and Cab blends that are unbeatable. 

8. Newton Vineyards

Address: 2555 Madrona Ave, St Helena, CA 94574
Located on Spring Mountain, this is another winery that you do not want to miss. They have spectacular gardens and amazing views of the valley below. The Mt. Veeder and Spring Mountain Cabs are my favorites.

9. Shafer Vineyards

Address: 6154 Silverado Trail Napa, CA 94558
Another winery offering a beautiful setting is Shafer Vineyards. The property is set among the vineyards with beautiful views of the mountains all around. They are also the first winery in Napa and Sonoma to power their facilities 100% with solar energy.

10. Artesa Vineyards & Winery
Address: 1345 Henry Rd Napa, CA 94559
You will often find this winery on the lists of the most beautiful tasting rooms around Napa Valley. Their tasting room offers a modern, minimalistic feel with sweeping views of the valley.
They also have outdoor seated tastings at certain times of the year and these cannot be beaten on a beautiful, sunny day.

Popular Napa Valley AVAs for Cabernet Sauvignon
Inside the larger Napa Valley AVA, you will find 16 additional AVAs, each with their own distinct grapes and flavor profile. 
Here is a little more about some of the Napa Valley AVAs for Cabernet Sauvignon.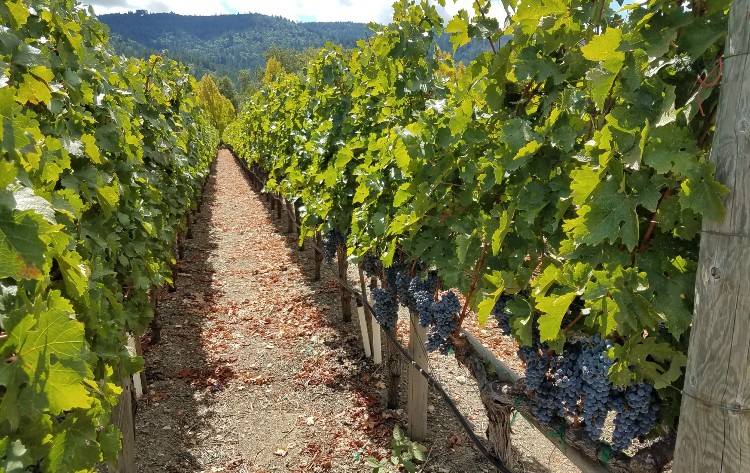 Atlas Peak AVA
This AVA sits at a higher elevation on the hills which offers a slightly cooler temperature. You will find cabs that offer cherry and bright berry flavors.
Wineries here include Rombauer Vineyards, Alpha Omega, and Trinchero.
Calistoga AVA
This AVA sits on the northern end of Napa Valley. The region has higher temperature shifts from day to night than any other Napa Valley AVA. They also have the best rainfall in the region and good drainage of the vineyards.
More than 50% of the grapes grown here are Cabernet Sauvignon. You'll find great wines with riper fruit, higher tannins, and those that can age for years. 
Some top wineries here include Bennett Lane Winery, Clos Pegase (one of my personal favorites), and Storybrook Mountain Vineyards. 
Chiles Valley AVA
The region sits at the northern end of Napa and offers cooler temperatures than the regions on the valley floor. It also has a longer growing season which offers their wines a fuller body. It became its own AVA in 1999.
The wines here tend to offer spicy notes with hints of dark chocolate, black currant, black cherry, and cocoa. You'll also find those with hints of cranberry and blueberry.
Some wineries here include Maxville Winery, Rustridge Vineyard, and Volker Eisele Family Estate.
Combsville AVA
The wines from Coombsville AVA offer soft, but significant tannins. They offer a deep color with blue fruit flavors, fresh cherry, and boysenberry.  
Some top wineries here include Silverado Vineyards, Arrow & Branch, and Shadybrook Estate.
Howell Mountain AVA
This region sits on the northeastern side of Napa Valley near the Calistoga and Chiles Valley AVAs. Cabernet Sauvignon is the dominant grape grown here and you will find several great wines to try from this region.
Some of my favorites include Cade Winery, Neal Family Vineyards, and Robert Craig.
Mount Veeder AVA

This AVA sits along the eastern side of the valley in the Mayacamas Mountains. This region has the longest growing season and also the lowest yields. This produces bold wines that only get better with age.
Top wineries in this region include Hess Collection, Mount Veeder Winery, and Black Stallion Estate Winery.
Oak Knoll District of Napa Valley AVA

This is one of the regions where you will find more Bordeaux style reds. You'll find wines with dark, ripe fruit flavors with hints of blackberry and blueberry. Others offer hints of black cherries, dark chocolate, spice, and black currant.
Wineries here include Black Stallion Estate Winery, O'Brien Estate, and Robert Biale Vineyards. 
Oakville AVA
This region sits around the town of Oakville. The region has around 5,000 acres of vineyards. The Napa Valley Cabernet Sauvignon from this region is well known from wineries such as Screaming Eagle, Opus One, and Robert Mondavi. 
Rutherford AVA
This is another great Napa Valley AVA for tasty Cabernet Sauvignon wines. The region sits around the small town of Rutherford and offers more than 6,000 acres of vineyards.
Top picks from this area include Beaulieu Vineyards (BV), Caymus Vineyards, and Grgich Hills Estate.
Spring Mountain District AVA
This district sits on the northern end of the region just to the south of the Diamond Mountain District and to the west of St. Helena. It became its own district in 1993 and offers more than 8,500 acres of vineyards.
Top picks here include Pride Mountain Vineyard, Spring Mountain Vineyard (another one of my favorites), and Stony Hill Vineyard.
Stags Leap District AVA
This small district sits to the west of Atlas Peak and borders the Yountville District to the east. 
Some of my top picks in this region include Silverado Vineyards, Stags' Leap Wine Cellars, and Stags Leap Winery.
Brief Grape History

Cabernet Sauvignon is a variety created in France during the 17th century. Winemakers there created it by crossing Cabernet Franc with Sauvignon Blanc. 
This popular grape is the most grown red wine in the world. The reason its widely planted is that it is easy to grow and is resistant to most bugs and rot. It also buds late, which means it often avoids frost and freezing temperatures in the early part of the season.
You will also find low yields from this variety. This means smaller, more concentrated grapes that lead to bold, rich, and full-bodied wines. 

In addition to Napa Valley Cabernet Sauvignon, you will find highly rated Cabs in France's Bordeaux, Australia's Margaret River, Chile's Colchagua, New Zealand's Hawkes Bay, and South Africa's Stellenbosch.

Comments? Questions? Suggestions?
I would love for you to join me in my private Facebook group! 
It's a great place to interact with me and others who know the area well.
You can ask questions, get advice for your upcoming stay, and then share your photos and advice with others when you return home. It's a great community and the fastest way to get answers to those nagging questions about your visit!