Hot Air Balloon Rides in Napa Valley


by Jill Loeffler  •

Updated: August 6, 2023
Hot Air Balloon Rides in Napa Valley are a popular way to get a bird's eye view of the wineries and vineyards. Your journey takes you high above the valley at sunrise and it is an experience you will never forget.

If you have never been on a hot air balloon ride before, I'm sure you have lots of questions. Read on to learn more about what to expect on the morning of your ride, what happens during the flight, what to wear, how much they cost, and answers to other FAQs.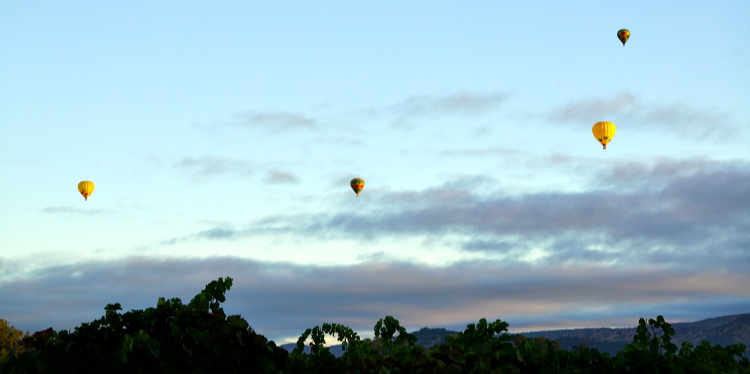 Disclaimer: I receive a small commission from some of the links on this page.

What to Expect During Your Hot Air Balloon Rides in Napa Valley

All Napa Valley Hot Air Balloon rides fly over the valley during sunrise. This is when the winds are the calmest and the views from above are the most spectacular.
A typical ride lasts around 45 minutes to one hour. However, the entire tour lasts around 3.5 to 4 hours.
Your day starts early in the morning before the sun is up. Some companies will pick you up from your hotel and others have a designated meeting area.

You will then head to the launch site and watch as the balloons are filled with hot air for the ride. I love this part of the experience as it's still dark and the process to fill up the balloons is so cool. 

Some companies offer coffee and pastries as you watch and wait. 
Once the balloon is ready, you will all hop into your compartment for the ride. Each compartment, which looks like a basket, has just a handful of people in it. On the ride, you will usually have anywhere from 8 to 20 others with you in total.
You are now ready for lift off. As the captain starts to add more hot air to the balloon, you will slowly rise from the ground. It's an exhilarating moment!

Your balloon will float with the winds, so each day offers a slightly different ride. 
You will then spend the next hour or so gliding above the vineyards, watching the sun rise, and soaking in the beauty all around you. You will get plenty of opportunities to take pictures and interact with those in your compartment.
The landing is just as easy as takeoff. Your experienced pilot will work with their ground crew for a perfect, soft landing. You will then wait for just a few minutes as the ground crew secures the balloon and you are able to climb out.

Some companies offer a glass of sparkling wine afterwards and others offer a sparkling wine brunch. Others will take you back to your hotel after you finish your trip.

How Much are Hot Air Balloon Rides in Napa Valley?

The first question I like to answer is about cost, since that is important to people planning their trip. Usually the hot air balloon rides in Napa Valley are around $200 to $300 per person.
This is for a shared ride with other passengers in the same compartment as you. However, the baskets have plenty of space, so you won't feel too crowded even with the other guests.

You will also find some companies offering private rides. These rides cost quite a bit more as you will be the only ones on the tour.
They range from around $1,500 to $2,100 for two guests. There is also an option for around $2,000 for up to four guests.

Top Companies to Consider

There are three companies in Napa Valley that I would recommend.
Napa Valley Balloons started offering commercial flights in the early 1980s. The original owner took his first flight as a passenger in 1978, fell in love with it, and bought a hot air balloon with some of his friends. A few years later, they began to offer commercial flights over the valley. 
They are now owned by Gabe Gundling, who grew up in Napa. He loved seeing the balloons land near his house each morning and was eager to become part of the business. He started as a balloon chaser in 2003 and is now the full owner of the largest balloon company in America.

Napa Valley Balloons offers both shared rides as well as private tours. They have a team of five experienced pilots that will offer you a safe ride over the valley. Their standard flights hold up to 16 people with their largest balloon holding up to 20. Each individual basket holds just a handful of people to maximize comfort during your ride. Check out their tours here. 

Balloons Above the Valley was founded by Bob Barbarick in 1977. They are one of the first companies to offer balloon rides over the valley. They started by offering some of the highest-standard rides and continue their high attention to detail and customer care to this day. They fly around 10,000 people a year.

Barbarick is still a pilot and has a team of three other highly trained pilots. Each one has years of experience and some have flown hot air balloons all around the world.
Napa Valley Aloft is another great local company offering hot air balloon rides in Napa Valley. Jay Kimbell started the business in the 1970s and opened new flight corridors in Lake Tahoe, Del Mar, and even Mexico. Jay owns and operates the business as well as still being one of the pilots.

Jay's passion transformed into a family business. His son Jayson got his commercial license in 1995 when he was just 18 years old, his daughter Gretchen received her commercial license in 1999, and his son Jared is also part of the business. He is working on his license as he runs the commercial aspects of the business.

In addition to the family, they also have three other experienced pilots ready to welcome you aboard a flight. 

When is the Best Time to Book?

The best time of year to head out on one of the popular hot air balloon rides in Napa Valley is from April to October. This is outside of the rainy season and you have a better chance of lifting off during this time.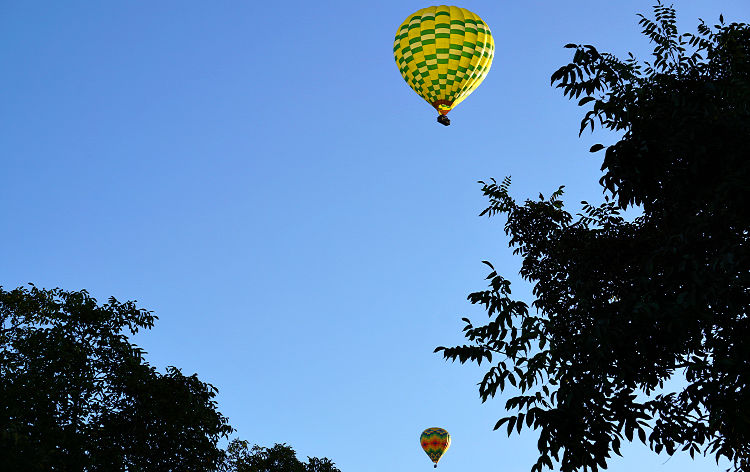 My favorite time is from August to October when the valley is bursting with color. The leaves are turning from green to fall colors at this time of year and the grapes are ripening on their vines. This creates one of the most beautiful scenes from above.

Insiders Tip: I also recommend booking your ride toward the beginning of your stay. It's not uncommon for balloon rides to be called off for the day due to high winds or other weather issues. If you book toward the beginning of your stay, you have a better chance of getting on another ride a day or two later. 

What Should I Wear? 

What should you wear for hot air balloon rides in Napa Valley? Layers and casual clothing.
Napa Valley in the morning is always quite cool. It's not uncommon for it to be in the upper 40s to mid-50s (Fahrenheit) before sunrise. You will also feel a breeze as you begin your journey, so it will be a bit cooler at that time.
I recommend wearing long pants. You do need to get in and out of the compartment, so pants will be more comfortable and easier than a skirt. Bring along a jacket or sweater too. It will start to warm up a little but will only be in the 50s most days by the time you land.

Make sure to also wear comfortable shoes. You will be on your feet for some time, so it is best to wear sneakers, sandals, or canvas shoes.

Check out my monthly weather forecasts for more specific details for each month.

More Frequently Asked Questions

Are Hot Air Balloon Rides Safe?

All companies offering these tours in Napa do their best to keep you safe during your stay. Overall, hot air balloons are a safe mode of transit. Crashes are uncommon and fatalities are rare.
All pilots are licensed and the balloons are checked frequently for safety.

Where Can You Watch Them from the Ground?

Many of the balloon operators start their rides in or around Yountville. Most days, one of the best places to see the balloons floating in the air is at Alston Park on the west side of the city of Napa. You can usually get some clear views of the balloons from here.
Of course, this changes on days when the winds have shifted. If you don't want to go on a ride, but want to get in on the action, check out the Chase Ride option through Balloons Above the Valley.
You will ride along with their balloon-chasing crew as they go to help the pilots with the landing. 
Comments? Questions? Suggestions?
I would love for you to join me in my private Facebook group! 
It's a great place to interact with me and others who know the area well.
You can ask questions, get advice for your upcoming stay, and then share your photos and advice with others when you return home. It's a great community and the fastest way to get answers to those nagging questions about your visit!