China Beach San Francisco
Tips to Visit this Gorgeous SF Beach
NOTE: As of July 4, San Francisco and Bay Area counties are slowly reopening. Many large events (including 4th of July fireworks & festivals), theater performances, and concerts are cancelled or postponed. Click here to stay up-to-date with what's open and opening soon.
China Beach San Francisco sits in the high-end Sea Cliff neighborhood. It's on the northwestern side of the city.
This beautiful attraction is surrounded by cliffs and is smaller than Baker Beach. It's where the waters of the Pacific Ocean and SF Bay meet.
It's is a little harder to get to than the other beaches here. This attracts a local crowd that comes here to hang out and swim in the cold waters.
On a sunny day, you will find it packed with locals and tourists as they soak up the rays and admire the views.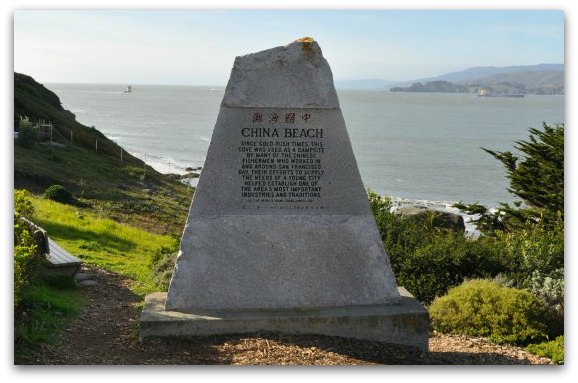 It got its name from the Chinese fishermen and workers that lived here many years ago. During the times of the Gold Rush, when the city was young, they turned this area into a campsite.
These same fishermen and workers were instrumental in helping to build the city of San Francisco. This waterfront area was named in their honor.
What to Expect When You Visit
As with Baker Beach, China Beach San Francisco also has some amazing views of the Golden Gate Bridge. My friends and I like to stop here to enjoy the views while we hike the coastal trail.
Here is a photo I took from our last stop with the bridge in the background. This is from the parking lot. You can also see some of the sand below.
There are very few amenities nearby. There are no restaurants or shops. You will find restrooms, but they are not open all the time.
If you plan on visiting, make sure you bring along everything you'll need for the day.
Getting Here
The best way to get here is by car. You will find a small parking lot out front and plenty of parking in the street.
Here is a map showing its location.
To get here, take Geary Street to 28th Avenue. Take a right on El Camino del Mar (28th Avenue dead ends here). Take a left one block and turn right (this street is also called El Camino del Mar). You'll go one more block to Sea Cliff Avenue, take a left and the parking is about a block in on your right.
You can also take the bus from downtown SF. It will take about 40 minutes. Take the 1-California all the way to the 28th Avenue stop. You will then walk about four blocks.
Here is a map showing the bus stop in relation to the beach.
The pink star shows the bus stop. The blue star is China Beach. It's not a bad walk and the houses along the way are amazing.
Disclaimer: I receive a small commission from some of the links on this page.
Other Things to Do Nearby
If visiting this site interests you, then you will probably enjoy some of the other things to do nearby. From China Beach, you can either head east or west to find more gorgeous shoreline views.
If you head east, you can walk along Sea Cliff Avenue for access to Baker Beach. From here, you'll have access to all of the attractions in the Presidio (find a list of the top things to see here).
If you head west on El Camino del Mar, you will catch the Land's End Trail. The trail is high in the cliffs above the water. The trail has amazing views. You can walk all the way to the ocean from this trail (learn more about Ocean Beach).
You can also continue along the road to the Legion of Honor. This fine arts museum is home to a number of ancient statues, paintings and other historic works of art (see pictures and find out what to expect during your visit).
I also recommend spending a little time walking around the Sea Cliff neighborhood. This is where you will find a number of large, gorgeous mansions. The best are right around China Beach and west along El Camino del Mar.
Other Pages You Might Enjoy