China Beach San Francisco: Tips to Visit this Gorgeous SF Beach

China Beach San Francisco sits in the high-end Sea Cliff neighborhood. It's on the northwestern side of the city.

This beautiful attraction is surrounded by cliffs and is smaller than Baker Beach. It's where the waters of the Pacific Ocean and SF Bay meet.
It's a little harder to get to than the other beaches here. It attracts a local crowd that likes to hang out and swim in the cold waters.
On a sunny day, you will find it packed with locals and tourists as they soak up the rays and admire the views.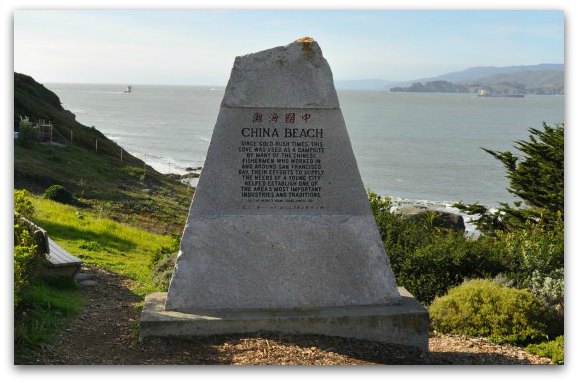 It got its name from the Chinese fishermen and workers that lived here many years ago. During the times of the Gold Rush, when the city was young, they turned this area into a campsite.
These same fishermen and workers were instrumental in helping to build the city of San Francisco. This waterfront area was named in their honor.
What to Expect When You Visit

As with Baker Beach, China Beach San Francisco also has some amazing views of the Golden Gate Bridge. My friends and I like to stop here to enjoy the views while we hike the coastal trail.
Here is a photo I took from our last stop with the bridge in the background. This is from the parking lot. You can also see some of the sand below.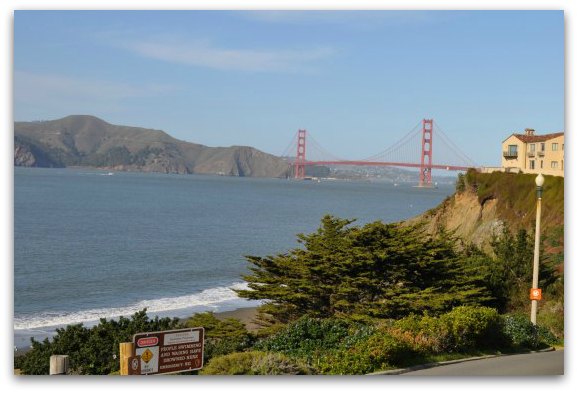 There are very few amenities nearby. There are no restaurants or shops. You will find restrooms, but they are not open all the time.
If you plan on visiting, make sure you bring along everything you'll need for the day. 
Swimming at China Beach San Francisco
Even though the waters look calm here, you will find it can be a difficult place to swim (and the city discourages people from swimming or even wading here). Since it's the place where to massive bodies of water met, there is quite a bit of turbulence under the surface. Here are a few things to keep in mind if you decide to swim at China Beach San Francisco.
Water Temperature: The water here is very cold throughout the year. The water temperatures sit around 50 to 55 degrees all year long. Make sure to prepare for the cold weather with a wet suit (find some great options on Amazon) or a way to warm up once you are done swimming here. 
Rip Currents & Undertow: As with all San Francisco beaches, the rip currents and undertow here are strong. It's one of the reasons it's a dangerous place to both swim and even wade in the water.
Waves: You will also find some large waves will come in at times. It doesn't happen all the time, but when it does, it takes people by surprise. Just be aware of this if you plan to swim at China Beach San Francisco.
China Beach San Francisco Weather
Since China Beach San Francisco is right along the waterfront and open to the breezes off the Pacific Ocean, you will find it's about 10 to 15 degrees cooler here than other parts of the city. If you plan to come to the beach, bring along quite a few things to keep yourself warm including warm clothing that you can layer and maybe a blanket or two.
Here are a few more details by month.
Spring: You will find that the spring weather at China Beach San Francisco can be quite brisk. It's cool and windy with highs around 60 degrees F.
Summer: Summer here is just a little bit warmer, but not much. This is also when the heavy summer fog rolls into the bay. It will be really cool in the morning and late afternoon/evenings when the fog is usually the heaviest. During the day, you will mostly find temperatures in the mid-60s F.
Fall: This is the time of year when most people enjoy China Beach San Francisco. September and October are our two warmest months and also when you will find the least amount of fog. Some days, the temperatures will reach into the lower 70s with most days in the upper 60s.
Winter: Very few people visit during this time as it's our rainy season. If you do plan to visit in the winter, bring along quite a bit of gear to keep yourself warm and cozy during your visit. Temperatures are usually in the lower 60s to upper 50s during the day all winter long.
>> On this page, you'll find details by month so you have a better idea on what to expect
Hotels Near China Beach San Francisco

If you do plan to spend quite a bit of time here, you will find just a few hotels nearby. Here are just a few ideas for your stay.
The Laurel Inn - JDV by Hyatt: Located in the gorgeous Pacific Heights neighborhood, you know that you will experience the best since this is a Hyatt. This 3-Star hotel has 49 rooms, and they are all beautifully decorated and comfortable. You are close to everything, and it has a fun cocktail lounge with happy hour specials. They have gated and covered parking (for a fee) and a long stay rate. 444 Presidio Avenue. Find rooms and information to book during your stay.
Seal Rock Inn: Right across from the Sutro Heights Park, the Sutro Baths ruins and the Pacific Ocean, this is a great place to say if you love wonderful views. Since it can get kind of chilly out here, the third-floor rooms even have fireplace. It is a 2-star hotel, and they have a sun deck, swimming pool, free parking and a very nice restaurant. 545 Point Lobos Avenue. Read reviews and book your rooms.
Inn at the Presidio: If you are a history buff, then this is where you will want to stay. This 3-story building was originally the barracks for officers when the Presidio was an U.S. Army post. They've restored it into 22 amazing rooms including some with fireplaces. It features complimentary breakfasts, and evening wine and cheese reception, and more. There is paid parking nearby. 42 Moraga Avenue. Find a great room and rates for Inn at the Presidio
>> Find additional lodging ideas all around SF
Restaurants Near China Beach San Francisco

Pizzetta 211: This is a semi-hidden gem in San Francisco since it is out in the Richmond District. They have some of the most imaginative pizzas anywhere. Their menu changes depending on what is in season so you will almost always find something new and interesting. All the locals know, and go here, so it can get pretty busy and especially since there are only 4 tables! 211 23rd Avenue. More of my favorite pizza spots.
Ham & Cheese Deli: The name of this restaurant is pretty much the opposite of what you will actually eat here. They make both breakfast and lunch sandwiches that are absolutely delicious and original. They also have a great sense of humor with names such as the "Joe Formaggio", "Dropped a Banh on Mie" and "Ham a Good Day. If you don't want a sandwich, they also have a few other choices such as empanadas and vegan nachos. 5501 California Street
Hard Knox Café: If you are looking for some classic downhome Southern cooking, then you have found it right here in San Francisco. You may not believe it, but Hard Knox Café is one of our favorite go-to places with options such as eggs with grits and fried catfish, po-boy sandwiches, and the classics, like Jambalaya or Crawfish Etouffee. 2448 Clement Street 
More Clement Street Options: This is a great area no matter what type of food you are crazing since there are loads of options. Some of these includes Japanese, Korean, BBQ, Mediterranean, and more. They are mostly between 19th Avenue heading out to 33rd Avenue.
Getting Here & China Beach Parking

The best way to get here is by car. You will find a small parking lot out front and plenty of parking in the street.
Here is a map showing its location.
To get here, take Geary Street to 28th Avenue. Take a right on El Camino del Mar (28th Avenue dead ends here). Take a left one block and turn right (this street is also called El Camino del Mar). You'll go one more block to Sea Cliff Avenue, take a left and the parking is about a block in on your right.
You can also take the bus from downtown SF. It will take about 40 minutes. Take the 1-California all the way to the 28th Avenue stop. You will then walk about four blocks.
Here is a map showing the bus stop in relation to the beach.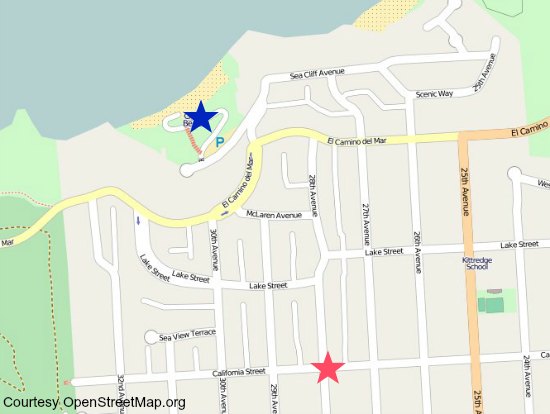 The pink star shows the bus stop. The blue star is China Beach. It's not a bad walk and the houses along the way are amazing.

Disclaimer: I receive a small commission from some of the links on this page.

Other Things to Do Nearby

If visiting this site interests you, then you will probably enjoy some of the other things to do nearby. From China Beach, you can either head east or west to find more gorgeous shoreline views.
Richmond District: You will find several fun things to do in the Richmond District. Visit this page to learn more about what to see, where to eat, and more.
Presidio: If you head east, you can walk along Sea Cliff Avenue for access to Baker Beach. From here, you'll have access to all of the attractions in the Presidio (find a list of the top things to see here).
Ocean Beach: If you head west on El Camino del Mar, you will catch the Lands End Trail. The trail is high in the cliffs above the water. The trail has amazing views. You can walk all the way to the ocean from this trail (learn more about Ocean Beach).
Legion of Honor: You can also continue along the road to the Legion of Honor. This fine arts museum is home to a number of ancient statues, paintings and other historic works of art (see pictures and find out what to expect during your visit).
I also recommend spending a little time walking around the Sea Cliff neighborhood. This is where you will find a number of large, gorgeous mansions. The best are right around China Beach and west along El Camino del Mar.
Other Pages You Might Enjoy

Comments? Questions? Suggestions?
I would love for you to join me in my private Facebook group! 
It's a great place to interact with me and others who know the area well.
You can ask questions, get advice for your upcoming stay, and then share your photos and advice with others when you return home. It's a great community and the fastest way to get answers to those nagging questions about your visit!