Stanford Football Schedule 2022: Ticketing Information & Tips to Attend a Game
The Stanford football schedule for 2022 includes top teams such as Cal Berkeley, UCLA, and USC. If you plan to be in the area during the college football season, I highly recommend heading to campus to watch a game.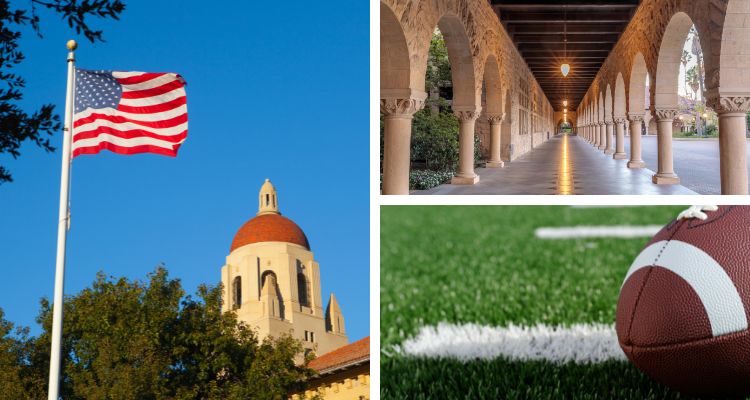 The Cardinals' home games are at Stanford Stadium near Palo Alto. It's easy to get there--it's only about hour south of San Francisco, or about a 25-minute drive from San Jose.
Read on for more information about this college football team in the Bay Area.
Disclaimer: I receive a small commission from some of the links on this page.

Stanford Home Football Schedule 2022

The Stanford football schedule runs from September to November (with post season play in December). During that time, they play about half a dozen home games. Here is this year's home schedule. 

9/3: Colgate
9/10: USC
10/8: Oregon State
10/22: Arizona State
11/5: Washington State
11/26: Brigham Young
>> Find tickets to all home Stanford Football games
The Big Game

One of the biggest games on the Stanford football schedule every year is "The Big Game" against their rival from across the bay, University of California at Berkeley. Every other year, the game is at Stanford. On in-between years, it's held at Memorial Stadium in Berkeley.
These two rivals battle head-to-head every year, no matter where they are in the rankings. This year's game is on November 19 in Berkeley. Make sure to get your tickets early, as they sell out quickly in the season!
>> Find tickets to the big game in Berkeley
Ticketing Information

You will find tickets for games on the Stanford football schedule on Ticketmaster. This is a great place to look for games that are not sold out. Click here to find tickets on Ticketmaster.com.
If a game is sold out, then I recommend looking for tickets on TicketLiquidator. These are tickets purchased by other fans who are not able to go to the games. It's also a great place to look if you want better seats than what is available on Ticketmaster. Click here to visit TicketLiquidator. 
Top Hotels Near the Stadium

If you plan to catch a game on the Stanford football schedule, then you might even want to stay nearby. There are plenty of places to stay in Palo Alto. Here are a few of the closest options, all of which are within walking distance of the stadium.
The Westin: 675 El Camino Real in Palo Alto, 4-Star Hotel
The Epiphany: 180 Hamilton Avenue in Palo Alto, 4.5-Star Hotel
Sheraton Palo Alto Hotel: 625 El Camino Real, 3.5-Star Hotel
Before you book your room, make sure to check out recent guest reviews and ratings on TripAdvisor. They often offer some great deals on rooms too. Click here to head to TripAdvisor to learn more.

Tips to Get to Stanford

The best way to get to the games is by public transit. You can also drive, but make sure to leave plenty of time to get through traffic.

Public Transit

Caltrain makes special stops at the Stanford Stadium for all home games. It's an easy way to get to and from the event, especially if you want to have a few drinks after the game. 
You can easily get to the station from San Francisco, San Jose, or anywhere else on the Peninsula. When you arrive, just follow the wave of red to find your way to the stadium.
Driving

You can easily get to the games from either Highway 280 or 101. It's about an hour drive from San Francisco without traffic and about a 25-minute drive from San Jose without traffic. I would allow for an extra hour on both before or after the game.

About the Stanford Football Team

Stanford football has been a tradition of this prestigious university since 1892. They are called the Cardinals, though their mascot is not a cardinal bird. Since dropping their original mascot, "the Indian," in 1972, the name simply refers to the team's color, cardinal red.
Football at Stanford is a highly successful program. They have played in 15 Rose Bowls (winning 7), and claimed 2 national championships as well as 15 conference titles.
Throughout the years, they have been led by legendary coaches, including Glenn "Pop" Warner in the 1920s, and more recently, coaches Jim Harbaugh and David Shaw. Stanford has been home to players such as Heisman Trophy winner Jim Plunkett and pro Hall of Famers John Elway, James Lofton, and Ernie Nevers. 

More Local Sports Teams in the Bay Area

San Jose Sharks: The San Jose Sharks are the local Bay Area hockey team. They play all of their home games at the SAP Center near downtown San Jose. Click here to find out more about their home schedule this year and everything else you need to attend a game.
Golden State Warriors Basketball: If you love basketball, then make sure to head over to SF to catch a game with the Golden State Warriors. Their season runs from October to April with several home games each month. Click here for details.
SF 49ers: Less than 30 minutes away from Stanford is where you will find Levi's Stadium, home to the San Francisco 49ers. Click here to see their schedule and learn about attending a game.