San Francisco Festivals in April 2023: Film, Beer, Cherry Blossoms, & More

by Jill Loeffler  •

Updated: April 6, 2023
San Francisco festivals in April 2023 include those celebrating the arrival of the cherry blossoms, independent film makers, and local craft beers.
Highlights include the Northern California Cherry Blossom Festival, the San Francisco International Film Festival, and the SF International Beer Fest.

Read on for details on these and other top annual events in SF.

Disclaimer: I receive a small commission from some of the links on this page.

Cherry Blossom Festival

One of the largest cultural San Francisco festivals in April is the annual Cherry Blossom Festival, held over two consecutive weekends. Every year, the Japanese celebrate the arrival of the cherry blossoms with big fanfare, as these flowers make for a beautiful start to spring.

Get a taste of Japanese culture as you watch the taiko drumming, traditional dances, tea ceremonies, and sample dishes like sushi and teriyaki. This is a great event for the whole family, including a Hello Kitty corner for the kids.
>> Details for this year's event
San Francisco International Film Festival

The SF International Film Festival is one of the longest running film fests in the Americas. It is hailed for being an extraordinary showcase of cinematic discovery, offering a variety of marquee premiers, fascinating documentaries, new media work, international award-winners, and even musical events.

This month, take a break from the commercial media and take advantage of the opportunity to watch the world's best independent films.
>> More info on this year's festival
Earth Day Festival SF
Head over to Golden Gate Park for the family-friendly Earth Day Festival. This event offers vegan food, workshops, and live music. 
It's a day to get together to support the Environmental Movement. 
You will also find a Kid Zone with Eco Art and more. 
This year's event is at the County Fair Bldg. and runs from 11 am to 6 pm on April 22. Admission is free.
Ocean Film Festival
This is one of several film festivals in San Francisco in April, and it is all about the sea! The Annual SF International Ocean Film Festival, featuring dozens of independent works from all over the world that encourage us to reflect on the social, environmental, and cultural significance of the ocean.

For these four days at the Cowell Theater in the Fort Mason Center, you can watch fascinating documentaries, narratives, shorts, and more.
Fun Tours Around SF
West Coast Craft Market Spring 2023

Head over to the Fort Mason Center for this month's top craft fair. The West Coast Craft Market is an outdoor market and free to attend. It features hand-crafted items for sale including everything from wood crafts to furniture to jewerly.
It features more than 100 vendors.
The event runs from 10 am to 3 pm. 
Cesar Chavez Parade & Festival

This annual parade and festival is held in honor of the labor and civil rights leader Cesar Chavez, who dedicated his life to fighting for better work conditions for migrant workers and farmers. His work through the National Farm Workers Association greatly improved the lives of so many working in the fields, especially Latinos in California.

That is why the parade features indigenous and ethnic dances in the Mission District, in addition to the great food and artwork at the street fair.
Art Market

One of the best San Francisco festivals in April for art lovers is the annual Art Market at the Fort Mason Center in the Marina. Last year, over 25,000 attendees came to admire and purchase the fabulous contemporary and modern works from veteran Art Market exhibitors and emerging artists alike.

The market is open all afternoon all weekend long. Go discover unique pieces for your home or to give as gifts.
>> Visit their site for additional details
Glen Park Festival (Will Return 2024)

The annual Glen Park Festival is one of the San Francisco festivals in April that is great for the whole family and really focuses on bringing the community together. The event is a little off the beaten path, in a residential district on the south side of San Francisco, meaning you are sure to get a feel for the local culture.

Take BART or bus to this part of town to enjoy great live music, good food, a children's play area, a raffle, and more.
Additional Ways to Save in SF

If you plan to spend a few days here as you attend some of these San Francisco festivals in April, then make sure to check for great hotel deals. You will find a variety of offers on both Booking.com and TripAdvisor. Click the links below for details.

Booking: Find great deals all around San Francisco for your upcoming stay! 

TripAdvisor: What's the #1 hotel in San Francisco? Read reviews & find hotel deals on TripAdvisor!
VRBO: In addition to hotels, you'll also find some great places to stay locally through VRBO. Book an apartment or a room and feel more like a local. Find some great places to stay on VRBO here.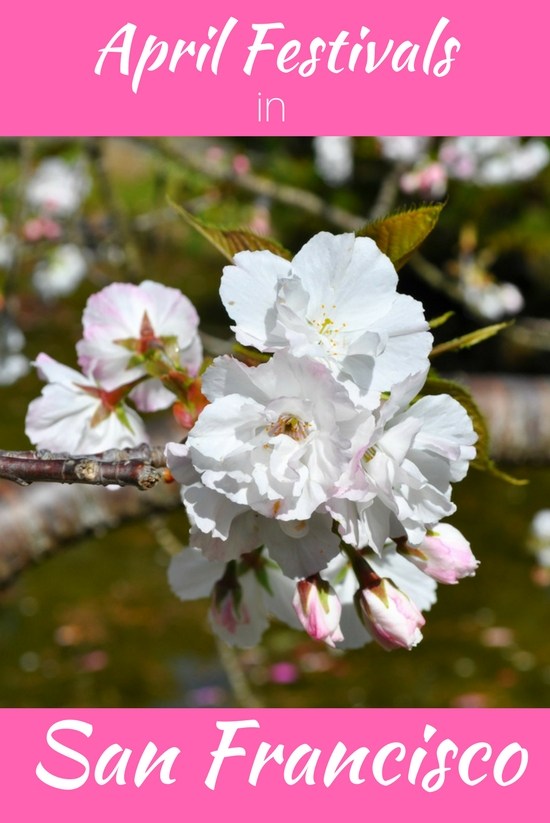 Comments? Questions? Suggestions?
I would love for you to join me in my private Facebook group! 
It's a great place to interact with me and others who know the area well.
You can ask questions, get advice for your upcoming stay, and then share your photos and advice with others when you return home. It's a great community and the fastest way to get answers to those nagging questions about your visit!