Oakland Raiders Schedule 2019
Tips on Getting Tickets and Attending a Game
NOTE: On December 6, San Francisco (and a few surrounding counties) will once again be on a stay-at-home order. This will last indefinitely. Click here for more information.
The Oakland Raiders schedule for 2019 - 2020 includes games against the Kansas City Chiefs, Denver Broncos, Detroit Lions, and more. They play one preseason home game in August. The regular season games start in September and end in December.
All home games are played at the Oakland Coliseum, which is an easy train ride from San Francisco.
Disclaimer: I receive a small commission from some of the links on this page.
Oakland Raiders Schedule 2019
Click the links below for ticketing information for all of the Oakland Raiders games.
Raiders Tickets
If you want to buy tickets for the games, you have a few places to look.
Ticketmaster.com
Ticketmaster is the official ticketing agent for the Oakland Raiders football team. They have tickets on sale for all games.
Find tickets for Oakland Raider's games on Ticketmaster.com.
TicketLiquidator.com
If a game is sold out or you want better tickets than what is left for sale on Ticketmaster, then I recommend checking out TicketLiquidator. The tickets for sale here are resale tickets, so the selection is usually pretty good, depending on who they are playing. Find tickets here.
Oakland Raiders Discounted Tickets
There is one place I recommend searching for discounted tickets for Oakland Raiders games.
Goldstar.com
Goldstar is a great place to look for discounted tickets. They often have tickets at up to 50% off select games. Click here to visit their site to learn more.
Seating Map for the Oakland Coliseum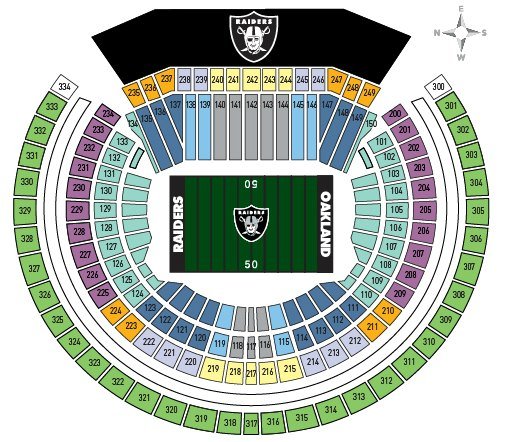 Seating map courtesy of Raiders.com.
More SF Bay Area Sports Teams
Oakland A's | Golden State Warriors | 49ers Football
SF Giants | San Jose Sharks | Cal Berkeley Football | Stanford Football
Game Day Tips
What to Wear
The weather across the Bay in Oakland is not as cold and foggy as in San Francisco. The months of September and October, when the season begins, tend to be the warmest and driest. Temperatures during this part of the season have highs typically in the low 70s (Fahrenheit), and low temperatures in the mid-50s. It may feel hot in the stadium when the sun is out, but you'll want to make sure to bring a jacket for nighttime.
In November and December, the weather here does start to get chilly, though not freezing. Highs will be in the upper 50s to mid 60s, and lows will dip into the 40s. During these months, there's also more of a chance of rain. Be sure to bundle up and go to the games prepared.
BART from SF to Oakland
It's easy to get to the Oakland Coliseum from San Francisco by BART (the Bay Area's metro train that runs below ground in SF, through a tunnel under the Bay, and above ground in surrounding cities). To pick up the train from SF and head east, you'll find several stations along Market Street, among others:
Embarcadero
Montgomery Street
Powell Street
Civic Center
16th and Mission
24th and Mission
Glen Park
Balboa Park
On Sundays, the only train from SF that will take you directly to the stadium is the one heading to Dublin/Pleasanton (the Fremont line from SF doesn't run on Sunday).
Once you leave SF and head into the tunnel over to Oakland, you only have 4 stops before reaching the Coliseum. It usually takes around 20 to 40 minutes to get there depending on the station you start at in SF.
Parking
If you do plan to drive, parking is available on-site. The gates open 7 hours before the game for tailgating. If you plan to arrive only a few hours before the game, then I recommend taking public transit as parking will be tough to find.
Brief History About the Oakland Raiders
The Raiders were established in Oakland, CA in 1960. For the first three seasons, they struggled terribly, until eventual longtime owner/general manager Al Davis was appointed as head coach in 1963. They soon went on to win their first American Football League title in 1967, and their success continued to grow through the 70s.
Under the leadership of head coach John Madden, the Raiders won their first Super Bowl in 1977 against the Minnesota Vikings. Four years later, defeating the Philadelphia Eagles in Super Bowl XV, they became the first NFL team ever to win a championship as the wild card team in the playoffs.
Then the Raiders moved to Los Angeles and stayed there from 1982 - 1994, winning one Super Bowl (the last to date) in 1984 against the Washington Redskins. The team returned to its home in Oakland in 1995.
This NFL team is known for its diehard fan base and unique team culture, often referred to as "Raider Nation."
The Raiders have contributed 25 former players and members to the Hall of Fame, including Rich Gannon, Jim Plunkett, Fred Biletnikoff, owner Al Davis, coach John Madden, and executive Ron Wolf.
Other Sports Teams in the Bay Area
In addition to the Oakland Raiders, you will find several other teams in the Bay Area. They include professional football, hockey, basketball, and baseball teams.
San Francisco 49ers: SF's own football team follows a similar schedule to the Raiders. The Niners play every year from August to January. All games are in the southern end of the Bay Area in Santa Clara. Click here to see their schedule and learn more about attending a game.
Golden State Warriors: Another popular team is the Golden State Warriors. This NBA team plays several games a month between October and April at the Oracle Arena in Oakland. Click here for this year's schedule and tips to attend a game.
Oakland A's: The Oakland A's baseball team shares the Oakland Coliseum with the Raiders. They play from April to September with almost a dozen home games a month. Click here for their schedule.
San Francisco Giants: The other local professional baseball team is the San Francisco Giants. They play all games at Oracle Park (formerly AT&T Park) right by the water on the southern side of SF. Click here for more information on the team and this year's schedule.
All Sports: Are you looking for additional sports events in the Bay Area? Visit this page for a quick overview of all of the professional teams, as well as some great local college teams.

Follow SFTourismTips on Facebook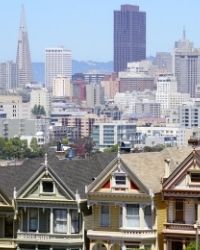 On my Facebook page, you will find more great information about planning your San Francisco vacation.
It includes tips, must see attractions, and other fun details.
Click the link below to check it out. If you enjoy the page, give us a like.

More Fun Things to Do in SF