Cobb's Comedy Club in San Francisco: Calendar of Upcoming Shows & Tips to Attend a Performance

by Jill Loeffler  •

Updated: May 25, 2022
Cobb's Comedy Club in San Francisco is a great place to catch a show. They feature comedians six nights a week from Tuesday - Sunday. Some nights, they will also have more than one show.

You will find them along Columbus Street in the North Beach District. The venue attracts both large name stars as well as up-and-coming artist from the Bay Area and beyond. 
It's a great place to see a show as there isn't a bad seat in the house. I'm here often as I love checking out the local talent and to see some of the most famous comedians on stage as well. 
If you love comedy, I highly recommend checking out their schedule while you are in town.

Disclaimer: I receive a small commission from some of the links on this page.

Upcoming Performances

Here is a schedule of some of the top upcoming performances at Cobb's Comedy Club in San Francisco.

Where to Buy Tickets

Ticketmaster: You will find tickets to all shows at Cobb's Comedy Club in San Francisco on Ticketmaster. They work directly with the venue to sell tickets. If the show is sold out, they will link you to their third-party resale site for ticketing options. Visit their site to check out tickets for Cobb's.
Tips to Attend a Show

Cobb's Comedy Club in San Francisco is on the northern end of North Beach and close to Fisherman's Wharf. This makes it a great option for those staying in either district. You can also easily get here from Union Square by bus, cable car, or Uber/Lyft.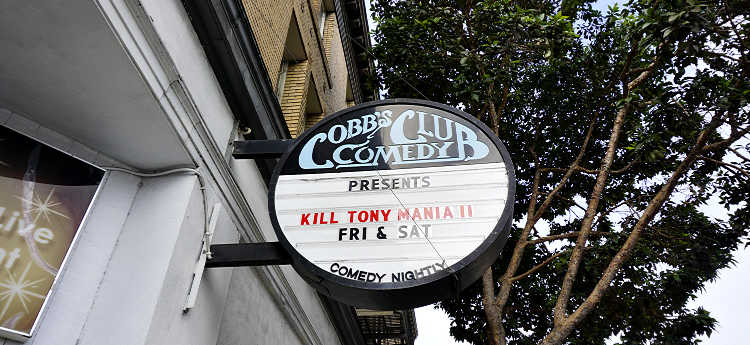 You will find it at 915 Columbus Avenue.

Food & Drink

As with most comedy clubs, Cobb's Comedy Club in San Francisco has a two-drink minimum. Make sure to order your drinks directly from your server, so they can keep track of your orders. If you order them from the bar, it will not count toward your total.
In addition to beer, wine and cocktails, they also have some great non-alcoholic drinks that count toward the minimum. If you don't want to drink, or you are driving, you will have plenty of options.
They also have a full dinner menu. It's mostly pub type food with nachos, fries and wings. If you want something a little hardier, they also have some great salads, sandwiches, and a few tasty burgers.

Public Transit

The heart of Fisherman's Wharf is only about a half mile away. You can either walk or take a Lyft/Uber/Taxi to get here. The walk does go up hill a little, but it's not too bad once you climb that initial part. It will take only about 15 to 20 minutes to walk here even at a slow pace.
If you are coming over from Union Square, you can take the Powell/Mason (PM) cable car line to get here. It will drop you off at Columbus and Lombard which is about a block away. 
You can also take the 30-Stockton. Pick it up at Stockton Street and Sutter Street. You will get off at the stop at Columbus Avenue and Mason Street. This bus ride takes about 15 minutes. I do want to warn you though that at times, this bus gets CROWDED. You may have to wait a bus to two to get a spot. It's a popular option for those going to Chinatown, so many people get off the bus before your final stop.

If you don't want to deal with a crowded bus, then I recommend taking the cable car or an Uber/Lyft/Taxi which will be about $15.

Where to Park

If you do plan to drive, you will want to find a spot in a parking garage. The street parking is difficult here and is often only for two hours.
I've listed a few lots nearby that I recommend. Make sure to double check the closing time for the garage before you park to make sure it's open late enough for your show. If you plan to head out in the neighborhood after, make sure to account for that extra time too. Many garages in this district close for the night. If you show up late, you will not be able to get your car out until the next morning.
Most parking spots are at least a half mile away. Since parking is at a premium, most spots are pricey. 

Fisherman's Wharf Parking Garage: 330 Beach Street, this lot is about a 15-minute walk away

Ghirardelli Square Parking Garage: 882-888 Pine St, this lot is about a half-mile away, it will take about 15-minute to get to the club from this lot

North Beach Garage: 735 Vallejo Street, this lot is about a half-mile south of the venue, it is about a 15-minute walk away

>> More tips on getting around SF including places to park

Places to Stay Nearby

You will find several hotels just a short walk away. Here are a few of my recommendations.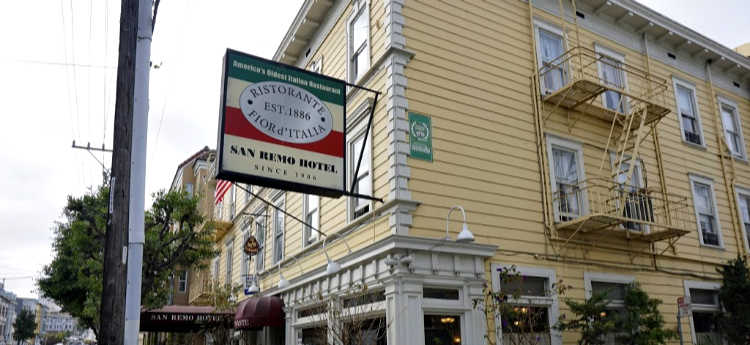 San Remo: This spot is just a few blocks away. It's a budget-friendly option with clean rooms and shared bathrooms. You will find it at 2237 Mason St. Check recent reviews and room rates.
San Francisco Marriott Fisherman's Wharf: Only about 4 blocks away is the Marriott Fisherman's Wharf. This 4-star hotel offers easy access to both Fisherman's Wharf and North Beach. They have on-site parking (paid), Wi-Fi and a fitness center. 1250 Columbus Avenue. Find out more and check room prices.
Hyatt Centric Fisherman's Wharf: This 4-star hotel is another great option. It's also only about 4 blocks away or a 15-minute walk. They have a pool, free Wi-Fi, and a bar/restaurant on site. 555 North Point Street. Find out more about the Hyatt Centric.

>> You will also find some of my other recommendations in and around Fisherman's Wharf here

Dinner & Drinks Nearby 

Here are a few great places for dinner/drinks nearby. North Beach is also known as Little Italy, so you will find quite a few Italian restaurants nearby.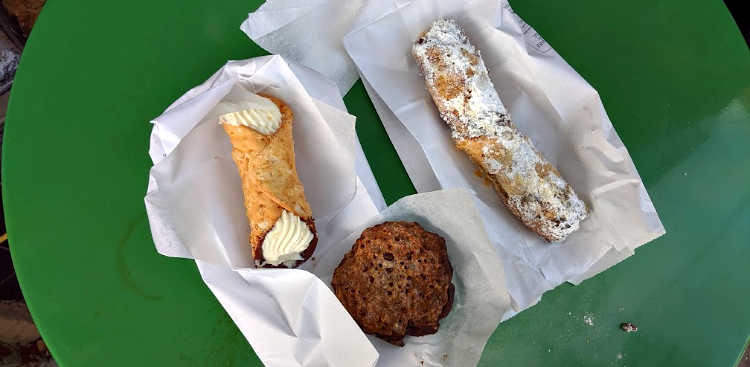 La Rocca's Corner: This cozy bar is just steps away from Cobb's Comedy Club in San Francisco. They serve up wonderful cocktails and have a good selection of beers. I also love the vintage décor and the friendly staff. This is usually the place I'll stop for a drink or two after a show. 957 Columbus Ave
The Italian Handmade Company: This casual Italian spot has some of the best handmade pasta around SF. You just step up to the counter and select your choice of pasta and sauce. It's a great way to easily get the exact dish you want without all the fuss. They have about 10 tables inside for you to enjoy your pasta after you order it. 716 Columbus Avenue
Tony's Pizza Napoletana: This is one of the best places in North Beach if you love pizza. They have a variety of pizza ovens so offer several different styles including coal-fired, Neapolitan (wood-fired), Detroit, New York, and California. They also have some pastas and other Italian specialties. 1570 Stockton Street.

Original Joe's: If you are looking for a little more variety, head to Original Joe's. Their offer both American and Italian dishes. They have salads, steak, veal, pork, chicken and anything else you might desire. The portion sizes are large and everything I've tried here has been fantastic. 601 Union Street.

>> Find additional places to eat around SF

Cobb's Comedy Club in San Francisco History

This is the third location for Cobb's Comedy Club in San Francisco. They started in a smaller venue in SF's Marina District. They then moved to a spot in the Cannery Shopping Center in Fisherman's Wharf. They thrived here for a decade until a fire forced them to move in 2002 to this location.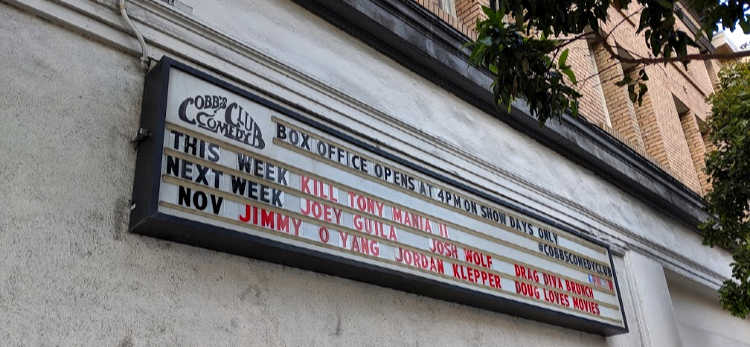 Since moving to North Beach, this 400-seat venue continues to attract some of the best talent in the world. Some of the people that have been on stage here include Michelle Wolf, Bill Burr, Dave Chappelle, and dozens of other famous comedians from around the world. 
You will find outstanding performances no matter who is on stage six nights a week. I love the setup of this venue as all offer clear views of the stage. You also tend to get an amazing crowd here.
In addition to their normal performances, they also host dozens of shows during our large annual comedy festival called SF Sketchfest. This two-week event is in the middle of January every year, so I recommend checking it out if you happen to be in town during that time.

More Things to Do Around North Beach

Coit Tower: High on the hill in Telegraph Hill is Coit Tower. This popular SF attraction includes historic murals on the first floor and wonderful views from its top floor. It's open every day of the year, except a few select holidays. Learn more about what it's like to visit.
Lombard Street: This crooked street draws in thousands of visitors every year. With its tight hairpin turns, people love to drive down, or watch others drive down it. The red brick work on the road is stunning as are the gardens surrounding it. It has steps on both sides, so you can easily walk up and down as you admire its beauty. Lombard Street is open 24-hours a day, 365 days a year. Learn more about visiting.
Diego Rivera Fresco: You will find one of Diego Rivera's frescos just a few minutes' walk away from Cobb's Comedy Club in San Francisco. It's set inside the Diego Rivera Gallery inside the San Francisco Art Institute. It's free to visit and you will find it inside the doorway at 800 Chestnut Street. See pictures and learn more here.

More Fun Nightlife Ideas for San Francisco

Comments? Questions? Suggestions?
I would love for you to join me in my private Facebook group! 
It's a great place to interact with me and others who know the area well.
You can ask questions, get advice for your upcoming stay, and then share your photos and advice with others when you return home. It's a great community and the fastest way to get answers to those nagging questions about your visit!