5 Best Places to Buy Costumes in San Francisco: Top Options for Halloween, Theme Parties, & Other Special Occasions
Are you looking for that perfect costume for Halloween, Oktoberfest, or another upcoming special event? If so, then you are in luck. San Francisco has dozens of costumes shops with an amazing variety.

With so many choices, you might waste too much time getting from one shop to the next to check out their selection. To make the process easier, I created this list of the five best places to buy your costumes in SF.
All offer a large selection. Many offer accessories and party favors as well as costumes.
Also, they are all open throughout the year, so you can stop by at any time. For big holidays such as Halloween, I also recommend stopping by weeks in advance (if possible) since their selection decreases when big costume holidays and events approach.
Disclaimer: I receive a small commission from some of the links on this page.

1. Haight Street Costumes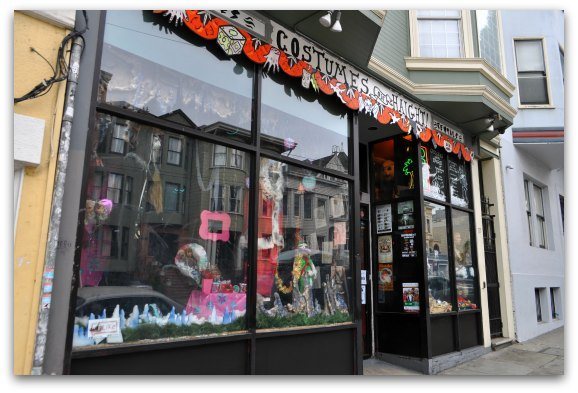 Address: 735 Haight Street
District: Lower Haight
Transit: 6 & 22; N-Judah Light Rail
You will find a variety of costume stores in the Haight, but my top pick comes from the Lower Haight, Costumes on Haight. In their store, you will find that perfect costume for any occasion.
You can either rent or buy the costume you need. Most of what they offer is full costume sets, so you will not need to hunt for additional pieces throughout the city.
Their costumes range from animals to top actors/actresses in movies or TV. When you rent, you need to put down a deposit that is usually more than the rental cost. However, you will get this back the minute you return the piece in good shape. Make sure to check it out entirely before you leave the store.
The people that work here are great. They are honest, helpful, and will get you what you need as quickly as possible. The downside is that they do get busy, so try to stop by during the weekdays or when they first open on the weekends.
2. One Stop Party Shop

Address: 1600 Church Street
Transit: J-Church Light Rail
District: Noe Valley
The name says it all: this small business in Noe Valley is surprisingly a one-stop shop for all things party-related.
What I love about them is that they carry items that you can't find anywhere else, so it's easy to find something unique that will set you apart. If you're going to a party with a rather obscure theme, you'll be surprised what you might find here that might fit.
It's also just fun to browse through their wide variety of crazy hats and masks, as well as more elaborate Halloween costumes. 
3. A.C.T. Costume Rentals

Address: Call first for location details, 415.439.2379
Hours: By appointment only
The American Conservatory Theater (A.C.T.) is a local theater company that provides rentals of their costumes gathered from past productions. The selection here is quite a bit different than the first two. You will not find fuzzy bunnies or other typical Halloween type costumes. These are unique and offer a more sophisticated look.
Some of costumes here include Ancient World & Ethnic, 17th & 18th Century, Uniforms (Military, Armor, etc.), and Clowns.
They only rent their costumes and do not sell them. Call them directly to book an appointment in order to check out their full selection.
4. Piedmont Boutique

Address: 1452 Haight Street
District: Haight Asbury
Transit: 6, 37, 43, & 66
One of my other favorite places to search for costumes in the Haight is Piedmont Boutique. They do not offer full costume sets, but rather a colorful variety of pants, tops, and accessories for you to create your own.
It's great for those wanting to mix, match, and experiment with their costumes. It's also a favorite spot for those searching for something to wear for Burning Man.
Their costumes include faux fur, sequins, feathers, wigs, jewelry, and masquerade masks. Pull them together for a fun night on the town.
They are easy to spot. You will find them under the famous legs with red shoes hanging out of the window on Haight Street.
5. Gypsy Rosalie's Wigs and Vintage

Address: 1457 Powell Street
District: North Beach
Transit: Powell/Hyde or Powell/Mason cable car 
The variety of wigs you'll find here is simply fantastic. All colors, shapes, sizes... Not only that, but Rosalie herself will help you pick out the perfect option for what you need, and teach you how to wear and style it. 
She also offers classes where you can learn how to create your perfect look. The service here is amazingly personal, and makes for a true San Francisco experience. 
Go ahead and let your (wig) down and get ready for some fun on the town!
Great Places to Shop Online

If you have the time, you will find an even wider selection of costumes online. These are the three places I look for costumes. Many have a huge selection for Halloween as well as other options throughout the year.
Amazon: One of the best places for Halloween costumes is Amazon. They have an amazing selection of men's, women's, and kid's costumes at a great price. I recommend buying early though as their selection gets tight as the holiday approaches. Click here to check out their selection today.
Spirit Halloween: I also like to use Spirit Halloween for costumes. With a huge selection, you will definitely find what you need. Click here to head to their website to shop their selection.
BuyCostumes.com: One of the best year round costume places is BuyCostumes.com. On their site, you will find men's, women's, sexy, plus size, and mascot costumes at a decent price. Click here to shop their site today.
Other Great Pages

As I'm sure most of you are looking for costumes for Halloween, here are a few additional pages you might enjoy.
21+ Halloween Parties: SF is THE place to be for Halloween. If you love to dance, party, and meet new people, then check out this list of 21+ events. You will find large events at hotels, cruises, and some other unique party options. Click here to check them out.
Kids Halloween Activities & Events: San Francisco also has a wide variety of kids' activities. You will find activities at SF museums, trick-or-treating, and more. Most of these fall the weekend before Halloween, so you can still enjoy the night out on the town or head out for a little trick-or-treating in your neighborhood. Click here for the entire list.
Ghost Tours: Another fun thing to do on Halloween, or any time of year, is check out the Ghost Tours of San Francisco. The city has a dark past with many chilling stories. Discover the details for each ghost tour offered in SF.
All SF Halloween Activities: You will also find a number of other fun things to do this and every Halloween in SF. You can do something completely different such as check out the theater or head to a comedy show in North Beach. Click here for a full list of Halloween fun in the city.
Comments? Questions? Suggestions?
I would love for you to join me in my private Facebook group! 
It's a great place to interact with me and others who know the area well.
You can ask questions, get advice for your upcoming stay, and then share your photos and advice with others when you return home. It's a great community and the fastest way to get answers to those nagging questions about your visit!