Sonoma Events in August 2023: Winery Parties, Festivals, and Other Fun Things to Do

by Jill Loeffler  •

Updated: April 6, 2023
Sonoma events in August 2023 include Taste Destination 128, Left Bank Alexander Valley Wine Tasting, and Bodega Seafood Art & Wine Festival. You can also catch live music in the vineyards and celebrate summer activities at many of the local wineries.

My calendar includes top picks in Healdsburg, Santa Rosa, Petaluma, the city of Sonoma, and other small towns around these Northern California wine regions.
You will also find some great deals on hotels and wine tasting this time of year as well as a few additional fun things to do this month.
Disclaimer: I receive a small commission from some of the links on this page.

Lazy Bear Weekend
Dates: 7/31 - 8/7
Way more than just a weekend, this party runs for 6 days in a row. Located in the quaint town of Guerneville, the term "bear" refers to gay men that have a lot of hair, but all are welcome to this week long event. The "weekend" has more than you could ever imagine including live music, DJs, pool parties, tasty food, great drinks and even a bonfire.
This event also features wine tasting tours, coffee socials, guided tours of Armstrong Woods ("Bears in the Woods"), and guided tours of the nearby beaches ("Bears on the Bluffs").
It's one of the Sonoma events in August that offers shuttles from the SF Bay Area. Tickets to this event sell our extremely fast, so plan ahead and book now.
Sonoma County Fair

Dates: 8/3 - 8/13
This 10-day event is one of the biggest Sonoma events in August. Opening at 12 pm and closing at 10 pm weekdays (11 pm on Friday and Saturday), you can enjoy everything from live music, to family friendly carnival rides, to horse racing, to games and contests and so much more.
Beyond the list above there is also a beautiful flower show and display, a tasty beer festival, and a livestock area and auction, where you will find all the best meats. Tickets prices are different depending on the day and what you decide to do during your time here.
Broadway Under the Stars: The Full Monty

Dates: 7/28 - 8/20
The scene for one of the best Sonoma events in August is Jack London Park in Sonoma Valley. The sun sets as you picnic with your friends and family and are entertained by live music. The show starts and the stars appear above you. This is what you can expect when you see the toe-tapping and exhilarating live dance performance by the award winning Transcendence Theater Company!
Broadway Under the Stars also has food trucks, if you don't want to bother bringing your own food, and wine available for purchase. Not only will you have a great time, your purchases will help support keeping the gorgeous Jack London Park open as well as other charities.
Ticket prices range from general to VIP depending on what you want to experience during this magical night under the stars. These shows are throughout August on almost all Fridays, Saturdays, and Sunday, but check the link below for the full calendar.
>> Visit their site for ticketing information
Art in the Redwoods

Dates: 8/17 - 8/20
This is one of the largest and most popular Sonoma events in August, and one of the biggest arts and crafts shows in California, with a huge draw every year.
Traditionally, the festival starts with the Hats Off Dinner on Thursday, a champagne preview on Friday, and the general festival on Saturday and Sunday. 
This event highlights different styles of art, ranging from jewelry to textiles, pottery, paintings, sculptures and more. The pieces are hung and displayed throughout the beautiful Gualala Arts Center nestled in the coastal redwoods forest.

Admission for the Saturday and Sunday show is $10 in advance or $20 at the door. There is also live music and other treats for guests to enjoy while admiring and buying the art pieces. 
Hotel Deals in Sonoma County

If you plan to stay a night or two as you enjoy these Sonoma events in August, then make sure to search for deals before you book your room.
Click the links below for some of the best deals around. You will also find thousands of recent guest reviews to ensure you are booking the right hotel for your stay.

Booking.com: Save on your Hotel in Sonoma with Booking.com, Planet Earth's #1 Accommodation Site. No booking fees ever!
TripAdvisor: What's the #1 hotel in Sonoma County? Read reviews & find hotel deals on TripAdvisor!
VRBO: You can also find some great places to stay on VRBO. They offer apartments, houses, cottages, and rooms for rent all around Sonoma County. Find some great places to stay here. 
Cotati Accordion Festival
Date: 8/19 - 8/20
This unique music festival takes place in La Plaza Park in downtown Cotati. Spend Saturday or Sunday afternoon (or both!) listening to a variety of artists. In addition to the music, you can also enjoy local beers, wine, and food.
Tickets are on sale for $19 ($23 at the door) for the one-day pass and $28 ($32 at the door) for both days. 
Make sure to stick around after the event to enjoy a night out on the town in downtown Cotati!
Wine & BBQ Open House: Taste Destination 128

Date: 8/26
This Wine & BBQ Open House is one of the top Sonoma events in August in the Alexander Valley wine region. It's along this region's Highway 128, which is where this event gets its name.
The event features food and wine pairing from four different family owned wineries along this Highway. This region is well known for its tasty Cabernet Sauvignon wines and this event is your chance to taste some of the best.
Stop by between 11 am and 4 pm for Cabs and BBQ. You can pick up your tickets to the event at any of the participating wineries.
Gravenstein Apple Fair in Sebastopol

Dates: 8/12 - 8/13
The Rangle Ranch Park in the quaint town of Sebastopol is home to this long running annual fair. If you are looking for variety, this is the perfect  party for you as there are so many options to choose from when you visit.
Some of these include live music on two different stages, a children's corner for the little ones to play around in, an artisan's tasting lounge for the adults to enjoy, and especially the world famous Gravenstein apples!
The Gravenstein Apple Fair starts at 10 am and ends at 6 pm each day. It is a must attend if you want to experience a truly classic down home country festival. Tickets range in price depending on age.
Left Bank Alexander Valley Wine Tasting

Date: 8/19
Another way to taste delicious wine is during this mouth-watering event. Four different wineries open their doors so you can experience their wines, and their food, off the beaten path.
Running from 11 am to 4 pm, this self-guided tour is limited to only a handful of people. Each ticket includes a logo glass and a coupon for $20 worth of wine purchases.
Compared to how much it would cost for tastings at these four wineries, and adding in the food, it is an incredible bargain.
Wine Tasting Deals in Sonoma

As you cruise around this gorgeous wine region enjoying these Sonoma events in August, make sure to do some wine tasting on your own too. Below are some of the best deals all around this region.

Battaglini Winery & Vineyard: $5 Buys You a Coupon for $5 Off a Wine Tasting for Two Plus 20% Off a Bottle of Wine, near Santa Rosa, check for availability
Harvest Moon Estate And Winery: Save on their wine and cheese tasting plates for one, two or four people, near Santa Rosa, check for availability
*Note: Most deals last for 120 days after purchase, so make sure to check the exact terms before purchasing.

Santa Rosa Marathon

Dates: 8/26 and 8/27
One of the best Sonoma events in August for runners is the Santa Rosa Marathon. It includes a full marathon, a 5K and a 10K. It also includes a dinner at the beautiful DeLoach Vineyard and a brew festival too!
The full marathon meanders through the lovely Sonoma County, while the 5K and 10K allow you to cruise along with Charles Schulz's famous "Peanut Gang" characters from his famous comic books.
Saturday and Sunday include an expo with many vendors selling their products so you can be in the best shape possible for your race, including free samples for you to enjoy.
The Santa Rosa Beer Festival is only on Saturday so plan accordingly. There is also a post-race festival for both runners and non-runners to enjoy.
Santa Rosa Beer Fest

Dates: TBD
As mentioned in the Santa Rosa Marathon section above, the Santa Rosa Beer Festival is a great way to spend your day, even if you didn't run or attend the marathon. You will find more than 35 different breweries and lots of delicious food.
Many of the breweries are local to Sonoma County, but this beer fest tries to include all the best from around the USA.
This two day event runs from 9 am to 1 pm on Saturday and 9:30 am to 3 pm on Sunday. You get a complimentary tasting glass for your present, and future, drinking pleasure.
Red & White Ball

Date: TBD
Want to enjoy one of the more popular Sonoma events in August this summer and help a worthwhile charity at the same time? The Red & White Ball is the event for you! The night included a fantastic menu of food and drinks.
With more than 15 wineries participating, you will definitely get to taste the best Sonoma County wines. Make sure to wear your fanciest outfit for this fantastic ball!
All money goes to support the Sonoma Valley Public Schools.
Bodega Seafood Art & Wine Festival

Dates: 8/26 - 8/27
Another one of the top Sonoma events in August is the annual Bodega Seafood Art & Wine Festival. The vendors are all hand selected, so you can enjoy the best of the best with the highest quality wine, food, and art.
You will also find 10 vendors with cuisines inspired from countries all over the world. You can also enjoy beverages from more than 50 wineries, breweries and cider makers.
Most of them are from the North Bay.
For art lovers, there are so many artists that it is impossible to count. There is also live entertainment both days.
Sonoma Events in August: Wine Tasting at Local Wineries in 2023

Additional Sonoma events in August are held at each individual winery. These parties are smaller, more intimate gatherings that celebrate wine releases, harvest, spring, and more.
Most are held on the weekends. All of these events are open to the public and usually include special discounts for wine club members. Many require advanced tickets, so make sure to visit the wineries sites for more details.
Amista: Dinner in the Vineyard 20th Anniversary Celebration (8/5), starting at 5:30 pm, dinner in the vineyard paired with wines, limit of 50 guests

BR Cohn: Summer BBQ (8/13), 3 pm to 5 pm, gourmet food, wine and live music
Buena Vista Winery (8/2 - 8/13): Shakespeare Under the Stars at Buena Vista Winery, 
Buena Vista Winery (8/31 - 9/4): The Count's Birthday
DeLoach Vineyards (8/12): Seasons in the Vineyard, enjoy wine and lunch while exploring the vineyard and learning about wine making
Emeritus Vineyards (8/12): Sips and Sounds from 1 pm to 4 pm, live music and wine by the glass along with food
Gloria Ferrer (8/24): Vineyard Concert Series from 4 pm to 6 pm
Gundlach Bundschu (8/12): Hot Summer Movie Night from 6 pm to 10 pm, wine, food, and a movie outdoors at the winery
Jacuzzi Wines (8/20): Pesto Festo, enjoy pestos, local breads, cheeses and more as you pair them with wines and listen to live music
Jordan Winery (8/4, 8/11, 8/18, and 8/25): Parisian Pop-Up Dinner Series, enjoy a multi-course dinner created by the Jordan chef and paired with their wines
Lambert Bridge (8/5 & 8/6): Gasparini-Beals Vineyard Hike & Picnic, from 11 am to 2 pm, walk through the vineyards with the winemaker then enjoy a picnic
Landmark Vineyards (8/11): Kenwood Estate Lobster Feed, from 6 pm to 9 pm, enjoy wine, cheese and lobster paired with wine as you listen to live music
Martinelli (8/26): Family Harvest Dinner
Medlock Ames (8/27): Backyard Nights: Live Music & Food Truck, from 5 pm to 7 pm, enjoy wine, bites and live music on the estate
Rodney Strong (8/19): Single Vineyard Dinner, from 5:30 to 8:30 pm, enjoy dining outdoors while drinking wines presented by the winemaker, Justin Seidenfeld
Trione Vineyards & Winery (8/19): Winemaker Dinner, from 5 pm to 9 pm, tour the wine cellar, enjoy dinner with paired wines including special library vintages
Trione Vineyards & Winery (8/25): Winemaker Friday, meet winemaker John Duckett, tour the cellar and learn about wine as you enjoy them
Additional Things to Do in Sonoma in August

In addition to these top Sonoma events in August, you will find a variety of other fun things to do. Click the links below for details and to get your tickets for more fun activities for your stay.

Sonoma Wine Country Bike Tour: Ride through Sonoma Wine Country on this 4.5 hour tour, starts in Santa Rosa and takes you to visit two to three wineries, entire trip is about 16-miles (25.7 km), route is mostly flat, check for availability
Food & Wine Walking Tour: Walking and food tour of Sonoma which stops at several gourmet spots for tastings, check for availability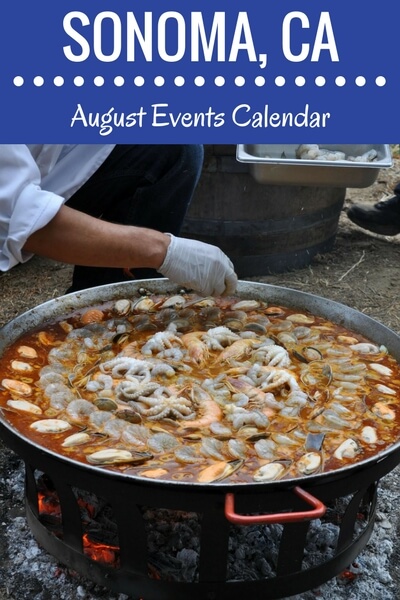 Comments? Questions? Suggestions?
I would love for you join me in my private Facebook group! 
It's a great place to interact with me and others that know the area well.
You can ask questions, get advice for your upcoming stay, and then share your photos and advice with others when you return home. It's a great community and the fastest way to get answers to those nagging questions about your visit!