SF Bay Area Events in March 2019
Theater, Festivals, & Sporting Events
SF Bay Area events in March include activities in Oakland, Berkeley, San Francisco, San Jose, and other locations. Top options include Hamilton at the Orpheum Theatre, Saint Patrick's Day celebrations, and concerts.
Other highlights include fun sporting events such as the Golden State Warriors basketball, the San Jose Sharks hockey, and Cirque du Soleil in San Jose. Read on for a full list of things to do this month all around the bay.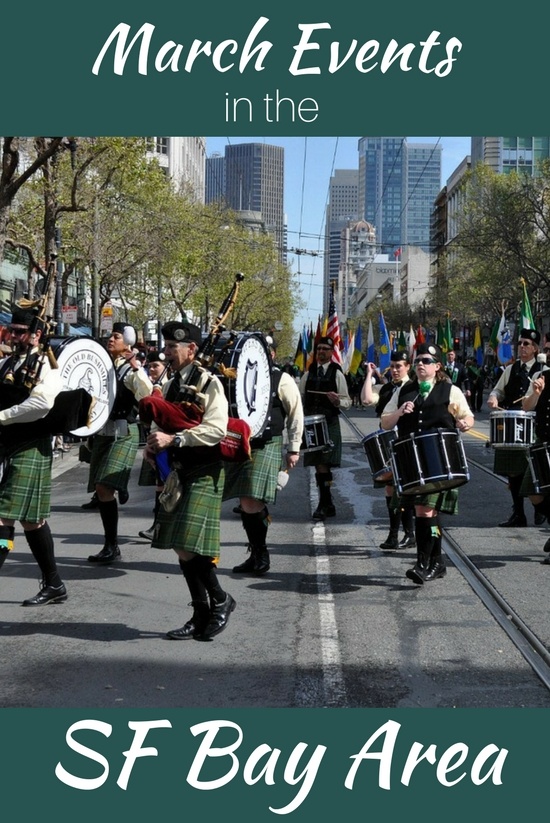 San Francisco Bay Area Theater: Hamilton
Dates: 3/1 - 3/31
One of the big shows coming to the SF Bay Area during the month of March is the award winning theater performance, Hamilton. It's based on the true story of one of our founding fathers, Alexander Hamilton. This Broadway musical is sweeping the nation and is one of the best productions on stage right now.
Other shows this month include Hello Dolly and Falsettos--both at the Golden Gate Theatre.
>> More performances this month in SF
>> Shows all around the SF Bay Area
Saint Patrick's Day Festival & Parade
Dates: 3/16 (parade), 3/17 (actual holiday)
One of the biggest SF Bay Area events in March is in honor of Saint Patrick's Day, when everyone dresses up in green, Irish customs come to life, and leprechauns get to have their fun. On the Saturday March 16th, downtown San Francisco also hosts a huge parade with dozens of floats, bands, bagpipes, and other Irish cultural groups.
It'll make its way down Market Street to Civic Center Plaza, where the all-day festival will be offering music, entertainment, and beer until 5pm.
>> More info on attending this year's event
>> Find more fun things to do for Saint Patrick's Day in SF
Golden State Warriors Games
Dates: 3/5, 3/8, 3/10, 3/21, 3/23, 3/24, 3/31
Sports fans looking for fun and excitement should head to the East Bay to watch a Warriors game at the Oracle Arena in Oakland. The energy of Bay Area crowds proudly donning blue and gold for their NBA Championship team is incomparable.
This month you have the chance to watch the Dubs take on the Boston Celtics, Denver Nuggets, Phoenix Suns, Dallas Mavericks, and others.
NCAA Men's Basketball: Rounds 1 & 2
Dates: 3/22 & 3/24
The NCAA Men's Basketball teams are coming to town for the first and second rounds of this year's tournament. The Road to the Final Four comes to the SAP Center in San Jose on 3/22 & 3/24. Pick up your tickets early as these tickets will sell FAST!
Silicon Valley Auto Show
Dates: 3/7 - 3/10
Location: San Jose (South Bay)
This March, you can attend Northern California's largest car show, showcasing the latest automotive technology in the business. You'll see a selection of electric cars and exotic concept vehicles, as well as classic cars and celebrity-owned luxury vehicles.
You'll also have the chance to test drive some products that aren't even on the market yet. Head over to the McEnery Convention Center in San Jose to marvel at Cadillac, Bentley, Audi, and Rolls Royce's top innovations.
>> Get tickets
Top Concerts
Dates: Several in March
This March in the SF Bay Area you will find dozens of top concerts and live shows. Top shows in San Francisco this month include Meek Mill at the Masonic Center in Nob Hill, Super Diamond--A Neil Diamond Tribute Band at Bimbos 365, and YG at the Bill Graham Civic Auditorium.
Other top shows around the SF Bay include dozens of shows at Yoshi's in Oakland and both Sarah Brightman and Gordon Lightfoot in San Jose.
>> Additional shows in SF, Oakland, and other venues around the SF Bay
San Jose Sharks
Dates: 3/1, 3/3, 3/7, 3/9, 3/14, 3/16, 3/18, 3/25, 3/28, and 3/30
Head to the South Bay to watch the San Jose Sharks play at the SAP Center downtown. This team routinely goes deep into the playoffs, so you know these fierce Sharks are in it for the win. This month at the Shark Tank, you can watch them take on the Colorado Avalanche, Vegas Golden Knights, Detroit Redwings, Chicago Blackhawks, and others.
Sonoma County Barrel Tasting
Dates: 3/1 - 3/3 & 3/8 - 3/10
Hours: 11 am - 4 pm each day
California's beautiful wine country (about an hour north of San Francisco) invites visitors to discover its culinary and winemaking excellence during 6 full days of barrel tasting and more. This special event will allow you to taste wine, directly from the barrel, and buy "futures" since many of them are small batch and will not be available to normal customers at a later date.
You will also meet winemakers and experience the Dry Creek, Alexander and Russian River Valleys in a very magical way. There is a Toast the Future Friday Night Event on both Friday nights from 5pm to 7pm. The event will include futures tasting, current vintages, and appetizers. Winemakers will also be on hand to discuss their wines and answer questions. You must buy a separate ticket for these two events.

>> Details for this year's event
Fairfax Brewfest
Date: 3/16
Head north to Fairfax for their annual Brewfest. This year, they will feature more than 20 brewers that will serve up more than 70 different brews.
Iron Springs Pub & Brewery and Split Rock Tap & Wheel are the host brewers. Other top breweries planning to attend this year include 21st Amendment, Lagunitas Brewing Company, and Fogbelt Brewing Company.
From 1pm to 5pm, you can also enjoy traditional Irish dance music by The Gas Men. General admission tickets at $40 per person.
>> Visit their site for more details and to pick up your tickets today
Jazz Bash by the Bay
Dates: 3/1 - 3/3
The annual Jazz Bash by the Bay is one of the larger SF Bay Area events in March. It has been a tradition for more than 35 years in historic Monterey, a vibrant coastal city about three hours south of San Francisco.
Known for Cannery Row, written by John Steinbeck, this is now a world class city with some of the best restaurants, hotels and more. These three days will be full of all types of American jazz, from ragtime and swing to gypsy jazz, zydeco, and blues. If you love jazz music, plan a weekend getaway to enjoy the lively festival.
>> Visit their site for info on this year's event
Bay Area Brew Fest
Date: 3/23
The annual Bay Area Brew Fest is one of the most popular SF Bay Area events in March for beer and food lovers. At this festival, you'll spend the afternoon or evening on Pier 35 in San Francisco enjoying the bay views and coastal breeze while tasting dozens of international and domestic brews.
SF's best food trucks will also be on hand when you get hungry and need something delicious to help absorb the alcohol. Choose between the 12 - 4pm session and the 5:30 - 8:30pm session of unlimited pours, with a special hour just for VIP tickets.
>> Check ticketing availability on their site
Cirque du Soleil - Volta
Dates: 2/13 - 3/24
Tickets: Find tickets at a disccount for most dates on Goldstar
The international phenomenon, Cirque du Soleil is making a visit to San Jose's SAP Center for more than a month this year. The star of the show is "Volta" who is a game show contestant hoping to use the experience become the person he's always wanted to be but finds out his inner strength is all he needs.
With world class skaters and acrobats, you know that this will be a trip that will excite one and all, while also adding thrills and chills! With one show every Wednesday and Thursday and two shows every Friday through Sunday, this is one SF Bay Area event in March you will not want to miss!
SF Bay Area Events in March: More Film Festivals
Dates: Several in March
All year round, SF hosts a slue of film festivals featuring different genres and topics. This March, you'll have the opportunity to catch three distinct festivals. The Ocean Film Festival shows feature films, documentaries, and shorts about the cultural and environmental significance of the sea. Then there's the free Human Rights Film Festival, which brings light to tough social issues all around the world.
Finally, Ocean Film Festival which is all about the current state of the ocean, its ecosystem and those that are working to protect it. You will also find amazing documentaries about its animals, surfers, and many other wonderful stories.
>> More on this month's film festivals
Oakland Running Festival
Date: 3/24
The Oakland Running Festival has become a fun annual event in this East Bay city, offering a marathon, half marathon, 4-person relay, 5K, and kids' fun run so that everyone can get involved. Come stretch your legs and celebrate the diverse community and beautiful scenery of Oakland, CA. The race starts from Eastshore Park near lovely Lake Merritt on Sunday morning. Registration is required to participate.
>> Visit their site to register
More Tips for Your March Visit