SF Bay Area Events in March 2018
Theater, Festivals, & Sporting Events
SF Bay Area events in March include activities in Oakland, Berkeley, San Francisco, San Jose, and other locations. Top options include The Book of Mormon in both San Francisco and San Jose, Saint Patrick's Day celebrations, and concerts.
Other highlights include fun sporting events such as the Golden State Warriors basketball, the San Jose Sharks hockey, and Cirque du Soleil in San Jose. Read on for a full list of things to do this month all around the bay.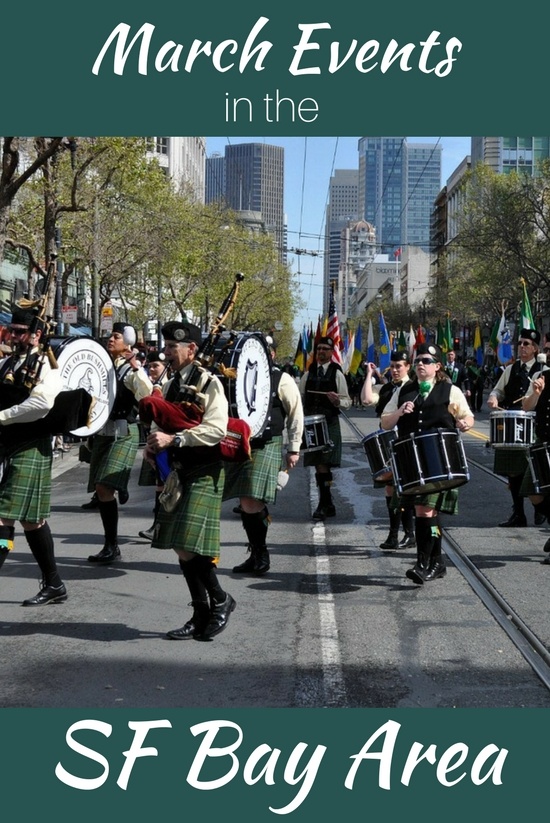 San Francisco Bay Area Theater: The Book of Mormon
Dates: San Francisco (2/6-3/4), San Jose: (3/29-3/31)
One of the big shows coming to the SF Bay Area during the month of March is the hilarious theater performance, The Book of Mormon. Written by the creators of South Park, Trey Parker and Matt Stone, this is the story of two young Mormons who go on a mission to Africa to convert the local people.
Make sure to check your inhibitions at the door since this play satirizes the Mormon religion and everything associated with it. This comedy has won 9 Tony Awards including Best Musical and was ranked the "Best Musical of the Century" by the New York Times theater critic, Ben Brantley. Make sure to plan ahead as this show is always incredibly popular.
>> More performances this month in SF
>> Shows all around the SF Bay Area
Saint Patrick's Day Festival & Parade
Dates: 3/17 (parade), 3/17 (actual holiday)
One of the biggest SF Bay Area events in March is in honor of Saint Patrick's Day, when everyone dresses up in green, Irish customs come to life, and leprechauns get to have their fun. On the Saturday March 17th, downtown San Francisco also hosts a huge parade with dozens of floats, bands, bagpipes, and other Irish cultural groups.
It'll make its way down Market Street to Civic Center Plaza, where the all-day festival will be offering music, entertainment, and beer until 5pm.
>> More info on attending this year's event
Golden State Warriors Games
Dates: 3/6, 3/8, 3/14, 3/16, 3/23, 3/25, 3/27, 3/29
Sports fans looking for fun and excitement should head to the East Bay to watch a Warriors game at the Oracle Arena in Oakland. The energy of Bay Area crowds proudly donning blue and gold for their NBA Championship team is incomparable.
This month you have the chance to watch the Dubs take on the Brooklyn Nets, San Antonio Spurs, Los Angeles Lakers, Sacramento Kings, Atlanta Hawks, Utah Jazz, Indiana Pacers, and the Milwaukee Bucks.
Tim Allen at the Paramount in Oakland
Date: 3/10
This month in the East Bay, at the historic Paramount Theater in Oakland, you have the opportunity to watch one of the greatest standup comedians of all time--the beloved Tim Allen. Best known for the semi-fictional version of himself in the sitcom The Tim Allen Show, he is also an actor, writer, and comedian. Be prepared to laugh the evening away when his tour comes to the Bay Area.
>> More comedians in SF this month
Top Concerts
Dates: Several in March
The largest concert venue in San Jose is the SAP Center downtown, which is also home to the Sharks NHL team. This month, the SAP Center will host the internationally famous Richardo Arjona, who is one of the most successful Latin arists ever with over 40 million albums sold on March 11th. New Zealand's own, Lorde, is coming to Oakland's Oracle Arena on Tuesday, March 13th. Known for her hit, "Royals", her voice and style has entranced anyone that hears her. If you are looking for some San Francisco hippie style tunes, check out Galatic at Warfield on March 31st.
>> Additional shows in SF, Oakland, and other venues around the SF Bay
San Jose Sharks
Dates: 3/1, 3/4, 3/8, 3/10, 3/12, 3/20, 3/22, 3/24
Head to the South Bay to watch the San Jose Sharks play at the SAP Center downtown. This team routinely goes deep into the playoffs, so you know these fierce Sharks are in it for the win. This month at the Shark Tank, you can watch them take on the Chicago Blackhawks, Columbus Blue Jackets, St. Louis Blues, Washington Capitals, Detroit Red Wings, New Jersey Devils, Vegas Golden Knights, and Calgary Flames.
Sonoma County Barrel Tasting
Dates: 3/2 - 3/4 & 3/9 - 3/11
Hours: 11 am - 4 pm each day
California's beautiful wine country (about an hour north of San Francisco) invites visitors to discover its culinary and winemaking excellence during 6 full days of barrel tasting and more. This special event will allow you to taste wine, directly from the barrel, and buy "futures" since many of them are small batch and will not be available to normal customers at a later date.
You will also meet winemakers and experience the Dry Creek, Alexander and Russian River Valleys in a very magical way. There is a Winemaker Breakfast and Q & A on Saturday the 3rd and Saturday the 11th. NOTE: No food will be served at this event. Please make sure to plan ahead and bring a picnic or some type of meal for yourself.

>> Details for this year's event
Jazz Bash by the Bay
Dates: 3/2 - 3/4
The annual Jazz Bash by the Bay is one of the larger SF Bay Area events in March. It has been a tradition for over 35 years in historic Monterey, a vibrant coastal city about three hours south of San Francisco. Known for Cannery Row, written by John Steinbeck, this is now a world class city with some of the best restaurants, hotels and more. These four days will be full of all types of American jazz, from ragtime and swing to gypsy jazz, zydeco, and blues. If you love jazz music, plan a weekend getaway to enjoy the lively festival.
>> Visit their site for info on this year's event
Bay Area Brew Fest
Date: 3/24
The annual Bay Area Brew Fest is one of the most popular SF Bay Area events in March for beer and food lovers. At this festival, you'll spend the afternoon or evening on Pier 35 in San Francisco enjoying the bay views and coastal breeze while tasting dozens of international and domestic brews.
SF's best food trucks will also be on hand when you get hungry and need something delicious to help absorb the alcohol. Choose between the 12 - 4pm session and the 5 - 8pm session of unlimited pours, with a special hour just for VIP tickets.
>> Check ticketing availability on their site
Cirque du Soleil - Crystal
Dates: 3/28 - 4/1
The international phenomenon, Cirque du Soleil is making a visit to San Jose's SAP Center for 5 days this year. The star of the show is "Crystal" who is on a journey of self-discovery as she becomes powerful, liberated and confident. With world class skaters and acrobats, you know that this will be a trip that will excite one and all, while also adding thrills and chills! With one show on Wednesday, Thursday and Friday, and two shows on Saturday and Sunday, this will be a tough ticket to come by so make sure to plan ahead and enjoy this magnificent show!
Event Tickets at Up to 50% Off
3/10: Bacon & Beer Festival in Oakland at the Jack London Market Building, event starts at 2:30pm
3/13-3/15: Love Never Dies at the San Jose Performing Arts Center
3/16: Saint Patrick's Day Pub Crawl, starts at Mayes Oyster House in San Francisco
SF Bay Area Events in March: More Film Festivals
Dates: Several in March
All year round, SF hosts a slue of film festivals featuring different genres and topics. This March, you'll have the opportunity to catch three distinct festivals. The Ocean Film Festival shows feature films, documentaries, and shorts about the cultural and environmental significance of the sea. Then there's the free Human Rights Film Festival, which brings light to tough social issues all around the world. Finally, CAAM Fest highlights Asian and Asian American film, music, food, and digital media. These are all great options to choose from.
>> More on this month's film festivals
Oakland Running Festival
The Oakland Running Festival has become a fun annual event in this East Bay city, offering a marathon, half marathon, 4-person relay, 5K, and kids' fun run so that everyone can get involved. Come stretch your legs and celebrate the diverse community and beautiful scenery of Oakland, CA. The race starts from Eastshore Park near lovely Lake Merritt on Sunday morning. Registration is required to participate.
Date: 3/25
More: Visit their site to register
More Tips for Your March Visit