SF Bay Area Events in February 2018
Theater, Sports, and Other Fun Things to Do this Month
SF Bay Area events in February 2018 include Golden State Warriors games in Oakland, the Chinese New Year Parade and Festival, and AT&T Pebble Beach Pro-Am golf south of Monterey. Other highlights this month include Valentine's Day activities and top to spend President's Day weekend here.
Read on for more great things to do this month all around the Bay Area.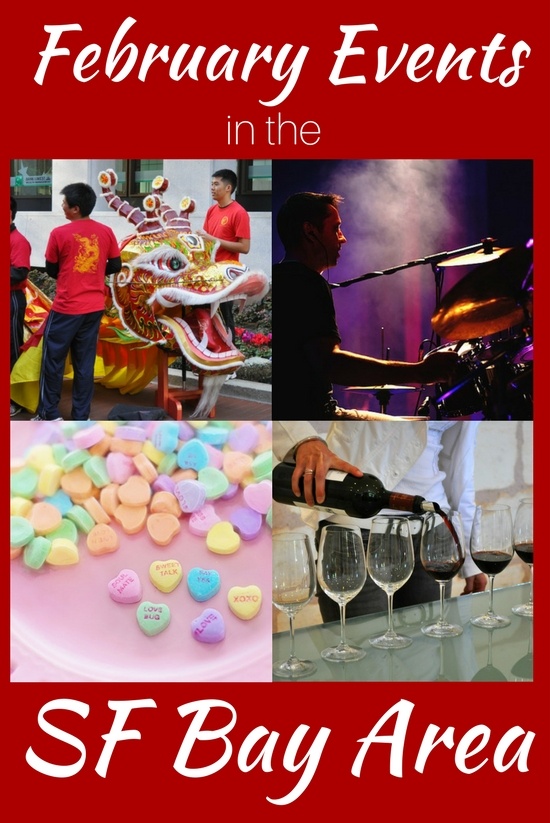 Disclaimer: I recieve a small commission from some of the links on this page.
Golden State Warriors
Dates: February 6, 8, 10, 12, 22, & 24
One of the best SF Bay Area events in February are the Golden State Warriors basketball games at the Oracle Arena in Oakland (East Bay). This month, they'll be taking on teams such as the Oklahoma City Thunder, San Antonio Spurs, and Los Angeles Clippers. There is nothing like the energy of Bay Area fans decked out in blue and gold cheering on their Dubs, one of the hottest teams in the NBA.
>> Learn more about attending a game and ticketing information
AT&T Pebble Beach National Pro-Am
Dates: February 8-11
For sports fans, one of the most exciting SF Bay Area events in February are happening in the Monterey region, about 3 hours south of San Francisco. This would of course be the highly anticipated AT&T Pebble Beach Pro-Am golf tournaments of the PGA tour, which arrives on California's coast this month at some of the most picturesque golf courses anywhere in the world.
For a whole week, you'll get to watch premier golf and entertainment in this serene setting.
>> Get more details on the Pebble Beach Pro-Am
Chinese New Year Parade & Festival
Dates: 2/24 (Parade), 2/10 - 3/4 (All Events)
One of the most anticipated SF Bay Area events in February every year is the annual Chinese New Year Parade and Festival. Watch as the streets of SF Chinatown come alive with this cultural tradition, including fire crackers, lanterns, drums, lion dancers, and a 28-foot-long Golden Dragon.
In addition to the parade, other lunar new year festivities include a basketball jamboree, Miss Chinatown pageant, community street fair, and 5K/10K run/walk. The entire festival lasts for several weeks.
>> Tips to attend this year's event
San Jose Sharks Hockey
Dates: February 8, 10, 13, 15, 18 & 27
Don't miss your chance to see the Bay Area's favorite hockey team, the Sharks, take on top NHL teams at home in San Jose (South Bay). This month, they will host teams such as the Vegas Golden Knights, Edmonton Oilers, and the Dallas Stars. Head on over to the Shark Tank (a.k.a. SAP Center) to get in on the action.
>> Get additional details to see a game in San Jose
SF & Bay Area Theater Performances
Some of the most popular SF Bay Area events in February are the theater performances happening at different venues all around the Bay Area. They range from Tony Award-winning Broadway musicals to classic works to independent pieces.
This month in San Francisco, you can watch Born Yesterday at the SF Playhouse, The Book of Mormon at the Orpheum, and The Wedding Singer at the Victoria. The King and I is the largest Broadway show on stage this month in San Jose.
>> Theater calendar for top venues around the Bay Area
Monster Energy AMA Supercross
Date: February 3
If you're looking for some adrenaline and high flying entertainment, head over to the Oakland Coliseum (East Bay) for some exciting off-road motorcycle races. Supercross is held on unique tracks that run up, down, and around dirt hills constructed within the stadium. They say this is one of the most physically demanding sports ever, and there's not a bad seat in the house for this show of incredible athleticism.
Bay Area & SF Concert Calendar
Every month, you'll find a great variety of live music events to choose from all over the Bay Area. They range from small performances at intimate cafes and local clubs to sold-out shows of today's biggest stars at huge sports arenas. This month offers a great selection here in San Francisco.
You'll have the chance to see Queens of the Stone Age at the Bill Graham Civic Auditorium, The Drive By Truckers at the Great American Music Hall and Shakira at the SAP Center in San Jose.
>> Calendar for shows all around the SF Bay
Valentine's Day
Date: February 14
If you're going to be in town for Valentine's Day, you'll find plenty of ways to make it memorable for your loved one. Several top SF restaurants offer special prix fixe menus Valentine's evening. You can also check out my list of the top five most romantic bars and hotels.
If you're looking for a bit of adventure mixed with the luxury of fine dining, check out the bay cruises and wine tasting events. For those interested in a more cultural, intellectual outing, head to the symphony or theater.
>> More ideas for celebrating Valentine's Day in SF
>> Bay Area Valentine's Day events and activities
San Jose Jazz Winter Fest
Dates: February 15-28
The San Jose Jazz Winter Fest kicks off on February 15 and lasts until February 28. This annual event features both well known jazz talents as well as up-and-coming artists on stage. They will perform at locations all around town including Cafe Stritch, Hedley Club, Deluxe Eatery, and others.
>> Visit their site for more details and to pick up your tickets today
Comedy Shows
Enjoy the best of standup at SF's top two comedy clubs. This February, you'll have the chance to watch JP Sears, Michelle Wolf, and Shawn Wayans live on stage at Cobb's in North Beach. You can also catch Sam Morril, Tom Rhodes, and Daniel Sloss at the Punch Line. And if that's not enough fun for you, check out BATS Improv or San Francisco's favorite musical comedy, Beach Blanket Babylon.
>> Where to laugh the night away this month
President's Day Weekend
Dates: February 16-19
The weekend after Valentine's Day is a three-day weekend due to the President's Day holiday on Monday, February 19. To take advantage of the extra day off, perhaps you'll want to keep celebrating with your sweetheart by taking a romantic cruise on the bay, or maybe you'll want to break the routine with an exciting whale watching tour on the ocean.
You can also join a free walking tour, watch The Book of Mormon at the Orpheum Theater, or sample wines at the Chronicle Wine Tasting Competition.
>> What to do this President's Day Weekend
Disney on Ice: Worlds of Enchantment
Dates: February 21 - 25
People usually come to the SAP Center in San Jose (South Bay) to watch the Sharks play a fierce game of hockey, but this week, the stadium will be packed full of families and Disney fans watching Follow Your Heart by Disney on Ice.
This show combines beloved Disney tales--Finding Dory, Inside Out, Frozen, and Toy Story, so there's a little something for boys and girls of all generations. Clap along and marvel at the high-speed stunts as your favorite characters' dance and come to life on ice.
>> Find tickets on Ticketmaster to these shows in San Jose
Wine Tasting Events in February
Some of the best SF Bay Area events in February feature delicious local and domestic wines and offer a true gourmet experience right in San Francisco. At Union Street Has a Crush on You, you'll meander through the Marina District sampling wines and delicious treats at all the participating merchants along the way.
At the huge Chronicle Wine Competition, you'll have the opportunity to try award-winning American varietals from more than 800 wineries.
>> Top wine tasting events this month in the SF Bay Area
More Things to Do in the SF Bay Area