SF Bay Area Christmas Events & Activities
2019 Tree Lighting Ceremonies, Shows, & More Fun Things to Do
NOTE: Click here to stay up-to-date with what's open and opening soon.
What are some fun things to do in the SF Bay Area this Christmas? You will find everything from shows to tree lighting ceremonies to holiday craft fairs. Other options include Cirque du Soleil, several performances of the Nutcracker Ballet, and lots of places to go ice skating outdoors.
My insider's guide offers tips throughout the holiday season as well as specific ideas for Christmas Eve and Day. You will also find some great restaurant recommendations for the holidays here too.
You will find the best activities in San Francisco, Oakland, San Jose, Marin and other places through the Bay Area.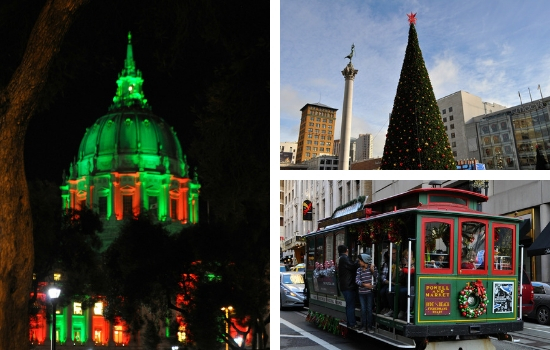 Disclaimer: I receive a small commission from some of the links on this page.
Click the links below to jump ahead to a specific section with the best things to do this SF Bay Area Christmas season!
Nutcracker Ballet Performances
San Francisco Ballet Shows
Dates: 12/11 - 12/29
Location: War Memorial Opera House in San Francisco
Spend a night with the SF Ballet as they perform the classic holiday ballet, The Nutcracker. The SF Ballet was the first company to perform it in the US and it's a must see! Tickets for this show are in high demand, so make sure to pick up your tickets early.
Here is a little more about the performance.
The show starts with Uncle Drosselmeyer making his famous toys and a very special nutcracker doll. As the Stahlbaum family is lighting their Christmas tree, Uncle Drosselmeyer arrives with his toys.
These toys include a jack-in-the-box, a life-sized ballerina, and the magical nutcracker. Later that night, Clara falls asleep and the nutcracker doll comes to life and protects her with his toy soldiers against the King of the Mice and his army. As the Prince tells of his battle, the Sugar Plum fairy has a festival to honor them.
As the dream ends, Clara becomes a ballerina so she can dance with her prince in her dream. As she awakes, she find the nutcracker doll has been repaired and she is safely cuddling it.
Runtime of 2 hours with a 20 minutes intermission at the San Francisco War Memorial Opera House. This ballet is family friendly. Here are tickets for all performances this season.
>> Learn more about this year's shows in SF
Other Performances Around the SF Bay Area
In addition to the San Francisco Ballet's performance, you will find a variety of other performances of the Nutcracker all around the SF Bay. Here are just a few of my top picks.
Oakland Ballet Company (12/21 - 12/22): Graham Lustig's version of The Nutcracker is performed by the Oakland Ballet Company in this 2 hour presentation. It is known for the outstanding dancing, costumes, and the sets that will make your holiday joyous. This performance takes place at the Paramount Theater in downtown Oakland in the SF Bay Area. Find tickets at a discount on Goldstar.
SF Youth Ballet (12/7 & 12/8): This version of the Nutcracker showcases the youth ballet and also other bay area dancers who still enthrall and excite any audience. This 2-hour production is family friendly and a great introduction for children of all ages to this wonderful holiday experience. The SF Youth Ballet Nutcracker runs 2 hours at the Mercy High School Theatre at this Christmas show in San Francisco. Two shows each day at 1pm and 5pm. Find tickets at a discount on Goldstar.
Peninsula Ballet Theatre in Redwood City (12/21, 12/22, 12/27 & 12/28): Performed at the Fox Theatre in Redwood City, this version runs for two hours with an intermission. This show also allows audience members to go on-stage and meet the dancers following each performance. Find tickets at a discount on Goldstar.
San Jose (12/13 - 12/24): Another south bay presentation of The Nutcracker is located at the San Jose Center for the Performing Arts in San Jose. Many special guests, including some from the Dance Theatre of Harlem, the Syracuse City Ballet, and the Estonian Theatre Vaneumuine Ballet, star in this wonderful version of this holiday ballet.
Cirque du Soleil in San Francisco
Dates: 11/14/2019 - 1/12/2020
Tickets: On sale for all performances
The mesmerizing Cirque du Soleil returns to The Big Top at Oracle Park (formerly AT&T Park) this holiday season. This show includes incredible stunts, high-flying acrobatics, incredible designs and more that are sure to amaze.
Amaluna presents the story of the queen and her daughter that live on an all female island. The queen just performed a coming of age ceremony for her daugher and created a chaotic storm. What washed ashore? A group of young men and her daughter falls head over heels in love with one of them.
Amaluna follows their story and the struggles they face as they try to overcome all obsticles in their path.
Here are tickets to just a few of the shows during the SF Bay Area Christmas season.
>> Find additional details about this year's performances
A Christmas Carol Shows Around the Bay
Dates: 11/29 - 12/24
Location: ACT Theater at 415 Geary Street
Tickets: Find tickets at a discount on Goldstar
San Francisco's acclaimed A.C.T. brings to life this wonderful Charles Dickens' tale of the misery Ebenezer Scrooge, a grumpy lonely man who is visited by 4 ghosts on Christmas Eve.
Scrooge sees his past, his present, and his future during the visits by the ghosts. It is up to him to decide whether he wants to change his way and become a better person, or stay the bah-humbug person he is now. A Christmas Carol is performed at the American Conservatory Theater in San Francisco.
Additional Performances of A Christmas Carol Around the Bay
San Jose (12/5 - 12/21): Spend an evening with the Northside Theatre Company and their 37th annual showing of A Christmas Carol. All shows are at the Olinder Theatre in San Jose. Find tickets at a discount on Goldstar.
Walnut Creek (12/12 - 12/22): Located in the East Bay city of Walnut Creek, Center REP's version of A Christmas Carol is a treat for children of all ages. Performed at the Lesher Center for the Arts' Hofmann Theater. Tickets for all shows.
Additional Christmas Shows Around the SF Bay Area
You will find a variety of wonderful shows throughout the SF Bay Area this Christmas. Here are a few of my top picks this season.
The Velveteen Rabbit (11/29 - 12/8): Local dance company ODC brings to life this wonderful tale about a little boy who is given a toy rabbit. The rabbit doll wants to be a rabbit in real life, but this is only possible by being the boys favorite toy.
Luckily for the rabbit, the boy loves him and a fairy allows the Velveteen rabbit to become a real rabbit who lives in the forest. This family friendly show is performed at the Yerba Buena Center for the Arts Theater in San Francisco. Find tickets at a discount on Goldstar.
Smuin's The Christmas Ballet (12/12 - 12/23): This nontraditional holiday presentation will give you dancing clad in all white outfits as they glide on stage to jazz, funk during the first act.
The second part of this 2-hour presentation includes the red-clad dancers moving to cool tunes like "White Christmas", "Baby, It's Cold Outside","Santa Baby", and other favorites. Make sure not to miss this special ballet at the Yerba Buena Center for the Arts Theater in San Francisco. Find discounted tickets for more performances on Goldstar.
SF Symphony Christmas Shows: This holiday season features numerous films that featured along with the SF Symphony playing it's score during the movie. All shows are at Davies Symphony Hall. Dates and shows are listed below:
12/3 - 12/6: It's a Wonderful Life, Film with the SF Symphony
12/7: Holiday Gaiety
12/8: Deck the Hall
12/8: A Merry-Achi Christmas
12/10 - 12/11: Holiday Soul with the SF Symphony
12/13 - 12/14: Handel's Messiah
12/17 - 12/18: Love Actually-Film with the SF Symphony
12/19 - 12/20: 'Twas the Night-A Festival of Carols
12/21 - 12/23: A Charlie Brown Christmas-LIVE!
Carols By Candlelight (12/15): SF Young Women's Chorus presents this annual concert at the Old First Church, San Francisco. Here songs by Hildegard von Bingen, Jacob Handl, Arvo Part, and others.
Christmas Revels, A Solstice Journey Through Time (12/13 - 12/22): The beautiful First Congregational Church of Oakland is home to this year's performance. The show is not set in one location or time, but is all about history.
Using dance, poetry, dance and more, the Revels will use their full range of costumes, customs and traditions to tell their story.
San Francisco Choral Society (12/6 - 12/7): The 135-person chorus perform part 2 of the Christmas Oratorios. Based on the gospels of Luke and Matthew, J.S. Bach allows audience members to experience the birth of Christ while enjoying the wonderful St. Ignatius Church.
Outdoor Ice Skating: SF Bay Area Christmas
Ring in this holiday season with some ice skating around the bay area. I've created a list of the 11 best outdoor ice rinks for you to enjoy and experience depending on whether you are in the North Bay, East Bay, South Bay or anywhere in the SF Bay Area during Christmas time.
>> Find a full list of places to go skating this holiday season
Christmas Tree Lighting Ceremonies
Union Square Tree Lighting (11/29): Starting at 5:30 pm, Macy's annual tree lighting is a favorite of locals and tourists alike. This event is much more than just a Christmas tree lighting as it includes live performances by the Oakland Interfaith Gospel Choir, The San Francisco Boys Chorus, and others.
Santa will be on-hand to light the tree at 6:50 pm.
Jack London Square Tree Lighting Ceremony (11/22): The Oakland waterfront is the site for this annual event which has a 55 foot tree with over 5,000 lights and more than 600 ornaments on it.
You will be entertained by local musicians, check out pop-up shops, and be able to meet Santa as he gets ready to ring in the SF Bay Area Christmas season. This holiday event starts at 5 pm and ends at 8 pm.
Broadway Plaza, Walnut Creek (12/5): For those visitors that are in the East Bay, the Broadway Plaza's annual Holiday Parade of Lights is a perfect way to usher in the Christmas season.
The parade starts at 7 pm with Santa coming along to light the tree. You are welcome to stay afterwards and stroll and enjoy the festivities. The Holiday Parade of Lights starts at 6 pm and ends at 9 pm.
Christmas in the Park in San Jose (11/29-1/5): Held the day after Thanksgiving, this tree lighting is located in downtown San Jose's Plaza de Cesar Chavez.
Santa will arrive and light the tree as part of this event.
You can then enjoy the park through January 5.
Alameda Tree Lighting Ceremony (12/7): Located at the Alameda City Hall, this tree lighting and celebration includes live entertainment by the Oakland Youth Choir, Alameda Community Band, The Dancing Christmas Trees, and many more.
Some of the activities that kids of all ages include candy canes for kids and a visit for Santa Claus. Live entertainment starts at 4:30 pm and the tree lighting ceremony begins at 5:30.
Sunnyvale Holiday Tree Lighting (12/7): This family friendly event in the South Bay city of Sunnyvale will give everyone the Christmas spirit and a chance to take a photo with Santa Claus. The entertainment starts at 5 pm and goes until 7:30 pm. All activities are on Historic Murphy Avenue in downtown Sunnyvale.
>> Find additional tree lighting ceremonies around the SF Bay
Christmas Festivals
Winterfest at Great America (11/29 - 12/31): California's Great America in Sunnyvale is the home to one of the largest winter festivals in the SF Bay Area. With loads of rides for kids of all ages, giant toy soldiers, and featuring over 7 million LED lights, this event is sure to amaze everyone in your family. This event starts at 5 pm and ends at 10 pm. Find tickets at a discount on Goldstar.
Alameda Lantern Light Festival (11/28 - 1/26): This is one of a kind SF Bay Area Christmas event is located at the Alameda County Fairgrounds and focuses on the traditional Chinese lantern festival but is updated for today's time. Each huge lantern takes over 4 weeks to build with a team of at least 7 people. Each lantern are handmade from cloth and look like 3-D stained glass pieces of art. This is definitely a must see if you are in the East Bay.
Los Gatos Fantasy of Lights (12/7 - 12/30): The annual Fantasy of Lights gives you the chance to walk through a park full of music, food trucks, photo booths, and of course Santa Claus! Both nights of this event starts at 6 pm and runs until 10 pm. Everyone attending this event must buy a ticket including kids of any age.
Winterfest Sausalito (12/14): The gorgeous Marin county city of Sausalito is home to the beloved Lighted Boat Parade and Fireworks extravaganza. This SF Bay Area Christmas will let you see the magical lighted boat parade on Saturday night, and you can visit a special after party. If you are in the mood for a little exercise, then do a 5k run on Sunday followed by a special brunch. The boat parade starts at 6 pm with fireworks at 7:15 on Saturday night. The Jingle Bell 5K run starts at 8:30 am with the kids fun run starting at 9:15 am.
Decemberfest, Craft Beer Night at the Guardsman Tree Lot (12/6): If some adult libations are more your thing during this SF Bay Area Christmas, then this will be the celebration for you. Located at San Francisco's beautiful Fort Mason, you will be able to taste some of the best local brews while also sampling delicious German food including bratwurst and delectables. This beerfest starts at 6 pm and ends at 10 pm.
Craft Fairs
Mill Valley Maker's Market (12/14): Over thirty local artists display their wares while musicians play music as you enjoy walking around the Mill Valley Lumber Yard. You can just look at all the beautiful pieces of art such as glassware, ceramics, jewelry and more, or you can purchase some if you like. This festival starts at 10 am and ends at 5 pm.
SF Made Holiday Fair (12/15): The California College of the Arts in San Francisco is home to the this event which is home to over 60 vendors from the SF Bay Area. You will be able to purchase all your holiday gifts including toys, holiday cards, jewelry, decorations, and much more. The Holiday Fair starts at 11 am and finishes at 5 pm.
Santana Row Holiday Maker's Market (12/7): If you are in the south SF Bay Area during the holiday season, then this is the perfect event to get all your holiday shopping done in just one day. Located at the gorgeous Santana Row Park with over 30 local artists and their wares, you will also enjoy live music and complimentary wine and small bites. This event beings at 10 am and will end at 6 pm.
Saint Lawrence Holiday Market (12/17): Get ready to shop until you drop at this event as you can find pop-up shops, delicious drinks, foods, and take photos with Santa during your time here. Kids of all ages will enjoy this wonderful market starting at 9 am and ending at 3 pm located in the south SF Bay Area city of Santa Clara.
San Jose Holiday Craft Fair (12/14 - 12/15): This fair celebrates Christmas by giving you a chance to buy all your holiday gift,s while enjoying lots of free special events and handcrafted arts that everyone in your family will enjoy. This two day fair starts at 11 am and ends at 5 pm both Saturday and Sunday.
Where to See Santa
In addition to the tree lighting ceremonies and the Christmas festivals mentioned above, here are a few additional places to see Santa this season.
Macy's in Union Square (11/29 - 12/24): One of the SF Bay Area Christmas best locations to meet Santa is at the wonderful Union Square in downtown San Francisco. Note: You must reserve a spot from 30 minutes to a maximum of 5 days in advance as Santa is so popular at this event. Follow the link below to make your reservations, so you don't miss out!
Broadway Plaza, Walnut Creek (11/22 - 12/24): Santa welcomes you to the cute city of Walnut Creek in the East Bay. Make sure to get your photo with Santa as you enjoy this Christmas celebration. There are also special events, so make sure to check the link below. You can also have breakfast with him on each Sunday on 12/7 & 12/14 from 9 am to 11 am.
Holidays on Fourth in Berkeley (12/7-8, 12/14-15, 12/21-22): The city of Berkeley welcomes you to celebrate this holiday season with special events such as Santa's Forest, the Maker's Row festival, the Fratello Marionette show and many more exciting exhibitions for your whole family. Check the calendar below to find which is just right for you.
>> Additional places to see Santa this season
Christmas Eve Dinner Recommendations
You will find plenty of places to celebrate your SF Bay Area Christmas. Here are just a few places open this Christmas Eve for dinner. You can either book directly with the restaurant or visit OpenTable.com.
San Francisco
Cliff House: All three restaurants at the Cliff House are open regular hours for Christmas Eve. Book your reservation on their site.
International Smoke House: Special Christmas Eve buffet, 301 Mission Street
Morton's Steakhouse: Serving off their regular menu all night long, 400 Post Street in Union Square
Zingari Ristorante + Jazz Bar: 3-course meal, children's menu is also available as well as gluten free and vegan options, 501 Post Street
>> Find additional Christmas Eve options around San Francisco
East Bay
Trader Vic's (Emeryville): Special Christmas Eve dinner
Galeto Brazilian Steakhouse (Oakland): Up to 14 cuts of meat plus dozens of dishes on their gourmet bar
Akemi (Berkeley): Traditional Japanese dishes, open on Christmas Eve
Massimo's (Fremont): 4-course meal plus a special kids menu
Incontro (Danville): Prix-fixe dinner for Christmas Eve
Peninsula & South Bay
Left Bank (Menlo Park & Santana Row): 3-course meal for dinner with the last seating at 9pm
Zola (Palo Alto): Special Christmas Eve dinner
LB Steak (San Jose): Special Christmas Eve 4-course dinner all day long
The Voya (Mountain View): Open for dinner on Christmas Eve
North Bay
Insalata's (San Anselmo): 3-course prix-fixe menu
Left Bank (Larkspur): 3-course meal last seating at 9pm
Marche aux Fleurs (Ross): 3-course menu with options for each course
Piazza D'Angelo (Mill Valley): Christmas Eve special dinner with last seating at 8pm
Other Things to Do on Christmas Eve
Attractions: Most attractions around the SF Bay Area are open on Christmas Eve. Many close a little early to celebrate the holidays. Here's a schedule for top attractions around SF, so you can see what closes early.
A Christmas Carol: Head over to the Geary Theater for a performance of A Christmas Carol in San Francisco. The performance starts at noon.
Red, White & Green Festive Cruise: Leaves from Fisherman's Wharf at 4:15pm on Christmas Eve.
Nutcracker Ballet: You can catch a performance of the Nutcracker Ballet in San Francisco.
Christmas Day Lunch & Dinner Recommendations
Several places around the SF Bay are open for Christmas Day. Here are just a few recommendations based on location.
San Francisco
Cliff House: All three restaurants are open on Christmas Day.
Sutro's: Open from 11am to 9:30pm, serving Christmas meal and reservations are required.
The Bistro: First come, first served, open for lunch from 9:30am to 1:30pm and a special Christmas meal from 2:30pm to 9:30pm. Arrive early to get your name on their waiting list.
Terrace Room Champagne Buffet: 4 two hour seatings available between 10:30am and 6:30pm.
The Cavalier (Financial District): Prix-fixe menu
Luce - InterContinental San Francisco: Serving both a Christmas brunch and dinner
Americano Restaurant (SOMA): Serving a special dinner from 2pm to 7pm
>> Find additional options in San Francisco for Christmas Day
East Bay
Lungomare (Oakland): A la carte menu available from noon until 8pm
THE LOT City Center (San Ramon): Open on Christmas Day and enjoy one of your favorite films
Akemi (Berkeley): Open Christmas Day with their standard Japanese menu
Bishop Grill - San Ramon Marriott: Special holiday meal from 1pm to 8pm
Peninsula & South Bay
Madera - Rosewood Sand Hill (Menlo Park): Prix-fixe menu
Reposado Restaurant (Palo Alto): Open for dinner from noon to 9pm
Scratch (Mountain View): Open for dinner from noon until 9pm
Fogo de Chao Brazilian Steakhouse (San Jose): Special holiday meal for Christmas Day
Morton's The Steakhouse (San Jose): Regular menu, open all day
Christmas Day Tours, Attractions & Other Things to Do
The SF Bay Area Christmas fun extends out to the holiday too. You will find plenty of fun things to do all day long. Here are just a few of my top picks.
California Academy of Sciences: This popular museum in Golden Gate Park is now open 365 days a year. You can stop by for a full day of fun. Catch a show at the planetarium, say hi to Claude (their rare white allegator), stroll around their four-story rainforest, and check out their huge aquarium. Find skip the line tickets for Christmas Day.
Muir Woods: This National Park is open all year long also. You can either drive up to Muir Woods on your own (make sure to reserve a place to park) or take a guided tour. Find details on taking a guided tour to the park on Christmas Day.
San Francisco Zoo: The SF Zoo is the only Bay Area zoo open on Christmas Day. Their regular hours for this day are 10am to 4pm. Pick up your tickets in advance from their site.
7D Experience: Head over to Pier 39 to spend some time fighting off the bad guys at the 7D Experience. This fun activity is part movie, part video game and a whole lot of fun! Pick up advanced tickets.
Golden State Warriors Basketball: The Golden State Warriors take on the Houston Rockets this Christmas Day in SF. Watch Draymond Green, Steph Curry, and the team take on James Harden and Russell Westbrook at the Chase Center at 2 pm.
>> Find a full list of fun things to do this Christmas in SF

Follow SFTourismTips on Facebook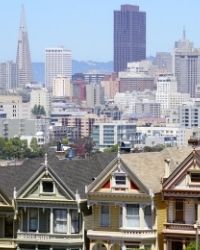 On my Facebook page, you will find more great information about planning your San Francisco vacation.
It includes tips, must see attractions, and other fun details.
Click the link below to check it out. If you enjoy the page, give us a like.