San Francisco Festivals in March 2020
St. Paddy's Day, Beer, & Other Fun Events this Month
NOTE: Click here to stay up-to-date with what's open and opening soon.
San Francisco festivals in March 2020 will help you celebrate the holidays, sample local beers, and check out new independent films. Highlights include the Saint Patrick's Day, Human Rights Film, and Ocean Film Festivals.
Read on for details about this year's events.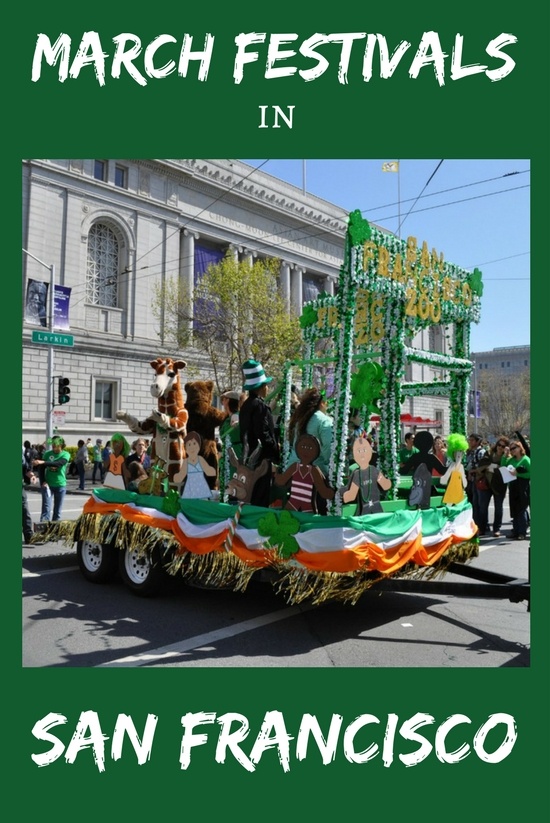 Saint Patrick's Day Parade & Festival
Dates: 3/14 (parade), 3/17 (actual holiday)
The largest of the San Francisco festivals in March is the Saint Patrick's Day Parade, when the Irish American community comes to life in the city. You'll see floats, bands, and even pets all decked out in green. And of course it wouldn't be a true St. Paddy's Day without the alcohol flowing. The festival after will have beer, food, live music, and fun.
Check out my details for this year's event, as well as recommendations for the best Irish pubs, restaurants, and parties in SF for the holiday.
Ocean Film Festival
Dates: 3/12 - 3/15
This is one of several film festivals in San Francisco in March, and it is all about the sea! This year marks the 17th Annual SF International Ocean Film Festival, featuring dozens of independent works from all over the world that encourage us to reflect on the social, environmental, and cultural significance of the ocean.
For these four days at the Cowell Theater in the Fort Mason Center, you can watch fascinating documentaries, narratives, shorts, and more.
Berlin & Beyond
Dates: 3/7 - 3/13
SF's Berlin & Beyond Film Festival features exciting and provocative work from Germany, Austria, and Switzerland. You are invited to watch the film screenings at the Castro Theater and the Goethe-Institut, and stay for engaging Q&A sessions afterward. Films include major box office hits, award winners, and small productions.
>> Visit their site for more information
Human Rights Film Festival
Dates: 3/26, 3/27, & 3/28
This year marks the 17th anniversary of the powerful Human Rights Film Festival, which showcases pieces about human rights issues from political repression and disappearances to environmental destruction and HIV. You can catch all the screenings of these thought-provoking films at the USF Presentation Theater.
The works come from all over the globe, and many from USF students and alumni themselves.
Ways to Save in March
If you plan to do more than just attend these San Francisco festivals in March, then make sure to check out these great deals around town. They're an excellent way to see and experience more while you are here.
48-Hour Hop On Hop Off Bus Tour: Save $5 per ticket when you book online through City Sightseeing. You can select their most popular 48-hour ticket or their 24- or 72-hour options. It's a great way to easily get from attraction to attraction around town.


60-Minute Bay Cruise: Enjoy a cruise around the SF Bay, runs several times a day and leaves from Fisherman's Wharf, up to 50% off on Goldstar


2-Hour Sunset Cruise: See San Francisco, the Golden Gate Bridge, and the rest of the Bay Area at night during this twilight cruise. Includes light appetizers and one drink per ticket (additional drinks available for purchase). Tickets up to 50% off. Leaves each evening from Fishmerman's Wharf.
Other Top Events this March
In addition to the San Francisco festivals in March 2019, you will also find several other fun events. Here are a few of the most popular.
Hamilton at the Orpheum Theater
Dates: 3/1 - 3/31
Hamilton is the top Broadway show in San Francisco this March. It's the true story of Alexander Hamilton featuring mostly non-white actors. It follows his rise to fame and the infamous day he was killed in a duel. It is one of the most popular shows in SF this season.
>> Find more details about this month's theater performances
Golden State Warriors Games
Dates: 3/1, 3/5, 3/7, 3/10, 3/12, 3/25, 3/28, 3/29, & 3/31
The Warriors play nine home games this month at the Chase Center in SF. Watch them take on teams such as the Boston Celtics, Indiana Pacers, and Charlotte Hornets. Every game is exciting with this NBA Championship team and its all-star players.
>> Check ticket availability for games this month
>> A full schedule of this month's games
Find a full calendar of events this March in SF
Best Tours in March
Many of the San Francisco festivals in March that I've listed above last for only a few hours. If you plan to be around town for at least a few days, here are some additional recommendations for your stay.
Alcatraz Tour + Hop On/Hop Off Bus
With this combo of the two best tours in San Francisco, you'll get to see all the top tourist attractions in the city at your own pace, and you'll get your round-trip ferry ride, admission ticket, and audio tour to the famous Alcatraz prison.
The Hop On/Hop Off Bus Tour allows you to get on the route at any time during the three-day duration of your ticket and ride to any of the 20+ stops you choose, take your time exploring those sites, and hop back on again from there. This is a great option for visitors looking to see it all in a short amount of time.
California Academy of Sciences: Skip the Line Tickets
Unsurprisingly, the coolest science museum in San Francisco--which contains a state-of-the-art planetarium, aquarium, and four-story rainforest--is also the most popular museum in San Francisco. That means having to wait in long lines...unless you have a handy skip-the-line pass that grants you immediate access to all the shows and exhibits!
This way, you'll get in faster and enjoy more time marveling at the exotic marine life, chameleons, penguins, albino alligator, skeleton of a T-Rex, and more.
More Popular Tours Around San Francisco
Find a calendar of additional events around the SF Bay Area this month.

Follow SFTourismTips on Facebook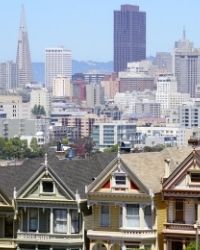 On my Facebook page, you will find more great information about planning your San Francisco vacation.
It includes tips, must see attractions, and other fun details.
Click the link below to check it out. If you enjoy the page, give us a like.

Additional Info for Your March Visit
More Fun Things to Do this Month