5 of the Best San Francisco Beer and Pub Tours


by Jill Loeffler  •

Updated: March 11, 2022
These San Francisco beer and pub tours offer you an inside look at the thriving nightlife scene in SF. Each one offers you a taste of locally crafted drinks and details on the history of the drink and/or location it was created.

In my list of my 5 favorite options, you will find a pub crawl in the North Beach district where you will learn all about the famous beat generation artists that frequented each establishment. You can also head to the Haight-Ashbury District to try locally brewed beers and learn more about the 'Summer of Love' and the dozens of famous people that called this district home over the years.
Read on for more details on each tour so you can find the tour or tours you want to take during your stay.
Disclaimer: I receive a small commission from some of the links on this page.

1. North Beach Pizza and Pub Crawl Experience

What could be better than a night on the town in North Beach? This fun experience combines award winning pizza with some fun beers in Little Italy.
The night includes stops at a few pizza joints in the district. You'll sample everything from thin-crust goodness to a unique clam pizza (that I personally LOVE!). 
You'll also combine your evening with a few brews. At one stop, you'll also do a pizza and beer pairing! 
The experience offers enough food and drink that you will not need to go out to dinner after (unless you want just one more slice!). 
>> Find out more about this fun pub tour
2. Anchor Steam Brewery Tour

The Anchor Steam Brewery is one of the most famous San Francisco treats and a must do if you want to experience one of the best of the San Francisco Beer and Pub Tours!
The brewery opened in 1896 and is one of the few in the country that produces the specialty named "steam beer." Steam beer originally was given its name because of how it was brewed back in the day. This beer was made without ice and only on the West Coast of the USA.
During this tour, you'll learn about the history of the different locations of the breweries, the current neighborhood, and the brewing experience, and much more.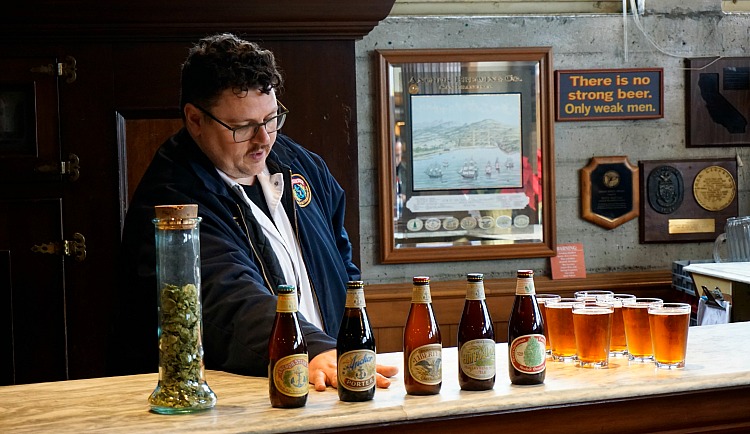 The 1.5-hour brewery tour is given each day and includes a walk around the brewery, information about how Anchor Steam's beer is produced, and also 40 to 45 minutes of tasting at the end of the tour in their gorgeous and classic tasting room. 
Even though Anchor Steam is famous for its steam beer, this tour also gives you a chance to enjoy some of its other beers including some that you've probably never tasted, and ones that aren't available anywhere else but at the brewery.
Some of these include fruit infused beers, the always popular IPAs, and seasonal beers that are unique and worth experiencing while on this tour. 
>> Find out more about my experience on the tour at Anchor Steam
>> More great local breweries to check out
3. Craft Beer Walking Tour in Fisherman's Wharf & North Beach 

This is another one of the fun beer and pub tours in San Francisco. This four-hour tour includes stops at two of the most popular neighborhoods in San Francisco: Fisherman's Wharf and North Beach! 
This small group tour includes stops and beer at three of the best places in town. 
As you enjoy your beer, you'll learn more about SF's beer scene and the overall history of beer. You'll also learn more about certain styles of beer and brewing techniques. 
A few snacks are also included.
>> Find out more about this fun beer and pub tour
4. Craft Beer Walking Tour in San Francisco's SoMa District

The next tour on our list of the best San Francisco Beer and Pub Tours is this walking tour in the cool South of Market District (often referred to as SOMA).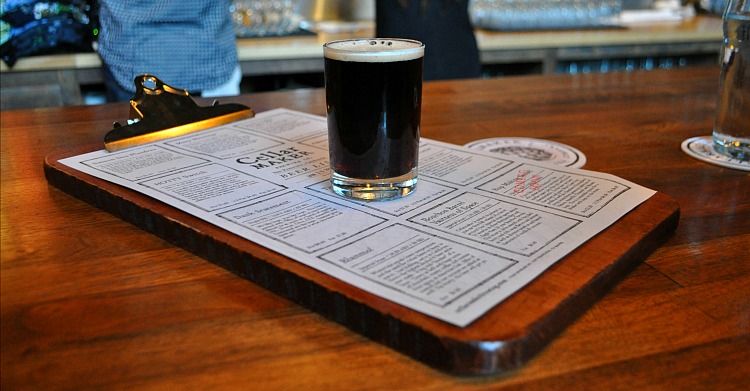 This 3.5-hour tour takes you to three microbreweries and/or craft beer bars. At each stop, you will learn all about their beer making process as well as a few secrets about the establishment. Light bites are included to make sure that you can enjoy your tour and feel safe during it.
>> Pick up tickets and learn more about this cool tour
5. Hands-On Bitters Making Class and Craft Cocktails Tour

This is one of the San Francisco Beer and Pub Tours where you will be able to both taste great drinks and also learn the art of making them at the same time. 
During this 3-hour guided tour, you will visit three bars, hit a few other locations depending on the weather and the tour guide, and meet bartenders and drink specialists along the way.
The tour starts with a short bitters making class. You will then sample your creations and continue on your craft cocktail tasting adventure. 

This is a small group tour so that the guide can offer a more personalized experience for everyone. This tour usually runs throughout the winter months on Thursday night.
Comments? Questions? Suggestions?
I would love for you join me in my private Facebook group! 
It's a great place to interact with me and others that know the area well.
You can ask questions, get advice for your upcoming stay, and then share your photos and advice with others when you return home. It's a great community and the fastest way to get answers to those nagging questions about your visit!