Airport Shuttle in San Francisco: Tips for Shuttles to and from SFO

by Jill Loeffler  •

Updated: November 10, 2023
An airport shuttle in San Francisco is an easy way to get to and from the San Francisco International Airport (SFO). This is my favorite option because it's cost effective and easy.

The most common type of SFO airport transfers is a shared ride service, in which you share a van with around six to eight other people, and they pick you up and drop you off at the front door of your hotel.
If you are traveling with a group of six to eight other people, you can alternatively rent an entire shuttle. This saves you some money compared to booking individual seats.
Discover the best options for getting from SFO to San Francisco, Oakland, Napa, Monterey and other places around the Bay Area by shuttle.

Disclaimer: I receive a small commission from some of the links on this page.

SFO Airport Shuttles to San Francisco

Most of these are not currently running as shared, affordable shuttles right now. They are operating more as private shuttles and have increased their prices dramatically. I'll update this entire section once they start operating as they used to before the shutdowns. 
Airport shuttles from SFO to San Francisco have pros and cons. Here are a few things to think about before booking.

| | |
| --- | --- |
| Pros | Cons |
| Flat Rate: The ride is a flat rate from the airport to your destination. Even if you hit traffic or it takes a little longer to get to your hotel, you know the rate before you hop in the shuttle. | Large Luggage: They do have limited space, so if you have a lot of luggage—usually more than two bags per person—you might have to pay an additional fee. |
| Cost effective: The cost is around $19 per person, making it a cost-effective option for most group sizes. | Longer Arrival Time: This is a shared service so there are additional stops along the way. This means it will take you a little longer to get to and from your destination. |
| Door-to-Door Service: All of the shared-ride shuttles drop you off at the front door of your hotel or vacation residence. | Early Pick Up: When leaving from the city, they pick you up a little earlier than if you were to take a cab. This is to ensure that everyone makes their flight. Plan on them arriving about 3 to 4 hours before your flight. |
| Reservations: Making a reservation simplifies your arrival process. | Wait Times: Even with a reservation, you will have to wait for your shuttle to arrive. This is usually only about 15 to 20 minutes after you check in. |
I have always had good luck with shared-ride shuttles. In fact, I use them quite a bit when I am traveling in order to save a little money. 
However, I know others have had complaints about this service. To give you a complete picture of this option, I investigated some of these complaints. 
Here are two issues I ran across a few times: 

Pick Up Early Morning: I found several complaints, regarding almost all of the companies, that the vans showed up late or not at all in the early morning hours. Most of these were for pick up times from around 3 to 6 am. 
Arrival Late at Night: I found complaints for many people who arrived at SFO after midnight. At this time of day, many people had to wait. This is common since there are fewer flights and fewer shuttles available. Some said they had to wait for more than 30 minutes for their ride to arrive.
If your planned arrival or departure is at either of these odd hours, you will want to weigh your options. If you decide to book a shuttle during these times, make sure you have the number to your shuttle company and call them to make sure your pick-up time is still scheduled.
Also, call them immediately if they are more than a few minutes late for your pick-up time. Dispatch will be able to find the airport shuttle in San Francisco and let you know when they will be arriving.

If you are staying at a hotel, they can also help you contact your shuttle company. If yours does not arrive, your hotel can call you a cab, so you don't miss your flight!
SFO Shuttles for San Francisco: Recommended Companies

There are a number of companies that run between SFO and the city. Here are the top four based on pricing and availability. 

Company
Pricing
Other Information & Notes
Airport Express
$19 per adult, one way

$14 per child, one-way



Discounts if you book a round trip ticket

$34 per adult, round trip

$26 per child, round trip

415.774.5121


American Airporter
$19 per person, one way

Reservations required

415.202.0733

Lorrie's
$19 per person, one way

Discounts available when booking a round trip ticket

Super Shuttle

$19 per person for hotels

This is usually the service I use. They are the largest and best known in the industry. I also like them because they made an extra effort for me one time. I had a cancelled flight but was able to get on an earlier flight that day. Even though they require 24 hours' notice for changes or reservations, they went the extra mile and found a spot for me so I could get to my flight almost two hours earlier than my original schedule. I know they can't always do this, but I really appreciated their extra effort.
If you know you need a ride both to and from SFO, I recommend booking a round trip ticket in advance. This will save you a little money and you will not have to worry about booking it during your trip.
>> More ways to get from SFO to Union Square
>> More options to get from SFO to Fisherman's Wharf
Top Hotels

Are you still searching for a hotel for your stay? Here are some of my favorites by budget, amenities and neighborhood.

Where to Find the Shuttles at SFO

There are four terminals at SFO and all have a designated airport shuttle stop in San Francisco. After you have your bags, look for the signs above the exit doors that say "door-to-door shuttles." 
One thing to note is that they are all located in "Hotel Courtesy Shuttle" area in the center island of the departure level. It is not at the arrival area.
That means that if you checked your bag, you will most likely need to head upstairs to the ticketing area to find the door-to-door shuttle area.
Here is a map from the official San Francisco airport site. It shows you where all of the stops are located. Some of the terminals have more than one pick up area, so proceed to the closest one for more information on where your shuttle picks up passengers.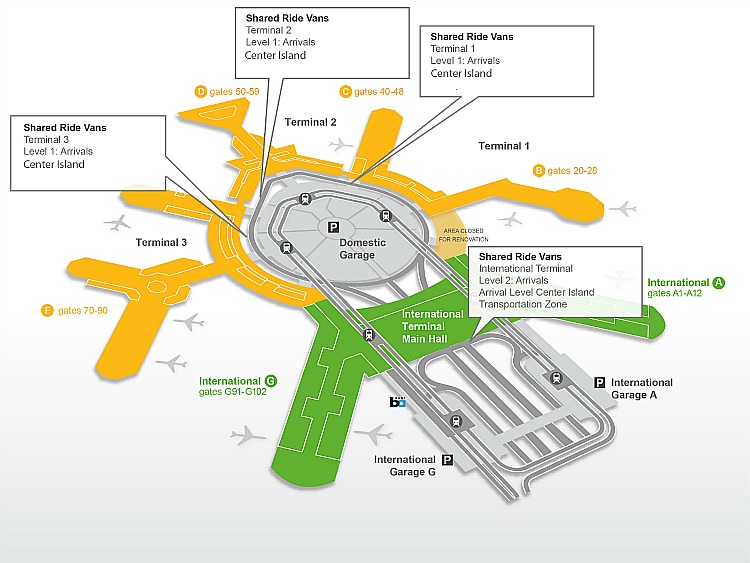 When you reach the airport shuttle in San Francisco stop area, you will see signs for all of the different companies. Each one has a designated area for their shuttles to stop. Find the sign for yours and wait there. 
If you need to call for your shuttle, now is the time to call them for a pick-up if you have not already called. It might take them around 20 minutes or so to arrive, so I recommend calling them as soon as you have your luggage and are heading to your stop.
If you don't have their number, there are phones to contact each hotel right here.
Free Hotel Airport Service to SFO

The only hotels in the area that offer free shuttles are those near the airport. There are no hotels located right in San Francisco that offer a free pick-up. This is why so many people pay to use the commercial shuttles. 
If you are staying at one of the hotels near the airport, then there is a good chance that your hotel offers a ride to and from SFO. When you are booking your hotel room, make sure you ask them for details. These are usually free and run whenever they are needed.
Other SFO Transit Options

BART Train: This is the other option that I use quite a bit. It is perfect—and cheap—if you pack light. You will breeze past any traffic with a travel time of less than 30 minutes between Union Square and SFO.
Rental Car: A rental car is a more expensive option, since parking in the city is so expensive. If you are looking at this option, click through for some additional tips when booking a rental car here.
Taxi: The final option is a taxi. Discover tips for getting a taxi at SFO including info on pricing and how long it will take.

SFO Shuttles for Napa, Sonoma, Marin & East + South Bay 

An airport shuttle or airporter service is a great option for those heading to destinations outside of SF. In this section, learn more about the shuttle options from SFO to the East Bay and South Bay cities such as Mountain View, Palo Alto, Walnut Creek, and Oakland. 
You can also learn more about the San Francisco airporter and door-to-door service options to Marin, Sonoma, and Napa counties. This is a great alternative to renting a car or using public transportation to try to get to areas beyond San Francisco.
There are two different types of San Francisco transportation services to areas further away from the city.
The first option is an airporter or bus service. This is not the typical public transit bus with hundreds of stops; they are special airport-only services that usually have only four or five designated stops along the way. 

Airporters are usually comfortable buses with plenty of seating. They have extra space available for luggage, too. The larger airporters also run regular schedules. Some require prior reservations, and some do not. 
The second option is a door-to-door SFO airport shuttle. These are smaller vans that seat around six to eight people. They are usually a shared service where you make two or three other stops along the way. These are a little more expensive but drop you off at your front door.

SFO Airporter Beyond SF: Pros, Cons + Services Available

As I mentioned above, there are two types of services from SFO to areas beyond San Francisco. The first is the airporter. Here are some pros and cons of using an airporter service. 

| | |
| --- | --- |
| Pros | Cons |
| Regular Schedules: Airporters run on a regular schedule and make several trips a day. Most do not require that you call in advance but check with your individual carrier to confirm. | Scheduled Stops: Airporters do not offer door to door service. They have around four to five designated stops. You will then need to arrange for additional transportation to get you to your final destination. |
| No Reservations Required: Most do not require reservations, so you can pick up the airporter once you arrive. If you are running late, you do not need to call and inform them of your change of plans. You can just hop on the next airporter when it arrives. | Limited Transport: You might need to book additional transportation to get around during your stay. As I mentioned above, you need to get to your final destination, but you will also need to determine how you will get around for the rest of your visit. |
| Ease of Use: It is an easy way to get closer to your destination. You do not have to worry about driving in traffic or trying to find your way around. You can just sit back and let the driver worry about getting you to your stop. | Longer to Arrive at Destination: Since there are other stops along the way, sometimes it will take longer for you to arrive at your destination. |
Here is a list of the San Francisco airporters including the destinations they serve.
Company
Pricing
Other Information & Notes
Marin Airporter
$27 per adult, one way

Runs every hour with 7 drop off locations in Marin County, including one in Sausalito, two in Mill Valley, one in Larkspur, one in San Rafael, one at Smith Ranch Road in Terra Linda, and one at their main terminal in Novato (not all buses drop off at the Novato stop, so call ahead for more details)

Contact them at 415.461.4222

Monterey Airbus (now Groome)
Range from $25 (to SJ Airport) to $64 (to Monterey) per person, one way, depending on your stop

This is a smaller shuttle service that runs from SFO to Monterey every 1 hour 15 minutes. While they do offer a set schedule, advance reservations are encouraged. They make four stops before arriving at the Monterey Shuttle Station: San Jose, Morgan Hill, Prunedale, and Marina.

Book online and save on your fare: https://www.montereyairbus.com/rates

Groome to Sonoma County
$48 per person

This is a bus service and has four stops in Sonoma County. The stops are in Santa Rosa, Rohnert Park, Petaluma and San Rafael.

Runs every hour on the half hour from SFO with a few exceptions. Review their schedule and pricing details on their site at: Visit their site for details
Door-to-Door SFO Airport Shuttles: Beyond SF

There are also a few door-to-door SFO airport shuttle options that will take you to places beyond San Francisco. As I mentioned above, they are smaller vans that drop you off at your front door. Here are some pros and cons for this option. 

| | |
| --- | --- |
| Pros | Cons |
| Flat Fee: The cost is fixed, so you know how much it will cost you. You can also pay in advance, so you do not have to worry about having cash on you to pay for the service. | More Expensive: These are quite a bit more expensive than taking an airporter. The cost is sometimes three to four times more depending on your final destination. |
| Front Door Delivery: These services drop you off at your front door. You do not have to worry about getting from a central location to your hotel or wherever you are staying. | Reservations Required: You will need to reserve your door-to-door SFO airport shuttle in advance. This is not a big deal but means you will need to keep them informed if your flight is running late. |
| Ease of Use: They are really easy to use, and it takes the hassle out of driving yourself. | Wait Times at the Airport: You will need to call your shuttle to inform them of your arrival. You will usually have to wait 20 to 25 minutes for your shuttle to arrive. |
An airport shuttle in San Francisco with door-to-door service from SFO is usually a little more flexible than an airporter. This is a good option if your destination is hard to get to from one of the central airporter stops listed above.
Here is a list of the companies and some of the areas they serve.
Company
Pricing
Other Information & Notes
Napa Airporter
Varies based on pick-up and drop-off location

This company offers smaller shuttle vans for door-to-door service in Napa and Sonoma Counties.

Reservations are required. See their pricing schedule on their website at: http://www.napaairporter.com/rates.htm

North Bay Shuttle
Starting at $90 for 1 or 2 passengers

Services Sonoma and Marin Counties with private, direct transportation. $20 per additional stop, and late night/early morning pick-ups may be subject to a surcharge.

Reserve online https://northbayshuttle.net/ or call them at 415.755.7244.
Here is more information on transportation for you if you are arriving or departing from one of the other two airports in the Bay Area:
Comments? Questions? Suggestions?
I would love for you to join me in my private Facebook group! 
It's a great place to interact with me and others who know the area well.
You can ask questions, get advice for your upcoming stay, and then share your photos and advice with others when you return home. It's a great community and the fastest way to get answers to those nagging questions about your visit!