Five Star Hotels San Francisco
The Top Luxury Options in SF
San Francisco has five hotels with a five star rating. Each of the five star hotels San Francisco on this list offer a high end experience.
All have wonderful on-site bars and restaurants. They also have spacious rooms and modern amenities.
However, I wanted to take it one level deeper to help you find the one that is right for you. Here you will find my experience with each one, some recent guest reviews for them and a few other things you need to think about before you book.
1. Fairmont Heritage Place

Address: 900 North Point Street, Suite D100
Nightly Rate: Rooms start at $549
The Fairmont Heritage Place is the first of the five star hotels San Francisco on my list. Even though it's considered a hotel, they don't offer the standard rooms. Instead, the Fairmont Heritage Place offers fifty-three one, two and three bedroom luxury apartments.
The location for this one is fantastic. It is in the old Ghirardelli Chocolate Factory - that is now full of shops and restaurants and called Ghirardelli Square. This is on the western side of Fishermans Wharf.
Each apartment has its own kitchen. Most rooms also offer sweeping views of the San Francisco bay. You'll find modern amenities mixed with charming decor such as the exposed brick on many of the walls.
Find additional ratings, reviews, and room availability on Booking.com.
2. St. Regis
Address: 125 3rd Street
Nightly Rate: Starts at $446
The second hotel on my list of five star hotels San Francisco is the St. Regis Hotel. This hotel is in the South of Market area of San Francisco and less than a block from the Museum of Modern Art.
It's a great location that is close to several restaurants, shops and galleries. It's only about a three and a half block walk over to Union Square.
The St. Regis is part of the Starwood group of hotels. It has 260 guest rooms as well as 46 suites.
One of my favorite features of this one is the 50 foot infinity edge swimming pool. This indoor pool offers a relaxing atmosphere with natural lighting and comfortable chairs for lounging. Even if you don't want to go for a swim, it's a quiet and relaxing place to gather your thoughts.
The overall rating for this lodging option is high. Find additional reviews and room availability for your upcoming visit on Booking.com.
3. Loews Regency
Address: 222 Sansome Street
Nightly Rate: Starts at $445
The Loews Regency is another one of the highly rated five star hotels San Francisco. However, it's third on my list due to its location in the Financial District or downtown.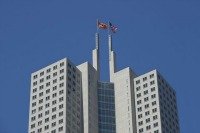 It's the perfect choice for business travelers. I'd recommend one of the other five star hotels San Francisco if you are traveling here for pleasure - only because of its location. This area of town is pretty quiet at night and even more so on the weekends. The other five star hotels San Francisco offer a better location if you are traveling for fun.
This hotel does have some amazing views though. The rooms at this hotel start on the 38th Floor of the building.
One of the most popular room types is the Bridge to Bridge room. These rooms offer sweeping views of the San Francisco Bay from the Golden Gate Bridge over to the Bay Bridge. It's a pricier room, but worth the extra money if you love a room with a view!
Find more reviews on Booking.com to see if the Loews Regency is the right hotel for your visit.
4. Four Seasons
Address: 757 Market Street
Nightly Rate: Starts at $475
The Four Seasons near San Francisco's Union Square is another one of the five star hotels San Francisco that does not disappoint. Its location is in the heart of the action in San Francisco. Within minutes, you can walk to several wonderful shops, restaurants and museums.
In addition to the large guests room - many with downtown San Francisco views - I also love their on site bar/restaurant and their gym. Seasons, the on site bar/restaurant is a quiet retreat away from the chaos of the city. We go here quite a bit because we love the comfortable setting, the relaxed atmosphere and the fantastic drink selection.
Four Season's guests can also use the Sports Club LA gym. I was a member here for several years and the facility is amazing. There is an Olympic sized lap pool and two floors of cardio and weigh lifting equipment. The gym also has a spa and salon - that is one of my favorites in the city.
Find out more about the Four Seasons San Francisco including guest reviews and the best rates on Booking.com.
5. Ritz Carlton
Address: 600 Stockton Street
Nightly Rate: Starts at $400
The Ritz Carlton is the last of the five star hotels San Francisco on my list. It's the least expensive on the list.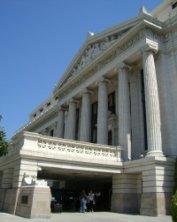 I love this hotel for a number of reasons. It's in an amazing area in the Nob Hill neighborhood. It sits on a classic, steep San Francisco hill - that gives you a great feel for the city.
When you pull up to this hotel, you feel like you are pulling up to a mansion. The exterior is high end all the way. The lobby and bar area are also modern and up to date.
The reason it's number five on the list is the rooms. Although they are large, clean and gorgeous - they do need to be updated a little. They are just not as modern as the other five star hotels San Francisco on this list.
Many guests still rate it highly. Find more reviews and the most competitive nightly rates on Booking.com.
*All room rates are subject to change at anytime.