SF Bay Area Events in November 2017
Tree Lighting Events, Sports, Concerts, Theater & More
Top SF Bay Area events in November 2017 including sports events, holiday tree lighting ceremonies, and visits from Santa. You can also catch a performance at the theater, see a concert at one of our top venues, and attend a festival.
Discover a calendar for San Francisco, San Jose, Oakland, Berkeley, and more.
For some of the links on this page, I receive a small commission when you purchase. You don't pay more when you buy through me and it gives me the chance to offer you all this great content for free!
Bay Area Theater
One of the top SF Bay Area events in November is Disney's Aladdin at the Orpheum Theater in San Francisco. This magical performance is the perfect option for the entire family. It runs from November 1 - January 7.
>> Find a full calendar of SF shows
Another one of the top Broadway shows this month in the SF Bay Area is Beautiful at the Center for the Performing Arts in San Jose. It's the story of musician Carole King and her struggles as she rose to stardom. She's well known for songs such as, "It's Too Late", "So Far Away", and many others. She is also a prolific song writer and many musicians, such as the Beatles, Aretha Franklin, and The Monkees have record songs she wrote during here career.
>> Find tickets at up to 50% off on Goldstar for some performances
>> More shows in San Jose this month
Additional shows this month include 42nd Street at the Alcazar Theater in SF, Annie at the Berkeley Playhouse, and Quartet at the Cinnabar Theater in Petaluma.
>> Additional shows around the Bay Area
Big Sur Food & Wine Festival
The Big Sur Food & Wine Festival is known is without question one of the premier festivals in Northern California. If you are looking for great views, food, wine, and music, this is definitely the place for you. Not only are there 4 days of wine and food, but there are also special tours, trips and the always amazing, "Wine and Swine at the Henry Miller Library" where you will have a special celebrity chef dinner, with over 20 different wine makers and bands all night long.
Dates: 11/2 - 11/5
>> Visit their site for more details
>> More events in the Monterey Bay Area this month
Venetia Valley School Fall Carnival and Supply Drive
Kick off the holiday season with one of the best family-friendly SF Bay Area events in November in San Rafael just north of San Francisco. This annual event is a fund-raiser for the Venetia Valley School. During this festival, you can sample food, enjoy kids activities, and a cake walk. The event runs from 11am to 3pm at 177 N. San Pedro Road in San Rafael.
Date: 11/4
>> More details on their site about this event
Bay Area Concerts
The SF Bay Area concert calendar is chock full of top performances this month. Catch Katy Perry at the SAP Center in San Jose, Guns N' Roses at Oracle Arena in Oakland, and LDC Sound System at the Bill Graham Civic Auditorium in San Francisco.
In addition to well know performers, you will also find dozens of local and up-and-coming bands on stage all around the SF Bay.
>> Top shows this month in the SF Bay Area
Tree Lighting Ceremonies & Holiday Events
November is the time of year when many local businesses and towns light up their streets and buildings for the holidays. Top picks this month include the Tree Lighting Ceremony at Union Square, the Gingerbread House at the Fairmont in Nob Hill, and the tree lighting in Monterey at Cannery Row.
>> Full list of ceremonies and upcoming holiday event
San Jose Fall Home Show
If you are looking to do any type of renovation, update or landscaping, then the San Jose Fall Home Show is for you. This event features live exhibitions, interactive displays and expert advice from some of the best in the business. This two day event is free to all.
Dates: 11/4 & 11/5
>> Visit their site for details
Golden State Warriors Basketball
Another one of the top SF Bay Area events in November is basketball with the Golden State Warriors. Watch them take on top teams this month at Oracle Arena in Oakland. They will play host to teams such as Miami Heat, the Minnesota Timberwolves and the Chicago Bulls.
Dates: 11/6, 11/8, 11/11, 11/13, 11/24, 11/25, & 11/27
>> More details on attending a Golden State game in Oakland
Top Tickets at Up to 50% Off Around the SF Bay
Great Dicken's Christmas Fair: Stroll the streets of Dicken's London this November at the Cow Palace in Daly City, shop for holiday gifts, be entertained, and sample local goodies, starts November 18 and runs on weekends through December, check for ticket availability
Children's Fairyland: Pick up discounted tickets to Children's Fairyland in Oakland, this story-book theme park offers puppet shows, plays, and hands-on activities for the kids, check tickets for November
SF Bay Area Birth & Baby Fair: The perfect starting place for new parents and parents to be is the annual SF Bay Area Birth & Baby Fair, held at the Presidio Golden Gate Club in SF, full of fun products and ideas as well as workshops and beauty services, Sunday, 11/12 from 10am to 4pm, check for tickets
Napa Valley Film Festival
A favorite of all the SF Bay Area events in November includes the incredible Napa Valley premiere film festival. This event hosts more than 300 directors, 100 films and more events than you could ever imagine for 5 full days.
With movies ranging from massive box office releases to the some of the smallest artistic films, you will have your pick of what to watch. There are also food and wine demos from some of the top chefs and, of course, wine tasting and dinners.
Dates: 11/8 - 11/12
>> Full calendar of Napa events this month
Dashe Cellars Annual Paella Fiesta
Are you ready to get your fill of amazing paella, delicious wines and dance to some fantastic music or see flamenco performances all in one night? If so, Dashe Cellars has you covered starting at 5 pm to 8 pm on Saturday and 1 pm to 4 pm on Sunday.
No matter which day that you attend, you will enjoy seeing Master Chef Gerard Nebesky's massive paella pans, taste new releases and also get a 25% discount on any wine purchases during this event.
Dates: 11/11 & 11/12
>> Visit their website for tickets
Shopkins Live! in Oakland
Spend an evening at the Paramount Theater in Oakland for Shopkins Live! Some of your favorite Shoppies will perform on stage including Jessicake, Rainbow Kate, Polli Polish, and more. They will sing, dance, and show off some of the top fashions of the season. Show starts at 1pm on Sunday afternoon.
Date: 11/12
Tickets: Find deals for tickets on Goldstar
49ers & Raiders Football
Both the San Francisco 49ers and the Oakland Raiders play home games this month in the SF Bay Area. The 49ers have three home games in Levi's Stadium against the Arizona Cardinals, New York Giants, and Seattle Seahawks.
>> More details on 49ers games
The Oakland Raiders have just one home game this month. They will take on the Denver Broncos, their historic rival, on November 26.
>> Details to attend an Oakland Raiders game
Hands-on History Days: Happy Birthday San Jose
Time travel back to the days when San Jose was just starting up with a visit to the Peralta Adobe at the Peralta Adobe-Fallon House Historic Site. This one day event, starting at 11 am and ending at 4 pm, includes live music, live performances, and tours of the Peralta House. You can also try your hand at bull roping, building your own corn husk doll, or making a leather bracelet.
Date: 11/18
Thanksgiving
Are you planning to visit the SF Bay Area for Thanksgiving? This year, you will find plenty of fun things to do from free attractions to cruises around the bay. There are also several great places to enjoy Thanksgiving dinner (traditional or non-traditional) with your family and friends. In addition, you can also head out to one of our great outdoor ice skating rinks or participate in a Turkey Trot.
Dates: 11/23 - 11/26
>> Check out my insider's guide to Thanksgiving in SF
>> Full calendar of SF Bay Area events this holiday weekend
San Jose Sharks Hockey
The San Jose Sharks hockey games are another one of the more popular SF Bay Area events in November. This month they take the ice at home for eight home games. They play host to teams such as the Nashville Predators, the Boston Bruins, and the Winnipeg Jets.
>> Full schedule and more details to attend a game in San Jose
San Jose Harvest Festival
With the holidays coming up, it's time to get shopping! And the the perfect place for that is at the San Jose Harvest Festival. This huge arts and crafts event features more than 24,000 items including handmade jewelry, art, specialty foods, home decor and more.
This is one of the SF Bay Area events in November that also features kids activities and entertainment for adults alike. All events are at the San Jose McEnery Convention Center starting at 10am all three days.
Date: 11/24 - 11/26
Tickets: Find deals at up to 50% off on Goldstar for this year's festival
Black Friday
Does the term Black Friday start you to shake in anticipation when you hear it? Or maybe shiver in fear depending on what you have to buy and where you have to go to do it? You will find tons of options all around the SF Bay from high-end shops to discount stores. Some open the night of Thanksgiving and others are open early in the morning on Friday. Just remember there will be crowds, so making a list, and checking this link, will help you find the best deals and choose where you want to shop during the day.
Date: 11/24
>> Find some of the best places for Black Friday in SF
Sonoma Valley's Holiday Open House
After you've done your Black Friday shopping, and dealt with the crowds, reward yourself at Sonoma Valley's Holiday Open House event. Including 19 wineries, all pouring their best for you, you will meet wine makers, enjoy special wine tastings, hang out in the winery cellars and caves, and get to relax, kick back, and enjoy the beauty of Northern California's gorgeous Sonoma Valley. This open house starts at 11 am, and ends at 4 pm, both Saturday and Sunday.
Dates: 11/25 & 11/26
Berkeley Artisans Holiday Open Studios
This free event features over 100 artisans, showing and selling their wares that range from ceramics, to leather goods, to photography, to paintings and pretty much anything else you can imagine! The studios open at 11 am and close at 6 pm each day every weekend starting on November 25th and concluding on December 24th. Therefore, you will have many chances to see everything and get all your holiday shopping done in one place!
Date: 11/26
Santa in the SF Bay Area
Being that it is almost time for Christmas, one of my favorite SF Bay Area events in November always includes Santa coming to town! Santa has plans to make an appearance all over the SF Bay Area this year. His stops start in early November and usually run through Christmas Eve. You can get your picture taken, tell him all about how good you've been this year, and everything you want for Christmas.
Dates: Several throughout the month
>> Find my list of the best places to see Santa this year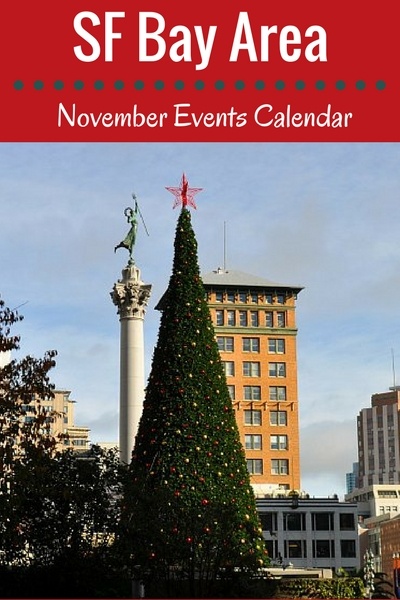 More SF Bay Area Events in November