SF Bay Area Events in November 2019
Tree Lighting Events, Sports, Concerts, Theater & More
NOTE: On December 6, San Francisco (and a few surrounding counties) will once again be on a stay-at-home order. This will last indefinitely. Click here for more information.
Top SF Bay Area events in November 2019 including sports events, holiday tree lighting ceremonies, and visits from Santa. You can also catch a performance at the theater, see a concert at one of our top venues, and attend a festival.
Discover a calendar for San Francisco, San Jose, Oakland, Berkeley, and more.
Disclaimer: I receive a small commission from some of the links on this page.
Bay Area Theater
Dates: All Month Long
One of the top SF Bay Area events in November is Hamilton at the Orpheum Theater in San Francisco. This Broadway musical is the story about one of our founding fathers, Alexander Hamilton. It runs all month long.
>> Find a full calendar of SF shows
Additional shows this month include Harry Potter and the Cursed Child at the Curran Theater in SF, A Christmas Story at the Berkeley Playhouse, and Oliver! at the 6th Street Playhouse in Santa Rosa.
>> Additional shows around the Bay Area
Big Sur Food & Wine Festival
Dates: 11/7 - 11/9
The Big Sur Food & Wine Festival is known is without question one of the premier festivals in Northern California. If you are looking for great views, food, wine, and music, this is definitely the place for you.
Not only are there 4 days of wine and food, but there are also special tours, trips and the always amazing, "Wine and Swine at the Henry Miller Library" where you will have a special celebrity chef dinner, with over 20 different wine makers and bands all night long.
>> Visit their site for more details
>> More events in the Monterey Bay Area this month
Napa Valley Film Festival
Dates: 11/13 - 11/17
A favorite of all the SF Bay Area events in November includes the incredible Napa Valley premiere film festival. This event hosts more than 300 directors, 100 films and more events than you could ever imagine for 5 full days.
With movies ranging from massive box office releases to the some of the smallest artistic films, you will have your pick of what to watch. There are also food and wine demos from some of the top chefs and, of course, wine tasting and dinners.
>> Full calendar of Napa events this month
Golden State Warriors Basketball
Dates: 11/1, 11/2, 11/4, 11/11, 11/15, 11/25, & 11/27
Another one of the top SF Bay Area events in November is basketball with the Golden State Warriors. Watch them take on top teams this month at the Chase Center in San Francisco. They will play host to teams such as Milwaukee Bucks, the Oklahoma City Thunder and the Memphis Grizzlies.
>> More details on attending a Golden State game in SF
Bay Area Concerts
The SF Bay Area concert calendar is chock full of top performances this month. Catch Cher at the Chase Center in SF, Slayer at Oracle Arena in Oakland, and Luke Combs at the SAP Center in San Jose.
In addition to well know performers, you will also find dozens of local and up-and-coming bands on stage all around the SF Bay.
>> Top shows this month in the SF Bay Area
Amaluna: Cirque du Soleil
Dates: 11/14 - 1/12
Location: Under the Big Top near Oracle Park in SF
Spend some time being awed by this year's Cirque du Soleil performance, Amaluna. The story takes place on an island that is all female. The queen performes a coming of age ceremony for her daughter that talks about feminity and the power of females.
The ceremony creates a storm and several young men wash up onto the island. The queen's daughter falls in love with one of the young men.
The show follows the story of their love and the challenges they face along the way. Don't miss this special performance!
>> Visit the Cirque du Soleil page for more details and ticketing information
Tree Lighting Ceremonies & Holiday Events
November is the time of year when many local businesses and towns light up their streets and buildings for the holidays.
Top picks this month include the Tree Lighting Ceremony at Union Square, the Gingerbread House at the Fairmont in Nob Hill, and the tree lighting in Monterey at Cannery Row.
>> Full list of ceremonies and upcoming holiday event
49ers & Raiders Football
Both the San Francisco 49ers and the Oakland Raiders play home games this month in the SF Bay Area. The 49ers have three home games in Levi's Stadium against the Seattle Seahawks, Arizona Cardinals, and the Green Bay Packers.
>> More details on 49ers games
The Oakland Raiders have three home games this month. They will take on the Detroit Lions, Los Angeles Chargers, and the Cincinnati Bengals.
>> Details to attend an Oakland Raiders game
Hands-on History Days: Happy Birthday San Jose
Date: 11/9
Time travel back to the days when San Jose was just starting up with a visit to the Peralta Adobe at the Peralta Adobe-Fallon House Historic Site. This one day event, starting at 11 am and ending at 4 pm, includes live music, live performances, and tours of the Peralta House. You can also try your hand at bull roping, building your own corn husk doll, or making a leather bracelet.
Thanksgiving
Dates: 11/28 - 12/1
Are you planning to visit the SF Bay Area for Thanksgiving? This year, you will find plenty of fun things to do from free attractions to cruises around the bay. There are also several great places to enjoy Thanksgiving dinner (traditional or non-traditional) with your family and friends. In addition, you can also head out to one of our great outdoor ice skating rinks or participate in a Turkey Trot.
>> Check out my insider's guide to Thanksgiving in SF
>> Full calendar of SF Bay Area events this holiday weekend
San Jose Sharks Hockey
Dates: 11/1, 11/2, 11/5, 11/7, 11/9, 11/12, 11/16, 11/19, 11/23, & 11/27
The San Jose Sharks hockey games are another one of the more popular SF Bay Area events in November. This month they take the ice at home for nine home games. They play host to teams such as the Calgary Flames, St. Louis Blues, and Vancouver Canucks.
>> Full schedule and more details to attend a game in San Jose
San Jose Harvest Festival
Date: 11/29 - 12/1
With the holidays coming up, it's time to get shopping! And the the perfect place for that is at the San Jose Harvest Festival. This huge arts and crafts event features more than 24,000 items including handmade jewelry, art, specialty foods, home decor and more.
This is one of the SF Bay Area events in November that also features kids activities and entertainment for adults alike. All events are at the San Jose McEnery Convention Center starting at 10am all three days.
Jack London Square Tree Lighting Ceremony
Date: 11/22
Hours: 5 pm - 7 pm
If you are looking for a tree lighting in the city of Oakland, Jack London Square is the place to be! Their 55 foot Mount Shasta Fir tree will be adorned with over 5,000 beautiful sparkling lights to be seen by all.
This event is free for all to attend and is located on the Oakland waterfront so you can enjoy views of the bay as well as live music and so much more. There are many restaurants and local stores to explore before or after the tree is lit if you want to spend some time enjoying this wonderful location.
Black Friday
Date: 11/29
Does the term Black Friday start you to shake in anticipation when you hear it? Or maybe shiver in fear depending on what you have to buy and where you have to go to do it? You will find tons of options all around the SF Bay from high-end shops to discount stores. Some open the night of Thanksgiving and others are open early in the morning on Friday. Just remember there will be crowds, so making a list, and checking this link, will help you find the best deals and choose where you want to shop during the day.
>> Find some of the best places for Black Friday in SF
Berkeley Artisans Holiday Open Studios
Date: 11/30 - 12/22
This free event features over 100 artisans, showing and selling their wares that range from ceramics, to leather goods, to photography, to paintings and pretty much anything else you can imagine! The studios open at 11 am and close at 6 pm each day every weekend starting on November 30th and concluding on December 22th. Therefore, you will have many chances to see everything and get all your holiday shopping done in one place!
Santa in the SF Bay Area
Dates: Several throughout the month
Being that it is almost time for Christmas, one of my favorite SF Bay Area events in November always includes Santa coming to town! Santa has plans to make an appearance all over the SF Bay Area this year.
His stops start in early November and usually run through Christmas Eve. You can get your picture taken, tell him all about how good you've been this year, and everything you want for Christmas.
>> Find my list of the best places to see Santa this year

Follow SFTourismTips on Facebook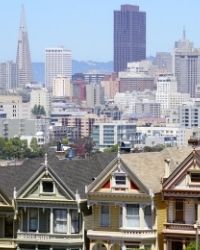 On my Facebook page, you will find more great information about planning your San Francisco vacation.
It includes tips, must see attractions, and other fun details.
Click the link below to check it out. If you enjoy the page, give us a like.

More SF Bay Area Events in November