San Francisco North Beach Tours
The Most Popular Walks in This Famous SF Neighborhood
San Francisco's North Beach District is also known as 'Little Italy.' It was home to the first residents of what is now the city.
I love this neighborhood not only because it has lots of history, but because it also has quite a bit of charm.
The best way to get to know it better is by taking one of these popular San Francisco North Beach tours.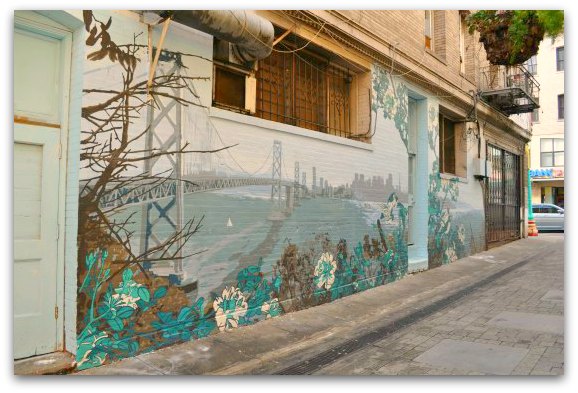 A hidden mural in this colorful neighborhood
Little Italy and North Beach Walking Tour
If you want to sample some authentic Italian treats, I highly recommend this food walking tour.
This 3-hour trek allows you to sip and savor goodies from cappuccinos to fresh baked breads. You also get the chance to try some delicious olive oils, gourmet chocolates, and handmade Italian pizza.
Along the way, you will see how coffee is roasted, how chocolates are made, and how breads are baked in 130-year-old ovens. You will also get the chance to peek into several hideouts of the 1960s Beat Generation.
In addition, this tour gives you an overview of the history of the neighborhood. You'll walk by its main attractions, including Washington Square Park and some Italian Cathedrals. It's also a great opportunity to hunt for Italian arts and crafts.
This tour runs twice a day, at 10am and 2pm. All food and drinks you sample along the way are included.
The route covers about seven to eight blocks and is flat.
Find more reviews & buy your tickets today!
Cost: $69 per person
SF Public Library Walks
The San Francisco Public Library offers several free walking adventures of this district. They cover the history of the North Beach, including insider's information on the top SF attractions here.
Here is a list of all the North Beach tours offered by the Public Library:
An Overview of this District
Coit Tower Murals
North Beach by Night
Tastes and Tales of North Beach
Telegraph Hill Stairway Hike
Click here for a full schedule of free SF Public Library walking tours.
Cost: Free
Chinatown and North Beach Night Walking Tour
This walking tour offers a peek at two of the best SF neighborhoods in one night. You will spend about an hour in each of the two districts.
The tour starts at 6pm in Chinatown, where you will stop by the Fortune Cookie Company to see how fortune cookies are made. You will then taste some traditional Chinese tea and sample dim sum from Chinatown's oldest bakery.
Along the way, your guide will tell you more about the history of this neighborhood as you observe some local sculptures and find out more about the Chinese architecture.
You will then head over to the North Beach District. Here you will get the chance to try some Italian coffee, sample authentic pizza, and sip some wine.
In this neighborhood, you will discover the top places the Beat Generation frequented and step inside some real western saloons.
This is one of the San Francisco North Beach tours that was rated by the San Francisco Bay Guardian as a "Best Tour for 2011."
Uncover more details and customer reviews, and book your Chinatown and North Beach Night Walking Tour tickets on Viator today.
Cost: $69 per person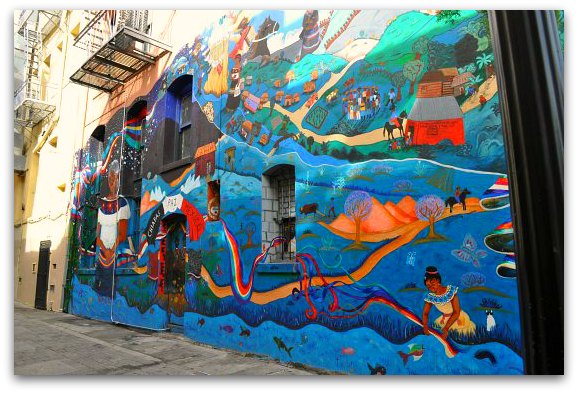 Another hidden gem in North Beach
San Francisco North Beach Pub Crawl
Do you want to learn more about, and experience, the nightlife that made this neighborhood famous? This 2.5-hour small group tour gives you an inside look at the famous pubs and saloons of the district.
Your journey starts at the famous Vesuvio Cafe. Here you will learn about the celebrities who frequented this place and see many of their pictures on the walls.
From here, you will visit two other watering holes of the Beat Generation and find the top Bohemian hangouts. As you stroll the streets of North Beach, your guide will tell you stories about the district's history and point out additional hidden gems.
One alcoholic beverage is included with your ticket. This 21+ tour starts at 5:30pm.
Discover more ticket information for the North Beach Pub Crawl and learn more about where to go in this exciting neighborhood!
Cost: $43 per person
---
Best Guided Walking Treks: Find a list of the best walking treks in San Francisco, including free and discounted ones.
Self-Guided Walks: If you like to venture out on your own, then these self-guided walks are perfect for you. These allow you to go at your own pace while learning more about the interesting history of San Francisco.
Chinatown: Have you ever visited a real Chinese herbal pharmacy? Do you know how fortune cookies are made? Here you will find several walks that explore these and other attractions in Chinatown.