Punch Line Comedy Club in San Francisco: Upcoming Schedule & Tips to Attend a Show

by Jill Loeffler  •

Updated: January 12, 2023
The Punch Line Comedy Club in San Francisco is one of the top comedy clubs in the city. You will find it in the Financial District near downtown.

They offer shows six nights a week. This small venue attracts a variety of comedians to their stage. You will find everything from international stars to local up-and-coming artists. Every January, they also host several performances for our large annual comedy festival, SF Sketchfest.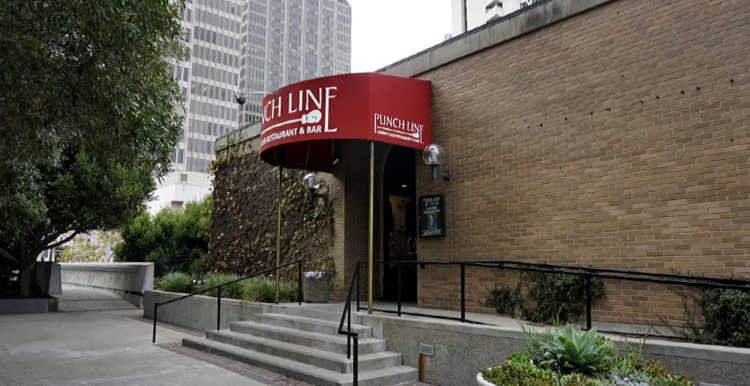 Disclaimer: I receive a small commission from some of the links on this page.

Upcoming Performances

Here are some of the top upcoming performances at the Punch Line Comedy Club in San Francisco. Click the links for ticketing details.

Where to Find Tickets

Ticketmaster: You will find tickets to most performances on Ticketmaster. They work directly with the venue to provide tickets to all non-sold out shows. Visit Ticketmaster for ticketing details.
Tips to Attend a Show

The Punch Line Comedy Club in San Francisco is at 444 Battery Street. When you arrive at this address, you will need to head up the stairs to the venue. The actual club entrance is on the second level and faces east, so you will have to walk around the building to the entrance. 
The picture below is the entrance to the staircase up to the second level where you will find the club.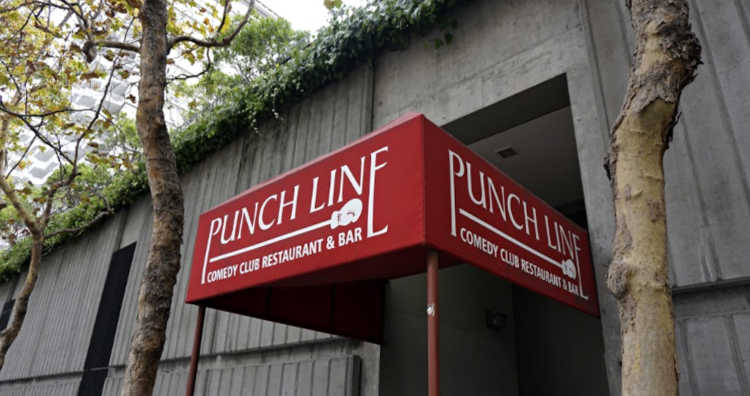 You can also take the escalator inside Embarcadero 1 to the second floor and then walk across the skywalk to the entrance.
The venue is in a great location since it's easy to walk here from the Financial District, Union Square or the South of Market district.
Food & Drinks

There is a two-drink minimum per person. They offer beer, wine, cocktails and non-alcoholic options.
If you didn't get a chance to eat before you arrived, they also have a great selection of dishes on their menu. They have a few sandwiches, appetizers (nachos, wings, fries, popcorn, etc.), a couple of salads, flat breads, and a few desserts. Everything I've had here has been tasty, so it's a good option if want to wait to eat until you arrive.
Public Transit

From Union Square: You can also grab any transit option along Market Street to the Embarcadero Station. The closest exit is at Market Street and Beale. From here, the walk is about 5 blocks and is mostly flat. 
From Fisherman's Wharf: Take the F Streetcar to the Embarcadero and Washington stop. From here, it's about a 10-minute walk or about 5 blocks. This walk is also mostly flat.
The 1-California also has a stop nearby. This is a good option if you are coming from the western side of the district including Nob Hill or Chinatown.

BART: If you plan to take BART, you will want to exit at the Embarcadero Station. From here, you will walk north about 4 blocks and then over to Battery Street, which is about a block. It takes about 10 minutes to walk from this stop to the venue.

Where to Park

Traffic is heavy in and around the Financial District during the day, but it's not too bad in the evenings and the weekends. If you plan to drive, you will need to take some extra time if you are arriving for an early evening show. However, you won't have much trouble getting around later in the evening or on the weekends. 
I've compiled a few parking options nearby. Make sure to check what time the garage closes before you park to ensure it will still be open after the show. My recommended garages should be open, but they can change their closing time at any point. So, it's best to double check so you know how much time you have after the show to get your car.
500 Battery Street: This garage is in the same plaza as the Punch Line Comedy Club in San Francisco. You will just need to go a few stories up in the plaza to reach the venue. This is the closest lot.

250 Clay Street: This garage is on the western end of the plaza or less than a block away. This is another really close lot that is perfect for all shows.

One Embarcadero Center: This one is under the Embarcadero Shopping Center. It's close by and easy to get to and from your car and the venue.

Ferry Building Parking Lot: This is a flat lot at The Embarcadero and Washington Street. 

Places to Stay Nearby

If you are heading to a show at the Punch Line Comedy Club in San Francisco and want to stay nearby, here are a few options.
Le Meridien: The Le Meridien is just across the street from the venue. This 4-star hotel offers on-site paid parking, non-smoking rooms, and VIP facilities. You'll have easy access to the cable cars, shopping, and restaurants. 333 Battery Street. Find more details
Hyatt Regency San Francisco: This is one of my favorites in this area. This 4-star gem is right on the Embarcadero with easy access to transit, the Ferry Building, and Union Square. It features 821 rooms, and most have views of either the waterfront or the city. It's about a 5-minute walk to the venue. 5 Embarcadero Street. Find additional details and pricing for this hotel

Club Quarters Hotel: This hotel is also just across the street from the venue. You will find 346 rooms in a club type environment. There is restricted entry making it a safe and easy choice. You will also find free Wi-Fi, business amenities, and things to do within a few blocks in all directions. 424 Clay Street. Find prices and more details

Dinner or Drinks Before or After the Show

You will find dozens of restaurants and bars within a few blocks of the Punch Line Comedy Club in San Francisco. Here are some of my favorites.
Royal Exchange: The Royal Exchange is a sports bar and pub with tasty food and a great beer selection. I love stopping here for a burger and beer before a show. It's a lively atmosphere with lots of locals enjoying a drink after a long day at work. 301 Sacramento Street.

The Barrel Room: This is one of my newer favorites. It's about three blocks away from the venue and offers a good selection of wines and snacks. They also have some great sandwiches and dinner plates if you want a larger meal. They switch their menu up three times a year with a focus on different wine regions. The also update their food menu so all items pair well with their current regional focus. This place gets busy, so I recommend booking a table in advance if possible. 415 Sansome Street.

Wayfare Tavern: The Wayfare Tavern is an upscale restaurant. They focus on American dishes, but are set in an old British pub. Some of my favorites here include their fried chicken, the crispy chickpea salad, and the Tavern Burger. Make sure to save some room for their sticky toffee pudding. 558 Sacramento Street.
Punch Line Comedy Club in San Francisco History

The Punch Line Comedy Club in San Francisco opened in 1978. Just two years later, the original owners sold it to nightlife magnate, Bill Graham. Graham quickly got to work and established the venue as one of the best comedy clubs on the west coast.
Over the years, comedians such as Robin Williams, Chris Rock, and Ellen DeGeneres have performed here. Some of the others who have made crowds laugh here earlier in their careers include Amy Schumer, Bill Burr, and Marc Maron.
This venue has been a favorite of Dave Chappelle since he started taking the stage early on in his career. He often makes surprise appearances and uses the club as a way to work through some new material. Sometimes he'll perform a short set and sometimes he'll go for hours. At one point, he stayed on stage for more than 6 hours! 

More Things to Do in the Financial District

Here are a few more things to see and do near the Punch Line Comedy Club in San Francisco.
Cable Cars: Do not miss a chance to ride the cable cars when you are here. The California line is just a couple of blocks from the venue. We are the only city in the world that still runs our cars manually (or in the "traditional" way) and they are so much fun to ride around. Learn more about riding the cable cars.
Wells Fargo Museum: The Wells Fargo Museum (open only during weekdays) is a fascinating stop for those that love history. They have some great exhibits not only about the history of Wells Fargo but also some great exhibits about San Francisco. The museum is free to visit and takes about an hour. You will find it at 420 Montgomery Street. See pictures and learn more about visiting.

Ferry Building: The Ferry Building is only a few blocks away. This updated ferry terminal has a lot going on. It's full of food and kitchen supply vendors, restaurants, a wonderful wine bar, and other small stores. Learn more about what you will see when you visit.

More Fun Nightlife Options Around SF

Comments? Questions? Suggestions?
I would love for you to join me in my private Facebook group! 
It's a great place to interact with me and others who know the area well.
You can ask questions, get advice for your upcoming stay, and then share your photos and advice with others when you return home. It's a great community and the fastest way to get answers to those nagging questions about your visit!